Midwestern charm, lots of verdant green spaces, and sparkling Ohio River scenery come together to make Cincinnati a go-to for any Ohio getaway. What's even more enticing is, seeing the best of Cincy doesn't always have to break the bank.
Follow along to discover the best free things to do in Cincinnati.
A veritable Eden of cultural, outdoor, and historical attractions, visitors from all over will be head over heels for this family-friendly destination.
Enjoy self-guided tours of the area's largest cemetery and Arboretum, or relish sunny skies, playgrounds, and picnic areas at Washington Park.
Marvel at the architectural integrity of the famous Roebling Suspension Bridge, or soak in modern masterpieces at the Contemporary Arts Center.
From laidback park hangs to National Historic treasures, there's endless amounts of free entertainment to be had in the Queen City!
Read on to conquer the best free things to do in Cincinnati today.
Free Things to Do in Cincinnati
Roller rink hijinks, playtime with Fido, and sampling delicious market snacks. With so much going on in this Midwestern Mecca, you'll want to budget even more travel days to take advantage of the many gratis attractions and entertainment.
Boasting both big city amenities and a small-town feel, Cincy visitors will have their pick of free landmarks, sights, and activities.
Contemporary Arts Center
Calling all Picasso's in training! Put down that paintbrush and treat yourself to an afternoon of artistic inspiration when you visit the Contemporary Arts Center. One of the first contemporary art institutions in the United States, this non-collecting museum is always free of charge.
Visitors of all ilks can broaden their artistic repertoire as this museum exclusively focuses on new developments in painting, sculpture, photography, new media, and performance art. Make your way through cutting-edge exhibits that blend together sculpture, video, and collage to address such topical themes as politics, the body, and economics.
Want to get even more hands-on? Take a peek at the Center's performance schedule and enjoy everything from installations that resemble the fertile female womb to concerts of the spoken word.
Washington Park
Traveling with Fido or small children in tow? Make a beeline for Washington Park and get ready to revel in one of the city's most beloved green spaces. Located in the Over-the-Rhine neighborhood of Cincinnati, the park contains 6 acres of play spaces and amenities.
Pups can run wild in the dog park, while little ones can enjoy castle structures, streams, a climbing wall, a sandbox, dual slides, and a canal boat. During the sweltering summer months, take a few minutes to splash about the water park, or check out the park's seasonal event schedule to get involved with activities ranging from free workout dance classes to acoustic reggae concerts.
Fountain Square
Want to feel like a real Queen City local? Swing on by the buzzing Fountain Square to enjoy an unparalleled piece of Cincy history. Since its founding in 1871 Fountain Square has become an integral part of the Cincinnati community. Commissioned by Henry Probasco, the stunning genius of this water fountain makes for an ideal photo op for your vacation selfies.
In recent years this square has exploded in popularity and is now home to a wealth of thriving businesses, restaurants, and bars. Visitors and locals alike can partake in a bevy of free events and activities ranging from Roller Rink evenings to Community Open Mic Nights.
Come the cozy season, this square is transformed into a winter wonderland complete with ice skating, hot cocoa, and warming tents.
Smale Riverfront Park
Metallic animal-shaped play structures, labyrinth-like paths, and jaw-dropping views of the city and the Ohio River. Located near the base of the Roebling Suspension Bridge, Smale Riverfront Park contains 45 acres of gardens, playgrounds, walking paths, and splash pads.
A park built for multiple generations, Smale is a wonderland of fountains, pavilions, lawn events, and more. Disconnect, unwind, and recharge as you enjoy this riverfront destination landmark. Stroll past blooming perennials, or visit the park after dark to soak in the multi-colored glow of the illuminated stairs.
For a hint of old-school carnival fun why not spring for a $2 ride aboard Carol Ann's Carousel, or enjoy a snuggle on the family-sized porch swings.
Roebling Suspension Bridge
The marvels of modern engineering never cease to amaze! Wrangle your favorite bridge fiend for a visit to the National Historic Landmark known as the John A. Roebling Suspension Bridge. A testament to civil engineering, at its opening in 1867 the Roebling Bridge was considered the longest suspension bridge in the world.
Years later, this honor would be bestowed on Roebling's other infamous design, the Brooklyn Bridge. This bridge spans the Ohio River between Cincinnati, Ohio, and Covington, Kentucky. Walk across the over 150-year-old historic structure and soak in the sweeping river views and its intricate cable structure.
William Howard Taft National Historic Site
Got a hankering for some presidential history? Hightail it to the William Howard Taft National Historic Site for a deep dive into the life and legacy of our Nation's 27th President and 10th Chief Justice of the U.S. Supreme Court. Perched atop one of the city's most prominent hilltops, visitors can tour the two-story Greek Revival house where Taft grew up.
Discover why this Mount Auburn district was dubbed 'Fifth Avenue' in the 19th century, or take stock of unique historical artifacts such as furniture and photographs. Little ones can even get in on the action when they choose to become a Junior Ranger.
Findlay Market
Get to know the local flavors of Ohio when you sample the abundance of farm-fresh, locally sourced goods, products, and produce at the Findlay Market. The oldest continuously operated public market in Ohio, Findlay was first officially opened in 1855. Every year this center of meat, poultry, produce, and specialty foods welcomes more than one million visitors.
Open year-round, famished foodies will be in heaven as they wander up and down aisles containing over 50 full-time merchants. Swing by on a weekend to browse the wares of their Farmers Market. Or clap along to local buskers and street performers putting on a show.
If you feel so inclined to part with your hard-earned cash be sure to savor some homemade pierogies. For a sweet treat purchase yourself to a Honey Puff donut by Cherbourg Cyprus.
Spring Grove Cemetery and Arboretum
A trip to a cemetery may sound macabre, but the Spring Grove Cemetery and Arboretum is no ordinary resting place. In addition to being the third largest cemetery in the U.S. and recognized as a US National Historic Landmark, this swath of green, leafy serenity contains a 750-acre garden.
Considered a sparkling gem of the Cincinnati community, this garden is a sanctuary for the long-standing traditions of horticulturists. Walk through the rows of native Midwest plants and nonindigenous species as you learn how the Grove is encouraging environmental sustainability.
Cincinnati Art Museum
African Art, avant-garde works of fashion, and centuries-old musical instruments all call the Cincinnati Art Museum home. Push your artistic appreciation even further when you cover the Museum's encyclopedia collection of more than 67,000 works spanning 6,000 years.
General admission is always free and guests will be in awe at the range of their pieces. From still lifes by Picasso to Renaissance paintings by Mantegna, Titian, Cranach, and Memling, there's always something new to uncover.
Appreciate Native American pottery from the Great Plains. Or unleash your inner diva when you ogle vintage dresses by Issey Miyake and Halston.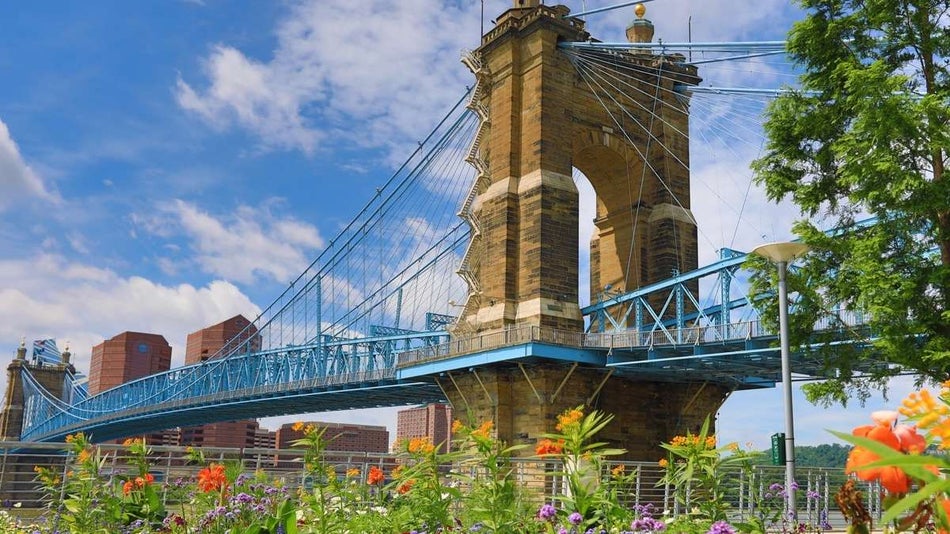 Quietly charming and boasting an overflow of lush parks, modern art installations, and stick-to-your-ribs chili, Cincinnati should be on your list of must-visit Ohio locales.
The Queen City may seem like an unlikely locale for a thrifty getaway, but this Buckeye gem is home to heaps of free activities and attractions.
Chat up local farmers and artisans in the historic Findlay Market. Or sweep your sweetie off their feet with a romantic park picnic at the Smale Riverfront.
Bring color and character into the life and times of President Taft. Or let yourself be moved by the beauty of a Van Gogh painting at the Cincinnati Art Museum.
From community-building concerts to the iconic Fountain Square, Cincy's unassuming allure will always leave you wanting more.
Tell us, What are Your Favorite Free Things to Do in Cincinnati This Weekend?
Did we miss any of your top free things to do in Cincinnati? Leave a comment below!