Taking a trip to the City of Brotherly Love?
While major cities tend to boast higher hotel prices, you don't have to break the bank to stay in a comfortable, safe hotel in Philadelphia. In fact, we've gathered 10 cost-friendly choices so you know where to stay in Philadelphia on a budget.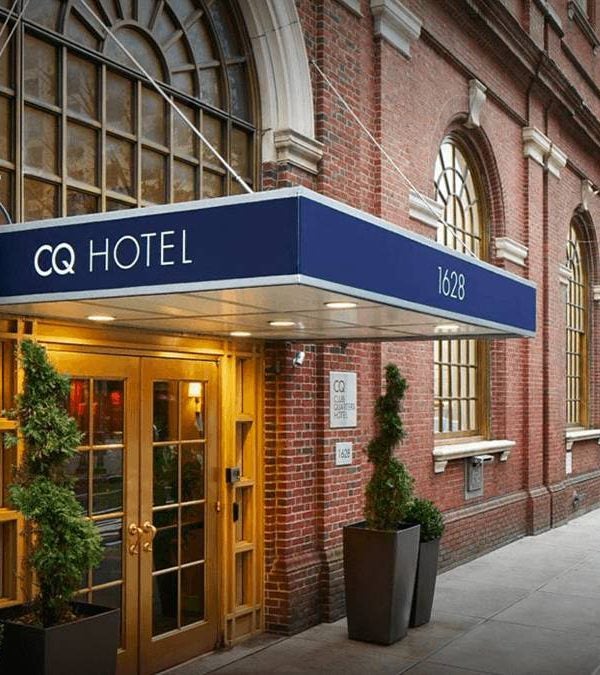 1) Club Quarters Hotel
Located within Philadelphia's vibrant business district, Club Quarters Hotel in Rittenhouse Square enables you to reside close to popular attractions like Reading Terminal Market, the Museum of Art, and Liberty Bell Center. Affordable for families or those traveling solo for business, the CQ Hotel features such as:
Free, fast Wi-Fi
Parking
Room Service
Mobile Room Key
Private Lounge with Work Stations
Self-Service Laundry
Restaurant and Bar
& More
2) DoubleTree Hilton Hotel Philadelphia Center City
Located on the Avenue of the Arts, DoubleTree Hilton Hotel showcases quality, comfort, and convenience. Only nine miles from Philadelphia International Airport, DoubleTree Hilton promises a warm welcome and to meet your travel needs. Situated in the heart of the city, guests are within walking distance of attractions like City Hall, the Convention Center, upscale restaurants, and much more. Furthermore, the hotel features:
Spacious Suites and Rooms
Full-service Meeting Center
Fitness Center
Rooftop Atrium Pool and Sundeck
Conference Center and Grand Ballroom
Parking
& More

3) Holiday Inn Express Philadelphia-Midtown
Situated in the Midtown area of the city, the Holiday Inn Express is within walking distance of a myriad of shops, restaurants, and many of Philly's historical sites like Independence Hall and the Liberty Bell Center. Moreover, the hotel features amenities like:
Complimentary Deluxe Breakfast Bar
Wi-Fi
Fitness Center
Mini Fridge
Bathroom Amenities
Complimentary Coffee and Tea
& More
4) Stay Alfred at the Granary
Right off of the Benjamin Franklin Parkway in the Fairmount area, Stay Alfred at the Granary enables guests to experience a more cozy, comfortable stay in one of its spacious travel apartments. Close to a Whole Foods and Target, you can stock up your galley-style kitchen with essentials before heading off to see Philly's numerous attractions. Moreover, the vacation rental grants access to:
Lobby and Lounge
24-hour Cancellation Policy
24/7 Fitness Center
Library and Music Room
Club Room with Outdoor Terrace
Business Center
24/7 Doorman
Concierge Services
& More
5) Stay Alfred at 509 Vine
Stay Alfred boasts comfortable, full-size travel apartments in multiple locations around the city. Located on the edge of Philly's iconic Old City District, Stay Alfred at 509 Vine resides close to national historic sites like the Betsy Ross House and the Liberty Bell. Further, guests can wander charming cobblestone alleys and grab provisions at one of the city's bustling bars and restaurants. Additionally, amenities include:
24-hour Cancellation Policy
Free Toiletries
Fully-fitted Kitchen with Kitchenware
Washer and Dryer
Fully-equipped Gym
Game Room
High-speed Wi-Fi
6) Sonder Vine
Another top quality vacation rental, Sonder Vine provides the coziness of home while allowing guests to reside near top attractions. Depending on your travel needs, guests can choose spacious one-bedroom to four-bedroom apartments in neighborhoods such as Old City, Fairmount, Callowhill, or Logan Square. Simply filter out your room preferences in the menu and relax, knowing your needs are taken care of during your stay.
Depending on your selection, Sonder Vine's amenities include features such as:
Wi-Fi
Stocked Kitchen
In-unit Laundry
Fridge
Doorman Building
Private Parking
& More
7) La Reserve Bed and Breakfast
La Reserve Bed and Breakfast has been in the owner's family since the 1940s, with the stately brick building heralding back to the mid-1800s. This charming bed and breakfast merges vintage charm and luxury with modern conveniences. Located in Fitler Square, you'll feel at comfortably at home and yet won't be too far from any of the main attractions the city has to offer.
Amenities at the bed and breakfast include:
Free Wi-Fi
Breakfast and Afternoon Homemade Cookies and Tea Served in Formal Dining Room
Concierge Services
Digital Entry Door Lock System for Easy Access
Business Services Available
Vintage Steinway Baby Grand Piano for Playing
Special Extended Stay Rates Available
& More
8) Philadelphia 201 Hotel
Philadelphia 201 Hotel lies within walking distance of some of Downtown Philadelphia's top sites such as the Museum of Art, Love Park, and the Convention Center. Also, because the hotel is surrounded by subway and bus stops, the central location makes it easy to explore the city. Moreover, the hotel features amenities such as:
Wi-Fi
Fitness Center
Meeting Event Space
Valet Parking
Mini Fridge
Two Restaurants
Business Service
& More
9) Microtel Inn & Suites by Wyndham Philadelphia Airport
Close to the Lincoln Financial Field and famed local attractions, the Microtel Inn & Suites by Wyndham allows you to sit back and relax as you enjoy hotel comforts away from home. Further, because it's so close to the airport, you won't have to worry about dodging traffic when trying to make your flight back. The hotel also includes amenities like:
Free Wi-Fi
Free Breakfast
24-hour Reception Desk
Free Airport Shuttle
Business Center
Roll Away Beds Available
Cribs Available
& More
10) Pod Philly Hotel
Philly's first micro hotel offers an alternative for guests looking for an affordable, unique experience. Located in the heart of Center City near Rittenhouse Square, Pod Philly Hotel is close to the action for those seeking adventures. With a variety of rooms available featuring comfortable bunk beds to Queens, the rooms or "pods" are designed to create efficient, streamlined rooms that meet your needs while still providing a cozy atmosphere.
Pod Philly Hotel offers amenities such as:
Private bathrooms
Fitness Center
Restaurants
Wi-Fi
Service-Animal Friendly
Safes
Stay Comfortably in Philadelphia
Now that you know some of the best places to stay in the city, which hotel experience do you prefer?