San Francisco is known for its excellent Bay Area views, diverse culture, upscale establishments, and green spaces, so it's difficult to narrow down how to spend your quick vacation. However, we've compiled some of the top destinations to visit so you can experience the best the city has to offer.
San Francisco Museum of Modern Art
The San Francisco Museum of Modern Art showcases global modern artwork from paintings and photographs to installations and sculptures. See the work of renowned artists such as Georgia O'Keeffe and Frida Kahlo on display, with circulating exhibitions as well. Also celebrating local Bay Area artists the museum exhibits more than 30,000 masterpieces altogether. Further, this top-rated museum hosts special projects on significant topics like immigration, the meaning of creating art, and environmental conservation work. Guests can visit the museum Friday through Tuesday from 10 a.m. to 5 p.m. and on Thursday from 10 a.m. to 9 p.m. Prices vary based on age, but adult tickets generally cost $25. With only 1 day in San Francisco, you definitely need to check out this world-class museum.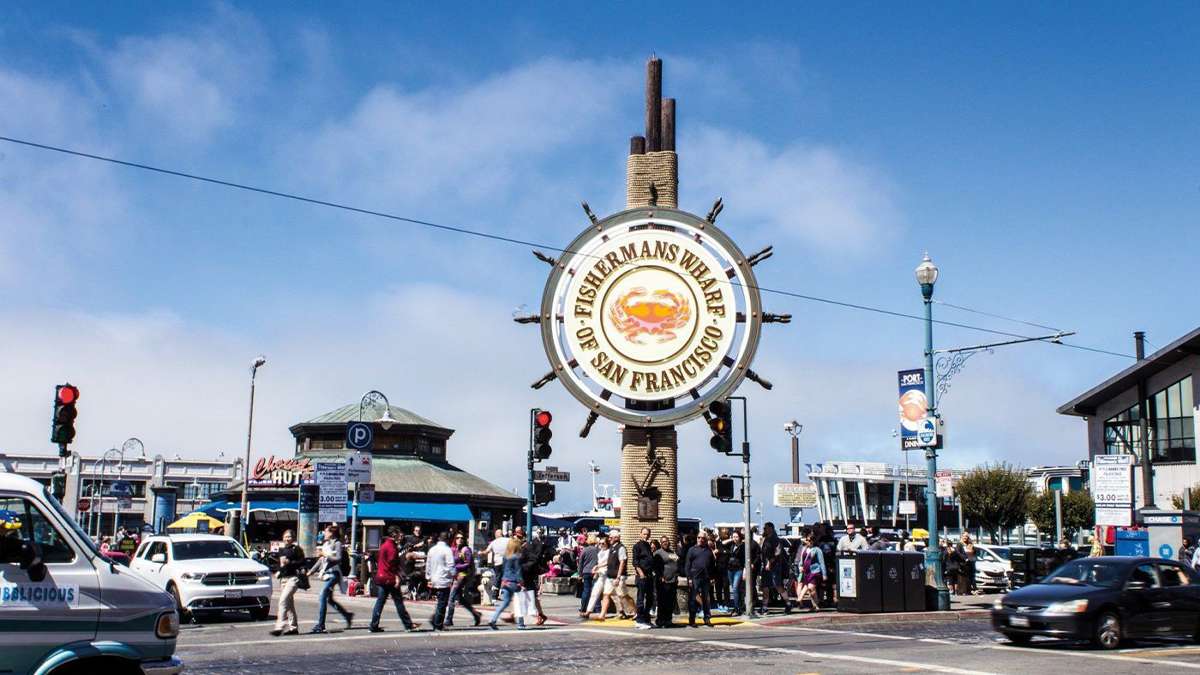 Eat Fresh Seafood at Fisherman's Wharf
After perusing the MoMA, head to Fisherman's Wharf for a fresh seafood lunch or brunch. Walk along the pier and taste the salty sea air as you take in the multitude of sights and sounds. The wharf features acclaimed restaurants, cruises, ferry tours, shopping, and historic piers. If you only have 1 day in San Francisco, Fisherman's Wharf is worth the visit. Visitors can walk around, rent bikes, or check out the hop-on, hop-off buses that circle the area depending on your preferences and mobility needs. When you're ready for a bite to eat, you have plenty of options, and while you don't have to eat seafood, we recommend you do.
Alioto's: Giving gorgeous views of the wharf, the Golden Gate Bridge, and the fishing harbor, this historic restaurant provides quality ambiance while you sample fresh sea bass, swordfish, tuna, scallops, and beyond. Everything is caught locally--whenever possible--and the restaurant offers free parking.
Fog Harbor Fish House: This 100% sustainable seafood restaurant provides panoramic views of the Golden Gate Birdge, the Pier 39 sea lions, and Alcatraz as you indulge in their award-winning clam chowder. Other menu specialties include fresh crab, lobster, steak, and more. Furthermore, guests can enjoy happy hour from the full-service bar from 3 p.m. to 5 p.m. Monday through Friday.
The Grotto: The Grotto has been serving fresh traditional seafood dishes and amazing harbor views since 1935. In fact, this restaurant was the first sit down restaurant instituted in the neighborhood. Guests can enjoy a newly renovated restaurant, lounge, and oyster bar with classic flare.
Hike Twin Peaks
Enabling guests to gather incredible views of the Bay Area, Twin Peaks or "Los Pechos de la Choca" (Breasts of the Maiden), offers a plethora of plant and animal diversity as you hike the trail. To see a less-developed side of the city, pencil Twin Peaks into your itinerary when you only have 1 day in San Francisco. Make sure to bring your camera to capture the sweeping views once you get to 922 feet in elevation. Moreover, this 64-acre park's vegetation features a blend of grassland and coastal scrub habitats for animals such as brush rabbits, coyotes, sparrows, and more. The Peaks' west-facing slopes receive significant fog and strong winds, while its east-facing slopes receive sunlit warmth. Remember to keep an eye out for the coyotes and to not feed them, especially if you're walking your dog.
Tour the Palace of Fine Arts
Originally built for the Panama Pacific International Exposition (PPIE) in 1915, the Palace of Fine Arts then served as numerous storage centers before its renovation in the 1960s. By 1970, the palace reopened and continues to operate as a theater. This iconic exhibition space and theater's architecture features Greco-Roman rotunda and colonnades, delicately landscaped grounds, and a scenic lagoon. Concerts, ballets, weddings, galas, and more are hosted here, and visitors are welcome to tour the grounds to escape the hustle of the city. Visit the palace Tuesday through Sunday from 10 am to 5 pm.
Stroll around Golden Gate Park
With 1,017 acres of gardens, lakes, picnic groves, trails, monuments, playgrounds, and more, Golden Gate Park should be near the top of your list if you only have 1 day in San Francisco. This world-renowned public park and exhibition space offers sweeping views, diverse flora, and countless activities for you and your travel partners to enjoy. We recommend you visit the Japanese Tea Garden, the oldest public Japanese garden in the United States. See beautiful traditional elements such as stepping stone paths, pagodas, koi ponds, a zen garden, stone lanterns, and an arched drum bridge. Also, visitors can spot unearthly cherry blossoms in the spring. Further, families can play golf, head to the marina and harbor, participate in water sports at Camp Mather, and much more! If you're looking for the best California green spaces during your trip, Golden Gate Park will quickly capture your heart.
Dinner in Chinatown
Since the first documented Chinese immigrants settled in 1848, San Francisco has seen a rise in Chinese culture and establishments that led to Chinatown's bustling atmosphere. Despite significant prejudice and exclusionary immigration laws, Chinese and other Asian cultures have continued to thrive. Guests can eat, stay, shop, and explore among the neighborhood's many establishments. Whether you're interested in purchasing Chinese herbal supplements and teas, sampling traditional dim sum, or trying authentic Vietnamese pho, you have extensive options available.
A few top restaurants include:
Bamboo Restaurant: Bamboo Restaurant serves a diverse variety of Hunan and Mandarin Chinese dishes with vegetarian options available.
Hong Kong Clay Pot City Restaurant: This well-rated Chinese restaurant offers a variation of meat choices from chicken and shrimp to frog and jellyfish, with clay pot options and Canton-style options available as well.
Sam Wo Restaurant: The original Sam Wo Restaurant was built in 1906 after the infamous earthquake and now operates in a new location. Still offering exquisite authentic Cantonese cuisine, Sam Wo continues to be a city staple.
What will You Do with 1 Day in San Francisco?
With so much to experience in the city, where you will you venture to first? To make the best of your trip, check out Tripster's deals on San Francisco tours.