Ahoy, captain! Are you ready to set sail and head to the Titanic Museum in Pigeon Forge, Tennessee?
History buffs, Titanic movie buffs, and fun buffs (the kiddos) will all have a blast roaming through the museum dedicated to the "Ship of Dreams". We're talking 20 different galleries where over 400 personal artifacts costing 4.5 million dollars are waiting to be explored!
Round up your shipmates and allow us to clear the decks. But wait! Before your board, we want to help you get the best deals on your trip. All you'll have to worry about is throwing off the bowlines and taking in all the glory of the Titanic Museum in Pigeon Forge. 
Penny pinchers, rejoice! We're about to tell you how to have a grand time -- grander than the magnificent replica Grand Staircase -- while going easy on the wallet. 
Titanic Museum Pigeon Forge Discount Tickets
First things first -- snag a deal on your tickets! Rack up some savings when you purchase our Titanic Museum Pigeon Forge Discount tickets. 
Time is money, so we'll also save you some of that. Reserve your spot to nix any possible hassles upon your arrival. You'll be as prepared as an old salt who's been sailing the ocean for decades.
Titanic Museum Pigeon Forge Coupons
Have you been googling "titanic pigeon forge promo code" and trying to find the best deals? Titanic coupons are rarely available but you can purchase titanic museum discount tickets today. Save yourself from the hassle of tirelessly looking for Pigeon Forge Titanic coupons and save yourself some money with a Titanic museum discount.
Save a Bundle
… when you bundle your Titanic Museum tickets with one of the other amazing nearby attractions in Pigeon Forge. The charming city is nestled in the Great Smoky Mountains, which means you can have a night on the town then quickly escape to relaxing nature bliss.
Related Post: 6 Pigeon Forge Museums Every Visitor Should See
There are so many ways to explore the area -- the trouble will be narrowing down your itinerary. Take our advice and buy your tickets in a package to do more while also saving more. 
Here are a few of our favorite activities to pair with your Titanic Museum adventure:
If you're still looking for things to do with the kiddos we have 15 Kid Friendly Pigeon Forge Activities You Don't Want to Miss.
Hotels
If you're going to do it all, plan to stay a night -- or several. Did you know you can bundle your museum attraction in Pigeon Forge with your hotel? Talk about a stay for a steal.
There's nothing like a king sized bed to make you feel like the king of the world! Grab a deal on one of these luxurious hotels that will give the first-class suites on the Titanic a run for their money.
Check out a few of our top choices to catch some z's:

Titanic Museum Senior Discount
At this time, there is no Titanic Museum Senior Discount available. However you are able to purchase Titanic Museum Pigeon Forge discount tickets online.
Titanic Museum Pigeon Forge Military Discount
Titanic Museum in Pigeon Forge salutes our current active military and military veterans by offering $3 off for a Titanic Museum Pigeon Forge Military Discount (with valid I.D.) Or you can purchase in advance and receive an even bigger discount on your Pigeon Forge Titanic tickets here.
Titanic Museum Student Discount
Unfortunately, there are no Titanic Museum student discounts available at this time. However, you can purchase discount tickets to Titanic Museum in Pigeon Forge through Tripster.
Included With Your Ticket
You'll have the complete Titanic experience at your fingertips once you purchase a ticket. If you've ever been to a boring museum, push your preconceived notions aside to make room for an all-new way to encounter history at the Titanic Museum.
Related Post: Indoor Activities in Gatlinburg: 10 of the Best Things to Do in the Smokies
The interactive activities will keep you and your kids entertained throughout the entire tour:
Try not to shiver as you touch a real iceberg and dip your fingers in bone-chilling 28-degree water

Stay the course as you steer the ship's wheel

Keep your balance on the sloping ship decks that replicate the angle of the ship as it began to sink

Ooh and ah at the first-class suites

Save the day by sending an SOS distress signal

Take your time through the self guided tour
After this, you'll feel like you boarded the ship yourself -- or starred in the famous Titanic film alongside Leonardo DiCaprio and Kate Winslet. Yes, we're starstruck right there with you.
Related Post: Top Attractions in Pigeon Forge, Tennessee
Details as small as the tickets weren't overlooked in the planning of this museum experience. Grab your boarding pass as you enter the museum. Each one tells the story of an actual passenger or crew member that boarded the ship and feel their spirit presence in the galleries. 
For everything you need to know about this monster museum, you must check out our Insider's Guide to the Pigeon Forge Titanic Museum.
Pro Tip: Once you get your ticket, be sure to keep it! You'll find out if your passenger survived to tell the tale of the sinking of the Titanic during the grand finale of the tour in the Memorial Room. 
More Ways to Save
The bigger your crew, the more you can save! While Titanic Pigeon Forge coupon codes are not available, it's fun to plan a day with a group and save! Gather up 15 or more people to dive into a group discount. These would be great groups to bring to the Titanic Museum:
Family reunions

Military reunions

Church groups

Corporate groups
Pro Tip: If you take a bus, the driver will get free admission, along with your group leader! Now that's a deal we're ready to cash in on. 
Check out the Titanic Museum website for more details or to contact group sales. Also, check for any other other Titanic Museum in Tennessee promo codes that may wash up before your visit!
Transportation
Before you head to sea, Pigeon Forge offers a unique way to get around the town -- the trolley! It runs every 20-25 minutes and can get you anywhere you need to go in the area. 
You can pay each time you get on, or purchase an All Day Transit Pass to save! Stop at a transit bear sign or transit shelter and wait a few minutes to be transported to your destination in a safe and convenient way.
Related Post: Current Events and Festivals in the Smoky Mountains
It may not be the limo Leonardo DiCaprio and Kate Winslet rode on the way to the Oscars, but the trolley is a charming way to easily get to the museum from your hotel or anywhere else you may want to explore. 
If you're planning a trip to the Titanic Museum in Pigeon Forge and considering selling your Heart of the Ocean necklace to pay for it, wait! If you have a necklace like that, we recommend you never let it go. With our promo code to the Titanic Museum, you'll be able to save plenty on your trip so you won't have to sell anything.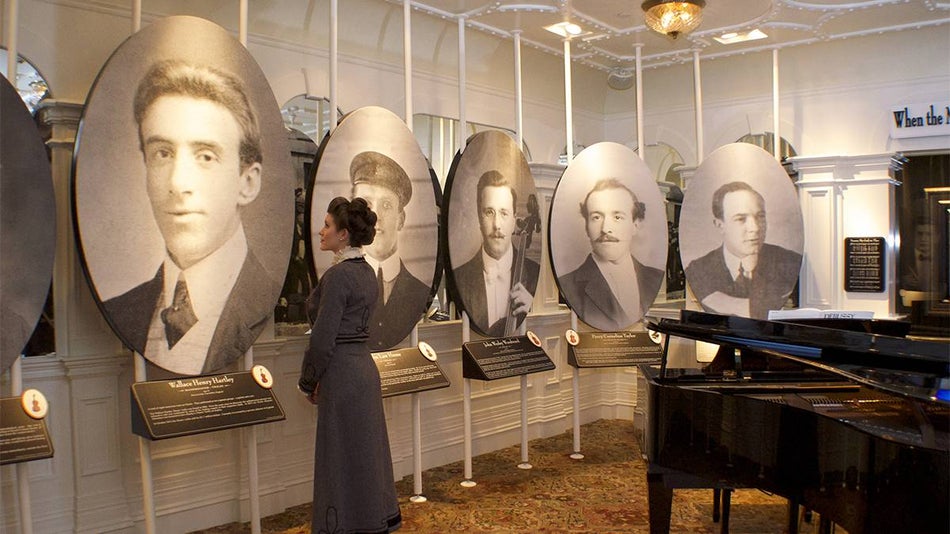 Follow our handy tips to save a dollar, in every way that a dollar can be saved. Let us help take care of the planning on a budget to Titanic Pigeon Forge with a discount that allows you to sit back and enjoy the voyage. And, what's better than inexpensive or discounted...free things of course! Check out 16 Absolutely Free Things to Do in Pigeon Forge for even more ways to save your hard-earned dollar. 
By now, you're probably ready to pack your bags and board the ship. Don't get left in the ship's wake. Snag your Titanic Museum boarding pass today!
And if you're still searching for great family activities, we have the best deals on all Pigeon Forge attractions and shows. Don't delay, start planning your trip now!