Blustery winds and fairytale-like flurries set the scene for a winter reprieve beyond reproach in this bustling Canadian city. The Big Smoke may require a serious puffy jacket, but don't let the chill of cooler temperatures dissuade you from visiting Toronto in the winter.
Follow along to discover the 14 best things to do in Toronto Winter 2023.
From charming European-inspired Christmas Markets in the Distillery District to the shimmer of a partially frozen Lake Ontario, there is no shortage of Toronto winter things to admire and enjoy.
Soak in a Cavalcade of lights in Nathan Phillips Square, or test your knowledge of pucks and body checks at the Hockey Hall of Fame.
Whether you're after cozy afternoons of museum-going, romantic pre-fixe dinners or ice skating dates, you'll find plenty to do in Toronto's winter months.
Toronto in December
Calling all snow bunnies! Toronto in December can be quite frosty, but with a bit of pre-planning and proper attire, you'll be all set to enjoy this mecca of food, culture, and outdoor fun. December high temperatures hover around 35 degrees, with lows of 25.
However, Toronto in January is even nippier, with highs of 30 degrees and lows of 19. So stuff your suitcase with plenty of warm thermal layers, long johns, wool sweaters, warm socks, and gloves. Don't forget to pack a knit beanie, or as they say in Canada, a toque!
Psst..looking to keep costs down while you tackle all the top things to do during a Toronto winter? Save big with our Toronto Deals.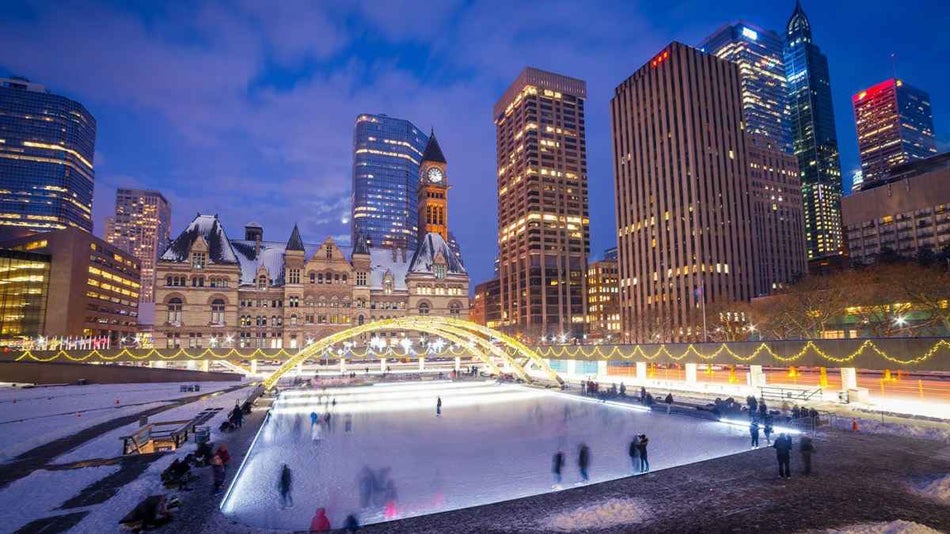 Toronto Hotels
The massive power and might of Niagara Falls vs. afternoons spent as a city slicker in Yorkville. Thanks to an avalanche of museums and first-rate natural attractions, you'll never wonder what to do in Toronto in the winter. Conquer every item on your Toronto winter itinerary when you extend your stay in Queen City.
From modern suites in North York to cozy lodgings close to Niagara Falls, our Toronto hotels offer something for every traveler. As always, make your booking stress free, knowing you are guaranteed our lowest rates online.
Things to Do in Toronto Winter*
Christmas Markets at the Distillery District
Charming cobblestone streets, over 65 local shops and restaurants, and hidden gingerbread people! Prime all your senses for an afternoon or evening of wonder when you visit The Distillery Winter Village. From November 17 through December 31, 2022, this Christmas market will be alive with the spirit of the season.
Purchase your ticket* to visit ahead of time and relish hours of live entertainment, interactive scavenger hunts, and festive photo ops. Stroll under the canopy of glowing lights, or take in the towering 51 ft White Spruce. Join in on classic carols, or purchase one-of-a-kind crafts, goodies, and jewelry for everyone on your 'nice' list.
*Entry tickets will be required for the following times: Fridays, Saturdays, and Sundays after 4:00 p.m., and December 27-31 after 4:00 p.m.

Check out Lights at Nathan Phillips Square
Thousands of glittering lights, international lanterns, and indigenous-inspired art installations. Capture the feeling of the holiday season in a whole new way when you bask in the aura of the Cavalcade of Lights.
This spectacular of light, sound, and Christmas trees will kick off November 26 with tree lighting and remain up through January 7. In addition to interactive creations, glowing mandalas, and lunar lanterns, guests can participate in public ice skating.
Take a break from Earth and rise above to the heavenly skies with a Toronto Heli Tour. Choose from five different aerial journeys and let the soaring sightseeing begin.
Shop til you Drop at Toronto Eaton Centre.
Has St. Nick been slacking on his Christmas shopping? Indulge in some serious retail therapy and get ahead of all your gift buying when you make your way through the busiest mall in North America.
The Toronto Eaton Centre is every shopaholic's dream and features hundreds of retail, food, and entertainment options. Sneak in a visit with Santa, scope out the giant tree, or stock up on luscious Lindt chocolates.

Toronto Light Festival
Vibrant colors, giant Polar Bears, and fire-breathing dragons, oh my! Rouse yourself from the depths of winter depression when you embark on an awe-inspiring journey through the Distillery District. The Toronto Light Festival returns for 2023 and promises to whisk you away on an immersive voyage of illumination.
From January 17 through March 1, 2023, intrepid visitors and locals alike can trek through 13 acres of stimulating light exhibits. Gaze upon kaleidoscope creations bursting with energy spread over 44 buildings.
Winterlicious 2023
Tons of wintertime walking, skating, and shopping will surely stoke your appetite. So refuel in the most gourmand way possible when you make a reservation for Winterlicious 2023. An amazing way to sample some of the city's premier hotspots, this event will run from January 27 to February 9, 2023, and show off TO's diverse culinary scene.
Participating restaurants have yet to be announced, but famished foodies can expect plenty of pre-fixe set dinner menus and specialty items.
Need a bit of inspiration to get out of your T-Dot rut? Check out our guide to the Most Unique Things to Do in Toronto.
*Please note that this is by no means an exhaustive list of things to do in Toronto, Canada, in January or what to do in Toronto in January. Visitors will find endless things to do in Toronto, Canada, in winter.
Places to Visit in Toronto in Winter
Royal Ontario Museum
Prehistoric predators, Chinese culture, and sparkling jewels come together to create an unforgettable experience at the Royal Ontario Museum. Curious learners of all ages will be transfixed by everything from mummies to meteorites.
Wander through over 30 galleries and exhibition spaces that house more than 13 million pieces of art, culture, and natural history specimens. Soak in intricate mosaic domes, greek statues, or discover magical creatures of the wizarding world with a special exhibition ticket.
Bata Shoe Museum
If the shoe fits, buy it! Step into the soles of 4,500 years of footwear when you tour the Bata Shoe Museum. Go beyond the high heel or slipper when you soak in over 14,000 pairs of shoes and related objects.
From ancient Egyptian cartonnages to stunning Manolo Blahnik masterpieces, the Bata goes beyond style to uncover how footwear reflects our entire way of life, religious beliefs, and social status. Learn about Chinese foot binding, or dive into the future of high-tech sneakers. At Bata, the foot is just the beginning.
Niagara Falls
Over three thousand tons of flowing water and mountains of mist make Niagara Falls an eternally alluring National landmark. Cover every highlight of this natural wonder with the
Best of Niagara Falls, USA Tour. This 5-hour tour is jam-packed with Niagra Falls history, facts, and fun.
Take a ride aboard the iconic Maid of the Mist, traipse through the walkways of Cave of the Winds, and savor scenic views of the Niagara Whirlpool Rapids. Revel in this small group intimate experience as you witness the thunderous pounding of the falls and perhaps even receive a splash or two.
Snap photos of the Nikola Tesla monument, stop by Goat Island, and brave the conditions by the 'hurricane deck.' Please note that this tour is for the USA side of the falls only and includes pick up and drop off at your Niagara, NY, hotel.
Hockey Hall of Fame
What would a trip to Canada be without worshiping at the altar of the Stanley Cup? For almost 80 years, fanatics worldwide have flocked to the Hockey Hall of Fame. This museum of pucks, sticks, and jerseys contains the world's largest hockey collection.
Snap photo after photo of the Stanley Cup, explore the origins of this beloved game, or take in an incredible recreation of the Montreal Canadiens Dressing Room. Play interactive games against the sport's best goalies, or stroll down memory lane courtesy of vintage footage in the theater.
From dozens of international goalie masks to watching the colorful evolution of retro NHL sweaters, this is the holey grail of hockey. Need a crash course in 6's best sights? Conquer everything from Casa Loma to the CN Tower with a Best of Toronto Tour.
Toronto Winter Activities
Bentway Skate Trail
Under the Gardiner Expressway lies over 200 meters of pristine ice. Dazzle your family and friends with your best figure skating moves when you glide effortlessly through the figure 8-shaped Bentway Skate Trail. Uncover the magic of one of the best skate trails in the city when you admire winter art exhibitions, lights, and more.
Bentway Skate Trail is a one-stop shop that offers rentals, skate sharpening, and special events. Warm up with a hot chocolate between turns, and check their schedule for special rental deals.
Ready to show off those triple axle spins, or maybe just not fall flat on your face? More Toronto skating rinks can be found at:
The Harbourfront Centre
Nathan Phillips Square
Union Station
Cross Country Skiing on Toronto Islands
Just a 13-minute ferry ride from downtown lies a group of 15 interconnected islands. While the Toronto Islands might glean all their glory in the balmy summer months, December and January bring about welcome changes to this gorgeous natural oasis.
Winter visitors will be enchanted by thinning crowds, copious amounts of snow, and incredible photo opportunities. Gaze upon the frozen lakes, trees dripping in icicles, and the iconic city skyline.
Wander past the 200-year-old Gibraltar Point Lighthouse, or work up a sweat with some outdoor activity. From snowshoeing to cross-country skiing, the Island's various trails offer a pristine window into a wintery paradise.
Psst.. thinking of returning to the 6 in spring? Be sure to book an incredible 1-Hour Toronto Harbour Tour to see the Islands in their full floral glory.
Sample amazing treats in Kensington Market
The epicurean curious will be in full-blown foodie heaven when they munch their way through the multi-cultural offerings of Kensington Market. This outdoor market is a love letter to international culinary creativity and features restaurants and hidden gems from Jamaica all the way to Vietnam.
Warm up with a velvety-rich cup of cocoa or coffee from FIKA before making your rounds. Might we suggest a Baja-style fish taco from Seven Lives, a flaky beef patty from Golden Patty, or a mound of deep-fried deliciousness from The Dirty Bird Chicken and Waffles?
Caught a particular nasty chill? Soothe your frozen hands and spirits with a savory helping of Pho or noodles at Phở Hưng. Or, explore indigenous offerings at the beloved Pow Wow Cafe.
Still, wondering what to do in Toronto in winter? Take things back to the time of knights and kings with an evening of feasting, jousting, and more at Medieval Times Dinner.
Book Your Toronto Winter Trip Today
Pile on those long johns and winter layers because it's time to lean into winter with a Toronto escape. From falling snowflakes to heartwarming plates of poutine, the Big Smoke will bring much-needed heat to your winter plans. Discover dinosaurs and mastodons at the Royal Ontario Museum, or visit a shoe collection that would make Carrie Bradshaw proud at the Bata.
Chow down on indigenous fry bread and shrimp tacos in Kensington, or observe artistic installations of fire and light at the Distillery's annual festival. Whether you are looking for entertainment, education, or eats, you'll never run out of things to do in Toronto in the winter!
Did we Miss Any of Your Favorite Things to Do in Toronto in Winter?
What are your can't-miss Toronto things to do this Winter? Tell us in the comments below!