Ready to shake up your traditional Turkey Day plans? Switch out your stuffing and football for palm trees, theme parks, and more when you celebrate Thanksgiving in Orlando. 
Follow along to uncover the 17 best things to do on Thanksgiving in Central Florida.
From cozying up to Mickey in pilgrim attire to thrilling live music and luscious pumpkin cheesecake, we've covered every way to celebrate Thanksgiving in Orlando.
Lace-up those sneakers for a heart-pumping Turkey Trot in Avalon Park, or treat yourself to creamy mashed potatoes and elevated cuisine at the Capital Grille.
Whether your heart is set on roasted turkey or a sophisticated prix fixe menu, the City Beautiful brings the magic to this festive weekend of gratitude with gravy. 
Things to Do in Orlando Thanksgiving Week
Still worried you won't be entertained by Orlando's Thanksgiving weekend offerings? Stop sweating, as this Central Florida city is brimming with fun and festivities. An ideal locale for families on the prowl, most of Orlando's premier attractions will be open on Thanksgiving.
Save yourself the work on google 'things to do on Thanksgiving weekend near me' and instead consult our list of top-tier activities, events, and dinners:
Make sure you're fully rested for hours of parades and pumpkin pie when you book a cozy stay at any of our Orlando hotels and resorts.
Thanksgiving Activities in Orlando
Walt Disney World
Want to give thanks with Goofy, Minnie, and Moana? Celebrate the spirit of giving in the Most Magical Place on Earth. Walt Disney World will be open on Thanksgiving Day, and you and your family can enjoy hoards of classic rides such as Jungle Cruise, Pirates of the Caribbean, and Space Mountain.
Those feeling particularly festive can even make reservations to indulge in a traditional turkey dinner with all the trimmings at the Liberty Tree Tavern or Rose & Crown Pub. For a full rundown on Disney World Thanksgiving parades, meal options, and entertainment, check out our Disney World Thanksgiving guide to discover what you need to know before you go. 
SeaWorld Orlando
Looking for a splashing good time? Inject your Thanksgiving with some saltwater-infused fun when you spend Turkey Day uncovering the wonders of the sea. SeaWorld Orlando will remain open on Thanksgiving Day and is the perfect distraction for little minnows of all ages.
Scream yourself silly on the thrilling Mako coaster, encounter an Orca, or get wild with Big Bird in Sesame Street Land. Don't forget to seek out the cheery decorations, lights, and decadent holiday treats that will be part of SeaWorld's ongoing Christmas Celebration at this time. 
Universal Orlando Resort
Wondering what there is to do at Universal Studios Orlando during Thanksgiving? Fortunately, your favorite superheroes and Simpson characters will be ready and waiting for you come November 24th, 2022.
Unlock the excitement and entertainment of Hollywood when you spend the day riding the Hogwarts Express, dodging dinosaur beasts, and making mischief with Minions. Usher in the holly jolly season early, when you cheer along to Universal's Holiday Parade or gather for a very green Christmas with the Grinch. 
Disney + Universal Studios? Sounds like an enchanting combination. Get the best of both theme park worlds when you reserve a sizzling Walt Disney World® & Universal Orlando Hotel Package.
WonderWorks Orlando
Hands-on, immersive learning, and an opportunity to burn off those extra Turkey Day calories? Yes, please! Hightail it to WonderWorks Orlando for an educational adventure like no other. This wacky upside-down icon can be found on International Drive and features a glow-in-the-dark indoor ropes course, a backlit laser-tag arena, a 4-D XD motion theater, and six wonder zones.
Experience the incredible power of an earthquake, or discover what it takes to be an astronaut. Test your balance as you battle the ropes or become a human lightning rod. WonderWorks promises hours of fun for the whole family. 
LEGOLAND Florida Resort
Ready to brush up on your brick building? Craft impressive creations, pal around with Peppa the Pig, or blast off in Benny's Play Ship when you visit LEGOLAND, Florida, this November. The LEGOLAND Florida Resort will be open until 6 pm on Thanksgiving Day, allowing you plenty of time to tackle the Coastersaurus and Merlin's Challenge before you tuck into your cornbread and stuffing.
Visiting on Black Friday? Be sure to whip out that camera to document their spectacular giant LEGO® Christmas tree, holiday-dressed characters, twinkling lights, and more.
Orlando Thanksgiving Events
Avalon Park's Turkey Trot
Warm up those hamstrings, as you'll want to pull on your sneakers for this noble cause. The 2022 Turkey Trot is set to kick off at 7 am on November 24th, 2022. Join the Avalon Park Community in this 5k charity run for both adults and children. All proceeds will go towards local community programming, outreach, and activities. 
Need some Mickey-worthy accommodations to go with your Disney Turkey Day getaway? Settle in at any of our Disney Springs Hotels for an awesome array of entertainment, retail, and restaurant options.
Rooterville Animal Sanctuary's Thanksgiving on the Farm
Calling all animal lovers! Revel in the refuge of pigs, chickens, goats, and more when you swing by the Rooterville Animal Sanctuary on Thanksgiving Day. This amazing haven for pawed and hoofed creatures will be open until 4 pm Guests can enjoy serene self-guided tours and quiet time with the animals.
For over 16 years, this humble sanctuary has become a haven for abandoned and/or unwanted animals. Today, Rooterville is home to dozens of friendly farm animals. 
Thanksgiving Dinners in Orlando
Reunion Resort
Planning on practicing gratitude with your nearest and dearest at Kissimmee's tropical Reunion Resort? Settle in for a Thanksgiving feast of epic proportions when you dine at the Chophouse & Lobby. Available from 1 –8 pm, this mouthwatering meal begins at $70+ for adults and features a wide array of appetizers, a la carte offerings, and more.
Tuck into creamy roasted butternut squash soup, oven-roasted turkey, and slow-cooked prime rib. Save a smidge of room for their intoxicating bourbon pecan pie topped with whipped cream for dessert. 
Raglan Road Irish Pub
Take a detour from Disney World and soak in some live entertainment with your garlicky roasted, mashed potatoes when you break bread at Disney Springs. The Raglan Road Irish Pub Thanksgiving Day dinner is back and promising quite a spread. Tantalize your taste buds with duck fat roasties, butter and herb-basted turkey, honey-glazed carrots, and sausage and walnut stuffing.
After your generous eating and imbibing, stay put, so you don't miss a second of Celtic-inspired music and dance. 
Entertain more than your palate when you pause your dinner plans and take in an enthralling Orlando Show. 
Primo
Feeling like a more elevated Turkey Day affair? Pay homage to your inner gourmand when you plan to dine at Primo. On Thanksgiving Day, lucky diners here can enjoy elegant farm-to-table cuisine when they sample a fall-inspired a la carte menu.
Mia's Italian Kitchen
Mama Mia! Daydreaming about a slightly more unique dining experience? Relish toasted turkey with touches of Mediterranean flair, or opt for some crave-worthy chicken cacciatore pappardelle at Mia's. Got your heart set on some Chicken Parm or roasted mushroom lasagna? Guests can also feel free to order a la carte off their regular menu.
Knife & Spoon
Escape to your happy place when you devour the Thanksgiving offerings of Knife & Spoon. This Michelin-starred surf and turf eatery will offer an elegant pre-fixe three-course Thanksgiving Dinner at the Ritz-Carlton Orlando. Tuck into steak and seafood at seatings from 11:30 am-2:30 pm and 5:30 –9 pm. 
Thanksgiving at Rosen Shingle Creek Orlando
Prefer to brunch it up on Turkey Day? Express your gratitude for the bounty of buffet eating when you go to town for the Thanksgiving Dinner, and Buffet offered at Rosen Shingle Creek. This heartwarming tradition is returning, and diners can expect to sample creative twists on traditional favorites. Enjoy the festive holiday decor, and perhaps even book yourself in for a fall-themed spa facial or massage. 
Rosen Centre
Worked up an appetite after your day of theme park fun? Refuel with plenty of timeless classics and new exotic favorites when you hit up the smorgasbord of delights at the Rosen Centre. From 11 am to 7 pm, gather round and give grace as you load up garlic herb Boursin mashed potatoes, mussels from New Zealand, or crispy carnitas tacos from Mexico.
Prices start at just under $60 per adult and include positively sinful sweets such as apple streusel pie and cinnamon cheesecake.
Pirates, Medieval knights, and Sherlock-worthy mysteries come together to create loads of drama in Orlando. Set your sights on the most entertaining dinner of your life when you snag tickets to an Orlando Dinner Show. 
Rosen Plaza Hotel
Can't even boil water? Leave the kitchen prowess to the experts, and impress your guests when you snag a Thanksgiving reservation at the Rosen Plaza Hotel. This ever-popular dining experience is located on International Drive and features a cornucopia of classic dishes and unexpected flavors.
Swoon over melt-in-your-mouth cuts of swordfish or carbo load at the pasta station. Try steamed shumai, seafood salad, puttanesca sauce, and more. Seating begins at 11:30 am and runs through 4:30 pm.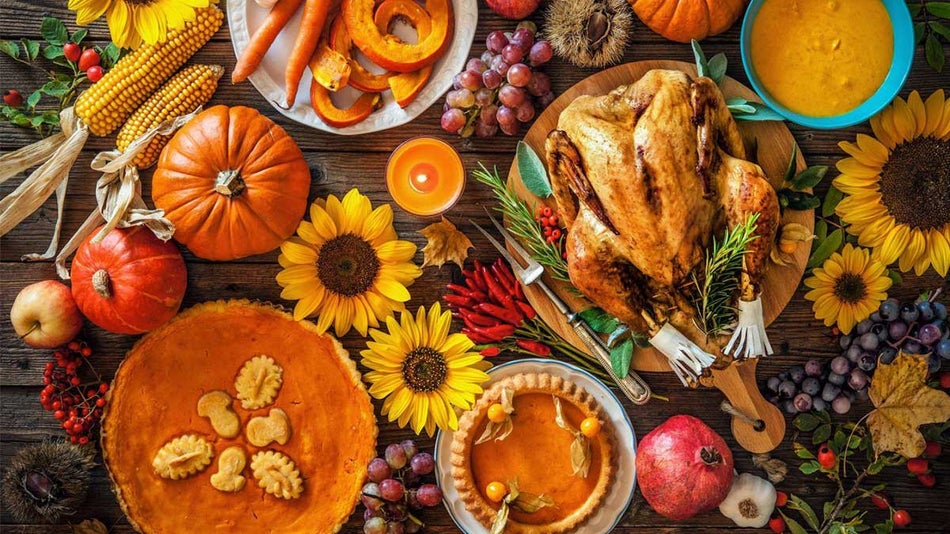 Orlando's balmy weather and tropical beauty may not immediately conjure images of the holiday season, but on November 24th, this Floridian oasis is overflowing with Thanksgiving pride.
Get your gobble on as you tackle the VelociCoaster, or admire the charm of Hogsmeade with Harry Potter.
Take a minute to cuddle up to a pot-bellied pig or cow at the Rooterville Animal Sanctuary, or brush up on the fundamentals of electricity at WonderWorks.
Devour generous portions of prime rib and cranberry sauce at Reunion, or melt over apple strudel pie at the Rosen Centre.
From chef-worthy dinners to dazzling brick-built adventures, the City Beautiful delivers countless blessings on Turkey Day. 
Tell us, What Are Your Top Things to Do Around Orlando For Thanksgiving?
Did we miss any of your favorite fun Orlando places to visit for Thanksgiving?
Leave us a comment below!