Aquamarine waters, soft white sand beaches, and swaying palm trees are all markers of the Magic City. From its stunning art deco architecture to its riveting nightlife scene, Miami is well known as an adults-only playground. However, this South Florida metropolis is actually overflowing with kid-approved activities.
Follow along to discover the 15 best things to do in Miami with Kids.
From petting zoos filled with cuddly farm creatures to adrenaline-filled games of laser tag, you'll find plenty of things to do in Miami for kids from South Beach to Biscayne Bay.
Cool off with a leisurely float down a lazy river, or embrace your inner daredevil with some high-altitude ziplining at Jungle Island.
Whether you're searching for what to do in Miami with toddlers or family-friendly activities in Miami, this city of sunshine is chock full of museums, zoos, and endless outdoor attractions.
So slather on that SPF and pack up that swimsuit because it's time to hit up Miami with the kids!
Miami Hotels
Can't wait to conquer all of the fun things to do in Miami with kids? Make the most of your time in the Sunshine State, when you extend your stay and reserve some family-friendly lodgings. From swanky hotels in South Beach to downtown Miami resorts, we cater to every family's taste and budget.
Choose from a wide array of Miami Hotels with amazing amenities such as game rooms, private beaches, pools, and more. Sleep just steps away from the Miami Boardwalk or savor stunning views of Biscayne Bay. No matter where you book, rest easy knowing you are always guaranteed our lowest rates online.
Psst..looking to really paint the town red? If you have a Miami bucket list a mile long, why not invest in a Go Miami All-Inclusive Pass, or Go Miami & The Keys Explorer Pass? Tackle the top things to do in Miami for kids from the Seaquarium to Lion Country Safari, and save up to 45% off retail prices.
Things to Do With Kids in Miami
Ready to feed a giraffe, ride a camel, or sail through the Everglades? From stretching the limits of your mind with immersive music experiences at the Paradox Museum to crafting masterpieces of paper, glitter, and pom poms you'll find tons of fun things to do in Miami for kids.
Tidal Cove
Cowabunga! Are you ready to slip and slide your way into an H20-soaked adventure? Swing by the JW Marriott Miami Turnberry Resort & Spa's splashy water park with your brood and enjoy a full day of aquatic excitement at Tidal Cove.
Hot Miami days necessitate some refreshment, and kiddies of all ages will go bananas for the park's seven water slides, lazy river, splash pad, and more. Cool off in the 4,000-square-foot kids' pool with aquatic play structure, or hang ten on one of the FlowRider stationary surfing machines.
Little minnows can hang out in the Kids Cove and take part in hours of play and activities. While more swim-savvy sharks can take on the G-force turns and high speeds of the Aqua Drop slide. Don't forget to fuel up on cheesy pizza or ice cream at the Freestyle, or an adult beverage (for mom and dad) at the Surf House.
Zoo Miami
Lions, tigers, and bears oh my! Miami may be home to the Dolphins, but animal lovers of all ages will be thrilled by the vast array of exotic species at the Zoo Miami. Prepare your tiny one for a Miami animal encounter, as you traverse over 300 acres of more than 3,000 animals. Travel the globe without ever leaving Florida, as you observe habitats all the way from Asia to the Amazon.
Feed brightly colored parrots, get up close with a Black Bear, or hop on for a sizzling Safari Tram ride. Observe the secretive creatures of the Cloud Forest, or head to the Savannas of Africa to see Zebras, Hyenas, and Gazelles.
Don't forget to pay homage to the state's most beloved reptile when you walk through the translucent Miami Zoo Alligator Tunnel. Dive into the wild species that populate the nearby Everglades, and maybe even pick up a Miami Zoo memento from the gift shop.
Paradox Museum
Need an escape from the heat? Take a break from the sand and sweat, when you give your noggin a workout at the Paradox Museum. Unlike any other mind-bending attraction you may have seen, this edifice is stuffed to the brim with over 70 exhibits featuring mental mind games, immersive exercises, eye tricks, and more.
Challenge your perception as you make your way through interactive illusions and interactive installations. Recommended for children four and older, your brainy babe will be able to compose their own piano concerto, attempt to balance through a rotating tube, or color their own shadow. Uncover the paradox behind a carousel, speak out loud to a piano, or document some outrageous dancing and singing selfies.
Flamingo Gardens
Think pink! Venture outside of Miami's glittering cityscape for an afternoon of ecological entertainment and education at Flamingo Gardens. Located in Davie, Florida this sprawling 60-acre conservation facility is also home to both the Wray Botanical Collection and the Everglades Wildlife Sanctuary. Gaze up native species such as Alligators, Otters, Florida Panthers, Bobcats, and of course flamingos!
Climb aboard a narrated tram tour, try to count how many times a hummingbird flaps its wings, or admire the stunning flora in the Children's Garden. Peek at frolicking river otters, or snap some photos of the impressive 200-year-old live oak trees by the historic Wray Home Museum.
Want even more inside knowledge on Florida's local wildlife? Swing by for an animal encounter and soak in fascinating facts and histories about the mammals, birds of prey, and reptiles that pepper this area.
Things to Do in Miami Beach with Kids
South Pointe Park
Towering palm trees, spellbinding sunsets, and a plethora of kid facilities are just a few of the things that entice families to visit South Pointe Park. This sun-kissed green space can be found at the southern tip of Miami Beach, and showcases panoramic views of the shoreline, downtown Miami, and Fisher Island. Water-loving babies will be in heaven in the motion-activated mini splash zone for kids featuring water cannons.
While skater boys and girls can take advantage of the many winding paths for wheeled visitors. Pack up a picnic and enjoy your tasty snacks while watching the kayakers and jet skiers speed by. Or, refuel with ice cream, smoothies, and juice at the South Pointe Cafe.
Ready for some fun in the sun? Head to the beach and utilize their beach chair and umbrella rentals before tapping into a pickup volleyball or paddle board game.
Treetop Trekking Miami at Jungle Island
Calling all jungle boys and girls! Unleash your inner Tarzan when you swing, climb, and zip through South Florida's only aerial adventure park. Test out your balance, agility, and more as you make your way through suspended bridges, swinging logs, cable traverses, and zip lines at Treetop Trekking Miami.
Older wildcats can relish the challenge of the Thrill Seeker Trek, 55 feet in the air. While youngsters ages three and older will have a blast navigating the ramps and bridge networks of Treewalk Village. Even inject some animal viewing into your sky-high soaring when you zip above exotic animals including capybaras and iguanas.
Venetian Pool
Swim through a unique part of Miami's history when you round up the rugrats for a day of pool in Coral Gables. For a century the Venetian Pool has dazzled thousands of guests with its enchanting waterfalls and cave-like grottos. Swimmers of all abilities* will appreciate the ground's European-accented architecture as they float through over 820,000 gallons of spring-fed water.
The Venetian Pool is pleased to offer on-site concessions and even provides seasonal swimming lessons for children.
*Children must be aged 3 years and older to enter the pool facility.
Things to Do in Miami with Toddlers
Miami Children's Museum
It's never too early to install a love of learning in little ones. Let sparks of imagination and creativity run wild when you visit the Miami Children's Museum. Also known as the Miami Kids Museum, this 56,500-square-foot facility is completely devoted to the needs, interests, and education of children.
Kids as young as 12 months can enjoy the museum's facilities which include 17 galleries, a charter school, a 200-seat auditorium, and a KidSmart educational gift shop. Kiddies can get tactile as they participate in building stations that replicate a real construction zone or reunite with their favorite storybook characters.
Embark on a math and science-fueled adventure with Curious George, or crawl through the luminescent Castle of Dreams. Tinker with different instruments in the Music Makers Studio or play pretend veterinarian in Pet Central.
Poppet Project Miami
Pint-sized Picassos unite! Foster that artistic ingenuity with a session at Poppet Project Miami. This children's drop-in art, craft, and science studio is the ideal place to let antsy toddlers channel their energy. From beads to painting to sizzling science experiments, there is no limit to the fantastical masterpieces your tot can create.
Craft creatures out of cork and yarn or go crazy bedazzling a pair of sunglasses or a tote bag. Reserve open studio space or enquire about their monthly camp sessions.
Things to Do in Miami with Family
FunDimension
Can't figure out what things to do in Miami with family? Satisfy your brood's need for competition when you take your battles to FunDimension. Pair up into teams, and prepare for cutthroat laser tag or bumper car games. Wander through their state-of-the-art 15,000-square-foot air-conditioned facility in Wynwood as you debate what attraction to tackle next.
Warm up those hips and try your hand at the dance revolution machine, or scream as you launch into breathtaking tailspins in the bumper car arena. Hone your climbing skills on the indoor wall, or monkey around on their unique, multi-level indoor playground featuring ball pits, obstacle courses, and more.
Wynwood Walls
Trying to garner some game with your teens? Surround yourself with some of the world's greatest street art when you take in block after block of colorful murals in Wynwood.  Wynwood Walls is a unique outdoor art museum that exclusively focuses on street art. Admire more than 35 hand-sprayed murals, two street-art galleries, retail, and more.
Snap photo after photo of everything from contemporary works to old-school graffiti. Explosions of color, paint, and pop art will provide a striking backdrop for all of your vacation selfies.
Bill Baggs Cape Florida State Park
Scurry away to Key Biscayne and your family will be spending the day surrounded by the beauty of Cape Florida. An ideal getaway for any adventurous clan, the Bill Baggs Cape Florida State Park delivers unparalleled views of both the Atlantic Ocean and Biscayne Bay.
Plan ahead and make the most out of your time here, as you'll want to uncover every inch of the park's mangrove wetlands, bike paths, and beaches. Be sure to extend your visit to sunset so you can appreciate the majesty of colors from atop the historic 1825 Cape Florida Lighthouse.
For even more backstory on this infamous lighthouse, which served as a secret meeting place for slaves, you can take part in a guided tour.
Everglades Airboat Adventure Tour
See ya later gator! Watch a crocodile smile, feel the thrill of a boat ride, and witness a heron take flight. Delight in the abundance of native flora and fauna when you participate in an Everglades Airboat Adventure Tour.
Feast your peepers on 1.2 million acres of grasslands, marshes, and rivers, as your knowledgeable captain provides invaluable narration and commentary. Come to learn about this fragile and unique ecosystem teeming with alligators, frogs, birds, and more.
After your ride, enjoy admission to the Alligator Show and Jungle Trail. Courageous youngsters will even get to ham it up and snap a keepsake photo with a baby gator.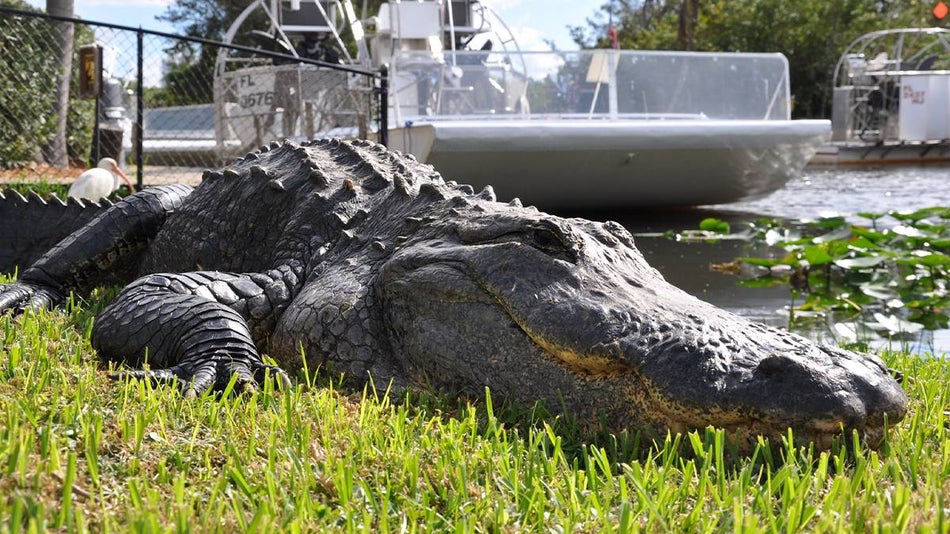 Miami getaways may be closely associated with spring break and sultry nights spent salsa dancing at Mango's, but this city of magic, sunshine, and sand is surprisingly kid friendly.
Encourage their budding creativity with visits to the Poppet Project where they can create multi-colored masterpieces of paint, clay, and feathers. Or, stoke the sparks of individualism when you appreciate the international street art scene with your kids at Wynwood Walls.
Trade in paintbrushes and museums for days of kayaking, biking, and lighthouse tours in Cape Florida, or ditch the fancy Miami restaurants for a family-approved picnic in South Pointe Park.
Whether you are looking to entertain toddlers or teenagers, families of all shapes and sizes will discover an abundance of adventures to experience in the Magic City.
What are Your Favorite Things to Do for Kids in Miami?
Did we miss any of the best fun family things to do in Miami?
Leave us a comment below!