Breezy afternoons of ocean expeditions, tall glasses of sweet tea, and Medieval feasts worthy of royalty. From its spacious parks full of flowering Dogwood trees to tons of top-tier family activities, Atlanta is the buzzing metropolis that all kids will love.
Follow along to discover the 17 best things to do in Atlanta GA with kids.
The Big Peach might be the largest city in Georgia, but this sprawling Southern Capital delivers plenty of small-town feel and wholesome entertainment.
Get up close to the wildlife of the African Savannah at the Atlanta Zoo, or intrigue tiny ones with colorfully creative puppet shows at the Center For Puppetry Arts. Embark on a fizzy and festive journey at the World of Coca-Cola Museum or test your Dino Ranger training skills at Stone Mountain Park.
Whether you are on the hunt for places for kids in Atlanta or fun things to do in Atlanta for kids, our experts have got you covered.
From museums to theme parks to sandy beach days, we've rounded up the ultimate list of kid-friendly things to do in Atlanta.
Atlanta Hotels
Ready and raring to begin your ATL preparations? Before you can kick off your breakneck itinerary of the best things to do with kids in Atlanta you'll need to secure some accommodations. Whether you are headed to the Big A for a birthday party, school break, or just a jam-packed weekend away, we offer up a variety of Atlanta Hotels.
Get a head start on hours of underwater family fun in Atlanta when you stay just minutes from the Georgia Aquarium. Or, enjoy awesome amenities like an outdoor pool, fitness center, and on-site Garden Grille in Midtown. Make that reservation with ease, knowing you are always guaranteed our lowest rates online.
Fun Places for Kids in Atlanta
Chattahoochee Nature Center
Wetlands, wooded forests, and gnomes oh my! Who says fun places in Atlanta for kids only exist within the city limits? Ditch the city streets for 127 acres of natural habitat, when you pay a visit to the Chattahoochee Nature Center.
Mini outdoor enthusiasts will be in heaven as they dive headfirst into numerous trials, exhibits, and nature-based programs. Hike, zipline, or paddle a canoe, as you learn all about important ecological relationships and conservation issues that define this area.
Animal lovers will be pleased to learn that the center also functions as a wildlife rescue and rehabilitation hub, providing care to dozens of species including native Georgia raptors and cuddly beavers.
Tybee Island Beach
Lucky enough to be sampling the juicy attractions of the Big Peach during summer? Those families planning a warmer weather getaway won't have to worry when googling, 'How far is the ocean from Atlanta Georgia?'
Plenty of gorgeous sandy beaches are well within reach of Hotlanta. Our preferred saltwater getaway is Tybee Island Beach. A little over 4 hours' drive from the city, this quaint island is studded with palm trees and swaying river grass.
Delight in over three miles of postcard-worthy beaches as you work on your tan or suck down an iconic frozen slushy.
Ponce City Market
Seeking a sizzling locale that will appeal to both kiddies and cultured adults? Look no further than the famous Ponce City Market. Once a historic Sears building, this converted retail space now functions as a vibrant food hall. Wander around for hours as you sample burgers, deep-fried chicken, old-fashioned sweets, and more.
Got an itch for some retail therapy? You can also stock up on souvenirs, home goods, and apparel at brand-name outfitters such as Lululemon, Levis, and Madewell. Don't skip out on the market before setting your sights on the sublime city skyline views afforded by the roof. Distract kiddies with mini golf and retro games at Skyline Park, while mom and dad enjoy the park's famous vodka-spiked Frozen Lemonade.
Centennial Olympic Park
Bright, beautiful, and chock full of Georgia history, Centennial Olympic Park is a shining beacon of greenspace located in downtown Atlanta. This 22-acre park is the legacy of Georgia's hosting of the 1996 Summer Olympic Games.
Rugrats of all ages will love frolicking in the Fountain of Rings or monkeying around on the playgrounds. This iconic 5 ringed fountain creates an interactive space where children can safely play in the water jets.
Things for Kids To Do in Atlanta GA
Feeling clueless about how to keep your youngsters entertained in A-town? Thank your lucky stars, because there are endless things to do in Atlanta for kids. Whether you and your brood are looking to brush up on Civil Rights History or snap selfies with a real mermaid, Atlanta things to do with kids* will always prevail:
*Please note that this is by no means an exhaustive list of kid things to do in Atlanta GA or fun things to do in Atlanta with kids, but simply a round-up of our top-tier activities and attractions.
Georgia Aquarium
Join your flippered friends for hours of H20-fueled excitement at one of the largest aquarium attractions in the world. The Georgia Aquarium offers a portal into an exotic watery world. Glimpse at tropical fish, sharks, penguins, and more as you spend hours submerging yourself in the ins and outs of aquatic animal habitats.
Traverse over 600,000 square feet of displays, exhibits, and gallery experiences. Take in Beluga Whales, Manta Rays, and sleek Asian small-clawed otters. Watch the athletic prowess of dolphins in their 15-minute display, or settle in for some predator-produced fun with one of the most dynamic shark exhibits in North America.
SeaQuest
Does your mini munchkin go mad for Moana? Fulfill your family's fantasy of an ocean escape, when you abscond to SeaQuest. Conveniently located just 22 miles east of the city in the Stonecrest Mall, this interactive aquarium/zoo hybrid is an ideal child-friendly destination.
Not just limited to the sea, here tots can interact with over 1,200 land and water animals. Feed a sleepy sloth, touch the shell of a giant Sulcata Tortoise, or snorkel with stingrays. Don't forget to commemorate this momentous occasion with a keepsake selfie with Marina the Mermaid.
Zoo Atlanta
Creatures that slither, creatures that roar, and creatures that can't help but capture your heart. See all of mother earth's creations on display at Zoo Atlanta. For over 130 years this historic institution has provided children with access to thousands of animals and rare species.
Coo over the incredible Giant Pandas, or journey to the depths of Africa when you observe the inhabitants of the Savannah. Test your tolerance for creepy critters with a visit to over 70 species of reptiles and amphibians at Scaly Slimy Spectacular. Or, hop on the Zoo Train for a choo-choo fest. Schedule in a free keeper talk and learn all about monkeys or Macaws, or get up close and personal with a feisty goat in the petting zoo.
Stone Mountain Park
Stone Mountain Park may not have a water park, but intrepid youths still catch a thrill sailing away on a Summit Skyride. Equal parts entertainment and natural oasis, this family-friendly attraction contains 3,200 acres of outdoor recreation, immersive activities, and natural splendor.
Channel your inner Jurassic Park as you spot 20 lifesize prehistoric creatures, visit interactive paleontology tents, or master dino-worthy photo ops. More about life beyond our planet? Take your adventuring to another galaxy with Voyage to the Moon- 4-D. Continue your playtime in the great outdoors with hours of hikes or stops to the historic granite quarry and picturesque Grist Mill.
Atlanta Activities for Kids
Looking for iPad alternatives to keep your little ones entertained? Before you break out the technology, why not try some of the best Atlanta activities for kids? From delicious dinner theater with a side of swords to some epically artistic expositions, there are numerous indoor and outdoor activities in Atlanta for kids.
Fun Spot America Theme Parks - Atlanta
Competitive juices flowing? Let your tykes burn off some of that excess energy when they take on all of the thrills of Fun Spot America. This classic theme park showcases tons of all ages exhilaration. Cruise around the track on a go-kart, scope out the view from the miniature Ferris Wheel or perfect your par with mini golf.
More seasoned pros will relish the opportunity to check out the Topgolf Swing Suite featuring two simulator bays and a variety of virtual games. While roller coaster enthusiasts will be ecstatic over the brand-new ArieForce One coaster. The largest zero-G stall in America contains an explosive raven-truss dive and a first-of-its-kind zero-G roll over Fun Spot's arcade.
Medieval Times Dinner & Tournament Atlanta
Here ye, Here ye! It's time to treat you and your offspring to a banquet befitting a king. Revel in medieval magic, battling knights, and magnificent showmanship when you break bread at Medieval Times Dinner & Tournament Atlanta.
Our country's #1 and longest-running dinner attraction perfectly melds jousting, feats of skill, and strength with a sumptuous four-course medieval-style banquet. Dig in (sans silverware) to roasted chicken, sweet buttered corn, herb-basted potatoes, and a sweet dessert finale. Watch sparks and swords fly as you devour your meal in the shadow of an authentic European castle.
Family Friendly Museums of Atlanta
Fizzy soft drinks, civil rights, and modern art. Take advantage of Atlanta's many museum offerings when you round up the gang for an afternoon or day of cultural exploration:
National Center for Civil and Human Rights - both a museum and human rights organization, this center is home to numerous exhibitions and artifacts from the great Dr. Martin Luther King, Jr. Educate yourself on this impactful moment of US history, participate in a lunch counter sit-in, or read stories from human rights advocates worldwide.
High Museum of Art - discover an abundance of African, Folk, and self-taught art at the largest museum for visual art in the Southeastern United States. Don't skip out on Toddler Thursdays, a special program geared towards tots ages fifteen months through three years and their caregivers. Each Thursday, your tiny one can explore monthly topics related to the artwork and participate in art-making activities.
Fernbank Museum of Natural History - toggle between the past and present, as you soak in dinosaur remains, live animals, 3D theater showings, and more. Understand the science of rockets, gaze up at a staggering Giganotosaurus, or stretch your legs in the verdant Fernbank Forest.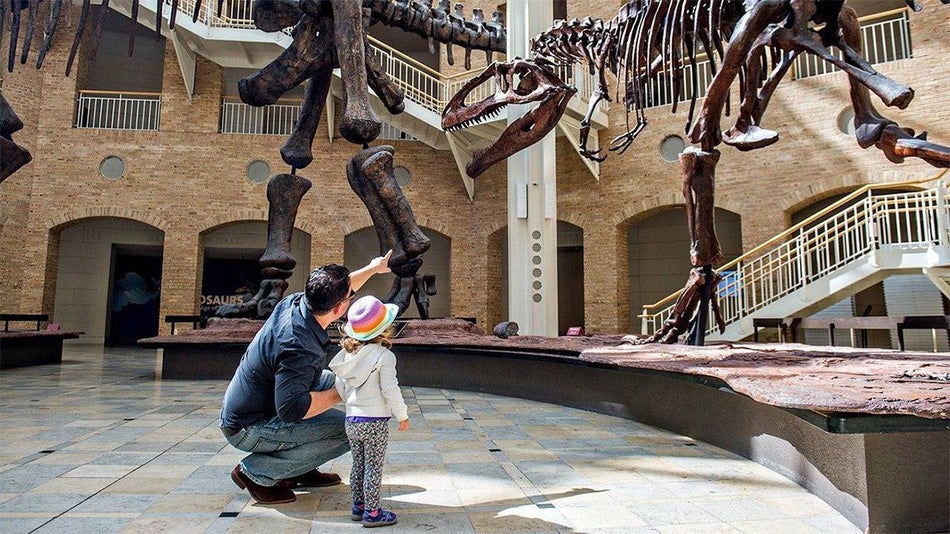 Children's Museum of Atlanta - this non for profit educational venue was specifically designed to encourage curiosity and learning in kids. Your miniature angel can participate in farm life, milk Buttercup the Cow, or develop their hand-eye coordination on the Climber.
World of Coca-Cola - nothing beats an ice-cold Coke on a sweltering Georgia day. Learn the fascinating history behind your favorite beverage, when you swing by the World of Coca-Cola. Create unique flavor combinations, peak at the secret vault, or chill out with the world's most famous polar bear.
College Football Hall of Fame - is your pint-size travel partner a fan of pig skin? Show them the honor, traditions, and passion inspired by college football when you visit this legendary locale. Test your skills and agility on the indoor playing field, or pay your respects to the legendary players in the Hall of Fame Class.
Center For Puppetry Arts - don't miss the opportunity to experience one of the few puppet museums in the world. From collection highlights containing Macy's Thanksgiving Day Parade puppets to props and artifacts from every Jim Henson venture, this museum is a love letter to the art of puppetry. In addition, guests can also purchase tickets to professional puppet show performances like Charlotte's Web or Penguin in my Pocket.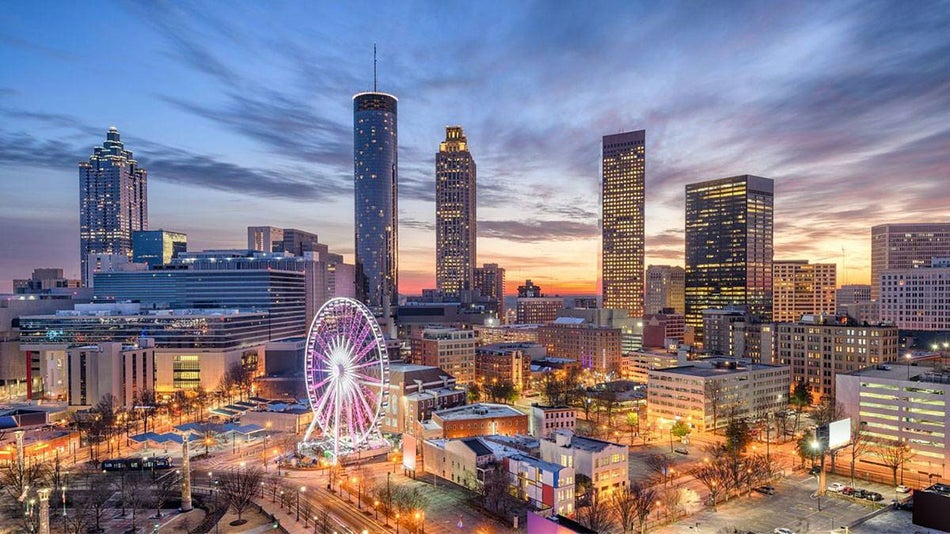 The ATL may have garnered a reputation as a sweet and spicy playground for adults, but this charming city overflows with classic American family pursuits.
More than just rowdy nightlife and A+ sports teams, Atlanta is a haven for harried families.
Round up the rugrats and snack away on popsicles, homemade chocolates, and stacks of flapjacks at Ponce City Market. Or work off those calories when paddling through the stunning wetlands of Chattahoochee Nature Center.
Hit the pinnacle of peak fun things to do with kids in Atlanta when you lap the competition on the Samson Track at Fun Spot or bust out laughing after hours of Bumper Boats.
See if the apple of your eye has what it takes to throw a perfect QB spiral at the College Football Hall of Fame, or plan a simple picnic in the shadow of Olympic history at the park.
However you decide to enjoy the Hollywood of the South, you are in for one blockbuster-worthy break!
Tell Us, What's Always on Your List of Things to Do in Atlanta Georgia With Kids?
Did we miss any of the best things for kids to do in Atlanta?
Leave us a comment below!