Check out why your family should visit the Track Branson the first chance you get!
What if I told you there was a place in Branson, MO that could entertain your entire family? The Track Branson is the epicenter of fun! From go-karts to mini-golf, The Track has something for everyone and every family.
Things to Do at the Track Branson
The Track is jam-packed with exciting things to do and rides. No matter if your group prefers exhilarating rides or laid-back family-friendly activities, you'll find it here.
Go-Karts
On your mark. Get set. Go!
The Track has 14 different go-kart tracks, ranging from kid-friendly to a 4-story high-speed race. Families traveling with little ones can have fun on the rookie karts, an easy oval course designed just for kids.
Do note that the go-kart tracks at the Track Branson have strict height, weight, and age requirements. These restrictions are in place to ensure all guests have a safe and secure go-karting experience.
Ferris Wheel
Did you know the Branson Ferris Wheel at the Track once had a different home? That's because it used to be the iconic Navy Pier Ferris Wheel from 1995 to 2015. The wheel stands at 150 feet tall, and its 40 gondolas hold up to 240 riders.
If you visit at night, you'll see it light up with nearly 16,000 LED lights for the music and light spectacular, "Electrify." Showtimes are at 9:00 pm, 10:00 pm, and 10:55 pm nightly.
To ride the Branson Ferris Wheel, riders must abide by the following restrictions:
Children under the age of 12 must be accompanied by a ticketed adult 18 years or older. One adult may accompany no more than two children.
There may be two to six riders per gondola. Infants and toddlers count as riders in the total per gondola.
Selfie Sticks, poles, strollers, wheelchairs, and walkers are not permitted on the ride.
Bumper Cars & Bumper Boats
While the Track Branson has classic bumper cars, visitors can also ride bumper boats. But prepared to get wet! On top of bumping into one another to create a splash, these boats are equipped with water cannons. If you need to cool off, this is the perfect way to do so.
Ride restrictions are as follows:
Bumper Boats - 44" AND 6 yrs. & up
Bumper Cars - 54" & up
Other Fun
Still searching for fun? Try out these extra activities at the Track:
Mini-Golf
Arcade Games
Kiddie Rides
Skycoaster
Batting Cages
As always, these rides and activities follow strict height and weight requirements.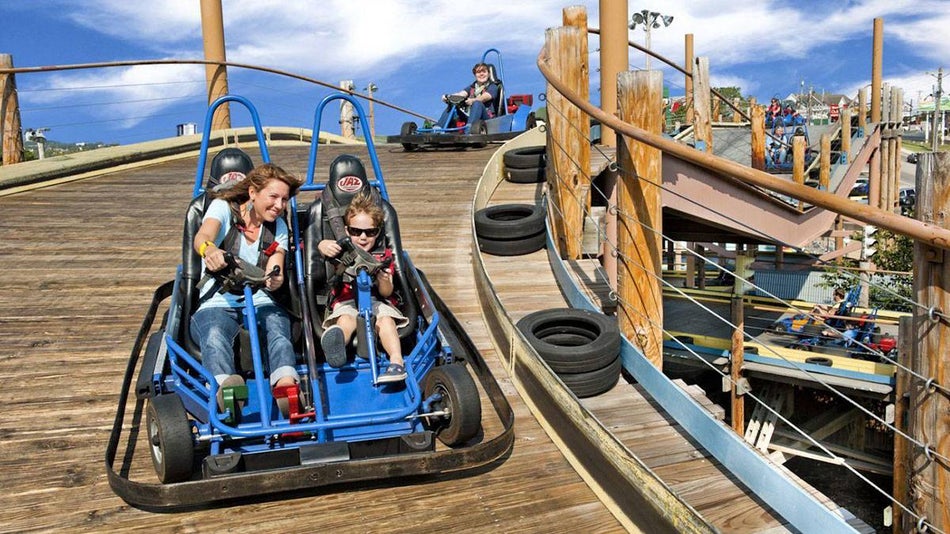 The Track Branson: What to Know Before You Go
Location
There's more than one track filled with fun in Branson. The track has three locations throughout the Ozarks:
Track 3 - 2505 W. 76 Country Boulevard
Track 4 & The Branson Ferris Wheel - 3345 W. 76 Country Boulevard
Track 5 - 3525 W. 76 Country Boulevard
How to Ride
Unlike a typical amusement park where you pay one giant price for all the rides, games, and shows inside, the Track Branson allows you to choose your fun. Each ride or activity requires a particular cost or amount of credits to ride. This ensures you don't pay extra for rides you won't enjoy.
To make it easy for guests, 1 credit = $1.00.
What to Wear
Since most rides and activities at the Track require guests to be active, wear closed-toed shoes and comfortable clothing. Flip-flops may not be accepted on several go-kart tracks and rides.
If you have a question about attire, ask a ride or game attendant
Skip the Lines.
Don't spend half your day at the Track waiting in a ticket line! By purchasing your Track Card or Go Card from Tripster, you'll be all set to skip the admission lines and head straight to the fun. Plus, you'll take advantage of discounts not available elsewhere!
Race to The Track Branson for Family Fun
Ready to see what all the buzz is about? Purchase your Go Card for The Track today and have fun!