Faith, service, courage, and honor are the tenants that the US Navy holds dear. Each year thousands of brave men and women dedicate their lives to serving under this maritime service branch. Scratching your head wondering what things to do in honor of the Navy?
Follow along to learn everything you need to know about the top maritime attractions and battleship museums. 
For almost 250 years, the U.S. Navy has continued in its distinguished work of protecting our waters. From battleship museums in sun-soaked Hawaii to U.S. Navy ship museums in Beantown, our country is overflowing with fascinating military history and heritage.
Discover the stories of Midway sailors on a naval tour, or pay your respects to the poor lost souls at Pearl Harbor. 
Whether you're in the Empire State or the City of Angels, there's an endless array of U.S. Museum ships to discover.
Best Naval Museums in USA*
San Diego Navy Ship Museum: USS Midway Museum, San Diego, CA
Aviation fanatics will be in heaven visiting the esteemed USS Midway Museum, which features more than 30 restored aircraft and nearly 10 acres of exhibits and displays.
The USS Midway Museum in San Diego, CA, is home to the longest-serving U.S. Navy aircraft carrier of the 20th century. Get ready to explore the stories and history of the 225,000 Midway sailors who served our country. 
Museum-goers will see what it was like to live in this 'floating city at sea' as they follow along with a self-guided tour narrated by the Midway sailors themselves. 
Other notable points of interest include: 
Captain & Admiral's Country - see where the admirals lived and Operation Desert Storm was orchestrated

TBD Devastator exhibit (as seen in the movie Midway) 

Flight simulators like Air Combat 360 and Virtual Reality Flight Experience: Screaming Eagles

WWII aircraft such as the TBM Avenger

Below deck exhibits such as the sailor's galley and sickbay
Pro Tip: The museum also offers many special events ranging from Top Gun movie nights to 'Legacy Week,' where they host interactive activities to commemorate Memorial Day.
Hawaii Navy Ship Museum: Pearl Harbor Memorial Tours, HI
No trip to Hawaii is complete without a look back into the incredible history and legacy of Pearl Harbor. 
Break up your beach hopping with any one of our fascinating and educational Pearl Harbor Memorial Tours:
Pearl Harbor-USS Arizona-Honolulu City Tour, HI
Craving a more in-depth Pearl Harbor adventure? Pearl Harbor-USS Arizona-Honolulu City Tour promises to look at naval history and Hawaiian culture comprehensively.
This 6.25-7 hour tour includes stops at the Pearl Harbor Visitors Center, USS Arizona Memorial, National Memorial Cemetery of the Pacific at Punchbowl, and a narrated tour of downtown Honolulu.
Whether you are a history buff or simply a naval enthusiast, this tour is sure to impress with its numerous highlights, such as:
The entire Pearl Harbor Visitor Center experience

The official USS Arizona Memorial Tour

Admission to the National Park Service's theater to view a 23-minute movie documentary on the bombing of Pearl Harbor

Visiting the formidable USS Bowfin submarine

A driving tour through historic downtown Honolulu

A complimentary photo stop opportunity at the King Kamehameha Statue
Boston Navy Ship Museum: The Maritime Museum at Battleship Cove
Besides the Red Sox and Cream Pie, Beantown is home to a number of renowned naval ships and museums. Hightail it to 'America's Fleet Museum' to explore a diverse number of exhibits, ships, and other crafts. The Maritime Museum at Battleship Cove is over 50 years old and includes famous items from both the Fall River Line and RMS Titanic.
Immerse yourself in the history of whaling, maritime folktales, and more as you meander through interactive displays and exhibits. Discover technological advances in sea travel, or set your sight on five National Historic Landmark U.S. Naval ships. Step into the shoes of a brave sailor during WWII or experience the power of a high-speed missile corvette from the Soviets.
USS Constitution Cruise, MA
Prepare the cannons! Get ready for an educational high-seas adventure as you board the USS Constitution Cruise in Boston, MA. Your 45-minute tour will take you throughout the Boston Harbor and the Charleston Navy Yard as you learn about one of the toughest ships ever - Old Ironsides.
Old Ironsides was one of the first ships ever commissioned by the U.S. Navy and is the oldest commissioned warship still afloat in the world. Although her cannons may no longer function, you will still have a good time exploring her hallowed halls and the adjacent Naval Museum. 
This tour also provides the opportunity to explore other notable Boston landmarks, including:
The Bunker Hill Monument

The site of the Boston Tea Party

The Old North Church
Los Angeles Navy Ship Museum: Battleship USS Iowa Museum, San Pedro, CA
Climb all aboard the West Coast's only battleship open to the public - the Battleship USS Iowa Museum. This interactive naval museum is a fun and family-friendly experience that will captivate and inspire through multiple exhibits, hands-on engagement, and knowledgeable guides. 
Throughout your guided tour, you will discover the rich maritime history of the USS Iowa, including her special nickname, 'the Battleship of Presidents.' 
Other impressive highlights of this award-winning LA-based attraction include:
A scavenger hunt for 'Vicky' the USS Iowa's dog mascot 

Viewing the HUP-2 Helicopter from the Korean War era

Experiencing the thrilling ride of the flight simulator

Remembering the bravery of the Surface Navy Heroes

Exploring the impact of shipwrecks in the chilling 'Lost at Sea' exhibit
Navy Ship Museum NYC: The Intrepid Sea, Air & Space Museum, New York, NY
It turns out the Big Apple isn't just home to Broadway! Set your sights on the skies and seas with a visit to the iconic Intrepid Sea, Air, & Space Museum in New York City. 
This impressive naval museum is home to the legendary aircraft carrier Intrepid, the space shuttle Enterprise, the world's fastest jets, and a guided missile submarine. Don't miss this attraction on our list of top U.S. museum ships!
Kids and adults alike will be mesmerized by the abundance of exciting artifacts, fascinating videos, and permanent educational exhibits like:
The Aircraft Carrier Intrepid - fought in WWII, survived five kamikaze attacks, and one torpedo strike

Space Shuttle Pavilion - the prototype NASA orbiter that led the way for America's space shuttle program

Submarine Growler - holds the distinction of being the only guided missile submarine open to the public
And don't forget to check out their rotating array of new exhibits on naval history, space exploration, and technology like:
Navy Cakes: A Slice of History - a whimsical look into all the sweet treats baked aboard the Intrepid and the Growler

Kamikaze: Beyond the Fire - An immersive and interactive experience on the deadly nature of Kamikazes
Navy Ship Museum Philadelphia: Independence Seaport Museum, Philadelphia, PA
Planning an excursion to the city of brotherly love? Then, complete your Philadelphia adventure with a stop at the Independence Seaport Museum. There is much to see, do, and experience at this premier maritime destination on Penn's Landing waterfront. 
The Independence Seaport Museum has the distinct honor of housing the world's oldest and still active steel warship, the Cruiser Olympia. The Independence Seaport Museum also showcases 'Becky,' or the USS Becuna, a WWII submarine that completed five wartime patrols and sank 3.5 Japanese Merchant ships.
Pro Tip: Don't forget to carve out time to step foot on the Schooner Diligence, a perfect replica of an 18th-century ship that would have served in the U.S. Navy!
Other standout current exhibits include:
Workshop on the Water - watch firsthand as experts lovingly restore wooden vessels and educate visitors on the art of boatbuilding

Patriots & Pirates - ahoy! Learn all about the history of the U.S. Navy and the city of Philly through artifacts and never before seen items 
Navy Ship Museum Washington DC: Washington Naval Museum, Washington DC
Calling all frogmen! If you are searching for a complete overview of the history of the U.S. Navy from its origin to the present day, you must visit the National Museum of the U.S. Navy on your next trip to the capital. 
After a full day of taking in the landmarks, sights, and attractions of Washington DC, hightail it to the new campus-style museum, which pays respect to the Navy's colorful heritage and history.
For over 50 years, this educational institution has brought the excitement of a Navy career to life through interactive exhibits, artifacts, and 4-D theater presentations.
Can't miss museum exhibits include the celebrated:
Covert Submarine Operations 

Dive! Dive! Dive! U.S. Navy Submarines

In Harm's Way: The U.S. Navy and World War II: Atlantic
Pro Tip: Make a day out of it by packing a picnic lunch to enjoy outside at the lush Willard Park, directly in front of the museum.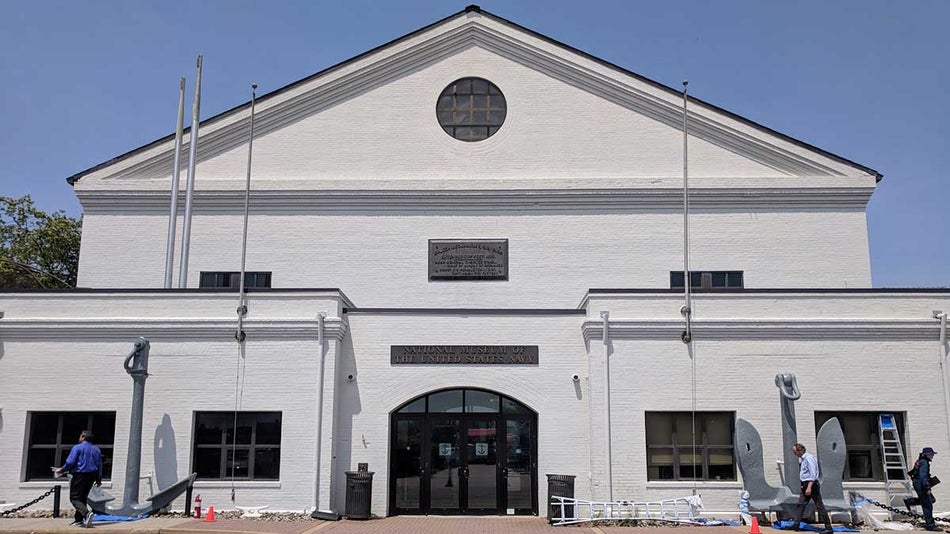 *Please note that this is not an exhaustive list of U.S. battleships museums. Rather, a compilation of our ultimate United States museum ships and USA battleship museum attractions.
Excited to 'cast away' on a day of adventure, education, and maritime fun? 
A US Navy Museum provides the perfect chance to reflect and pay homage to the brilliant legacy of the U.S. Navy. 
Whether you are exploring a wartime submarine or mounting a famous battleship with a very presidential pass, each of these unique destinations provides a sailor-worthy dose of entertainment. 
Tell us, What Would be on Your List of Can't-Miss Battleship Museums in the U.S.?
Did we miss any of the best U.S. battleships museums?
Leave us a comment below!