Do you dream in technicolor yellow? Have you always wanted to try a Squishee Slurpee from Kwik-E-Mart in South Carolina, or join Homer for a cold one at Moes? If you answered 'd'oh' to any of these questions, do we have a treat for you!
Simpson lovers of all ages are flocking to The Simpsons at the beach to experience an immersive Springfield Universe like no other. 
The Simpsons attraction in Myrtle Beach is a social media-ready, multi-sensory, hands-on experience that puts fans of the longest-running animated series inside their favorite landmarks. 
Snap a selfie with the Flanders gang, crash a date with Lisa and Ralph, or split a ginormous Lard Lad donut with your BFF!
Ready to create some truly epic Simpsons-themed content? The 4D Simpsons experience in Myrtle Beach is the perfect addition to any Grand Strand vacation or day trip. With our handy Ultimate Guide, you can secure deals, coupons, and discounts so good they'll have you yelling 'ay, caramba!'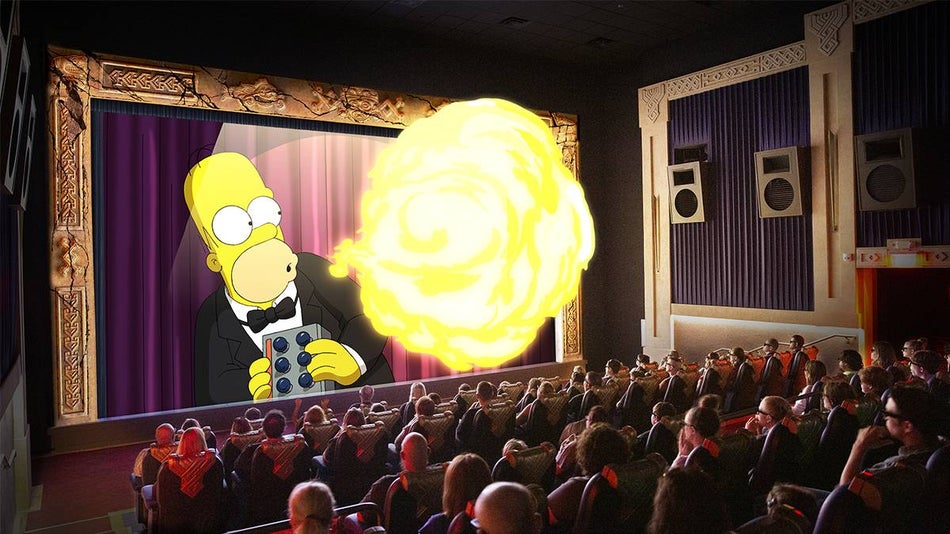 The Simpsons in Myrtle Beach Discounted Tickets
Don't waste hard-earned dough on overpriced tickets. Instead, pre-purchase your The Simpsons 4D Myrtle Beach discount tickets to save both time and money and avoid any extraneous booking fees. 
Broadway at the Beach Simpsons and Nearby Activities
A not-so-secret gem of South Carolina, Myrtle Beach serves up oodles of fun in the sun with 60 miles of coastline and 14 unique communities. 
Besides leisurely beach days, there are plenty of outdoor and indoor activities to indulge in at the Grand Strand. 
Related Post: Top Attractions in Myrtle Beach
Soak in a world-class live performance at the Carolina Opry, have a truly Medieval Dinner, or unleash your inner adrenaline junkie when you try go-karting or zip-lining.
Sweep up serious savings when you book any of our top-tier Myrtle Beach Attractions or Myrtle Beach shows in conjunction with your Simpsons 4D tickets.
Hotels
Spacious white sand beaches, mountains of fresh seafood, and unparalleled shopping and entertainment make Myrtle Beach an ideal getaway for families and couples alike.
Experience everything there is to do at the 'mini-golf capital of the world' when you combine your Myrtle Beach accommodations and activities into one of our amazing Myrtle Beach vacation packages.
Whether you choose to swim among the fishes at Ripley's Aquarium or walk the plank with your favorite scoundrels of the sea at Pirate's Voyage, you'll want to extend your stay in this sandy paradise.
Related Post: Top 10 Things to Do for Kids in Myrtle Beach
Make the most of your time in the Palmetto State when you reserve any of our premier options for Myrtle Beach hotels & resorts. 
We offer a wide range of lodgings, from luxurious oceanfront condos to more quaint beach bungalows on Pawleys Island. Book your accommodations worry-free, knowing you are always guaranteed our lowest rates.
Promotions & Specials
Spread the Simpsons love when you visit The Simpsons 4D Myrtle Beach with a large group. The action-packed and interactive 4D show makes for a fun-filled family reunion, corporate experience, or bonding retreat. Groups of 20 or more are eligible for group discounts, including a digital photo with The Simpsons and a 32 oz Squishee in a souvenir cup.
Sales
Spent all your money trying out the delicious Squishee flavors at Kwik-E-Mart in Myrtle Beach? Keep your budget in check by staying abreast of the occasional seasonal discounts, sales, and promotions offered by The Simpsons 4D. 

Ways to Save at The Simpsons 4D Myrtle Beach, SC
The magic of The Simpsons in 4D is way more than an incredible show featuring explosive special effects and 4D motion. 
Squeeze out every last drop of Springfield themed madness when you head to the Aztec Theater and engage in everything that is included in your Simpsons 4D ticket, such as:
Enjoying pre-show clips of everyone's favorite animated animals, Itchy and Scratchy.

A complimentary keepsake digital photo with Bart, Lisa, Homer, Maggie, and Marge on the red carpet.

And countless opportunities to photobomb your favorite characters such as Moe, Mr. Burns, and Flanders.
Related Post: Current Events and Festivals in Myrtle Beach
Dynamic, daring, and laugh-out-loud funny, the Simpsons have made an indelible mark on American pop culture. 
For over thirty years, viewers of every age and generation have followed the antics of Bart, chuckled at Homer, and snickered along with Smithers.
Chow down on a heat lamp dog, guzzle a Buzz Cola from the Myrtle Beach Kwik-E-Mart and pretend you are a resident of Springfield for a day when you visit The Simpsons 4D in Myrtle Beach.