Feel the buzzing heartbeat of the City That Never Sleeps as you connect in the vibrant streets, iconic landmarks, rich history, and the city's expansive pop-culture evolution awaiting you in the captivating RiseNY NYC.
Are you ready to take the flight and indulge in the Big Apple's "high"-lights like never before? Soar to new heights as you marvel at the beauty in the heart of this concrete jungle. Prepare to fall in love with New York City, where its past, present, and future collide in an immersive journey at RiseNY Museum.
Rise and shine at Rise NY and take on an exhilarating, adventure-filled journey! Start with the "reel" deal, learn about the history of New York and the impact of Times Square in a captivating film by award winning documentarian Ric Burns and narrated by actor Jeff Goldblum, and a "dome-nating" flying theater ride that will lift you 30 feet in the air, providing a priceless bird's eye view of its legendary cityscape.
Explore enchanting museum style galleries that transport you through the city. Conquer the "sky-high" thrills with a spectacular and soaring ride suspended in 180-degree 40-foot projection dome featuring aerial footage that creates the sensation of new heights!
Follow along as we brave the city's hustle and bustle with a RiseNY discount!
RiseNY Discount Tickets
Taking a bite out of the Big Apple? Prepare for an explosively fun day, and experience New York City and its glory at RiseNY.
The Big Apple is ripe for picking, and so are Tripster's RiseNY discount tickets! Elevate your experience by securing irresistible deals and offers for a more budget-friendly RiseNY escapade!
RiseNY Coupons and Discounts
Ready to bring your NYC adventure to the next level? Experience New York in a brand-new light at RiseNY, where your dreams become a reality without emptying your wallet!
Related Post: Broadway Little Shop of Horrors - Discount Tickets & Reviews
RiseNY Local Discount
Lucky enough to call the City That Never Sleeps home? While Rise NY loves its locals, unfortunately, they do not offer a local resident discount or RiseNY coupon code at this time.
RiseNY Military Discount
Salute to all the brave military personnel! We sincerely appreciate your service and sacrifice. While RiseNY currently does not offer military discounts at this time, we value your honor and commitment to our country.
RiseNY AAA Discount
Hey there, road warrior! While AAA members make the roads safer for us all, at this time, RiseNY is not offering any AAA discounts.
RiseNY Senior Discount
An exhilarating show perfect for our beloved seniors! However, RiseNY does not currently offer senior discounts, but our seniors can still enjoy incredible savings with Tripster!
Group Travel Deals at RiseNY
Who's in for an epic group adventure at RiseNY? Set your sights on a breathtaking sky-bound escapade with your crew while reveling in exclusive RiseNY coupon and group discounts – the sky is the limit!
Enjoy savings if you visit RiseNY as a group of 10 and above. Learn more about this special offer and get a quote through their contact form.
RiseNY Vacation Packages
Get your savings in full "swing" and your budget on track as you take on the ultimate New York getaway! Double the fun, double the savings, and cash in on incredible vacation packages worth every penny!
Experience affordable extravagance without exceeding your budget. Save up to 6% when you combine RiseNY with other New York attractions, such as:
Hotels Near RiseNY
New York? More like 'New Perks'! Enjoy amazing money-saving deals securing our best online rates!
Indulge in a "suite" escape in one of New York's many luxurious and welcoming hotels. This city may never sleep, but that doesn't mean you can't! From sleek and modern rooms to the timeless elegance of art deco interiors, combine style, savings, and limitless possibilities with any of our NYC hotel options.
New York Attractions
From towering skyscrapers to world-famous Broadway shows and museums, the Big Apple offers a window to a magical world of experiences. From the bustling streets of Manhattan and the electrifying vibe of Times Square, this "concrete jungle where dreams are made of" holds true.
The Empire State Building Experience
Play on cloud 102! Climb to the top of this iconic landmark and witness awe-inspiring views that will make your heart skip a beat. Learn the historical significance of this structure, watch clips of movies that feature this art deco masterpiece, and take in 360-degree outdoor views of the Big Apple. Find your own Empire State of wonder when you secure tickets to The Empire State Building Experience.
The Lion King
Can you feel the love tonight? Witness a story of love, discovery, and high-energy performances when you high-tail it to the Pride Lands in the renowned Broadway show Lion King. Unleash your inner "roar" as you go on a colorful musical extravaganza that proves why it is among New York's staples!
The Museum of Modern Art
A world of eye-opening and captivating masterpieces awaits at The Museum of Modern Art. Indulge in the artistic wonders of renowned and legendary artists like Van Gogh as you visit The Starry Night. Immerse yourself in this modern art collection full of avant-garde masterpieces and be "abstractly" amazed as you find your "MoMa"nt of creative bliss!
Insider RiseNY Tips
Ascend to a new level on your priceless RiseNY journey, where the glorious landscape of NYC unfolds beneath. Enjoy double the fun in this part ride, part museum found in the heart of the city. Keep reading; we've got the inside scoop to make your RiseNY trip even more unforgettable!
Rise above the rest and unlock the best of RiseNY adventure with these tips:
Set aside 60-90 minutes of time to fully enjoy the RiseNY experience.
Regular ticket holders have a 30 minutes allotment for their ticket entry.
This is perfect and suitable for all ages, but children up to age 12 must be accompanied by a guardian.
The area is wheelchair-accessible.
If all seats are occupied, the maximum weight per seat is 260 pounds. Seats are 19" wide. If someone in your party weighs more than 260 pounds, please speak with a RiseNY staff member.
The ride is not recommended for sensory-sensitive guests and expectant mothers.
Don't miss the immersive film by the award-winning documentarian Ric Burns.
RiseNY is open seven days a week, 10 am - 8 pm.
You are allowed to take photos at the exhibitions but not on the ride for safety.
Can I Bring Food to RiseNY?
Curios about the food policy at RiseNY? Foodies and snack lovers, listen up! Unfortunately, foods and beverages are not allowed inside RiseNY but don't fret!
While RiseNY does not permit food and beverages, you can still satisfy your cravings by exploring the affordable dining options nearby. From food trucks serving delicious street eats to local cafes offering wallet-friendly meals, you can savor the savings as you munch luscious bites just a stone's throw away!
Parking Near RiseNY
Looking for a parking spot fit for a RiseNY adventure?
We've got the perfect insider tip to help you avoid the parking woes. Secure your parking spot in advance with SpotHero and enjoy rates that will make you grin from ear to ear, up to 50% off the drive-up price. So, don't let parking be the villain of your trip—park like a pro at RiseNY!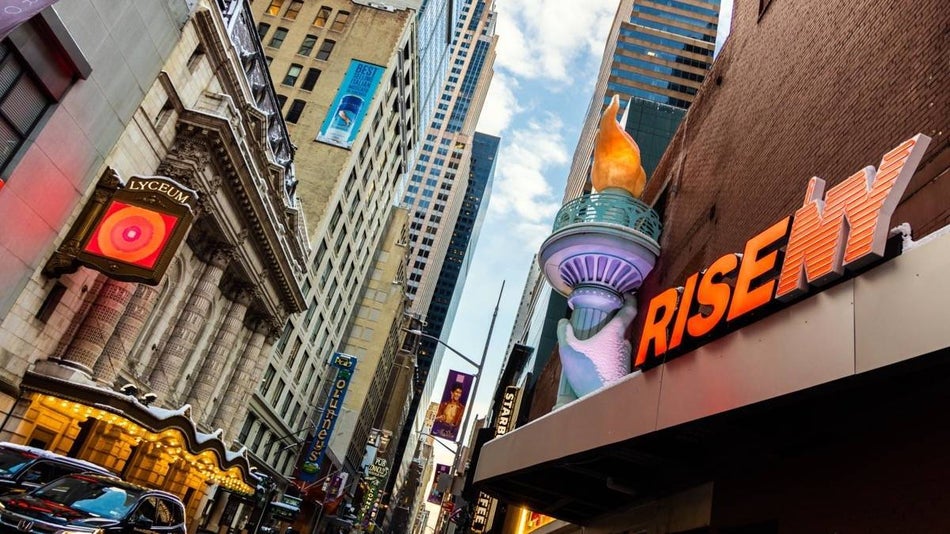 As you indulge in this one-of-a-kind adventure, you'll discover that RiseNY is not just about the thrills— it is a journey that transports you through the city's vibrant evolution, RiseNY is a symphony of excitement that will make your spirit soar!
Buckle up for an adventure that will redefine your notion of fun and leave memories to cherish. It's time to rise above the ordinary and embrace what's beyond at RiseNY, where every moment is an invitation to savor the magic of New York City!
Take the leap, embrace the excitement, and let your savings soar to new heights!
Have Any Tips to Add to Our Ultimate Guide to RiseNY?
Leave us a comment below!