In the heart of the bustling City of Lights, amidst the glitz and glamor of Las Vegas, lies an electrifying indulgence of world-class acrobatics, the elegance of water form, and mesmerizing synchronized swimming opening the enchanting world of O Cirque du Soleil!
Are you looking to experience this magical water-themed show without busting your budget? Jackpot! Follow along with our ultimate guide to discover how you can keep more money in your wallet while experiencing O Cirque du Soleil!
A water world of wonder awaits in Cirque du Soleil O Las Vegas. From the glistening pool reflecting the ethereal glow of lights to the graceful entrance of performers showcasing a dazzling display of aquatic prowess, O by Cirque du Soleil is a culmination of breathtaking artistry, heart-stopping stunts, and top-notch performance.
Satisfy your daily dose of theatrical entertainment and witness an awe-inspiring show that will forever leave a mark, one stunt at a time.
Keep reading to experience the splendor of the show without wasting time scouring the internet for O Cirque du Soleil discount tickets. We've got you covered!
O Cirque du Soleil Discount Tickets 
What's better than witnessing all the elegance of water and exhilarating performances in Cirque du Soleil Las Vegas O? Doing it with discounts!! Enjoy it all the more when you score the sweetest deals through Tripster.
So, stop stressing about how to snag exclusive discounts. Grab your Cirque du Soleil O discount tickets today!
Securing your tickets guarantees entry to the show on your chosen date. The added bonus? Strutting your stuff past the ticket line and getting to the fun faster!
O Cirque du Soleil Coupons and Discounts
Save more without experiencing less when you snag Cirque du Soleil O coupon and discounts. Continue reading as we spill the tea on accessing premier O Cirque du Soleil discounts!
Local Discount
Lucky enough to call the City of Light home? While Cirque du Soleil loves its locals, unfortunately, they do not offer local residents discounts at this time.
O Cirque du Soleil Military Discount
Salute to all the brave military personnel! We sincerely appreciate your service and sacrifice. While O Cirque du Soleil currently does not offer military discounts at this time, we value your honor and commitment to our country.
O Cirque du Soleil AAA Discount
Hey there, road warrior! While AAA members make the roads safer for us all, at this time the show is not offering any AAA discounts.
O Cirque du Soleil Senior Discount
An exhilarating show perfect for our beloved seniors! However, this water themed show does not currently offer senior discounts.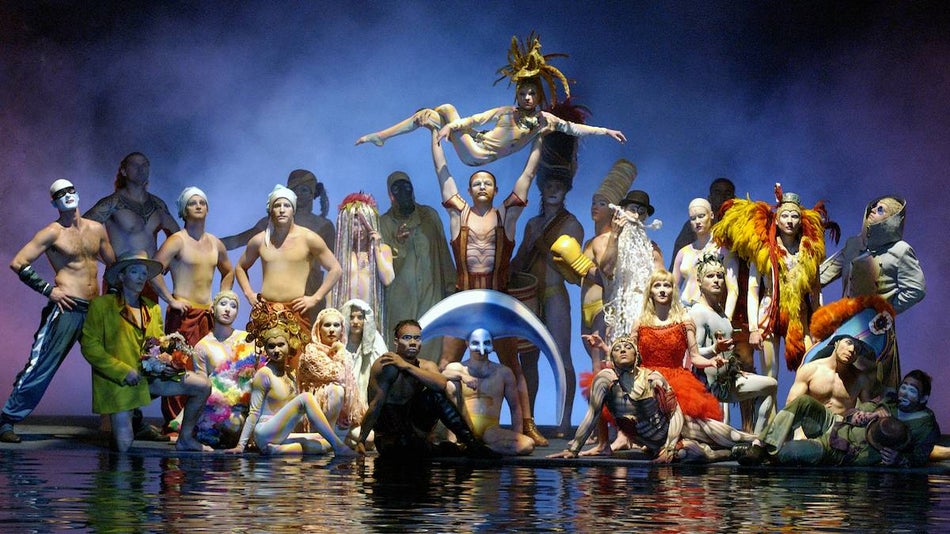 Group Travel Deals
Assemble your crew for a "cirque-sational" adventure! Be swept up in a "cirque-lebration" of astounding aquatic stunts, mesmerizing stage, and jaw-dropping performances that will create lifetime memories!
Enjoy a special price for a group of 10 and above. Learn more about this special offer and get a quote through their contact form.
O Cirque du Soleil Vacation Packages
Unlock the perfect combination of magic and affordability with Las Vegas vacation packages, and experience the captivating aquatic world while saving those pennies!
Enjoy exclusive discounts of up to 33% when you bundle your show tickets with other Las Vegas attractions.
Hotels Near O Cirque du Soleil
Relax; you've hit the jackpot on luxurious hotels in Las Vegas! Don't gamble on your comfort when you book any of our fabulous Las Vegas hotels. The best part? Tripster offers various hotels to pair with your O Cirque du Soleil tickets!
Wake up feeling like a winner, and as always, book with confidence, knowing you're guaranteed our best rates online.
Las Vegas Attractions
Take on  Las Vegas in all its sparkling glory. Where stakes are high, and attractions are "sin-credible"!  Endless entertainment awaits in this neon-lit oasis, from the iconic Madame Tussauds and the fountains at the Bellagio Hotel to the heart-pounding SkyJump at THE STRAT.
Buckle up and indulge in this adult Disneyland's magnetic charm!
SkyJump at The STRAT
Looking to inject some serious adrenaline into your Sin City sojourn? The SkyJump at The STRAT will transport you to thrilling new heights. Literally!
Take a leap and dive 855 feet off the iconic tower. Feel the rush of freefall and marvel at a panoramic view of Las Vegas like never before.
Criss Angel MINDFREAK Show
Challenge your perception and the rules of reality in this mind-bending, spectacular display of magic and mystery. Criss Angel Mindfreak Show boasts signature illusion tricks, unrivaled artistry, and mind-blowing abilities, a must-see for Criss Angel's fans and acts of illusion enthusiasts.
Big Bus Tours
Go big and explore Sin City in one go when you climb aboard Big Bus Tours Las Vegas! Hop on an open-air double-decker bus as you encounter the scenic cityscape and visit the iconic landmarks of Las Vegas, such as the Stratosphere, MGM Grand, and the famous Welcome to Las Vegas Sign.
Insider Tips
Immerse in the stunning 'synchron-"sea"-tion' of acrobatics to the 'splash'-tacular display of visual artistry that pays tribute to the beauty of theater and will leave you wanting more.
To make the most of your O Cirque du Soleil experience, keep in mind the following:
The minimum age to attend the show is five years old. "O" features loud music and, at times, darkness which may frighten the little kids. Guests 18 years and below must be accompanied by an adult.
The show runs for 90 minutes.
Experience this world-class show in the moment, as pictures and video recordings are NOT allowed.
Bring a change of clothes or a poncho, and avoid wearing clothes made of silk, leather, or fur if you book the "wet seats" in the splash zone.
Can I Bring Food to the Show?
Hungry for a tasty treat during your O Cirque du Soleil experience at Bellagio?
Enjoy mouthwatering morsels like freshly popped corn, nachos loaded with cheese and peppers, and refreshing beverages from their concession stand.
While only foods from their concession are allowed inside the theater, you can still make the most of your budget when you share snacks with friends, check out combo deals, or look out for special promos!
Parking Near Cirque du Soleil Show
Are you planning to drive to the show? Arrive early to beat the traffic and ensure a smooth experience and savings on parking.
Parking at the Bellagio may cost a pretty penny, but don't despair! Nearby parking in Park MGM Las Vegas or Miracle Mile Shops provides cheaper alternatives that won't stretch your budget! Another money-saving option is carpooling!
Reviews
Curious about what other synchronized swimming showgoers think? Check out the latest reviews here.
Experience Entertainment Excellence in Las Vegas
Ever imagined traveling to an amazing world and saving enough for a front-row seat and extravagant post-show celebration in Las Vegas?
As the curtains close and applause rings, this show will become part of your Las Vegas experience - leaving a magical memory behind. The best part? You can experience it all with our discounted tickets!
Keep that budget firmly in line and bag the best deals with Tripster! Revel in the spectacle of the show and uncover every nook and cranny of Las Vegas while we help you hunt down dynamite deals to save more!
Have Any Tips to Add to Our Ultimate Guide to O Cirque du Soleil Las Vegas?
Leave us a comment below!