While vacations in the Ozarks are full of outdoor adventures, sometimes you need a break. After all, there was a reason humans invented air conditioning!
1. Showboat Branson Belle
Would you believe me if I told you one of the top indoor activities in Branson was on a lake? The Showboat Branson Belle is a magnificent vessel themed after the 1800s showboats. Inside, guests are treated to a one-of-a-kind show and three-course meal.
On top of the entertainment, guests can take in the views of Table Rock Lake from four grand decks. And, just for the kids, the Showboat Branson Belle also offered themed seasonal cruises such as Santa's Pancakes & PJs Cruises in the winter.
If you're interested in heading inside… while on a lake… I recommend getting your tickets ASAP. This iconic lake cruise sells out fast!
2. Dolly Parton's Stampede
Another top dinner show (which is also indoors) is Dolly Parton's Stampede. This classic Branson show features equestrian feats, acrobatic stunts, moving songs, and a Patriotic finale. And let's not forget the homemade four-course meal!
After a day exploring the Ozarks, there's nothing quite as relaxing and entertaining as sitting back and watching a world-class production such as Dolly Parton's Stampede. Plus, it's entertainment the whole family can enjoy!
3. Pick a Show, Any Show
Although the Showboat Branson Belle and Dolly Parton's Stampede may be two of the top shows in Branson, there are plenty of others to choose from! When searching for indoor activities in Branson, go to a show. Between the air conditioning, the talent, and food, these shows offer something for everyone.
Other shows in Branson include:
4. Titanic Museum Attraction
Who knew you could find the towering Titanic in Branson, MO? Well, almost.
The Titanic Museum Attraction is an interactive museum for all ages which pays tribute to the fateful voyage of the ship in April 1912. As you enter the massive museum, you'll receive a boarding pass. This pass contains the name of a real Titanic passenger. Throughout your experience, you'll learn more about the ship, the crew, and your assigned passenger, including their fate.
As one of the more popular indoor activities in Branson, the Titanic welcomes numerous visitors each day. Get your tickets in advance and skip the ticket line!
5. Butterfly Palace & Rainforest Adventure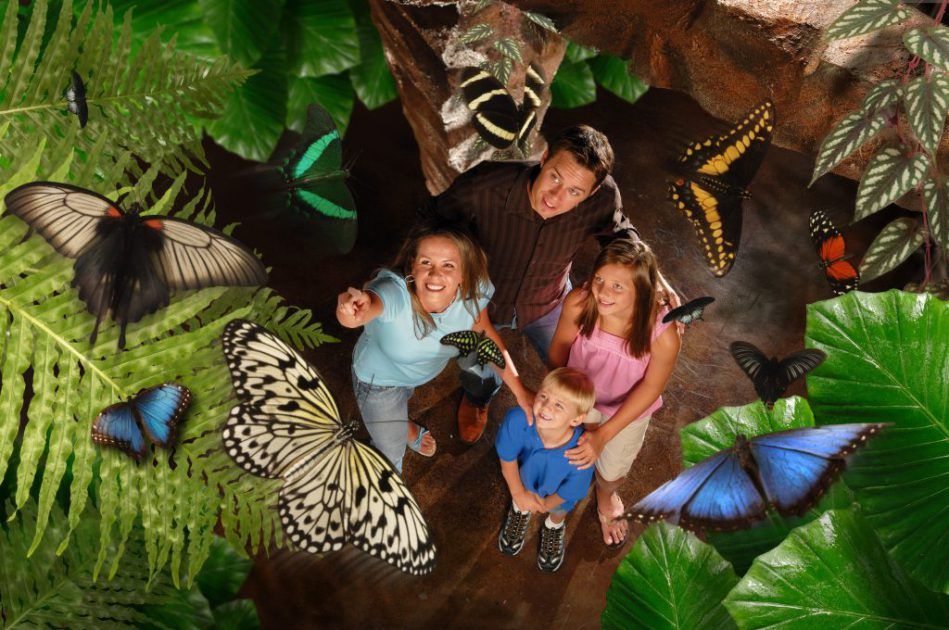 Did you know hidden in the Ozarks is an indoor tropical rainforest? At Butterfly Palace & Rainforest Adventure, you'll step into a tropical oasis, which is the perfect habitat for butterflies! On top of seeing and interacting with 1,000+ live butterflies, guests have the opportunity to conquer the Banyan Tree Bungee Adventure Maze and encounter educational exhibits.
For the most active butterflies, it is best to visit as early as possible. The butterflies begin to settle in for the evening around 4:00 pm. The attraction also offers critter encounters daily at 11:00 am and 2:30 pm.
6. Fritz's Adventure
Searching for the thrill of an outdoor adventure inside? Fritz's Adventure combines the challenge and rush of an outdoor excursion with the amenities of an indoor attraction. You'll zipline across the massive facility and feel the wind in your hair. Or, put your wits and grip strength to the test on the themed climbing walls.
In addition, Fritz's Adventure boasts a ropes course, warped walls, and a gigantic airplane to explore. Of the indoor activities in Branson, Fritz's Adventure offers a multitude of fun for all ages. Parents can conquer the rock wall while the kids let their imaginations run free in the maze of tunnels!
7. Escape Rooms
Gather your friends and family and use teamwork to solve puzzles and challenges in one of Branson's escape rooms. The newest attraction trend has taken Branson by storm. Meaning you can spend the entire day conquering escape room after escape room!
Reserve your spot at Branson escape rooms such as:
If visiting with children, it is best to review the escape room themes prior to making your reservation. Certain rooms may not be appropriate or too overwhelming for young kids.
8. Shop Until You Drop
Love to shop? If so, Branson is the place for you! In addition to the indoor attractions and shows, one of the best things to do inside is shop. Branson has several malls for you to peruse with shops including Bass Pro Shops, Tommy Hilfiger, Reebok, and a Disney Outlet.
A few of the best shopping plazas and malls in Branson include:
Branson Landing
Grand Village Shops
Tanger Outlets
Don't forget to check out historic Downtown Branson for authentic gifts, too.
Indoor Activities in Branson: Know Before You Go
Before you run to the best indoor attractions, there are a few things you need to know in order to have a great experience.
Skip the Lines
You're escaping the outdoors for a reason, right? I'm sure that reason isn't because you wanted to stand in line all day. Skip the ticket lines by purchasing admission online in advance. Not only will you bypass the never-ending lines, you'll also take advantage of fantastic discounts.
Read the Rules
For the safety and peace of mind of all visitors, many attractions do not allow certain objects inside such as outside food or selfie sticks. With this in mind, it is crucial to read up on each attraction's rules and restrictions before you go.
Avoid the Crowds
If you're going inside to avoid the crowds, try again. Most indoor activities in Branson are so popular that the crowds are seemingly never-ending. To steer clear of crowds, visit the attractions at off-peak times and seasons. For instance, a weekday morning tends to be less packed than a weekend afternoon.
Start Planning Your Branson Vacation
Ready to organize your Branson getaway? Bundle your indoor activity tickets with a hotel for extra vacation savings!