The Big Apple is an exhilarating excursion any time of year, however, for some family-approved fun you need only head over the bridge to the American Dream Mall. Embrace the madness of this retail and entertainment complex when you plan for hours of Angry Birds mini golf, ice skating, and Nickelodeon slime.
Don't let the excitement wane while away at night, make your American dream getaway an overnight adventure when you find the perfect hotel near the American Dream Mall. Follow along to discover the 9 best hotels near American Dream Mall.
Whether you are searching for hotels in East Rutherford NJ with a pool or cheap hotels near Nickelodeon Universe in New Jersey, our guide will tackle it all.
You and your ragtag gang of rugrats can enjoy complimentary breakfast, free wifi, on-site fitness centers, and more when you reserve the perfect room or suite near the American Dream Mall.
Spend less time commuting to Newark Liberty International Airport or Metlife Stadium when you sleep just mere miles away.
From kid-friendly amenities to gratis shuttle services, you'll have your pick of hotels near the American Dream.
Ready to ring up that front desk and make a booking? Read on…
Things to Do at American Dream
Wondering just what there is to do at the American Dream in East Rutherford New Jersey? Fortunately, mall rats of all ages will be enthralled by this sprawling hot spot of amusement parks, mirror mazes, and splashtastic thrills.
Theme park aficionados won't want to miss the opportunity to enjoy the largest indoor waterpark in North America. DreamWorks Water Park at American Dream features a giant ambling Shrek, a Penguin Plummet, and 15 other wickedly wet water slides. Pal around with Blues Clues or snag a selfie with Spongebob at the Nickelodeon Universe.
For some more athletic pursuits pursue a game of black light mini golf, or take a spin around the NHL regulation-size rink. Check out the entire array of things to do at American Dream here.
Hotels Near American Dream Mall NJ
The American Dream can be found at 1 American Dream Wy, East Rutherford, NJ. The complex is easily accessible by an extensive network of highways and most major public transit lines.
Fun Fact: The entire complex includes the MetLife Stadium and Meadowlands Racetrack.
As a result, depending on your specific trip itinerary, you may seek an East Rutherford Hotel or perhaps even a New York City hotel. Whether you are searching for a free breakfast or a 3-star hotel that will come under budget, you'll be pleased by the vast number of options when it comes to hotels in East Rutherford New Jersey:
Best Hotels in East Rutherford New Jersey
Fairfield Inn by Marriott East Rutherford Meadowlands
Relax after a day of roller coaster rides and hanging out with the Ninja turtles at the Fairfield Inn by Marriott East Rutherford Meadowlands. Take a cat nap in your spacious king bed and modernly appointed room, or stick to your fitness goals with a quick workout at the onsite gym.
Munch your way through a breakfast of fresh waffles, fruit, cereal, and more before you utilize the free shuttle service or the nearby NJ Bus transit stop. Eeek out some extra minutes of shuteye, as you will be staying just 2 miles from both the Nickelodeon Universe Theme Park and DreamWorks Water Park.
Renaissance Meadowlands Hotel
Craving some slightly more upscale accommodations? While your kiddies may be getting spoiled with some LEGOLAND thrills or H20 antics with seahorses and sharks, treat yourself to plush bedding, premium channels, and whirlpool tubs at the Renaissance Meadowlands Hotel.
Keep snacks and beverages fresh in your room's mini fridge, or enjoy the sweeping NYC views and access to a concierge lounge. End your tri-state excursion with some phenomenal eats when you dine at the on-site farm-to-fork restaurant.
Homewood Suites by Hilton East Rutherford Meadowlands
Looking for a home away from home? Get cozy and indulge in your favorite self-care practices after hours at the American Dream with the deluxe Homewood Suites by Hilton East Rutherford Meadowlands. The whole family (Fido too) can rest easy in these classically designed suites featuring fully equipped kitchens, free wireless internet, and separate living areas.
Recaffeiante at the hot breakfast area with coffee, pastries, and cereal or sweat out some toxins in their sauna. Splash around in the indoor pool, or send off some last-minute business emails at their business center. Late check-in? Don't forget to socialize at their free weekday evening reception.
Residence Inn East Rutherford Meadowlands NJ
Seeking the perfect marriage of convenience and comfort? Appreciate the clean comfort of studio suites complete with free wifi and flat-screen TVs, when you sleep just moments away from the American Dream. The Residence Inn East Rutherford Meadowlands is one of the top-tier East Rutherford NJ hotels featuring a gratis breakfast buffet, on-site parking, an indoor pool, and a hot tub.
Located just a short drive from the Newark Airport and 15 minutes from New York City, you can easily tack on some Empire City to your American Dream escape.
Hotels Near Nickelodeon Universe East Rutherford NJ*
Holiday Inn Hasbrouck Heights-Meadowlands, an IHG Hotel
Working within a strict travel budget? Save that cash for more slime sessions and Rugrats-themed rides, when you take your brook to the Holiday Inn Hasbrouck Heights-Meadowlands, an IHG Hotel. Conveniently situated under 5 miles from the theme park, this hotel is happy to allow kids under 18 to stay for free when sharing a parent's room.
In addition, 2 children ages 11 and under can eat for free per every adult when ordering off the main menu in any Holiday Inn® on-site restaurant. Catch some sunshine in the outdoor pool deck area, or sneak in a quick treadmill run at the 24-hour fitness center. Immunocompromised and asthmatics can rest without fear as this is a completely smoke-free facility.
Courtyard by Marriott Lyndhurst Meadowlands
Surrounded by verdant foliage, the Courtyard by Marriott Lyndhurst Meadowlands provides a lush respite after afternoons of sightseeing at nearby Meadowlands attractions. In fact, this Marriott property is considered to be one of the top hotels by the Nickelodeon Universe in NJ.
Just minutes from Times Square but a world away, guests here can indulge in some quality R&R with room service, luxury bedding, and flat-screen TVs. Don't fret over traffic as you'll be staying just three miles from the American Dream Mall, DreamWorks Water Park, and Nickelodeon Universe Theme Park.
*Please note that this is not an exhaustive list of hotels near Nickelodeon universe and/or Nickelodeon Universe New Jersey hotels near American Dream, but simply a round-up of our favorite accommodation options.
Hotels near DreamWorks Water Park NJ
Hilton Meadowlands
Artfully decorated with a soothing neutral palette, rooms at the Hilton Meadowlands encourage tranquility. Relish stylish touches such as NYC city skyline murals, complimentary toiletries, on-demand movies, and more.
Tired after too many Nickelodeon shenanigans? Don't worry, as you can feast at their own restaurant and bar. Those with early flights will be relieved at the hotel, which is just 14 miles from the Newark Airport and 8 miles from Midtown Manhattan.
Extended Stay America Suites Meadowlands East Rutherford
Warm, welcoming, and with customer service above reproach. those planning for longer stays in the area, will do well to seek out shelter at the Extended Stay America Suites Meadowlands East Rutherford. Pop by the lobby for a free grab-and-go breakfast, or whip up your own oatmeal or avocado toast in your private, fully-equipped kitchen.
Keep on top of pressing work matters with free wifi and spacious business facilities, or keep your garments fresher than ever with on-site guest laundry. Even Spot is welcome to join in on your vacation, as Extended Stay is happy to provide pet-friendly rooms.
Harmony Suites Secaucus Meadowlands NJ
Splash out with a booking at the four-star Harmony Suites Secaucus Meadowlands NJ. This stylish hotel merges function and form to bring you spacious guest room suites with apartment-style amenities. Cut down on car time, as you'll be just three miles from the American Dream facilities and five miles from NYC.
Ensure you can recharge with the reservation of a Presidential or King Executive Suite. Snuggle up in soft linens, or catch up on some TV in the separate living area. Work up a sweat with TRX bands and medicine balls in the fully outfitted gym, or savor fluffy scrambled eggs, sausage, and more at Mamma Franca Italian Cuisine in the lobby.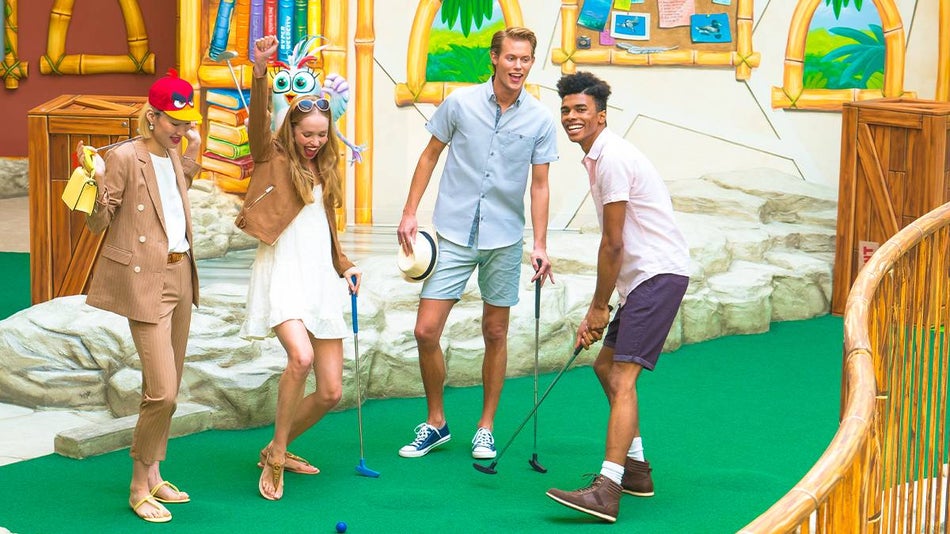 Wonders upon wonders await families lucky enough to experience the immersive fantasies of the American Dream Mall.
No matter the ages and interests of your brood, you'll find endless entertainment in this sprawling complex.
Make friends with Kung Fu Panda, or let your creativity run wild at a 3D street chalk museum. Keep the good vibes flowing when you ensure you have A+ accommodations to return to.
Whether you are looking for little hints of luxury or would prefer to sleep next door to the Nickelodeon Universe, there are ample options when it comes to East Rutherford lodgings.
Can't Wait to Fulfill Your own American Dream Holiday? Book Your Adventure Today!
Tell us, what's your favorite hotel in East Rutherford?
Leave a comment below!