Make a splash at the end of an all-day hiking tour on the Big Island! A Kohala Waterfalls adventure offers watery respite from muggy tropical air.
Embark on a Kohala Waterfalls hike for the adventure of a lifetime. Wander through an array of diverse landscapes, from remote valleys to spacious coastlines. To see as much Hawaiian beauty as possible, you'll need to set aside an eight-hour day!
Hikes through hot Hawaiian air are best rewarded with a chance to dive into the water. Pass by historical sights and misty waterfalls before arriving at your final destination: a pool as smooth as glass, ready for jumping!
Big Island hiking is the perfect activity for both families and couples. Keep reading for the inside scoop on hikes that take you to Kohala Waterfalls and other breathtaking sights.
About Kohala Waterfalls Hikes
Guided Kohala Waterfalls hikes are well-planned and bound to impress. Unfortunately, you can't access this exclusive hike without passing through private property, so you'll need to reserve tickets from Tripster! Don't go chasing waterfalls without someone who knows what they're doing! Waterfalls on the Big Island are best experienced with the help of an experienced guide.
Pro Tip: Check out a Kohala Waterfalls map before booking a small group adventure tour! This will give you an idea of which waterfalls you will see on your North Kohala adventure. 
Once you make it on the stunning private Kohala Ditch Trail, you're in for a true tropical treat. The total elevation gain throughout the hike is about 200 feet. Next, meander through a private nature reserve, including a lush rainforest in every shade of vibrant green.
The journey crosses both scenic coastlines and rugged valleys. Encounter towering volcanic mountains Mauna Loa and Mauna Kea!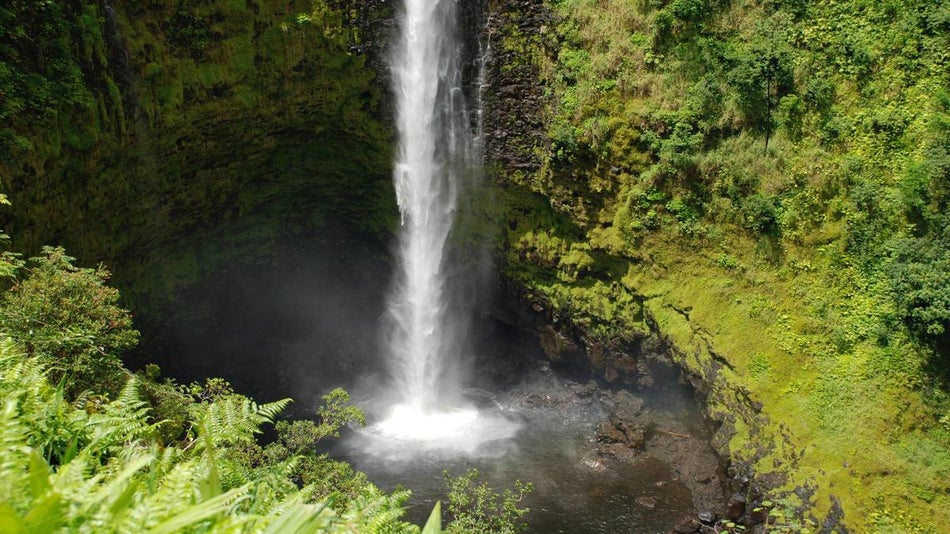 Pro Tip: The Kohala Waterfalls hiking adventure departs about 12 minutes north of Kailua-Kona. Once your hiking tour is over, make your way back to town to explore a riveting restaurant and nightlife scene!
During your time on the shore, keep an eye out for glimpses of friendly dolphins splashing in the sea. If you happen to be there during the winter months, watch as majestic humpback whales greet you! Expansive ocean views are a delight for the senses.
Additionally, explore plantation towns Hawi and Kapaau. Here, you'll come across a life-size statue of King Kamehameha. This warrior was the first ruler of Hawaii. This one's for you, history buffs!
The main attraction, however, has to be the waterfalls in Hawaii Big Island. The perfect glint of sunlight on these sparkling beauties is what inspiration is made of. Bask in their refreshing mist that offers welcome coolness in a humid tropical landscape! Then, dive into the last pool on the hike for a watery payoff. Swimming waterfalls Big Island do not disappoint.
Pro Tip: If all the waterfall wonder isn't enough for your adventurous self, go ziplining, too! Bundle Kohala Waterfalls hike tickets with ziplining tickets for the ultimate adrenaline rush.
What to Bring
When packing to go waterfall hiking, ensure you have everything you need so your adventure will be as smooth as possible. Add these necessities to your packing list:
Sunscreen

Bug spray

Hand sanitizer

Camera or phone

Light jacket

Comfortable shoes

Bathing suit

Hat

Poncho or umbrella

Water bottle

Lunch
Packing will be light for your Kohala Waterfalls hike if you book a tour with Hawaii Forest and Trail! Many hiking essentials are provided. 
What Is Included
A deli-style lunch complete with fizzy soft drinks will be provided on the tour. Talk about lunch with a view! You'll enjoy this picnic-style meal at a tantalizing scenic lookout. 
Feel like a real explorer with the provided walking stick, ready to keep you steady should the path get treacherous.
Additionally, backpacks, sunscreen, bug spray, hand sanitizer, ponchos, and warm wear are given out. Skip the scramble to make sure you have everything you need, thanks to these convenient provisions!
What Is Not Included
However, there are still a few things you will need to bring along. A water bottle is absolutely essential! Fill up with plenty of H2O to endure sweltering Hawaii heat.
Moreover, be sure to dress in cool, comfortable clothing. Comfortable walking shoes or reef walkers are also a must to ensure your hike on potentially uneven or rocky terrain is enjoyable. Pack a bathing suit if you plan to take a dip, too. You may also want to pack a hat and a light jacket or sweatshirt.
Photo Alert: Don't forget to bring a camera or phone to capture those Instagram-worthy shots! Let the landscapes do the talking, or pack a colorful Hawaiian shirt to add a touch of tropical style to your portraits.
Other Big Island Hikes
The Kohala Waterfalls hike is just one of multiple options on the Big Island! Choose your favorite hike, or go on all of them to experience the diversity of landscapes this gorgeous island offers.
Embark on a Volcano Hiking Adventure for sizzling volcano views. Expect to get moving on this exciting hike! You'll explore sites such as Hawaii Volcanoes National Park and the Thurston Lava Tube. Additionally, this hike isn't without a refreshing stop at the oasis that is Rainbow Falls!
A delicious lunch is served in the middle of the day, so you'll be refueled for the rest of your hike! On the menu is Hawaiian BBQ chicken breast, complete with sesame-grilled veggies and quinoa. Enjoy a Hawaiian sweet roll on the side and wrap it up with a Kona Lava Bar Brownie!
Commuting to the hike's starting point will be a breeze, too. The tour picks up hikers at the front of all major West Hawaii hotels.
The Hidden Craters Hike takes you behind the scenes of Hawaii's blazing volcanic landscape. Climb through a lava tube and even gain access behind three locked gates guarding exclusive natural wonders! Your guide will know all the secrets.
Hike up the slopes of the Hualalai Volcano for an experience you'll never forget. Revel in the rewarding view at the top!
Photo Alert: Once you reach the summit of the volcano, don't forget to stop and take some photos! A panoramic shot will capture the feeling of standing at the top so you can revisit again and again, even when you're back on the mainland.
Where to Stay
Tuck yourself in for a well-deserved night of rest after your Kohala Waterfall hike. Long days spent hiking are best followed by long nights of deep sleep! Here are a few of our top hotel and resort picks.
Volcano Forest Inn
Situated in a tropical rainforest, Volcano Forest Inn is close to Hawaii Volcanoes National Park. Private decks in each room ensure you'll have the best view of surrounding natural beauty!
Additionally, you'll be living in the lap of luxury -- at a bargain. Walk-in closets, hardwood floors, and private bathrooms are just a few of the amenities each room comes with. Moreover, start each day with a fresh cup of piping hot local Hawaiian coffee! 
Outrigger Kona Resort and Spa
Stay right on the ocean at Outrigger Kona Resort and Spa! Gaze in awe at the wild Pacific Ocean to start and end each day of your dream Hawaiian vacation. An outdoor pool featuring a poolside bar is perfect for drifting away on lazy afternoons. Additionally, relax at the full-service spa to complete your week of respite!
Get out and about on the island when you rent a bike at the resort. Or, get active by playing volleyball, basketball, or tennis on-site.
Hilton Waikoloa Village
Choose between a gorgeous mountain view or captivating ocean view at Hilton Waikoloa Village! Of course, you can't go wrong with either Hawaiian view. Inside, decor inspired by the allure of the islands adorns every room.
You won't even have to leave the resort for plenty of vacation fun. Three on-site pools and a plethora of on-site restaurants and bars are all you'll need to get the party started. Of course, on-site dolphin encounters and oceanside luaus don't hurt! Once you're ready to leave the 62-acre property, there are plenty of beaches just a short walk or drive away.
Take your own Kohala Waterfalls hike today! The Big Island is primed for explorers.
Have a thirst for adventure? Hikes on the Big Island are sure to satisfy. Weave in and out of awe-inspiring island scenery, such as waterfalls and rainforests.
While you're at it, make reservations for other Big Island attractions once you complete your hike! Set off on a cruise or attend a luau. Of course, you'll need a luxurious place to crash once the day is done so you can refuel for another day in paradise! Book an opulent (but discounted!) stay at one of our top Big Island hotel choices.
Have You Tackled a Big Island Hike? 
Which did you choose? Share with us below!