Soft white sand beaches, swaying palm trees, and an abundance of exhilarating aquatic activities make a spring break in Key West something on everyone's radar.
Whether you are looking to cruise around cerulean blue waters on a jet ski, deep-sea fish with your friends, or sunbathe and sip Mai Tais, our guide delivers the inside scoop on everything you need to know for a Key West Spring Break in 2023.
The southernmost area of the sunshine state is just bursting with fun-filled outdoor adventure, picturesque beaches, and bustling nightlife. From electric sunsets of red, orange, and purple to the hypnotic live music produced by buskers and steel drums in Mallory Square, there are countless ways to experience the enchantment of the islands.
It is no wonder partiers, couples, and families alike name this paradise as one of their top spring break destinations.
Ready for a Florida Keys spring break? Don't forget to pack that Hawaiian print shirt and SPF because it's time to head south…
Is Key West a Spring Break Destination?
The Florida Keys might look just like a Caribbean paradise, but this string of sun-soaked islands is part of the United States. Stretching over 120 miles off the southern tip of Florida, the seven primary keys are renowned for their beautiful beaches, extensive coral reef system, and sunset celebrations.
The island of Key West is considered the southernmost city in the contiguous United States and the westernmost island connected by highway in the Florida Keys. From snorkeling to glass-bottom boat trips to partying it up on Duval St, there is so much to experience in the Keys we suggest planning to stay for at least a week.
Thanks to its outstanding natural beauty, laid-back island atmosphere, and host of water-bound activities the Keys are an ever-popular spring break destination. Jet ski, bounce around on a banana boat, or sip a frozen Daquiri at Fat Tuesday.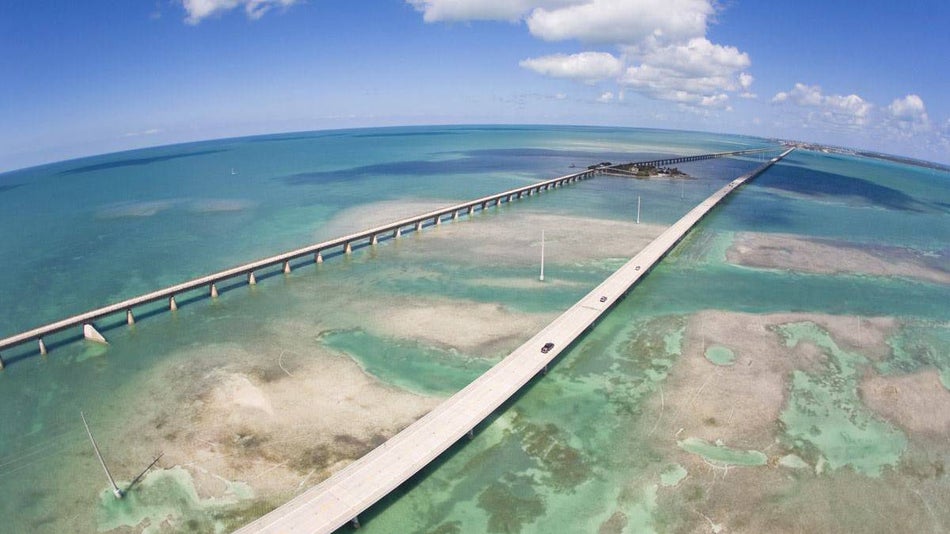 When is Spring Break in Key West?
Wondering what is the best time of year to go to the Florida Keys? Generally, spring breakers tend to flock to the Keys from mid-March through April. Students, families, and fishermen love frequenting during this time due to the pleasant weather and fun festivities.
Key West Spring Break Weather
We've never been to heaven, but we are guessing God's pearly gates probably share a similar climate to the Keys. Key West in March is peak season, and features low humidity paired with sunny skies. Tourists can expect the temperature in Key West in March to hover around 75 degrees.
How to Go
Kick off your Spring Break vacation by flying into Miami International Airport and then driving via the United States Overseas Highway. This scenic and unique motorway runs for over 100 miles and features Atlantic ocean views, 42 bridges, and intriguing history.
Where to Stay When Spending Spring Break in Key West
So your bikini and sunscreen are packed and ready to go, but where to stay in the Keys if you don't' want to bust open your budget completely?
It's' no secret that longer stays at luxurious amenity-filled resorts can rack up those dollar bills.
Our top tips to save some serious Spring Break coin include:
First, shop around and be flexible - March is not the low season due to the influx of spring breakers that swarm to the Key's shores, but if you have some wiggle room with your dates, you can often save.

Embrace budget offerings - this means exploring low-cost hotels, B&Bs, and guest houses. Other great resources include Airbnb and VRBO.

Be willing to compromise - if you can, let go of some luxury amenities (bye, bye hot tub, and hello shared bathroom), you are almost guaranteed to come in under budget. Additionally, if you are willing to stay slightly outside Key West or Key Largo, you can often find more wallet and family-friendly lodgings.
What to Do in The Florida Keys for Spring Break
Paddle Boarding, scuba diving, and pool bars, oh my! With so much fun in the sun and sand to be had, we highly recommend a Keys getaway of a week or more. However, an ideal 2-day Florida spring break Keys itinerary would include stops at both Key West and Key Largo for those short on time.
Read on to discover the best beaches points of interest, and can't' miss tours all over the islands:
Key West Things to Do
Glass Bottom Boat Tour 
Little ones will be mesmerized when they experience the ''window to the sea'' on a thrilling Glass Bottom Boat Tour adventure.
An ideal way to scope out the bounty of marine life without getting wet, Fury Water Adventure Cruises offers up a plethora of ocean-bound excitement that will get you up close and personal to coral reefs, sea turtles, rays, and more. 
Key West Sunset Sail with Full Bar, Live Music & Hors D'oeuvres
Carve out some time for an intimate evening of tunes, tasty treats, and sparkling sunsets. Sunset cruises deliver an unparalleled opportunity to witness the artistry and enchantment of mother nature. Embark on your 2-hour guided tour with Key West Sunset Sail.
This all-inclusive maritime adventure includes elegant appetizers, champagne, wine, liquor, and premium beer. Cheers with an ice-cold soft drink or flute of bubbly champagne, as you watch the sunset and the moonrise off the coast of Key West. Sprawl about on your 70 ft catamaran, as you groove and dance to the dulcet songs and performances of local musicians.
Escape the bustling Key West streets as you soak in the vivid sky's changing colors in style. Be sure to bring along that camera or phone, as you'll want to capture historic landmarks such as the Key West seaport, Mallory Square, Navy Mole, Fort Zachary Taylor Historic State Park, and more.
Conch Tour Train
Get your dose of island history, pirates, shipwrecks, and eye-catching architecture on this comprehensive 90-minute trolley tour of the island.
The tour includes notable stops at the Historic District, Duval Street, the Key West Aquarium, and the Key West Shipwreck Treasures Museum.
Sunset Celebration at Mallory Square
Sunsets in Key West are the stuff of legends, and no trip to the ''Conch Republic'' would be complete without a stop at Mallory Square. So revel in the brilliance of a tropical sunset. Meanwhile, don't miss out on the opportunity to people watch.
There is an abundance of quirky cast of characters, street performers, and magicians who entertain the sun-kissed masses. 
Hemingway House
Acclaimed writer and Nobel Prize winner Ernest Hemingway spent a great deal of time writing (and drinking) in the Keys. His former residence is now a museum open to the public where visitors can tour his lush gardens and sneak peeks at his many polydactyl (six-toed) cats.
Duval Street
While it may not be the most family-friendly section of Key West, it is well worth visiting. Full of buzzing energy, lively bars, restaurants, and boutiques. It's also the home of Sloppy Joes, a favored haunt of Hemingway himself. So join a bar crawl, and be sure to grab at least one mojito at this popular spot. 
Key Largo Spring Break Things to Do
John Pennekamp Coral Reef State Park
Spend some time in the watery world below when you visit the U.S'' first undersea park. Unearth a magical world of coral reefs, mangrove swamps, and Spanish shipwrecks when you snorkel, swim, or kayak your way through this protected area. 
African Queen Cruise
Lights, camera, action! There's' a movie star in the midst of, Key Largo and she's' a real beauty. The African Queen Cruise is the same iconic vessel that both Humphrey Bogart and Katherine Hepburn bantered on in the movie of the same name. Now film buffs and sailors alike can take this lovingly restored steamboat for a spin down the Port Largo Canal.
Florida Keys National Marine Sanctuary
Key Largo is the diving capital of Florida, and there's no better way to appreciate the diversity of marine life or scout out the Shipwreck trail than with a stop at the Florida Keys National Marine Sanctuary. 
Florida Keys Wild Bird Rehabilitation Center
Do it for the birds! So wrangle up your feather-obsessed friends and head to the Florida Keys Wild Bird Rehabilitation Center to witness over 40 different species of birds, a beach boardwalk, and daily pelican feedings.
Islamorada Things to Do
Sportfishing
Deep-Sea, offshore, and Backcountry. Any and all types of fishing reign supreme in Islamorada, so dust off your gear, book a tour, and set your sights on some prize-winning tuna, bonefish, redfish, tarpon, trout, and more. 
Keys History & Discovery Center
Save your skin from another day of sunbathing when you head to the Key's' Center and peruse the museum's impressive collection of photos, artifacts, and memorabilia that tell the visual story of the island's fascinating history.
Theater of the Sea
An ideal stop for sea-curious kiddos, the Theater of the Sea offers an immersive aquatic experience like no other. Get glimpses of vivid tropical fish, sharks, sea turtles, stingrays, and alligators as you wander through lush gardens and interactive shows. Even shake fins with a very friendly Flipper with the purchase of a dolphin encounter.
Rain Barrel Artisans' Village
Giant crustaceans and culture? Sign us up! For over 40 years, the Rain Barrel Village has been a go-to destination for artisanal goods, handmade art, local crafts, and unique souvenirs. So stroll around the tropical open-air market and be sure to snap a photo with Betsy, the giant 30 ft tall massive lobster statue. 
Best Free Beaches
Smathers Beach
Bikini-clad babes, beach volleyball, and food trucks make Smathers Beach in Key West a beacon for spring breakers. And, at approximately half a mile long, there's plenty of space to spread out and set up your umbrella-d oasis. Adventurous types can even opt to go jet skiing!
Higgs Memorial Beach Park
Powdery white sand, snorkeling, kayaks, and a full beach bar make Higgs an excellent beach option for Keys visitors of all ages. Rent a beach chair and unwind in the sun, or try to spot the stingrays which frequent this area. 
South Beach
After you snap your obligatory photo at the Southernmost Point of the U.S., head on over to South Beach. Enjoy another cute photo opp with their gigantic beach chair. Then settle in for some super serene beach vibes. 
Anne's' Beach
It is a lovely Islamorada beach perfect for less than confident swimmers due to its shallow waters. Anne's' Beach features magnificent mangroves and a picnic table studded boardwalk. 
Sombrero Beach
Located in Marathon, Sombrero consistently tops the list as one of ''Florida's best beaches.'' A local favorite, Sombrero is the ideal place for a bit of shallow water snorkeling, beachcombing, or siesta-ing. Families can also make good use of their playground, picnic tables, restrooms, and changing stations.
Feel the spray of salty seawater on your face as you kite surf or parasail through the azure waters of the Atlantic Ocean. Or gasp in awe as you witness the magic of stilt walkers and fire eaters at the nightly Mallory Square festivities.
A land of watery wonder, pirate-filled history, and beauty awaits you when you head to the Florida Keys this Spring Break.
From awe-inspiring coral reef views from your glass-bottomed boat to sampling the best Key Lime pie. Onto dancing down Duval Street, there are countless ways to spend your tropical getaway.
Whether you are sneaking away for a two-day winter reprieve, or want to settle in for a week of paradise-like pleasure, don't' wait. Book your Florida Keys Spring Break plans today!
Did We Miss Any of the Best Spring Break in Florida Keys ideas?
Tell us, What Will You Do On Your Spring Break 2023 in Florida Keys?
Let us know in the comments below!