A modern city studded with skyscrapers, parks, and museums, Charlotte, North Carolina, is the under-the-radar getaway you've been missing.
While you may think visiting the buzzing Queen City would cost a royal fortune, this Tar Heel gem offers tons to do for free and cheap. Follow along to discover the best free things to do in Charlotte, NC.
Find serenity and stop to smell the roses in the outdoor gardens and greenhouses, or sprawl out in a park for an evening of live music.
Dive into the legacy of our nation's 11th president, or hit the pavement as you take yourself on a tour of the city's stunning public art.
From glistening mosaic glass sculptures to riveting Revolutionary War history involvement, there is lots to love about this quirky city.
Read on to uncover the secret free thrills of Charlotte!
Charlotte Hotels
Before you tackle all of the free things to do in Charlotte this weekend, you'll need to secure some superior lodgings. While the Charlotte area is overflowing with free museum days and outdoor concerts, the Hornet's Nest has yet to find a way to offer free accommodations.
However, with our wide array of Charlotte Hotels, you can score budget-friendly suites close to the airport or just minutes from downtown Charlotte. Take advantage of amazing amenities such as a complimentary hot breakfast, 24-hour fitness centers, and pools. As always, book worry-free knowing you are guaranteed our lowest rates online.
Fun Free Things to Do in Charlotte
Hold up there! Put that wallet away because it's time to preserve that vacation budget with visits to the best of Charlotte's museums, parks, gardens, and more:
UNC Charlotte Botanical Gardens
Calling all plant mamas and papas! Get your green thumb on, when you visit the verdant oasis of the UNC Charlotte Botanical Gardens. Ranked as one of the top places to see in Charlotte, these gardens are always open to the public and free.* Between the Botanical Gardens and the McMillan Greenhouse, visitors can explore over 10 acres of greenery featuring a variety of diverse and exotic plants.
Wander through the Greenhouse and observe the stunning simplicity of orchids, desert plants, tropical ferns, vines, and more. For some more flower power, enjoy the blooming offering of the Susie Harwood Garden, which includes camellias, spring bulbs, azaleas, water plants, and more.
Savor quiet moments of contemplation with the Van Landingham Glen's trails. Many of which are studded with gazebos, stone bridges, and wildflowers.
*While the gardens are always free, donations are appreciated.
Freedom Park
Not much can beat a serene morning of walking around Freedom Park, with a cup of piping hot coffee in hand. Widely considered one of the Queen City's most resplendent green spaces. Locals and tourists alike flock here for picnics, jogging, duck watching, and more.
Located between Charlotte's Myers Park and Dilworth neighborhoods, this massive park tops out at 98 acres and even includes a sparkling lake. Enjoy afternoon runs around the lake, or bring along your own hammock for an early evening siesta.
Fans of live music will also be in luck, as Charlotte's famous Festival in the Park is scheduled to take place at Freedom this September. Since 1964 this Festival has brought grooving jams, Big band music, art, and yummy food to the people of Charlotte.
Billy Graham Library
Praise be! Take a few hours out of your Charlotte itinerary to reflect on the amazing life of the international ambassador of faith, Billy Graham. The Billy Graham Library is a 40,000-square-foot experience. Here visitors can follow the journey of Billy Graham from humble farm boy to America's pastor.
Despite his humble beginnings on a Charlotte dairy farm, Billy Graham would go on to become an evangelist of worldwide fame. The Library is always free to tour and includes many multimedia presentations, exhibits, and homages to his boyhood home.
Explore the themes of "The Man, The Message, The Ministry, and The Mission," as you make your way through the library or snap a photo of the impressive cross-shaped entrance.
President James K Polk Historic Site
Escape the bustle of the Hornet's Nest when you abscond to Mecklenburg County to observe the birthplace of President James K. Polk. The 11th president of the United States, this site sits on 21 of the original 150 acres owned by the president's father.
The museum is always free to enter, and guided tours are available for a nominal fee.* Step back in time as you observe the museum exhibits detailing everything from Polk's childhood to his involvement in the Mexican-American war.
Sit tight for an immersive film regarding the president, or tour the historically-inspired kitchen garden and a picnic area. Pay your respects at the cemetery where members of his family are buried, or learn about cabin life from a costumed docent.
*Please note that the interior of the cabins are unavailable for viewing unless you are on a guided tour.
The Harvey B. Gantt Center
Named after trailblazer and first African American mayor of Charlotte, Harvey B. Gantt, Harvey B. Gantt Center for African-American Arts + Culture is a mecca for visual, performing, and literary arts of the African diaspora. Swing by the museum on Wednesday evening from 5-9 p.m. to enjoy free admission.
Savor sublime works from master African American artists such as Hale Woodruff, Jonathan Green, Ann Tanksley, Jacob Lawrence, and Elizabeth Catlett. Or, check out current exhibitions which explore relevant themes of digital creators, nature, abstract media, and more.
Craving a more auditory artistic experience? The Gantt also puts on an abundance of live musical performances, including the Standard Jazz series which is always free. Watch in awe as a master class instructor serenades you with a multi-sensory performance marrying contemporary jazz elements with rich history and culture.
Bechtler Museum of Modern Art
Geometrically pleasing, this modern 36,500-square-foot museum space is a must-visit for the artistically inclined guest. The Bechtler Museum of Modern Art was founded in 2010 and is completely dedicated to the display of mid-20th-century modern art.
The museum's awe-inspiring architecture includes a glass atrium, a vaulted skylight system, and an enveloping terra cotta exterior. Visitors will be wowed by the amount of artistic talent under one roof, which includes notable works by Miró, Giacometti, Picasso, Calder, Hepworth, Nicholson, and Warhol.
Take your time exploring galleries featuring a variety of collections and rotating exhibits. Marvel at the whimsy and feminine nature of Picasso's Femme au Chapeau. Or take in the geometric dancing figures of Paul Klee. While the museum is always free for children under 10 and all military personnel. All other visitors can score gratis tickets every Wednesday from 5:00 to 9:00 p.m.
Self-Guided Tour
Think you have what it takes to host your own walking tour? Pull out that microphone and pack some comfy shoes because there are plenty of available self-guided Charlotte tours to take. A walking tour allows you to see the city at your own pace and save.
Charge up that phone and get a feel for this Southern City steeped in history when you choose a Charlotte Liberty Walk, Arts & Science Council's Public Art Walking Tour, or the ArtWalks CLT's Uptown Walks and Trails.
Discover the historic Fourth Ward district or visit dozens of Uptown sites that mark Charlotte's involvement in the American Revolution. For a more creative outlet, enjoy murals and distinctive public art pieces such as the popular glass mosaic "Firebird," sculpture on an art tour.
Free Things to Do in Charlotte NC for Couples
Want to make your special someone feel like a million bucks in the Queen City? While it's no secret that dinner, drinks, and a movie can add up quickly. It's more than possible to plan an almost completely gratis date night in Charlotte.
Free Concerts
Set the stage for love when you cuddle up al fresco with some of Charlotte's best free concerts. This spring, Symphony Park will be hosting an all-new musical outdoor series featuring live entertainment, adult beverages, food, and more.
Get down to tributes of Fleetwood Mac, Zac Brown, the Eagles, and more at SouthPark After 5. Or, stop by the Metropolitan for tunes by local musicians and food and drink offerings from surrounding restaurants and bars.
Camp North End
You'll find less bunk beds and s'mores but more trendy artisans, events, and mouthwatering eats at Camp North End. This spacious complex was once a military depot and car factory. Today couples flock here to enjoy a vast array of people-watching, public art, and various festivities.
Snake your way through the North End's farmers market with the stalls piled high with produce. Or window shop Windy O'Connor's artwork.
Partake in bar trivia nights or stay tuned for summer shenanigans with the launching of Friday Nights. These ever-popular parties feature killer live music lineups, local art, surprises, and mouthwatering eats.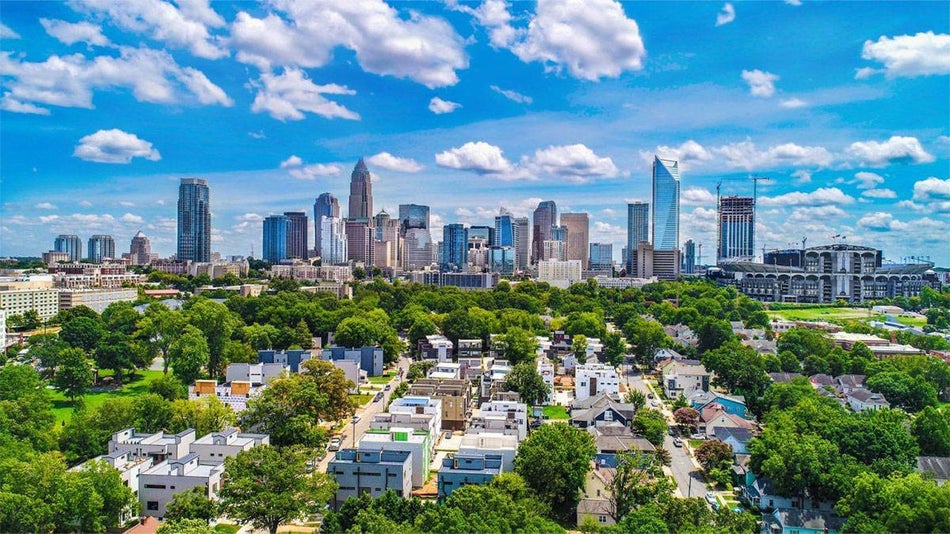 Sweet Southern Charm, a thriving arts scene, and the world's largest man-made whitewater river have been enticing visitors to Charlotte for decades. However, in addition to being the official hub of NASCAR, the Hornet's Nest is home to some scintillating free attractions.
Families can feed the ducks in Freedom Park or revel in works by Warhol and Picasso at the Bechtler Museum.
Take yourself on a stirring tour of the city's outdoor mural scene. Or grab your better half for a day of mingling and music at Camp North End.
From balmy nights dancing under the stars to following in the footsteps of the lord at the Billy Graham Library. Charlotte is chock full of complimentary attractions, concerts, and events.
Tell us, What Are Your Favorite Free Things to Do in Charlotte Today?
Did we miss any of the top free things to do in Charlotte?
Leave a comment below!