The Grand Strand may be best known for seafood, shopping, and golf, but the holiday season brings about an extra dash of charm to this beachside community. Watch in wonder as the Myrtle Beach area is transformed into a veritable wonderland full of illuminated trees, tasty treats, and stirring shows.
Follow along as we take you through the best things to do in Myrtle Beach at Christmas.
Cozy up in your warm car for a dazzling drive-through light show, or carve out a few hours to perfect your pose when you take photos with Santa.
From mistletoe and tinsel-adorned trolley train rides to heartwarming parades full of decorated floats, even the most Scrooge-minded of visitors will fall for a Myrtle Beach Christmas.
Take in juggling, classic carols, and eye-catching footwork with a broadway worthy Christmas show, or spend a crisp evening admiring millions of twinkling lights.
Ready to jingle all the way through 60 miles of stunning coastline? Read on to discover the best Myrtle Beach Christmas lights, Myrtle Beach Christmas shows, and events this year.
Myrtle Beach in December
No puffer coats here! December events in Myrtle Beach may not require a bikini and sunscreen, but that doesn't mean you can't enjoy the great outdoors. Inhale that fresh ocean air when you plan days of hiking, biking and boardwalk strolling.
Or, aspire to perfect your par with time spent on one of the top-ranked golf courses. Myrtle Beach December events are particularly pleasant as this time of year ushers in fewer crowds. Pack plenty of layers and a warm coat, and you'll be more than ready to take on the best things to do in Myrtle Beach in December:
*Please note that this is by no means an exhaustive list of South Carolina things to do in December but rather a round-up of our favorite wintertime activities.
Things to do During This Christmas in Myrtle Beach
From sandy beach Christmas photos with the family to spellbinding shows, you'll never fall short of Myrtle Beach Christmas activities. Follow along to uncover the jolliest Christmas events, parades, and light attractions:
Christmas Shows in Myrtle Beach
Hot Jersey Nights Christmas Special
The Garden State is cooking up something sweeter than fruitcake for you this holiday season. Hightail it to the Broadway Theater for the smooth croonings of Frankie Valli and the Four Seasons. The Hot Jersey Nights Christmas Special is the merry mashup you never knew you needed.
Prime yourself for two hours of Christmas classics and Jersey Boy hits, including Walk Like a Man, Candy Girl, and Big Girls Don't Cry. Watch in awe as fat snowflakes fall, Christmas trees glow, and four of the best vocalists in America lure you to wonderland.
The South's Grandest Christmas Show
Let the good tidings and Southern charm wash over you when you make time for the South's Grandest Christmas Show. A multifaceted affair; theater lovers, young and old, will be wowed by the creative talents of this cast of singers, dancers, and comedians.
Gaze upon serene angels, trees trimmed in baubles, and candy cane-striped acrobats. Hum along to traditional Christmas tunes, savor special effects, and appreciate the festive outfits. This year's production promises even more frosty fun, with an appearance by the new comedic juggle Slim Chance.
Magic and Mayhem - Christmas Special
What pairs better with mistletoe than a little magic? Delight your favorite mini magician when you participate in an afternoon of wonder, circus stunts, and sleight of hand. Observe mentalism, card tricks, side-splitting comedy, and mysticism when you see Magic and Mayhem - Christmas Special.
Featuring the star of Le Grand Cirque and the World's Most Successful Magic show, this mind-boggling expose of illusion is a can't miss Myrtle Beach attraction.
The Carolina Opry Christmas Special
Live animals, glittering gowns, and bejeweled carriages create a night of Noel you'll never forget. The Carolina Opry Christmas Special is an extravaganza of choreographed dance, song, and stunning sets. Often called 'The Christmas Show of the South,' this mesmerizing two-hour performance is perfect for the whole family.
Locals will be unable to recognize the famous Carolina Opry after its Christmas transformation. Instead, guests will be rendered speechless as they take in over 35 Christmas trees, 75 wreaths, 5 miles of tree lighting wire, countless tree ornaments, and pounds of Christmas snow. Chuckle along to comedy, watch Santa-dressed dancers twirl, or snap a photo in front of the stunning 30-foot tree.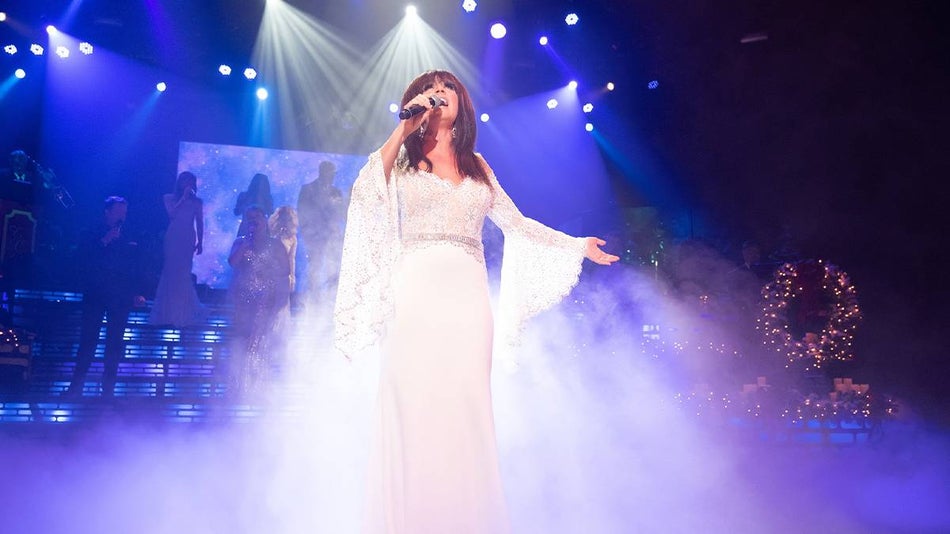 Christmas at Pirates Voyage
Arrgh matey! The swashbuckling pirates you know and love are back for an adventure of Yule proportions. Ring in the happiest time of year with plenty of yo, ho, ho, when you break bread at Pirates Voyage.
First mates and landlubbers will be enthralled by this nautical retelling of the Christmas Carol, complete with live sea lions, amazing acrobatics, and epic battles. Dine on scrumptious Buccaneer biscuits and sugar-cured ham as you journey to sea with your crew.
Cheer in glee as giant Christmas toys come to life, or chuckle along as a castaway entertains you with jokes and hijinks. Glimpse at the live nativity, and wind down your splashing escape with a breakneck battle for the coveted Christmas treasure.
Christmas Events in Myrtle Beach
Winter Wonderland At The Beach
November 17 - December 23, 2022
Make friends with Frosty, Rudolph, and Mr. Claus when you spend your Myrtle Beach winter at the Boardwalk. Winter Wonderland at the Beach is a special seasonal event designed to entice your whole family. Revel in over 100,000 twinkling lights, walking tours of the North Pole, and plenty of holiday-themed inflatables.
Pause in front of Peppermint Valley, take oceanfront photos with Santa, or construct the perfect s'more. From snow slides to toboggan sledding and live carolers, there are non-stop events and activities to enjoy.
Nights Of A Thousand Candles
November 26 - January 1, 2023
The sweet aroma of spiced cider and the soft flow of almost 3,000 candles set the stage for an evening of ethereal wonder at Brookgreen Gardens. Let the joy of millions of sparkling lights wash over you as you stroll through paths of flora.
Named "Best Christmas Lights in South Carolina" by Travel+Leisure Magazine, this epic event is accented by cheery holiday music and unbelievable photo ops. Buy your tickets to Night of a Thousand Candles fast, as this beloved Southeast event will sell out.
North Myrtle Beach Christmas Parade
December 3, 2022
After you see the North Myrtle Beach Christmas lights, try cheering on the vibrant red and green floats of the North Myrtle Beach Christmas Parade. Giant elves, inflatable snowmen, and more come alive as they trek down Main Street. This annual tradition intrigues visitors far and wide.
Come early to stake out a spot and set your sights on lighted floats and vehicles representing groups from all across the area. Parade entries will be judged and awarded for their overall creativity and Christmas spirit.
Someone tell Santa he's got a little competition! Level up your gift-giving this year when you spoil your loved ones with a Christmas Package in Myrtle Beach. Bundling your Grand Strand attractions, activities, and accommodations is the best way to save.
Christmas Lights in Myrtle Beach
The Great Christmas Light Show
November 21 - December 30, 2022
Yearning for the creme de la creme of Christmas lights in Myrtle Beach? When you see the Great Christmas Light Show, inject your holiday itinerary with the sparkle of over 500 magical light displays. Located at the North Myrtle Beach Park & Sports Complex, this two-mile drive-through experience invites you to discover the true meaning of the season.
Whip out that phone or camera to capture over 2 million lights and custom creations showcasing animated figures and holiday scenes come to life. Post the nativity scene, keep the holy jolly feelings flowing at Santa's Village. Cuddle up to cute critters in the petting zoo, sip luscious hot chocolate, or climb all aboard Santa's Express Train Ride.
*Please note that Santa's Village is open Thursday, Friday, Saturday, and Sunday ONLY from November 25 through December 11, 2022. Additionally, Santa's Village is closed on Christmas Day, and certain activities and treats require extra payment.
Surfside Beach Christmas Tree Lighting
December 4, 2022
Christmas tree, oh, Christmas tree! Admire boughs laden with lights and ornaments when you travel to the charming beach town of Surfside this December. Pose for selfies in front of this decadently decked-out treasure of fir. The annual Surfside Beach Christmas Tree lighting is more than just blinking orbs. Bring along the whole family to chow down on seasonal goodies, listen to music, and meet a certain special jolly elf.
Annual Garden Of Hope Christmas Tree Lighting
December 4, 2022
Missing that heavenly scent of Evergreen? Get your fill of ornaments, glowing lights, and more when you catch the sublime Annual Garden of Hope Christmas Tree Lighting. This kid-friendly event is packed full of North Pole charm. Little Santa's helpers can expect live music, hot cocoa, cookies, and socially distant visits with Santa. For more information regarding this tinsel-tinged escape, please call 843-918-1062.
Joy to the World! Take a quick break from the soft glow of millions of mutli-colored lights when you snuggle up for some laughs. Comedy Shows in Myrtle Beach make the ideal holiday date night escape.
Christmas Lights Trolley Rides
December 21 and 28, 2022
Ho, ho, ho! Myrtle Beach may not be able to boast about a fleet of reindeer, but lucky visitors can climb all aboard the Christmas Lights Trolley for a Yuletide ride. Cruise around Memorial Park in Surfside Beach for an evening of Christmas adventure.
Christmas Myrtle Beach Hotels
With so many things to see and places to go in Myrtle Beach during Christmas, you'll want to spend more than just one night in this oceanside paradise. Make the most out of your South Carolina reprieve when you reserve any of our premier Myrtle Beach Hotels.
From luxurious beachfront resorts to more budget-friendly options, we offer accommodations for every traveler. Stop your endless scrolling for things to do during the holidays and celebrate Yuletide at the Grand Strand with Tripster. As always, make your booking stress-free, knowing you will be guaranteed our lowest rates online.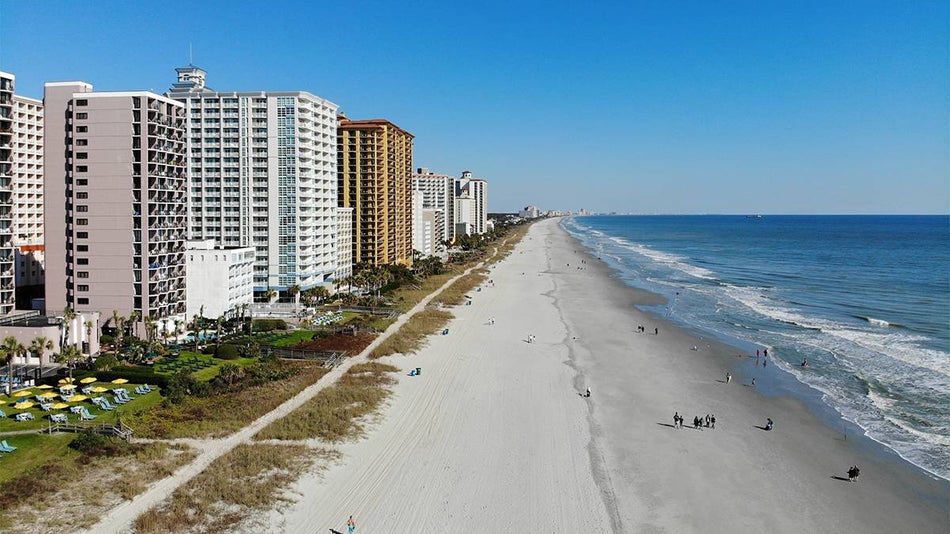 Trade in that SPF for sugar plums and stockings when you spend Christmas at Myrtle Beach.
Revel in the sublime natural beauty of this seaside paradise as you enjoy festive musicals, magic tricks, and wintery activities.
Forget about snow boots and scarves as you tackle inflatable snow mazes, tobogganing, and more.
Level up your social media feed with stunning photos of thousands of glowing candles at the Brookgreen gardens, or indulge your sweet tooth with freshly roasted s'mores.
Sing along to everyone's favorite Jersey Boys, or marvel at the unrecognizable Carolina Opry decked out in red and green.
Ready to experience the miracle of Myrtle Beach at Christmas? Book your Yuletide vacation today!
Did We Miss Any of Your Top Christmas Events in Myrtle Beach?
Tell us your favorite Christmas Shows and Festive Lights in the Grand Strand!