February 4, 2023 @ 10:00 am

-

April 16, 2023 @ 10:00 pm

EST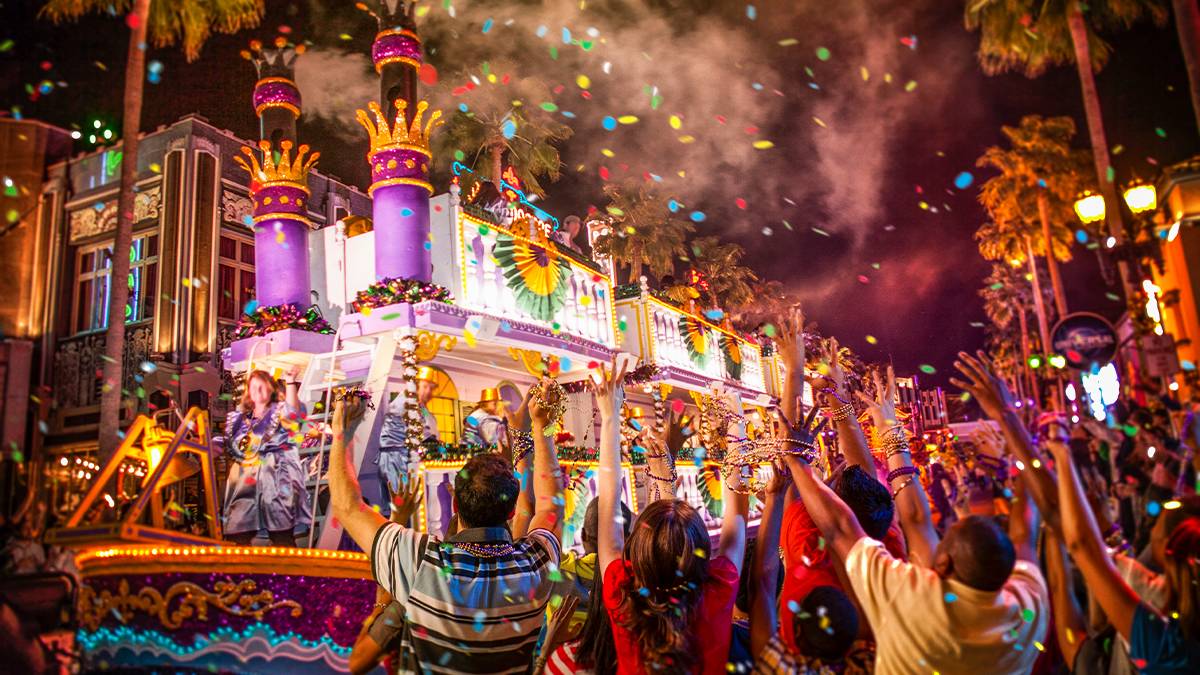 What's better than Mardi Gras? A Mardi Gras celebration that lasts for months, of course! Let the good times roll at Universal Orlando Mardi Gras where tons of beads, Cajun foods, drinks, and festivities overflow.
Join the enormous parade float and toss beaded necklaces plus vibrant coins to the spirited crowd, catch an epic trumpet solo or a killer drum performance by marching bands, gush over the Universal Mardi Gras 2023 concert lineup, and relish cuisines from Brazil and beyond.
Universal Orlando Mardi Gras International Flavors of Carnaval invites you to the biggest fiestas around the world. So, grab your dancing shoes and find something in screaming color in your wardrobe. Follow along for all the deets about the ultimate party at Universal Orlando Mardi Gras!
Universal Orlando Mardi Gras: International Flavors of Carnaval Tickets
The Universal Orlando Mardi Gras celebration is included with your general admission or annual pass.
Universal Orlando Discount Tickets
With three thrilling theme parks to delve into, it's essential to make the most of your time at Universal Orlando.
Related Post: Ultimate Guide to Universal Orlando Resort: Coupons, Discounts, and Deals
Book these discount tickets online with Tripster to avoid long ticket lines and save some serious dollars while you're at it:
Universal Orlando Mardi Gras: International Flavors of Carnaval Attractions
Marvelous Parade and Colorful Performers
Universal Orlando Mardi Gras 2023 is an over-the-top experience for the eyes with its vibrantly colored floats and creative costumes.
The Mardi Gras 2023 performers will dazzle guests with their purple, green, and gold outfits and headwear, making the parade completely spellbinding. Plus, there will be authentic floats direct from New Orleans to join the celebration.
Local and International Food
From authentic Cajun treats to various cuisines inspired by Carnaval festivals around the world, the Mardi Gras Universal Orlando celebration is a foodie's paradise. Stuff your mouth with gumbo, jambalaya, and beignets while watching one of the concerts.
Then, sample bites like fried shrimp and catfish po' boy sandwiches. After the meal, sip bubbly, wine, or beer that compliments your choice of eats. This celebration offers more bucket-list dishes than you can possibly eat in one trip, so save that appetite.
Live Concerts
Take a break from delicious treats for now and be wowed by the amazing performances of live bands. The amazing concert line-up features the biggest names and rising stars, so drop by the Music Plaza Stage to see long-time favorites and discover new artists.
Check out the stellar concert line-up below:
Patti LaBelle - Saturday, Feb 4
JVKE - Friday, Feb 10
Goo Goo Dolls - Saturday, Feb 11
Maren Morris - Saturday, Feb 18
Willow - Sunday, Feb 19
3 Doors Down - Saturday, Feb 25
Sean Paul - Saturday, Mar 4
Lauren Daigle - Sunday, Mar 5
Mardi Gras Float Ride and Dine Experience
Every year, Universal Studios Orlando Mardi Gras 2023 comes back better and spicier than before. For this year's celebration, guests can hop aboard the grand floats and wave to the crowd.
Have you ever wondered how it feels to be up there tossing beads and coins to cheerful spectators? Now is your chance to find out! Reserve a spot on a parade float and be part of the long-awaited parade.
On top of this experience, your reservation includes a 3-course meal from the full menu of one of the participating restaurants at Universal Orlando Resort. The prix fixe meal comprises one appetizer, entrée, dessert, and non-alcoholic beverage. There will be four Orlando Mardi Gras 2023 food and beverage vendors to choose from.
Please note that participants must be 18 years old or older and at least 48 inches in height to join the Universal Studios Orlando Mardi Gras parade.
Mardi Gras Float Ride and Dine Experience Menu
Universal Studios Florida: Finnegan's Bar & Grill
Everyday Menu
Starters

Scotch Eggs
Irish Loaded Chips
Chicken Stingers
Finnegan's Potato & Onion Webb (V)
Reilly's Chicken Wings
Guinness Warm 3 Cheese Dip (V)
Finnegan's Favorites
Grilled Fillet of Salmon

Bangers & Mash
Shepherd's Pie
North Atlantic Baked Codfish
Finnegan's Chicken
Country Cork Corned Beef & Cabbage
Beef Tenderloin
Kilkenny Pot Pie
Irish Fish & Chips
Guinness Beef Stew
Finnegan's Pork Shoulder
Vegan Shepherd Pie (GS, VG)
Non-Alcoholic Drinks
Fountain Soda

Juice
Hot Drinks
Iced Tea
Milk
Water
Click here to view the full menu.
Lombard's Seafood Grill
Appetizers
Mission Street Shrimp Cocktail
San Pablo Spinach & Artichoke Dip (V)
Calamari
Tuna Poké
Entrées
Lombard's Lobster Roll

Filet Mignon
Fish and Chips
Shrimp Alfredo
Non-Alcoholic Drinks
Fountain Soda

Iced Tea
Milk
Water
Frozen Drinks
Hot Drinks
Juice
Click here to view the full menu.
Universal CityWalk
Appetizers
The Cowfish Sushi Burger Bar

Appetizers
Crab Rangoon Dip
Edamame
Crispy Calamari
Spicy Togarashi Shrimp
Parmesan Bacon Truffle Fries (GS)
Spicy Poke Dip
Sesame Chicken Bites
Entrée
Sushi Combos

Fusion Specialty Rolls
Burgers
Burgushi Rolls & Pick-Ups
Sashimi
Bento Boxes
Non-Alcoholic Drinks
Fountain Soda

Water
Hot Tea
Iced Tea
Hot Coffee
Click here to view the full menu.
NBC Sports Grill & Bar
Starting Line Up
Large Warm Soft Pretzel (V)

Margherita Flatbread (V)
Artichoke & Spinach Dip (V)
Entrée
Bases Loaded Burgers

Championship Winning Wings
"Grip It" Sandwiches
Non-Alcoholic Drinks
Click here to view the full menu.
Nearby Hotels and Lodgings
After living it up at the festival, you'll need to recharge at a luxurious hotel that will get you rested for more days spent at Universal Orlando.
Tripster offers these hotels minutes away from the city's top landmarks:
Universal Orlando Mardi Gras: International Flavors of Carnaval Date
"When does Mardi Gras start at Universal Orlando?" you may ask. The event runs from February 4 through April 16, 2023.
Other Attractions in Universal Studios Orlando
Universal Studios Florida
Hogwarts Express
Make your way between King's Cross Station and Hogsmeade™ Station in this out-of-the-ordinary train ride. So, hop aboard and feel the excitement of walking through Platform 9 ¾™, seeing your favorite characters, and encountering creatures included in the movies.
Related Post: Universal Studios vs. Islands of Adventure: An Inside Look at Universal Orlando's Theme Parks
Who knows? You might even meet Ron Weasley™ and Hermione Granger™ while on the Hogwarts™ Express!
E.T. Adventure
E.T. needs your help in saving its home! Get that magical bike and fly high in the sky where you'll escape otherworldly creatures before arriving at its magical planet. Don't forget to meet E.T.'s family before landing back on Earth!
The Simpsons Ride
Save a spot on this indoor simulation attraction, where you'll blast and crash through Krustyland with Homer, Marge, Lisa, Bart, and Maggie. Don't miss the special appearances of Springfield's other funniest characters as you journey through the city.
Despicable Me Minion Mayhem
Gru, his adorable daughters, and the playful Minions invite you to this fun ride. Buckle up, as you'll be hurled into Gru's super villain laboratory filled with his latest schemes. This amusing attraction is perfect for families.
Universal's Volcano Bay Water Theme Park
Krakatau Aqua Coaster
Dive into the ultimate aquatic adventures at this sought-after attraction. Krakatau Aqua Coaster can hold four people, so come with the entire family to experience the power of Indonesia's powerful volcano through this ride.
Waturi Beach
Savvy travelers and beach lovers know that Waturi Beach has the best waves and calming views. Swim, play, and splash alongside the locals while taking in the area's spectacular scenery and warm waves. It's the perfect place if you want to experience action and relaxation at the same time.
Universal's Island of Adventure Theme Park
Hagrid's Magical Creatures Motorbike Adventure™
There's no better time to fly with Hagrid™ into the Forbidden Forest than now. Hop inside this exhilarating roller coaster that lets you meet some of the rarest magical creatures in the Wizarding World. The highly themed ride is located beyond the Hogwarts™ castle.
Jurassic Park River Adventure
Hold tight and take a deep breath as you're about to meet a giant T. Rex! You can't escape it. The creature wants you and you can only get away from her if you brave the dark plunge before you. Before you decide, we have to let you know that you're dealing with an 85-foot drop.
Universal CityWalk at Universal Orlando
With an abundance of stores to browse, you'll definitely find keepsakes and gifts within your budget here. Universal CityWalk brims with restaurants that will make your mouth water and are suitable for every taste.
Be sure to drop by here after your visit! The shopping hub includes a Mardi Gras tribute store offering official Mardi Gras merchandise.
Universal Orlando Vacation Packages
The moment Universal Studio Orlando Mardi Gras is over, it's time to embrace TV and movie-based adventures while conquering the rest of the Sunshine State.
Secure these discount vacation packages from Tripster:
Experience Universal Orlando Mardi Gras: International Flavors of Carnaval
When it comes to Mardi Gras celebrations, Universal Orlando takes things seriously. For months, your favorite theme park will brim with colorful costumes, extravagant floats, and traditional music.
There will be authentic Cajun cuisine and more dishes from Brazil and beyond to taste. In other words, you don't have to be in New Orleans to enjoy an over-the-top Mardi Gras experience!
Get ready to revel in the festive atmosphere, learn new cultural cuisine traditions from all over the world, and even join the awaited parade where you can throw beads at spectators. Afterward, find yourself bopping at the Universal Orlando Mardi Gras concerts 2023!
Mardi Gras 2023 Universal Orlando is definitely a bucket-list experience. So, what are you waiting for? Put on those glittering masks and get your Universal Orlando Mardi Gras tickets today!
Related Events