February 1, 2023 @ 9:00 am

-

March 31, 2023 @ 10:00 pm

EST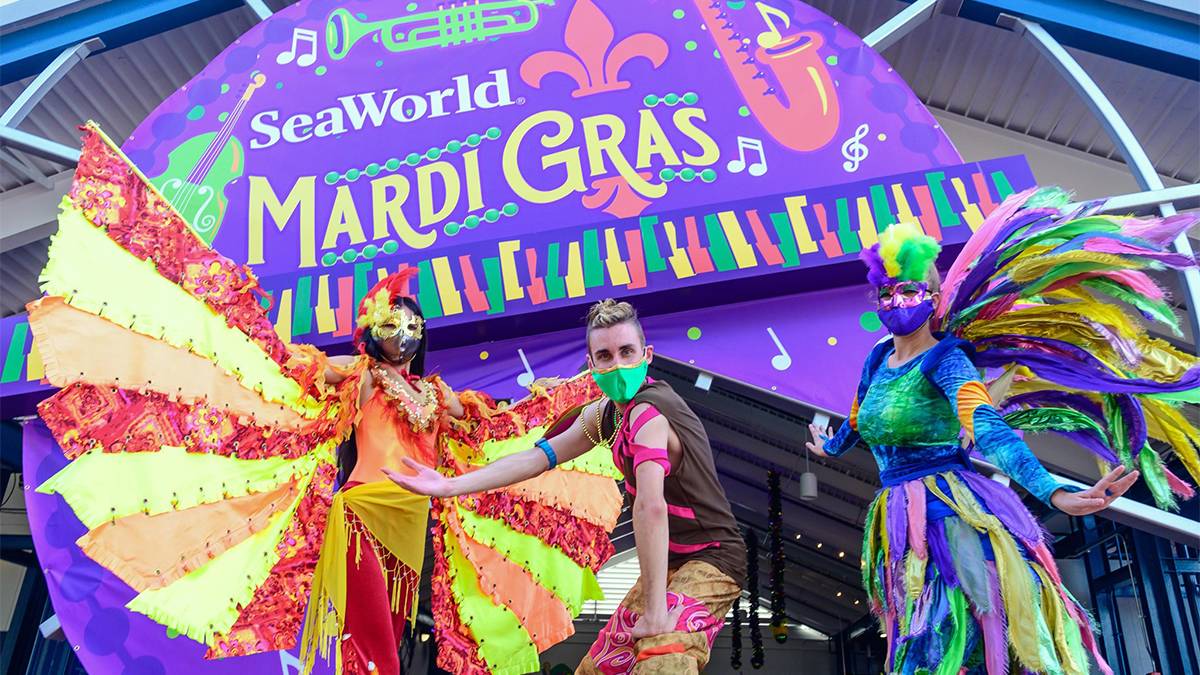 Can't come to New Orleans? Then, have New Orleans come to you at the SeaWorld Mardi Gras celebration. Oceans of Gulf Coast cuisine, jazz music, and colorful costumes float around in this carnival-style festival. Laissez le bon temps rouler!
SeaWorld Orlando doesn't forget about Mardi Gras festivities. In fact, the family-friendly aquatic haven throws a party that even New Orleans can't help but rave about.
Complete with classic Gulf Coast flavors like delicious beignets and hearty jambalaya, a lively parade with performers, and plenty of energy, SeaWorld Orlando Mardi Gras brings joy to everyone.
So, grab those beads and don't miss your chance to celebrate Fat Tuesday in stylish fashion (without the enormous crowds!). Follow along to find out about all the flavors and fun at SeaWorld Mardi Gras.
Related Post: Insider's Guide to SeaWorld Orlando
Mardi Gras SeaWorld Tickets
The SeaWorld Mardi Gras 2023 event is included with SeaWorld general admission.
SeaWorld Orlando Discount Tickets
When it comes to marine-themed adventures, SeaWorld is the place to be. Before mingling with your favorite animals and flying high on the thrilling rides, book your tickets with Tripster first.
Tripster offers the biggest deals that will help you stick to your budget:
SeaWorld's Mardi Gras Attractions
Pop-Up Parade
Who doesn't love an exciting parade that involves colorful beads and energetic performers? Feel the high Mardi Gras spirit and witness the awaited pop-up parade joined by entertainers, bead captains, stilt walkers, and musicians at Wild Arctic Plaza.
Live Music
Groove to the beat of spirited music played by a live band! Music has always been a huge part of Mardi Gras, so expect artists to perform jazz classics for hours at this festival.
Street Party
The energy plus the sights and sounds of the Wild Arctic Plaza will make you wonder if you're on Bourbon Street. Come check out the street party and revel in the French Quarter vibe dance and spirit!
Filled with street performers, partygoers, and a DJ, this physically distanced dance party will have you grooving and singing at select times from 12:30 p.m. to 6 p.m.
Gulf Coast Flavors
Indulge in traditional Gulf Coast favorites and Mardi Gras-infused Creole food! Savor delectable jambalaya, enjoy the mouthwatering, smoky taste of the Bourbon BBQ Smoked Pork Po Boy, and sip specialty cocktails or craft brews. Don't forget to save some room for the popular beignets!
There's plenty of authentic food, as this celebration overlaps with our favorite Seven Seas Food Festival! Revel in all the flavors at SeaWorld Mardi Gras 2023 Orlando.
Mardi Gras SeaWorld Date and Time
SeaWorld Mardi Gras runs from February to March 2023. We will update this page with more information about the exact dates as it becomes available.
SeaWorld Orlando Vacation Package
Set sail for a gulf of theme park escapades, animal encounters, and golden sand when you take a trip to Orlando.
Secure these packages from Tripster to save some serious cash:
Experience SeaWorld Mardi Gras
While many of us wish to go to New Orleans to celebrate Mardi Gras, the truth is not everyone can take a trip to Bourbon Street. Fortunately, SeaWorld Orlando is bringing all the pageantry of Mardi Gras.
Related Post: Ultimate Guide to SeaWorld Orlando: Coupons, Discounts, and Deals
Whether you're craving Cajun food favorites or looking for jazz and brass bands, your favorite marine park is bursting with live music, delicious food, parades, and games that will keep adults and kids alike busy.
Enjoy classic Gulf Coast dishes from different vendors, watch the parade joined by entertainers like bead captains and stilt walkers, and bop to lively music played by bands. The activities are endless at this New Orleans-style carnival event!
Get your SeaWorld Orlando Mardi Gras 2023 tickets now to join this ever-popular celebration and enjoy marine-themed fun at the same time.
Related Events