June 10, 2023

-

August 26, 2023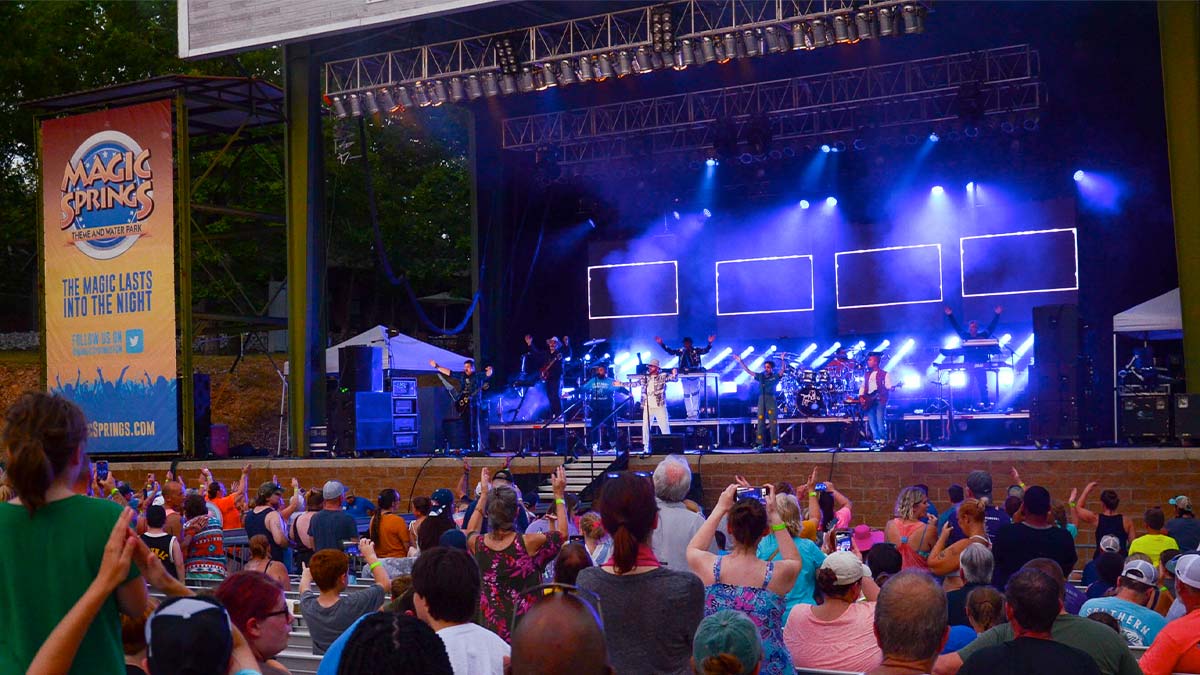 From Tesla to Skillet, Magic Springs' concert lineup is something you cannot pass up!
Nothing beats the joy of seeing your favorite artist in the flesh and belting out their famous hits at Magic Springs concerts.
Luckily, you can do that and more at Magic Springs concerts, where the concert lineup is as exciting as the actual event. Rock out with Tesla, swoon over the angelic voice of Dylan Scott, and be captivated by the stage presence of Hanson.
Related Post: Magic Springs Coupons - Your 2023 Ultimate Guide
Nonstop singing is what Magic Springs concerts are all about. Follow along to find out about the full lineup, the special guest, and the concerts scheduled for this year.
Magic Springs Summer Concert Series Tickets
All concerts are FREE with general admission or season pass. However, reserved seating will be offered for an additional fee.
Magic Springs Discount Tickets
Magic Springs Theme and Water park is a treat for all ages. Enjoy a boatload of family-friendly activities and rides without emptying your wallet with a Magic Springs discount ticket from Tripster.
Magic Springs Concert 2023  Lineup
Tesla
This band from Sacramento is coming to Hot Springs to rock your world. Sing along as they play their classics, including What You Give, Modern Day Cowboy, and Love Song.
When: June 17, 2023, at 6 PM
Click here to reserve your seats.
Joe Nichols
Country music fans are in for a treat as Joe Nichols takes the stage at a Magic Springs concert. Listen to his hits, such as Good Day for Living and Another Side of You.
When: June 24, 2023, at 6 PM
Click here to reserve your seats.
Hanson
These three brothers from Oklahoma surely know what they're doing when it comes to stealing the hearts of the crowd. Take the chance to see Hanson and enjoy their toe-tapping songs like MMMBop.
When: July 1, 2023, at 6 PM
Click here to reserve your seats.
Skillet
Be ready for a soulful concert experience as Skillet is hitting the town for a Magic Springs concert. We can't wait to see them perform Monster and Feel Invincible.
When: July 8, 2023, at 6 PM
Click here to reserve your seats.
Crowder
Another Christian musician worth checking out is Crowder. Catch his live performance of Let Me Feel You Shine, Come Alive, and more.
When: July 29, 2023, at 6 PM
Click here to reserve your seats.
Dylan Scott
When: August 26, 2023, at 6 PM
We're counting the days until we hear Dylan Scott's powerful vocals and unmistakable drawl that echoes throughout the park in Hot Springs.
Click here to reserve your seats.
Magic Springs Concerts 2023 Details
All performances are located at Magic Springs Timberwood Amphitheater 1701 E Grand Ave. Be sure to come to the concert venue before the show starts. Plus, always check the Magic Springs schedule for upcoming concerts and updates.
Concert Reserved Seating - $8
VIP Concert Reserved Seating - $10
Experience Magic Springs Concerts
Whether you're into pop or living for rock music, you'll find yourself jumping for joy and singing at the top of your lungs at every Magic Springs concert. The star-studded lineup will satisfy every musical taste, so grab your friends and have the best time here.
Related Post: 13 Best Spring Break Locations in the United States
On top of musical performances, you'll get to enjoy tasty bites and refreshing drinks throughout the area. Plus, there will be thrilling rides and activities to try.
So, get that park admission ticket now and see your favorite artists take over the stage with their powerful performances during concerts at Magic Springs 2023!