September 9, 2022

-

October 31, 2022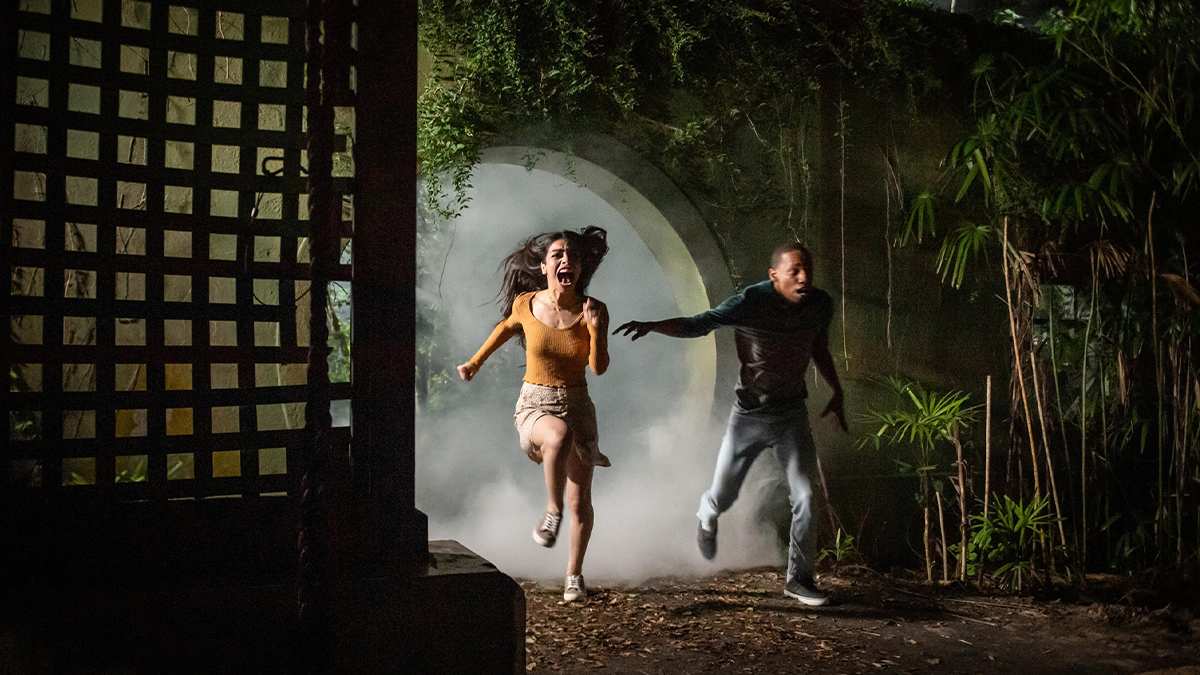 Where do you go when you want to experience a spine-tingling Halloween event without busting your budget? Busch Gardens Tampa Howl O Scream, that's where!
A distinct terror descends upon Tampa Bay once the sun goes down. As families enjoy fall with their cider and carved pumpkins, unspeakable horror lurks by night throughout your favorite theme park. That cold shivers on the back of your neck? It may only be the wind…or not.
This spooky season, Busch Gardens Howl O Scream Tampa FL is opening its creaky doors to all the braves who are into haunted houses, sinister shows, scare zones, terrifying mazes, and other scary surprises. Would you dare to enter?
Follow along to discover what's in store at Busch Gardens Howl O Scream 2022 Tampa.
Busch Gardens Tampa Howl O' Scream Discount Tickets
Howl O Scream is a separately-ticketed event. Worrying about your budget? Don't be, as you can score Busch Gardens Tampa Howl O Scream tickets from Tripster, making the experience more fun.
In fact, you can SAVE up to $56 when you purchase a Single-Night Ticket to Howl-O-Scream "Any Night" Ticket from Tripster! 
Busch Gardens Discount Tickets Tampa
Want to experience Busch Gardens Tampa by day without breaking the bank?
Save serious money by bundling your Busch Gardens Tampa Howl O Scream coupon with these options:
Busch Gardens Tampa Howl O' Scream Attractions
Haunted Houses
Stranglewood Estate (New Haunted House)
Tampa Bay is packed with haunted houses, but none compare to Stranglewood Estate. This once suburban lively home is now a residence of the lost souls and evil. Ready to enter and greet the new homeowners? They would love you to be their guests.
The Residence: Home for the Holidays (Revamped Haunted House)
Getting frightened by ghouls and restless spirits is probably not how you want to celebrate Christmas, but you've got no choice when you enter the Residence: Home for the Holidays. Instead of being surprised by gifts and treats, you're bound to receive twists and frights. But don't worry, because there will be grinning men in red suits to celebrate the season with you…they're not just Santa and his elves.
The Forgotten (Returning Haunted House)
Starved vampires looking for their newest victim take center stage at this Howl O Scream 2022 returning attraction. Keep your necks covered and stay alert as you stroll through the house if you want to return to your world.
Death Water Bayou: Blood Moon – The Final Phase (Returning Haunted House)
Watch where you walk. Only a few have managed to crawl their way back into the park and get away from all the dangerous creatures lurking at the Death Water Bayou.
Witch of the Woods (Returning Haunted House)
For a truly wicked experience, wander at Witch of the Woods. Just roam with caution as an ominous force prevents travelers from getting out of the supernatural forest.
Scare Zones
NEW! Ravens Mill
Muster up enough courage before passing through this cornfield, wherein the scarecrows of Raven Mill are waiting for your arrival.   
NEW! Beyond the Veil
Try your luck at escaping vengeful fairies and orcs as you wander through this dark jungle.  
The Junkyard
A short trip to this terrifying scrap site will have you losing sleep for a long time. Do you have the guts to enter and see something more than junk and spare parts?
Skeleton Crew
The resentful pirates are already here, creeping around the shadows, ready to return with you into their ruined ship. Escape the skeleton crew if you can. 
In the Shadows
The legends are real. In fact, the ghosts and other scary characters from the horror stories have come together, scaring non-believers out of their wits.    
The Shortcut
You might think you're safe from all the nightmares by passing through the cemetery until the corpses pull you back six feet under.   
Voodoo
Voodoo and black magic aren't real, right? Then, don't be afraid to greet the witch doctors who're trying to put you under their ancient curses.
Hidden Scare Zone & Roaming Hordes
Be vigilant of the roaming hordes and hidden zones. Many souls and ghouls are still waiting for your downfall.
Shows and Entertainment
50/50: Choose Your Fate (ALL-New Show)
Will you win or lose? It doesn't matter which you choose. The master of the 50/50 Choose Your Fate Show will still decide your fate. Join this horrific game show…if you dare.
Fiends
The creatures are here to show their moves and grooves. Prepare to catch their dance fever and feel the urge to party after watching the performance.
The Rolling Bones
Watch the skeleton band destroy the Dragon Fire Grill stage with classic rock music and mesmerizing covers.
Cirque X-Scream
With thrilling choreography, such as trampoline stunts and aerial acts, Cirque X Scream will make you hold onto your seat. Watch their pulse-pounding show screaming with excitement.
Busch Gardens Tampa Rides
NEW! Iron Gwazi
Iron Gwazi, the world's steepest and fastest hybrid coaster, is ready for all the bravest. Be one of the first to try this newest addition.
Crash Test Clowns
Strap in and hold on for your life on this frightful ride. Just so you know, there's a chance you might sit beside menacing clowns.  
SheiKra
This intense roller coaster ride lets you experience the Busch Gardens Tampa Bay 200 feet from the sky.
Cheetah Hunt
Only the most adventurous will try this triple-launch roller coaster. Are you one of them?
Tigris
Come enjoy the exciting range of looping twists on this ride.
Cobras Curse
Challenge your stamina to this spinning roller coaster.
Kumba
Hear the roar of Kumba, the iconic steel coaster.
Montu
Get that adrenaline rush at this award-winning coaster.
Scorpion
Bring your fear to new heights with this ride.
SandSerpent
Feel like you're on top of the world when on SandSerpent.
Busch Gardens Tampa Howl O Scream Date and Time
Busch Gardens Howl O Scream scares select nights from September 9, 2022, through October 31, 2022.
Fridays and Saturdays: 7 PM to 1 AM.
Thursdays (starting October 6), Sundays, and Halloween Monday: 7 PM to midnight.
Busch Gardens Tampa Howl O Scream Evil Upgrades
Extend your Busch Gardens Tampa travel budget with these Howl O' Scream upgrades:
Ultimate VIP Tour

- $249.00 per person and with a minimum of 2 guests (includes a 7-hour private tour, exclusive and unlimited access to thrill rides and haunted attractions.

Behind The Scenes Tour

: $29.99 per person. (daytime experience)

Front Line Fear

: $69.00 per guest (access to 5 haunted houses)

Front Line Fear Extreme

: $79.00 (front-of-the-line access to 5 haunted houses and other rides)

No Boo Necklace: $15 per piece
Busch Gardens Tampa Vacation Package
Can't get enough of the park and the city's spirited charm? Then, bundle your Busch Gardens Howl O Scream tickets with these other attractions:  
*travelers have saved up to these prices and more varying upon their travel dates.
Experience Busch Gardens Tampa Howl O Scream
Eerie attractions from haunted houses and scare zones to hauntingly thrilling shows and more sinister surprises await at Howl O Scream Busch Gardens Tampa. Whether you love a good fright or an unusual celebration this Halloween, this annual event is perfect for a memorable experience.
What are you waiting for? Book your tickets now to enter the world of terror and nightmare!
Related Events