November 25, 2022 @ 8:00 am

-

January 23, 2023 @ 5:00 pm

EST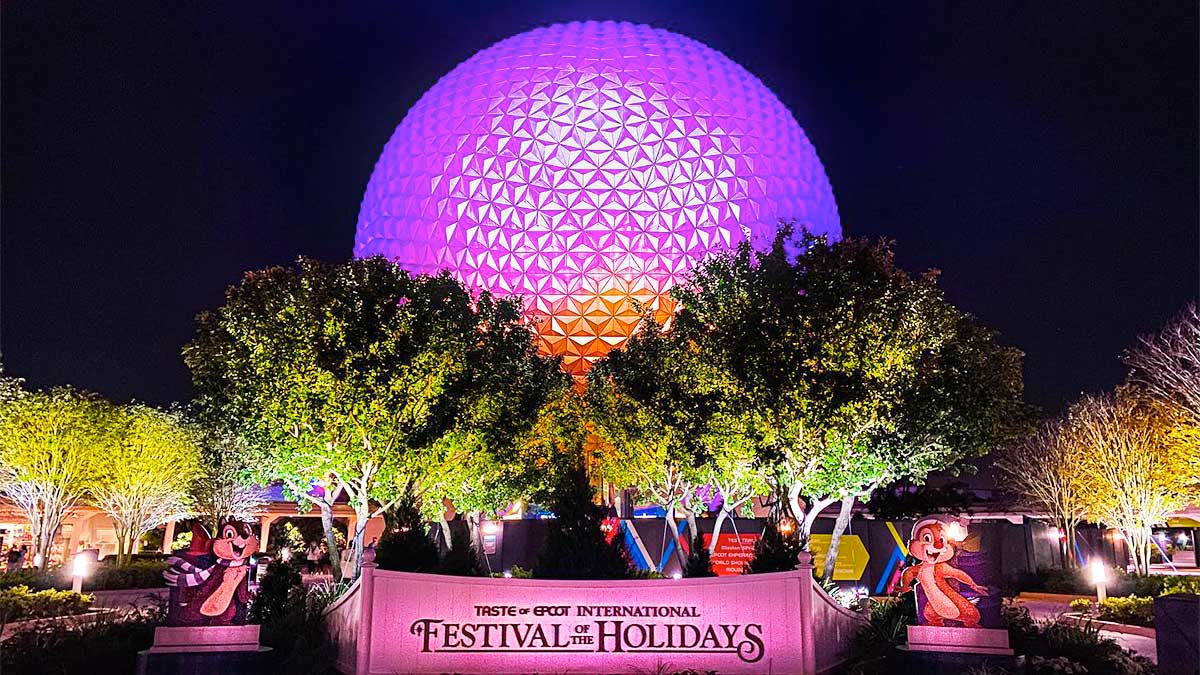 Wrap yourself in holiday lights, magic, and traditions from all over the world at the EPCOT Christmas 2022 International Festival of the Holidays!
Listen to a heartwarming Christmas story narrated by a famous personality, indulge in local and international treats, or create special memories with your favorite Disney characters. Your dream holiday celebration is about to come true at the Most Magical Place on Earth!
Follow along as we dive into the Disney EPCOT Festival of the Holidays.
EPCOT Christmas 2022 International Festival of the Holidays Tickets
Valid admission and park reservations for the same park are required.
Walt Disney World Vacation Package
A Disney World trip doesn't always come cheap. Fortunately, Tripster offers deals that will save you some serious cash!
Nearby Hotels and Lodging
An a-type and savvy traveler knows it's best to stay as near as possible to Walt Disney World, especially if there are big events to join, such as EPCOT Food and Wine Festival.
This helps you save some serious cash and priceless time. Book any of these hotels nearby Disney World Resorts:
EPCOT Christmas 2022 International Festival of the Holidays Attractions
Candlelight Processional
Feel the spirit of holidays come to life at Candlelight Processional, a sought-after attraction wherein a celebrity narrator shares the heartening story about the savior's birth.
This Festival of the Holidays EPCOT experience is complete with inspiring and joyful songs played by the massed choir and a 50-piece orchestra.
For this year's celebration, you'll get to enjoy the voices of these celebrities:
November 25 and 26, 2022
Simu Liu
November 27 through 29, 2022
Chita Rivera
November 30 and December 1, 2022
Raul Esparza
December 2 and December 3, 2022
Whoopi Goldberg
December 4 through December 6, 2022
Isabella Rossellini
December 7 and December 9, 2022
Daymond John
December 10 through December 12, 2022
Josh Gad
December 13 and December 14, 2022
Gloria Estefan
December 15 through December 18, 2022
Neil Patrick Harris
December 19 and December 20, 2022
Mariska Hargitay
December 21 through December 23, 2022
Cal Ripken Jr.
December 24 through December 26, 2022
Marie Osmond
December 27 and December 28, 2022
Courtney Vance
December 29 and December 30, 2022
Angela Bassett
Candlelight Processional Dining Packages
After enjoying the treats at EPCOT Food and Wine Festival, delight yourself with a scrumptious lunch or dinner at the EPCOT International Festival of the Holidays.
On top of tasting new flavors, you'll get a guarantee to secure a spot at the Candlelight Processional when you avail of this dining package. So, enjoy a special holiday meal and easily save your seats at the anticipated Christmastime event.
Tickets cost range from $23 to $100.
Holiday Cookie Stroll
When: Now through December 30, 2022.
When it comes to sweet treats, Walt Disney World serves the best. Get your sugary fix during this season at the Holiday Cookie Stroll! Marvel through the official cookie areas that are included in your Festival Passport to get five cookies and earn a stamp.
Related Post: The Complete Guide to Food at Walt Disney World
Once you've collected the five stamps, head to Holiday Sweets & Treats to receive a gift! Guests of all ages are welcome to join this fun game and enjoy the sweet taste of the holidays.
Can't wait to celebrate Christmas in EPCOT and savor the desserts? Then, make your way to these locations to start the fun:
Yukon Holiday Kitchens: SNICKERS® Doodle Cookie with SNICKERS® Bar
L'Chaim! Holiday Kitchen: Black and White Cookie (plant-based)
American Holiday Table: Chocolate Crinkle Cookie
Nochebuena Cocina: Alfajores Vanilla Shortbread Cookie made with Dulce de Leche and Coconut
Bavaria Holiday Kitchen: Linzer Cookie
Holiday Hearth Desserts: Gingerbread Cookie
Connections Café: Sugar Cookie
Sunshine Seasons: M&M's® Sugar Cookie
Olaf's Holiday Tradition Expedition Scavenger Hunt
When: Redemption until December 31, 2022.
It's time to use your detective skills! Journey throughout the World Showcase and hunt for the festive traditions that Olaf has found and lost. First, purchase stickers and a map from festival merchandise locations at International Gateway. Then, start your quest.
Make sure to mark all the "traditions" you can find by using your stickers. Afterward, bring your map to the World Traveler or Creations whether you complete the adventure or not. A special holiday souvenir awaits each participant. Don't forget to redeem your keepsakes now throughout EPCOT December 2022!
JOYFUL! A Celebration of the Season
When: Daily at 1:15 PM, 2:20 PM, 3:25 PM, and 4:30 PM.
Put your dancing shoes on, as you're guaranteed to groove at this Festival of the Holidays 2022 attraction. Feel the joy of the season and celebrate Kwanzaa by dancing and singing along to inspiring Gospel, R&B, and festive classics performed by the talented JOYFUL! group. Flock to World Showcase Plaza for this spirited spectacle.
Holiday Storytellers
Christmas at EPCOT means taking your eyes and ears on a world tour. Deep dive into a bounty of holiday traditions through these fascinating shows:
Las Posadas Celebration at Mexico Pavilion
When: Sundays through Thursdays at 11:05 AM, 12:05 PM, 1:05 PM, 2:45 PM, 3:50 PM, and 5:15 PM
Sway to energetic mariachi music and revel in traditional dances at Las Posadas Celebration. This 25-minute performance will amuse and educate you regarding Mexican culture.
A Mischievous Magical Barn Santa at Norway Pavilion
When: Sundays through Saturdays at 11:35 AM, 12:35 PM, 1:35 PM, 2:35 PM, 4:35 PM, 5:35 PM, 6:35 PM, and 7:10 PM.
Fill your EPCOT Christmas experience with side-splitting laughter! You'll surely resist giggling at the silly antics of the Barn Santa as he visits Sigrid, a playful farm girl. This annual entertainment lasts for 15 minutes.
La Befana at Italy Pavilion
When: Sundays through Saturdays at 11:30 AM, 12:15 PM, 1:00 PM, 2:40 PM, 3:35 PM, 4:20 PM, 5:05 PM, and 5:45 PM
Meet and enjoy the voyages of La Befana, the friendly and kind witch who brings good children gifts on the day of the Epiphany at this EPCOT at Christmas show.
Santa Claus at The Odyssey Pavilion
When: Sundays through Saturdays at 11:00 AM, 12:30 PM, 2:00 PM, 3:30 PM, 5:00 PM, and 6:30 PM
Is it really Christmas EPCOT Festivals 2022 without Santa Claus? No matter how old you are, visiting St. Nick makes you feel special. Don't miss this jolly holiday show that will keep you smiling and feeling like a child.
Daruma Storyteller at Japan Pavilion
When: Sundays through Saturdays at 11:20 AM, 12:40 PM, 1:40 PM, 3:20 PM, 4:20 PM, 5:05 PM, 5:50 PM, and 6:35 PM.
Find yourself being fascinated by the story of the Daruma doll, a cherished and traditional charm in Japan. Also, get to know more about the rich Japanese customs being practiced during the New Year at this 15-minute show.
Related Post: Surviving Disney World in the Summer: The Ultimate Guide
Hanukkah Storyteller at Between Morocco and France Pavilions
When: Sundays through Saturdays at 10:15 AM, 11:30 AM, 12:40 PM, 1:15 PM, 2:45 PM, 3:45 PM, 5:00 PM, and 6:00 PM.
Experience a fun Hanukkah celebration by listening to a storyteller who has traveled around the world to delve into the diverse traditions and festivities of Hanukkah.
Père Noël at France Pavilion
When: Sundays through Saturdays at 10 AM, 11 AM, 12:10 PM, 12:50 PM, 2:15 PM, 3:15 PM, 4:30 P, and 5:15 PM
Greet Père Noël and see Christmas through the eyes of a grateful child at this returning EPCOT holiday festival show.
Father Christmas at United Kingdom Pavilion
When: Sundays through Saturdays at 10:30 AM, 11:30 AM, 12:40 PM, 1:30 PM, 3:00 PM, 4:00 PM, 5:00 PM, 6:00 PM, and 6:45 PM
Another sought-after attraction at EPCOT Holidays, Father Christmas, is here to bring good cheer and keep you interested in holiday traditions and events of the United Kingdom.
Canadian Holiday Voyageurs at Canada Pavilion
When: Sundays through Saturdays at 11:45 AM, 12:45 PM, 1:40 PM, 3:05 PM, 4:10 PM, 4:55 PM, and 6:10 PM.
Who says you must travel to Canada to discover and experience its festive customs? This 20-minute musical performance takes you to the Great White North, led by the Canadian Holiday Voyageurs.
Can't Miss Walt Disney World Attractions
Cinderella's Castle
Step into Cinderella's Castle, where wishes do come true. This 189-foot attraction at Magic Kingdom boasts postcard-worthy photo ops with its lush gardens and enchanting wishing well.
Space Mountain
Buckle up! This roller-coaster ride will take you into outer space filled with migrant meteors and comets.
Fantasy Land
Step right into your favorite fairytale land or take photos with your beloved Disney friends at Fantasy Land.
Mickey's Magical Friendship Faire
Mickey Mouse and his friends are ready to show their moves, so don't miss their incredible musical performance.
Toy Story Land
Whether you want to stay in Andy's room or bond with Woody and his gang outdoors, Toy Story Land invites you to a wild adventure.
Disney Junior Characters
Traveling with your little ones to Hollywood Studios? But then, visiting your Disney Junior Pals, from Doc McStuffins to Nancy, is a must!
Walt Disney Presents
Get to know more about the legacy and man behind the Walt Disney company through photos, models, artwork, and more.
Alien Swirling Saucers
The most adorable extraterrestrials from Toy Story are inviting you for a ride. Hop aboard their saucers and get ready for an intergalactic trip.
ImageWorks – The "What if" Labs
Immerse yourself in sensory games and activities that inspire imagination.
Mission: Space and Test Track
Have you dreamed of being an astronaut? Fulfill this fantasy while in EPCOT at Mission: SPACE! Soarin' Around the World. With an 80-foot IMAX digital projection dome, journeying around the world is now a breeze!
Sergio
Stop by the piazza and watch Sergio, the mime and master juggler, execute his intricate tricks.
Everest
Want to reach the Himalayan peaks on a speeding train? Then, brace yourself for this expedition while at Animal Kingdom.
Na'vi River Journey
Enter spellbinding caves and gaze in awe at the beauty of a glowing forest on this magical river ride.
Flights of Wonder
Keep your eyes open at a flock of colorful macaws as they fly over Discovery Island.
2022 EPCOT International Festival of the Holidays Date
The Disney Festival of the Holidays 2022 dates run from November 22, 2022, through December 30, 2022.
Experience the EPCOT International Festival of the Holidays
Embrace sparkling holiday decorations, authentic cuisines, and global traditions at the Most Magical Place on Earth!
EPCOT International Festival of the Holidays transports you to a land of magic and holiday cheer this festive season. Hear the touching story of Christmas and holiday carols, munch down seasonal flavors, or capture holiday card-worthy photos with your favorite Disney characters.
At EPCOT, Christmas is festival lights and traditions, so dress in your best holiday attire and get ready for a one-of-a-kind celebration.
While at it, extend your mouse-themed visit to experience the park's upcoming events, such as the EPCOT food wine festival, with a Walt Disney World® vacation package.
Related Events