March 1, 2023 @ 12:00 am

-

May 31, 2023 @ 12:00 am

EST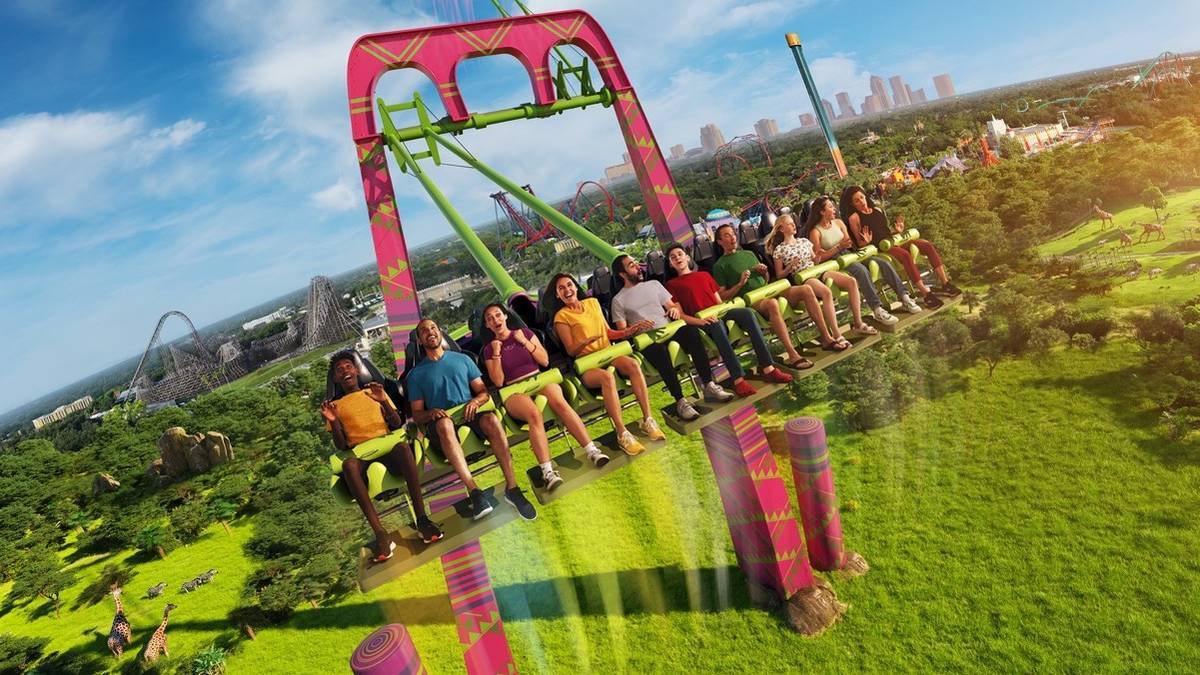 Hold tight as you reach the sky! The world's tallest and fastest screamin swing attraction is about to make its Busch Gardens Tampa debut in spring 2023. Reaching a staggering height of 135 feet at its peak and with a speed of 68 miles per hour, Serengeti Flyer is not for the faint of heart.
Feel like a thrilling sensation like no other as you swing high into the air over Serengeti Plain, witnessing scenic views before swooping back towards the ground. Busch Gardens Tampa new ride - the Serengeti Flyer, has definitely taken your childhood swing set to the extremes.
With twin dueling arms that fly increasingly higher with every swing accelerating to 68 mph and reaching a height of 135 feet, this newest addition at Busch Gardens Tampa is only for the bravest. Oh, and it can hold 40 guests at once, so be sure to come with your fellow daredevils the moment it opens.
Follow along to learn about the Busch Gardens New Roller Coaster Tampa - The Serengeti Flyer.
Serengeti Flyer Admission and Other Details
Want to be among the first to try the Serengeti Flyer when it opens in 2023? Then, become a pass Member. Reach Busch Gardens Tampa through email, call or chat for more details.
While waiting, you can get that adrenaline rush from an array of available Busch Gardens Tampa rides first with your pass membership.
Busch Gardens Tampa Discount Tickets
From high-speed thrills to family-friendly fun, rides at Busch Gardens in Tampa offer something for everyone. Book your discount tickets now from Tripster and let the adventure begin at this marine theme park.
Busch Gardens Tampa Vacation Package
Wandering around Tampa Bay has never been this more accessible and cheaper with these vacation packages from Tripster:
Other Busch Gardens Tampa Thrilling Rides
Intrigued to try the other pulse-pounding rides at Busch Gardens Tampa? Start with these sought-after attractions:
Related Post: Insider's Guide to Busch Gardens® Tampa
Iron Gwanzi
Hailed as the best new roller coaster for 2022 by Amusement TODAY, Iron Gwazi is North America's tallest and the world's steepest and fastest hybrid coaster. The wood and steel attraction soars to 206 feet up in the sky ahead of its stomach-flipping 91-degree drop, propelling passengers with speeds of 76 miles per hour down the track. Plus, expect plenty of airtime moments with three inversions throughout this new Busch Garden roller coaster Tampa.
Tigris
One of Busch Gardens Rides Tampa that's worthy of your time is Tigris! A triple-launch roller coaster, Tigris hurls riders through a breathtaking range of winding twists, forward-and-backward movement, and a 150-foot skyward surge. Reaching speeds over 60 miles per hour on a 1,800 feet long track, this steel ride is inspired by the tremendous agility of a Panthera Tigris - thus its intriguing name.
Cheetah Hunt
Busch Gardens Tampa Bay's one of steel thrill rides features lightning-fast acceleration and high-speed inversions, designed to mimic the world's fastest land animal – the cheetah. With a 4,400 feet length, this triple-launch coaster can absolutely give you that adrenaline rush.
Kumba
Hear the roar of Kumba! One of the renowned Busch Gardens Tampa rides, this high-speed roller coaster continues to be a thrill-seeker favorite, and for a reason. Hold on for a 135-foot drop, then get ready to be plunged into a diving loop and feel weightlessness for a full 3 seconds while rocketing 360 degrees!
Experience Serengeti Flyer in 2023
Your typical backyard swing just got a harrowing makeover! Prepare to be thrust to staggering heights this 2023 with the new roller coaster Busch Gardens Tampa Serengeti Flyer – the world s tallest and fastest ride of its kind.
Yes, there's no need to travel to SeaWorld parks like SeaWorld San Antonio to try this tallest and fastest Screamin' Swing ride.
Related Post: Ultimate Guide to Busch Gardens® Tampa: Coupons, Discounts, and Deals
Embrace the intense rush as you are propelled through the air at an exhilarating speed of 68 mph, reaching a startling height of 135 feet! The ride's two pendulum-like arms will swing back and forth, letting guests enjoy seconds of multiple airtime moments with every adrenaline-inducing swing. We're hoping to see it at Busch Gardens Williamsburg as well!
This new ride at Busch Gardens Tampa, known first as BGT Project Jethro, will be located near the former Rhino Rally area.
So, who's ready to fly this 2023?
We're counting the days!
Related Events