From the sweet scent of roasting chestnuts to the glamor and glitz of the Fifth Avenue Holiday window displays, there is truly nothing more magical than Christmas in New York City. This time of the year transforms the Big Apple into a verified winter wonderland.
Follow along to discover the 16 best things to do in New York City at Christmas. Something about the promise of snow, an abundance of live musical spectaculars, and the exhilaration of outdoor ice skating make the winter months even more enticing in the city that never sleeps.
Tour lavish lights in Dyker Heights or watch in awe as the Rockettes assemble their famous chorus line. Every inch of this concrete jungle simply exudes holiday cheer. With a little help from our New York Christmas guide, you'll be primed to plan the perfect Christmas in NY.
So grab your scarf and your metro card, and get ready to discover the best ways to celebrate the holiday season in New York City!
Christmas New York City Holiday Packages
Museums, musicals, and mistletoe, oh my! New York for Christmas is quite a treat, but that doesn't mean it comes cheap. Get a handle on your Yuletide getaway budget when you bundle your New York City accommodations and attractions.
Tackle everything on your 'things to do for Christmas in New York' bucket list with our New York City Vacation Packages. Whether you're yearning to catch Elphaba in Wicked or glimpse at the giant Blue Whale in the Natural History Museum, our packages provide a flexible and affordable way to do it all.
Things to do in NYC for Christmas
Warm wool sweaters, piping hot cups of spiced cider, and world-famous Christmas trees. Visitors to New York City at Christmas time will feel like they've stepped into a scene from their favorite holiday flick. During Christmas time New York City lights up even brighter with tons of new things to offer.
From Christmas markets peppered with poinsettias and handmade ornaments to frosty afternoons skating around Central Park, there's no bad way to celebrate New York City during Christmas. *
*Please note that New York in November also provides many Christmas attractions and activities. Yes, New York in November Christmas is a thing!
New York City Holiday Markets and Lights
Union Square Holiday Market
When: November 16 - December 24, 2023
Looking for must-visit places in New York at Christmas Time? Or wishing you could call Santa to help get a jump on Christmas shopping in New York? Never fear, as the Union Square Holiday Market is here to help. Inhale the intoxicating aromas and adornments of the Christmas season as you peruse wares from over 160 vendors.
Named one of the best holiday markets in the entire United States, this bazaar of Yuletide baubles and crafts features hundreds of unique gift items. Ogle handmade puppets, sample local honey, or pick up a New Yorker-themed puzzle.
Don't forget to bring along a healthy appetite, as you'll want to snack on flaky empanadas and decadently dense cinnamon chipotle brownies.
New York Holiday Markets Christmas Tour, New York City, NY
When: Fridays, Saturdays, and Sundays, December 2023
One part holiday shopping, one part enthralling history lesson, the festive New York Holiday Markets Christmas Tour is the most fun you'll have, ticking off every gift on your list!
Step outside of the mall and peek inside three of New York's most beloved artisanal holiday markets, overflowing with a plethora of hand-crafted goods, chic winter ensembles, local art, themed food, desserts, and cozy Christmas drinks. 
Throughout your three-hour walking and subway tour, your knowledgeable guide will educate you on the city's unique history and how its holiday traditions came to be. 
Pro Tip: Movie buffs rejoice! This tour also budgets for stops at many of the city's famous holiday window displays and filming locales made popular by our favorite Christmas films.
Holiday Lights & Movie Sites Tour, New York City, NY
When: selected dates November 2023 - January 2024
Calling all Christmas cinephiles! If you can quote Elf in your sleep and watch Hallmark Christmas movies on repeat, we have the perfect tour for you.
A magical mashup of movie trivia, Christmas cheer, and illuminating festive light displays, the Holiday Lights & Movie Sites Tour is sure to delight tourists and locals alike. 
Your 2.5-hour guided bus tour will take you on an enchanting journey to Manhattan's most spectacular Yuletide sites, such as Rockefeller Center, Central Park, and Macy's 34th street. 
Guided by a real-life NYC actor, your group will visit famed movie locations from everyone's favorite Holiday flicks, including the spot where Kevin reunites with his mom in Home Alone 2, the apartment where Buddy stays with his dad in Elf, and ice skating rick where John Cusack and Kate Beckinsale reunite in Serendipity. 
Pro tip: Listen up as your expert thespian guide spills some serious eggnog about the NYC film industry!
Dyker Heights Holiday Lights, Dyker Heights, Brooklyn
When: Lights go up after Thanksgiving and last through the Epiphany
Visiting New York City in Christmas time is an unforgettable experience. And nothing lights up the night sky more than the very colorful and bright residents of Dyker Heights, which makes a visit here one of the best things to do Christmas in New York.

For over forty years, thousands of sparkling lights over the top decorations, including life-size toy soldiers and inflatable Santas, have delighted tourists and locals alike.
As you walk down the streets of Kings County and feast your eyes on this ostentatious display of Christmas spirit, don't forget to check out Lucy Spata's house - the woman whose decor started it all.
Pro Tip: The Dyker Heights lights are easily accessible by subway, or there are a variety of bus tours that can also be booked.
Empire State Building Lights, New York City, NY
When: Every night in December leading up to Christmas
In an Empire state of mind? No trip to New York City is complete without a visit to one of the most recognizable buildings in the world. 
Besides jaw-droppingly gorgeous views, this revamped tour allows you access to a 10 thousand square foot immersive digital and tactile museum that celebrates the Empire State Building's lengthy history and pop culture iconography. 
After you enjoy the complete Empire State Building Experience during the day, make sure you return that evening for a special holiday-themed treat. This storied landmark will light up with holiday colors and seasonal sounds each night leading up to Christmas. 
If last year was any indication, visitors are in for a choreographed light show synched to swoon-worthy yuletide carols from famous singers like Jon Legend and Carrie Underwood.
New York Botanical Gardens Holiday Train Show
November 18, 2023 – January 15, 2024
The New York Botanical Gardens Holiday Train Show has mesmerized visitors and locals for over three centuries. Gaze in awe at almost 200 recreations of beloved New York landmarks, all painstakingly recreated from bark, pods, and sticks.
Recognize iconic institutions such as the Statue of Liberty, Yankee Stadium, and the Brooklyn Bridge crafted from crimson fallen berries and birch leaves. Model train enthusiasts will be delighted by the miniature trains and trolleys zipping through nearly a half mile of track.
Take care to pack that phone or camera, as you won't want to miss the stunning sight of NYC bridges overhead. In addition, NYC's largest outdoor holiday light experience at NYBG GLOW will be returning for its third year. Catch glowing illuminated displays, thousands of LED lights, installations, and accompanying music.
This is a specially ticketed event, so be sure to purchase your admission ahead of time to enjoy this spectacle of flora and light.
Christmas Tree in New York
Rockefeller Tree
November 30th - onwards
Ready to rock around the Christmas tree? Prime your peepers for heaps of holiday decorations, over 50,000 lights, and a 900-pound Swarovski star. The merriest season is off to a bright start with the annual lighting of the Rockefeller Tree. See the spectacular Norway Spruce in person or televised on NBC this November 30, 2023.
Hosted by NBC News' TODAY co-anchors Savannah Guthrie, Hoda Kotb, Al Roker, and Craig Melvin, who, with their cheery commentary, will treat viewers all over the country to special festive performances. This year's tree hails from Queensbury, NY, and is almost a century old! Once lit, visitors can stop by this monumental sapling for photos now through the remainder of the season.
P.S. Got your eye on even more seasonal selfies in the City that Never Sleeps? Sneak away to see the best Christmas Ball in New York. Shiny, luminous, and oh so very red, the giant ball ornaments across from Radio City Music Hall make for the most festively fabulous photos. So, Christmas Ball New York must be added to your festive bucket list!
Outdoor Winter Activities in New York City for Christmas
Ice Skating 
Embrace the winter wonderland by showing off your best ice skating moves at any of the city's most celebrated ice rinks:
The Rink at Rockefeller Center, Rockefeller Center, New York City, NY
When: November 5, 2023 - onwards
Perhaps the most quintessential New York City ice skating locale, The Rink at Rockefeller Center, was initially built as a temporary attraction to lure in shoppers during the Great Depression. 
Almost a century later, guests still line up to skate hand in mittened hand underneath the golden statue of Prometheus and the revered giant tree. 
Pro Tip: If you have never been to the 'Top of the Rock' at Rockefeller Center, stop procrastinating on the experience of this sweeping vista. Before you strap on those skates, take a sojourn 70 floors up and witness the breathtaking views from three observation decks. 
Bank of America Winter Village at Bryant Park, New York City, NY
When: October 27, 2023 - March 4, 2024
Looking to tackle some holiday shopping in addition to some skating? Bring your wallet, your appetite, and some skates to Bryant Park. The Bank of America Winter Village has the distinction of being New York City's only free admission ice skating rink.
After a few hours of successfully skating circles around their expansive 17,000 sq foot rink, get ready to window shop to your heart's content at their European-inspired open-air market.
Vendors worldwide sell incredible goods, ranging from delicate jewelry to chunky wool knits to intricate Christmas ornaments perfect for mom. Xmas shopping in New York is more fun when you're looking for the best gifts for loved ones.
Conclude your evening with a cup of piping hot cocoa or some more substantial fare from the Lodge Deck.
Wollman Rink at Central Park, New York City, NY
When: October - December 2023
For a genuinely family-friendly ice skating outing surrounded by nature, you can't beat Wollman Rink at Central Park. 
This quintessential Manhattan skating destination offers something for every type of skater. So whether you are a complete newbie or a future pro, this is the perfect festive place for the holidays. 
Is your little one is clamoring to be the next Nancy Kerrigan or Wayne Gretzky? Wollman offers several different skating classes for both figure skating and hockey.
At 843 acres, Central Park's generous size can be pretty overwhelming. To get an in-depth look at this Manhattan institution's history, architecture, and lush landscape, be sure to book one of our Central Park Walking or Pedi Cab Tours. 
Pro Tip: Wollman Rink is cash only, so plan accordingly. 
Sunset and Holiday Cocoa Cruise, Chelsea Piers, New York City, NY
When: TBD
Set sail for a luxurious Christmas yacht experience with your nearest and dearest. Climb aboard your vessel for the evening; a 1920s-inspired yacht decked out in the chicest of holiday decor. 
Your 1.5-hour deluxe Sunset & Holiday Cocoa Cruise experience will include soaking in all the sights of lower Manhattan, yuletide carols, a yummy (spiked if you desire) cocoa or beverage, and a gourmet holiday cookie.
Keep your camera ready for Instagram-worthy snaps of Governor's Island, The Statue of Liberty, and Ellis Island.
Pro Tip: One beverage is included with your cruise ticket, and additional ones may be purchased on deck.
Christmas Shows in New York City
Radio City Christmas Spectacular, Radio City Music Hall, New York City, NY
When: November 2023 - January 2024
Prepare to be dazzled by the eye-high kicks and glamour of the legendary Rockettes this Christmas! The Radio City Christmas Spectacular is classic New York City holiday entertainment that has captivated audiences for almost a century.
Sit back, relax, and take in the outstanding choreography and athleticism of the world's most famous precision dance company. 
Although the Rockettes are undoubtedly the stars of the Christmas spectacular, keep your eyes peeled for:
Santa

Santa's reindeer

the famous Rag Dolls and Wooden Soldiers
All of these characters promise to make an appearance during the 1.5-hour performance.
The Nutcracker, New York City Ballet, New York, NY
When: November 25 - December 31, 2023
Sugarplum fairies, giant mice, and magic Christmas trees, oh my! There is nothing like the first striking notes of 'Dance of the Sugar Plum Fairy' to whisk you away to the magical world of The Nutcracker. 
Escape into a realm of fantasy and beauty with the international phenomenon of The Nutcracker. 
This is an elaborate performance of epic proportions. Ballet lovers and novices alike will be starstruck by:
the artistry and talent of 90 dancers

stunning handmade costumes

the mountainous 41-foot-tall Christmas tree
Christmas New York Hotels
Live out your Home Alone 2 fantasies and make the most of your New York in Christmas adventure by spending a night or three in this sprawling metropolis.
A little R&R never hurt anyone, and you can kick off your NYC getaway in style by booking any number of our New York City Hotel options.
Whether you want to stay uptown, downtown, or anywhere in between, we have a wide variety of lodging options ranging from historic and quaint to posh and modern. Renew your holiday spirit and achieve inner peace with sumptuous lodgings featuring yoga kits and peloton bikes.
Book your reservations without hesitation, knowing you are always guaranteed our lowest rates.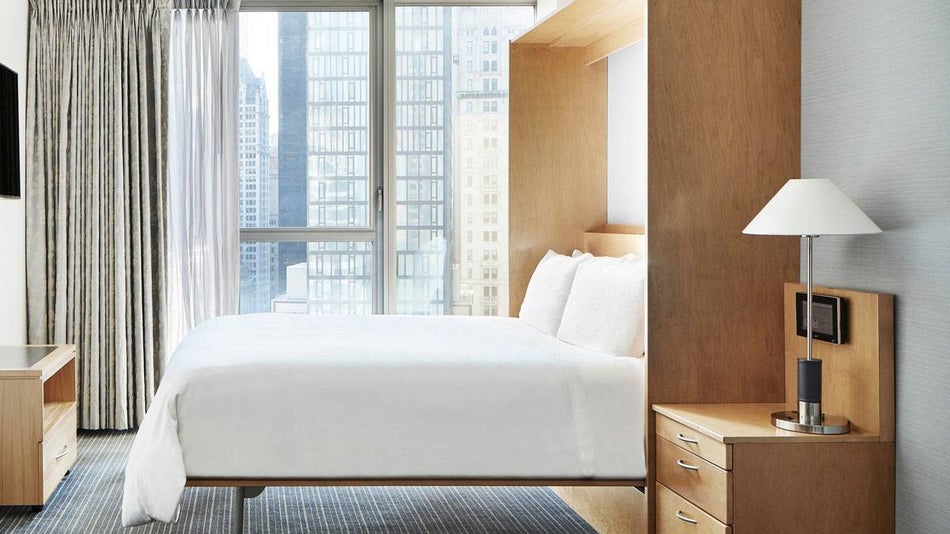 Sweet Treats in New York City for Christmas
Have you been working as hard as an elf in Santa's workshop this holiday season? 
Treat yourself to a sweet reprieve by cuddling up with a delectable cup of cocoa. Or, instead, grab a sinfully sweet pastry at one of the city's best cafes or bakeries:
Serendipity3, New York, NY
Daydreaming about an explosion of tinsel, sparkling lights, and all the Christmas chintz? Then, hurry up and make your holiday reservations at Serendipity3, where you can slurp down their delicious Frrrozen Hot Chocolate surrounded by the cheeriest holiday decor you ever did see.
Pro Tip: Don't sleep on the rest of the menu, including their outrageous drug store sundaes and their Golden Opulence Sundae, which contains real gold flakes and must be ordered ahead of time.
Dominique Ansel Bakery, New York, NY
Is it magic, or is it art? The marshmallow flower hot chocolate at Dominique Ansel's bakery is both and 100% pure dessert genius. 
Watch in awe as your seemingly ordinary cup of hot cocoa blooms into something extraordinary. As soon as the marshmallow flower hits the warm liquid, it melts. Then, like magic, the flower lays down its petals to reveal a chocolate truffle inside. 
Pro Tip: It would be a travesty not to pick up a few signature cronuts or do a cookie shot for the road after indulging in your warm beverage.
Max Brenner, New York, NY
Calling all chocoholics! Heaven just might be Max Brenner's chocolate emporium in Union Square. 
Warm up your taste buds for the most decadent hot chocolate of your dreams. This molton brown elixir of the gods comes in many exotic flavors. Some of our favorite flavors are the Italian thick, peanut butter, oreo, hazelnut, and salted caramel. It is served in the cutest 'Hug Mug' designed to be held with two hands.
Pro Tip: Want to tip over into pure sugar coma territory? Be sure to try their Chocolate Chunk Waffle, Chocolate Chunks Pizza, or any of their signature dessert crepes!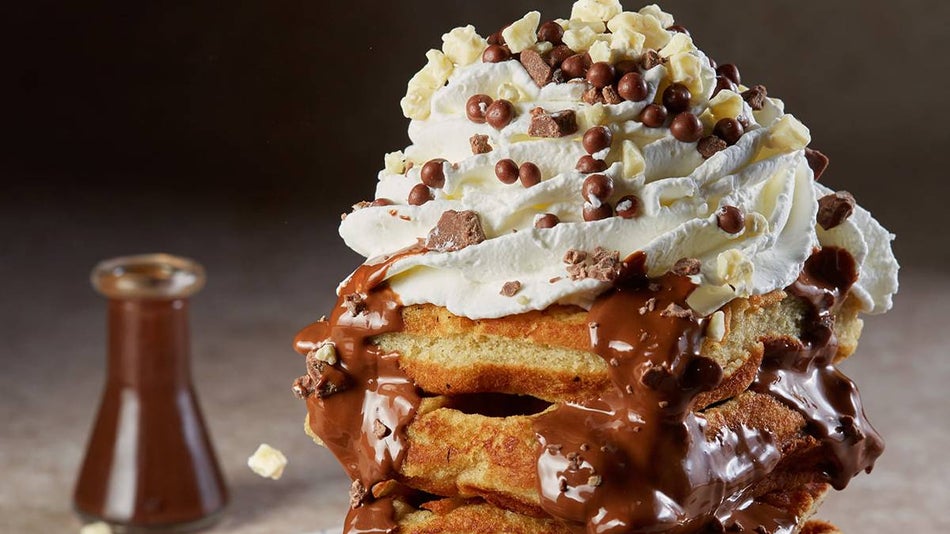 Even the Scroogiest of Scrooges can't help but fall in love with the Christmas spirit in New York City.
As November comes ends, the city is engulfed in a warm bubble of Yuletide joy, sparkling lights, and soothing Sinatra carols.
New York at Christmas means dancing sugar plum fairies, frozen hot chocolate, and glittering displays of presents and penguins at Bergdorf's.
No matter if you are looking to be dazzled by miniature trains made of moss at the Botanical Gardens or soak in the sights from a toasty yacht on the Hudson River, there are countless ways to celebrate NYC during Christmas time.
So stop scrolling and start packing! It's time to plan that New York Christmas trip today!
What Are Your Favorite Christmas Time in New York City Rituals?
Did we miss any of the best New York on Christmas time moments?
Share your most memorable Christmas in the city New York memories below!