Boston: land of baseball, cream pies, and of course the birthplace of the American Revolution. 
Founded in 1630, this New England city is referred to as the 'cradle of liberty' for its integral role in the United States' Revolutionary history. 
Every year on December 16th, we commemorate the simple act of defiance that rallied the 13 original colonies into a raging fight for American independence.
So much more than tea, the actions of the Boston Tea Party inspire us to look back and immerse ourselves in the thrilling history of this momentous time. 
This December, we commemorate the 248th anniversary of these politically motivated events through the very best educational, historical, and fun-filled tours Beantown has to offer. 
Whether you are cruising through the scenic Boston Harbor, examining astonishing artifacts at the Boston Tea Party Ships & Museum, or checking out picturesque Charles St. via an Old Town Trolley, there are plenty of ways to celebrate the 'biggest tea spill of all,' this year.
Why Did It Happen?
So besides making the Boston Harbor a lot more caffeinated, what was the Boston Tea Party all about, and why did it occur?
The Boston Tea Party was a politically motivated protest that transpired one chilly December evening in 1773. Angry colonists and members of the Sons of Liberty organization were frustrated over Britain's unjust taxation and lack of government representation.
Ill will towards their mother country had reached a fever pitch. The colonists determined they were not going to be pushed around and over tea.
America (or at least Boston) might run on Dunkin today, but back then, the colonies ran on tea. Colonists drank the brown stuff like it was going out of style,1.2 million pounds of it per year! And the mother country was not about to let that sweet tea tax money pour down the drain.
In objection to these oppressive taxes, the colonists began to boycott tea sold by the British East India Company.  
The American Outrage
By December 16th,1773, three British ships sat in the Boston harbor, filled to the brim with tea from China. Thousands of Boston colonists assembled at the wharf. Even the surrounding streets were enveloped in anger at the thought of being forced to unload and pay taxes on this British tea.
That very same night, under the cloak of darkness, a hundred colonists (many of them dressed in Native American disguise) boarded the ships. They proceeded to throw all 342 chests of tea into the watery depths of the Atlantic. 
In total, the acts of the Boston Tea Party cost Great Britain what would be about $1 million today and poured fuel on the already simmering fire of discontentment and mistrust building in the colonies. 
Fun Fact: It took the colonists nearly 3 hours to throw out every last tea bag into the Boston Harbor. 
Surprisingly, there was not a single instance of looting or property damage during the Tea Party's seditious acts, and no one was hurt. 
Educational Tours
Ready to dive into the rich history and heritage of Beantown? 
With many historic sites, landmarks, and iconic Revolutionary war locales to visit, there is no wrong way to explore the 'Athens of America.'
Boston Explorer Pass
Go beyond the Boston Harbor with your exclusive Boston Explorer Pass. Make the most of your time in the Puritan City by experiencing every moment of historical significance with attractions like:
Historic Sightseeing Cruise - embark on a 1.5-hour journey through Boston's inner and outer harbors while learning local legends of the sea and tall tales of the American Revolution.

Boston Sunset Cruise - relish the vibrant beauty of a Boston sunset on this 1.5-hour cruise of the Charles River Basin. Watch in wonder as you soak in scenic views of Long, Spectacle, and Cattle Island, all while absorbing fascinating Revolutionary War history and trivia from your expert guide.

Freedom Trail Foundation Walk into History Tour - witness the 18th century come to life on this 1.5-hour walking tour hosted by famous costumed patriots as James Otis, Abigail Adams, and William Dawe. Your detailed tour will spare no historic site. In fact, you will visit all 11 of Boston's most beloved landmarks, including the Boston Common, Park Street Church, the Boston Massacre Site, and the King's Chapel Burying Ground.
Boston Tea Party Ships & Museum
Get ready to be steeped in history at the Boston Tea Party Ships and Museum. Voted the best family museum in Boston and the #1 Best Patriotic Attraction by US Today, this immersive educational facility allows visitors to dig deep into the history of that fateful evening. 
Wander through Griffin's Wharf,  the open-air deck and full-scale replica of 18th-century sailing vessels located at the very same spot of the infamous Tea Party. Then, marvel at live 3D reenactments of Patriot vs. Loyalist debates, and catch a viewing of the museum's multi-sensory film, "Let It Begin Here" at the Minuteman Theater. 
Lastly, don't forget to snap a photo or two of the Robinson Tea Chest, the only known surviving tea chest from the Boston Tea Party of 1773.
Pro Tip: If all that tea talk is leaving you feeling a bit peckish, cozy up with a steaming mug of the stuff (or your desired hot beverage of choice) at Abigail's Tea Room & Terrace. 
This charming cafe is just brimming with patriotic ambiance and is the perfect place to indulge in a scone, brownie, or slice of pie. You can even sample some of the very same five teas thrown overboard during that infamous night in December.
Boston Old Town Trolley Tours
Enjoy an intriguing mix of Boston's past and present when you hop on a Boston Old Town Trolley Tour. Discover more of Puritan City from the famous bar that inspired the hit TV show Cheers to the Bunker Hill Monument with unlimited reboarding all day.
Your comprehensive 90-minute tour features live narration by an expert tour conductor and consists of 18 specifically curated stops, including:
New England Aquarium

the Old State House

the Historic North End (Boston's Little Italy)

USS Constitution

Beacon Hill

Newbury Street & Chinatown

The site of the Boston Tea Party 

And more!
Relax in comfort on the state-of-the-art trolley, complete with comfortable padded seats, and have your camera ready to document the stately edifices of the Old State House, Trinity Church, and the Boston Public Library.
Pro Tip: Convenience and a bushel full of Beantown savings? Yes, please!
Did you know that with any purchase of a Boston Old Town Trolley Tour ticket, you receive free admission to a 90 minute Boston Historic Sightseeing Cruise and a discount for Boston Tea Party Ships & Museum!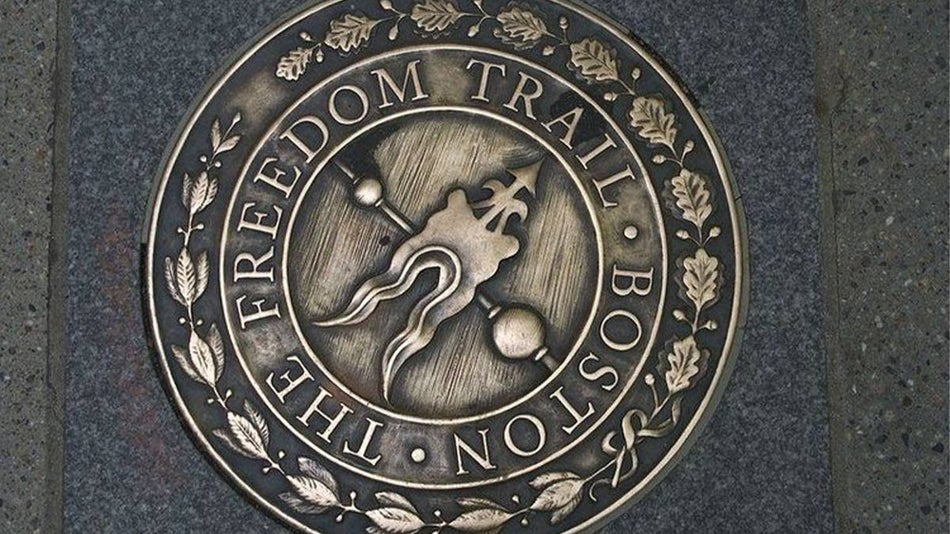 Boston Small-Group Food & History North End Freedom Trail Walking Tour
Nothing unites us more than food and history. Combine these two universal loves with a dash of iconic Boston landmarks, and you have a surefire recipe for success. 
The Boston Small-Group Food & History North End Freedom Trail Walking Tour will tantalize your taste buds all while educating you about Beantown's journey from the 'Athens of America' to its modern metropolis.
Begin your tour at the site of New England's most famous tea spill, right in Boston Harbor. Then stroll through a scenic waterfront park. Be sure to stop and snack on steaming fresh Italian bread and proper salumeria. 
Find out the truth about the famously misquoted, 'the British are coming' line. In addition, your guide will share the real story behind Paul Revere's famous midnight ride. Be sure to snap some selfies with the Old North Church and Old City Hall.
Abate your Freedom Trail fueled hunger with a final stop for pizza and Italian pastries at the North End Neighborhood. 
Boston Historic Sightseeing Harbor Cruise with Up-Close View of USS Constitution
Feel the wind in your hair, and smell the salty sea spray of the Boston Harbor when you set forth on your Boston Historic Sightseeing Harbor Cruise with Up-Close View of the USS Constitution. 
Soak in panoramic views of the Boston skyline and waterfront as you absorb 90 minutes of:
storied landmarks

sights

Revolutionary war tales

stories of Boston's most prominent historical figures
Snap scenic shots of:
USS Constitution, the world's oldest commissioned warship

America's oldest continuously manned lighthouse
Other harbor cruise highlights include:
Sailing through the Harbor Islands National Park Area

Viewing Boston's working port

Witnessing landmarks like the Boston Tea Party ships
Pro Tip: Calling all dog lovers! If Fido is experiencing Beantown with you, feel free to bring him or her along. The Boston Historic Sightseeing Harbor Cruise is dog-friendly!
Boston History & Highlights Small-Group Walking Tour
Pull on those comfortable walking shoes and prepare to hit that step count on the Boston History & Highlights Small-Group Walking Tour. There's no better way to uncover the secrets of the city on the hill than by foot.  With this historical tour, you'll be able to see many of the sights overlooked by most visitors.
Follow in the legendary footsteps of Revolutionary war heroes such as Paul Revere and Samuel Adams. As you hike the Freedom Trail be sure to revel at the charm of Beacon Hill. Discover the true story about the Boston Massacre at Old City Hall.
Political junkies will appreciate the opportunity to watch the Boston government hard at work in the Massachusetts State House. While you're there, take time to marvel at the architecture mastery displayed by this over 200-year-old building.
Pro Tip: Modern Boston offers much in the way of stately scenery, so don't forget to take a moment to appreciate the skyscrapers of Downtown, the Financial District, and the tallest building in New England, the John Hancock Tower.
Bold, daring, firm, intrepid, and inflexible. These are the words founding father John Adams used to describe the actions of the Boston Tea Party. 
What began as a simple political protest in December 1773 turned into a blazing cry for independence. Eventually, that event would rally 13 colonies into war.
Every year provides a new chance to honor the audacious and fearless acts of these tea disposing colonists. 
This December 16th, take a moment to plan a tour, visit, or trip to the Birthplace of the American Revolution and learn how 45 tons of tea ended up on the bottom of the Boston Harbor.