Northern California, which is known for its pink sunsets and beautiful sun-kissed days, does winter like no one else.
Follow along to discover the 12 best places to view San Francisco Christmas lights. 
From November onwards, the days begin to get noticeably shorter, and in December, we find ourselves staring at sunset as early as 5 PM.
These winter vibes are balanced with beautiful sunny afternoons, and visitors will quickly understand why every San Francisco street is filled with magic during the holiday season. If you can brave a slight frosty chill, you'll be rewarded with plenty of holiday razzle-dazzle. 
San Francisco's most popular streets feature a plethora of street string lights, animated decorations, and illuminated trees to discover.
Travel by foot or e-bike, or cozy up in your car as you cruise through swaths of reindeer, sparkling lights, and tinsel.
Whether you're visiting the city or you are a seasoned resident, there is no doubt that this special street route will surprise and delight you. So, without further ado, let's begin this Christmas light San Francisco drive…..
Best Christmas Lights in San Francisco
Lombard Street
Often called the most crooked street in the world, Lombard Street is one of the most famous streets in San Francisco. Shaped like the ridges on a hairpin, this street boasts some of the city's best views.
As you drive down the street, you can get some fantastic views of the Bay Bridge, Golden Gate Bridge, and Coit Tower.
Lombard Street used to be a two-way street, but now it is only a one-way street heading downwards, so make sure you head to it from Lombard and Hyde. Do not head to Lombard and Leavenworth, as that is the bottom of the hill.
It might interest you to learn that Lombard street came to be that crooked as an attempt by the city to make the steep slopes of San Francisco safer and slow down the traffic on them.
Well, thanks to those plans, now we can drive slowly down this funny street and feast our eyes on the view in front of us. The best part about doing this iconic San Francisco drive in the evening and closer to Christmas is that the view and lights are even more stunning than usual. Both bridges and Coit tower are beautifully lit up for the holidays and our viewing pleasure.
Now that your eyes are quite literally filled with the starry lights you saw in the distance, let's steer towards some further delights.  
Can't get enough of San Francisco streets? Hit the pavement, but preserve your energy when you book an Electric Tour of the Golden Gate City. Catch spellbinding glimpses of the coolest and most beautiful streets in San Francisco, all while on top of a Segway.
Vallejo and Broderick Street Intersection
Why are we quoting street intersections? If you want to tour the city lights like a resident, you have to locate hidden treasures like one. This will be your first stop on this wondrous journey.
The easiest thing to do is to navigate to the Consul General of Norway on Broadway street and then turn right on Divisadero street to join Vallejo, where you will turn left, and a block down is Vallejo and Broderick.
This street has some beautiful street lighting to bring you Christmas cheer at the mere sight of it. You'll know that you're looking at it when you see some decorated trees and houses starting at the very street corner. 
Jackson and Baker Street Intersection
The Jackson and Baker street intersection is down the road where the next set of beautiful lights await.  The closest landmark to navigate to is Hotel Drisco Pacific Heights.
From here, you would either head down Pacific Avenue towards Baker Street and turn left on Baker, or you could head down Broderick street and turn right towards Jackson and Baker.
All roads lead to Rome, as they say, and both these roads lead to this beautiful intersection with its bewitching lights. As you are now firmly in Pacific Heights, your view of these beautiful lights will be enhanced with a gorgeous view of the bay or the hills. So look around and take the charm in before moving on. 
Need a break from soaking in all the Yuletide sparkle of San Francisco? Take on the best streets in San Francisco like a true veteran with a Skyline Sightseeing Hop-On Hop-Off Tour. From Haight/Ashbury to Golden Gate Park, you'll conquer the top sights and cool streets in San Francisco like a pro.
Jackson and Laurel Street Intersection
You may have noticed that you are right next to Presidio park but don't get distracted just yet; there are at least three more intersections to visit! We now head to the intersection of Jackson and Laurel, where more street lighting awaits you.
The best part about this stretch of the drive is that you get to see some architecturally stunning houses in addition to the beautifully lit Christmas street. Known as one of San Francisco best streets, this tree-lined reprieve is home to historic Presidio houses.
Once used for military housing, in winter, these stately homes feature stunning lights and decorations. These houses have unique architectural designs that conform to the
Edwardian
and
Military
architecture styles. Quite appropriately, these picturesque dwellings looked like they have been plucked straight out of a Christmas Carol!
Washington and Locust Street Intersection 
Just about a block away is another intersection with a fantastic display of street lights. As you head towards your fourth beautifully decorated intersection, take a minute to reflect that the residents themselves have decorated these streets.
These decorations are not put up by the city to encourage tourists or any business to make the street appear more attractive. This is an act of joy by the residents to extend their Christmas spirits outside their homes and spread cheer to passers-by. Just knowing that makes the yellow lights feel even warmer, and the biting cold feels less sharp. 
Jackson and Cherry Intersection
Saving the best for last, this stunning display has lights and snowflakes! I mean, who doesn't love snowflakes, and when they decorate a gorgeous ivy-covered wall, sigh, that is pure magic.
The twinkling lights cover a significant part of the wall. In addition, you may even want to halt a minute to take it all in. Finishing your little driving tour with this street will firmly embed Christmas cheer in your heart, perhaps even forever. 
Christmas Tree Lane in Alameda
Christmas Tree Lane may be technically located in Alameda. However, if your schedule allows, make time to abscond from Fog City for a night of merriment, music, and extravagant light displays. Swing by the 3200 block of Thompson Ave, between High & Fernside in Alameda, California for an over 80-year-old tradition.
Every December evening from 5 to 10 pm locals and residents alike can walk or drive down the lane to soak in the impressive explosion of lights, inflated elves, and performing groups. Passersby should pack their Santa hat and thermos of cocoa, as they'll want to spend at least an hour touring the Elve's workshop or clapping along to the tunes of local marching bands. 
Psst..Want to make your own home look just as dazzling? Take a look at how you can hang your Christmas Lights like a pro!
Christmas Tree lighting San Francisco
Pier 39
Take down that Christmas list with ease, when you spend an evening shopping and spotting lights at Pier 39. Tuck into creamy chowder or fresh bread at Boudin, before setting your sights on the Pier's stunning 60-foot tall tree. Pier 39 will flip the switch for the season on November 23rd sans ceremony.
But shoppers searching for an extra dose of holiday joy should stay put, as this fully outfitted Fir will offer a musical light show every half hour from 5 pm to 10 pm nightly.
Union Square Tree Lighting 
Christmas Tree, oh Christmas Tree! Inhale that fresh scent and steep yourself in the magic of the mistletoe season, when you catch a glimpse of the magnificent Union Square Christmas Tree.
While this year there will be no official tree lighting ceremony, Christmas lovers can admire the multi-colored bulbs and LED efficient holiday lights from November 25, 2022, through the New Year. Donated by Macy's to the city of San Francisco, this stunning and sustainable tree will be sitting pretty in Union Square Park. 
Civic Center
Fun, festive, and free? Say less! Every little elf on this side of the North Pole will be flocking to the Civic Center for a night of Christmas music, DIY activities, refreshments, and more. On December 7th, 2022 the Civic Center Plaza Holiday Tree Lighting returns.
In addition to the stately allure of the lit-up Civic Center, visitors can snap selfie after selfie of the bejeweled tree. From 4 to 7 pm enjoy entertainment led by the Boxcar Theatre's artistic director. Revel in tap-dancing Christmas trees, appearances by the Grinch, and festive activities with SF Etsy. Indulge in mouthwatering holiday treats and even participate in a toy giveaway.
Holiday Season Events San Francisco
Holiday Tea at the Fairmont San Francisco
Pinkies up! Craft unforgettable Yuletide memories when you experience the tradition and sophisticated charm of a holiday tea at the Fairmont. This classic event is the ideal way to welcome the winter season. Delight your little prince or princess with the stunning ambiance of Laurel Court.
Sip piping hot cups of perfectly brewed loose-leaf tea with seasonal flavors like Vienna Eggnog and Frosty Plum Spice. Sample plates of fresh-made maple scones and buttermilk biscuits, or opt for a selection of tea sandwiches. 
Building Lighting Ceremony & Carnival
Who can say no to the enchantment of Embarcadero? Tap into your candy cane reserve, as you'll need plenty of energy to attend the Building Lighting Ceremony & Carnival. Congregate at the Center on November 18th at 4:00 pm to commemorate over 30 years of festivities, decorations, and activities. This year's entertainment boasts plenty of carnival games, face painting, and even a special appearance by Mr. and Mrs. Claus.
San Francisco Hotels
Before viewing San Francisco Christmas decorations, you should secure your lodgings. See Alcatraz, munch on fresh Sourdough, and explore Ghirardelli Square when you extend your Golden Gate stay.
Whether you are dying to see the south San Francisco Christmas lights, or wish to celebrate the season at the Aquarium of the Bay, we have a bounty of San Francisco Hotels to choose from. As always, schedule your reservation stress-free knowing you are guaranteed our lowest rates online.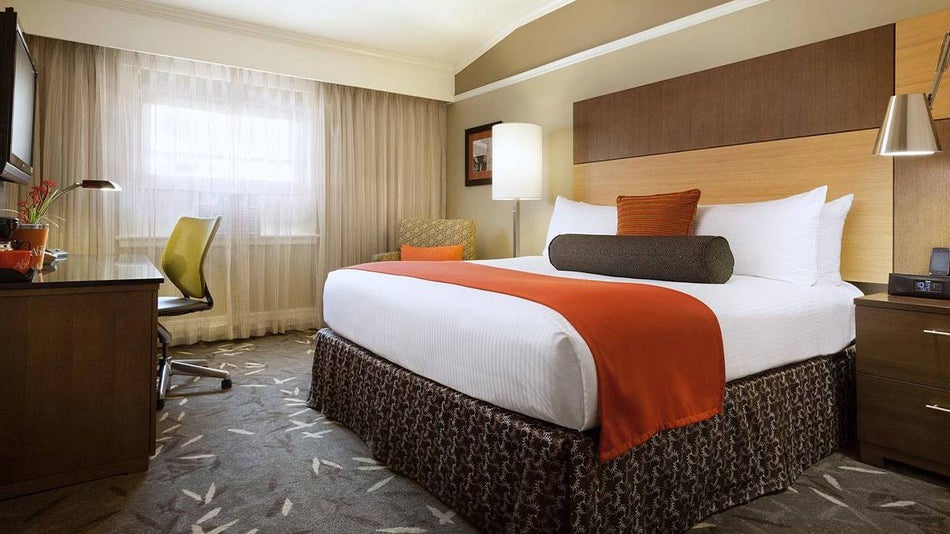 White fairy lights, giant crimson bows, and tons of Holly. Even before the commencement of Turkey Day, The Happiest Season is in full swing in San Francisco.
From Lombard to Locust street, you can use your car to tour the most iconic San Fran Christmas spots.
Complement your evening adventure with a scrumptious afternoon tea full of buttered biscuits and brownies. Or observe tap dancing Christmas trees and musical performances at the Civic Center. 
Ready to see the Christmas lights of San Francisco? Tell us, which streets of San Francisco will you visit first?
Did we miss any of the best Christmas lights Streets?
Spill the best streets for Christmas lights in San Francisco below!
Leave us a comment below!