Miami may be known as the land of palm trees, parties, and poolside pleasure, but come America's Birthday, the 305 trades sizzling nightlife for patriotic passion. 
Follow along as we dive into every last celebration for the Miami 4th of July 2023.
From stars and stripes-themed concerts in South Beach to bustling parades in Biscayne Bay, Miami brings the heat to Independence Day all weekend long.
Grab a blanket and cozy up for 4th of July fireworks displays, or rep the red, white, and blue at a beachside 4th of July Miami festival. Whether you want to dance all night to DJs or soak in the tunes of John Philip Souza, the Greater Miami area is full of Uncle Sam appreciation.
Ready to make some fire on the fourth? Read on to discover the best 4th of July events Miami.
Miami Attractions
White sugar sand beaches, awesome art deco architecture, and breezy boat cruises make Miami an eternally alluring locale. So why not take advantage of your time in Florida's hottest city with a jam-packed Miami 4th of July weekend itinerary? Explore the Everglades, work on your salsa skills, or get wild at the Zoo when you spend Independence Day in the Magic City.
Sneak in some sightseeing prior to your July 4th fireworks with Go Miami. Discover Miami's top attractions with your Go Miami All-Inclusive Pass. Gaze upon Killer Whales at Seaquarium, check out Millionaire's Row, or keep your eyes peeled for gators on an authentic Miami airboat tour.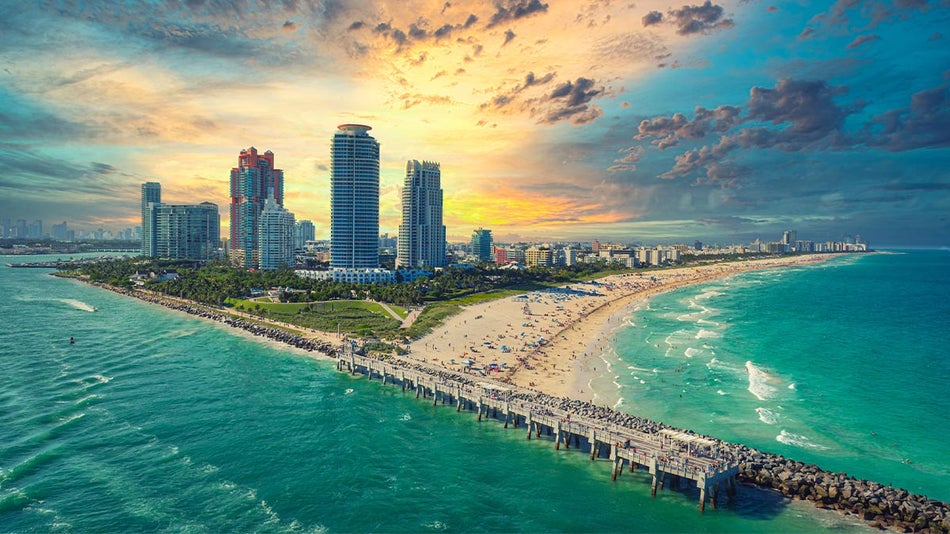 Are you dying to relive the glory days of Miami Vice? Skip out on the water park, when you hold tight for the high-speed thrills and spills of Thriller Miami Speedboat Adventures. Choose between a flashy jet boat or catamaran, and prime yourself for a cruise through Port Miami into Biscayne Bay, and continuing to Star Island.
Inject your sightseeing with some H20 fueled adventure with a Miami 60-Minute Jet Ski Rental. Revel in the opulence of Millionaire's Row, the Miami skyline, and the Venetian Islands as you power through on a Yamaha VX Deluxe Jet Ski. 
Spend your weekend with the animals when you hightail it to Zoo Miami. Experience Zookeeper talks, endangered species, and over 3,00 animals. Coo over the cuddly painted dog puppies, angle your necks to see the giraffes and snap endless photos of orangutans.
*Zoo Miami will be open on the fourth of July as well.

4th of July in Miami Events
America's Birthday Bash at Bayfront Park - the Fourth of July, 2023
Our forefathers may not have made it to Miami, but that's no reason to not celebrate our Nation's birth. America's Birthday Bash is a prominent fete hosted yearly at Bayfront Park. Patriots of all shapes and sizes head here for loads of live music, food trucks, and kids' activities.
Amusements will begin in the afternoon and the lively festivities will culminate with a breathtaking firework show at 9:00 p.m. Make sure to bring a chair or picnic blanket, as you won't want to miss some of the most electrifying 4th of July fireworks Miami offers, all overlooking Biscayne Bay.
City of Hialeah Celebrations and Fireworks at Milander Park - the Fourth of July, 2023
Grab your favorite flag-themed apparel and get ready to party! From 4 to 11 p.m. Milander Park will be alive with the hypnotic beats of Miami's best DJs. Then, get down with excellent live entertainment, local food trucks, and laser displays.
This year's lineup is still TBD, but past performers have included Latin Grammy Award winners Gente De Zona and Amaury Gutierrez. Finish your night with a fiery finale of fireworks. 
South Beach Ocean Drive Independence Day Celebration - the Fourth of July, 2023
Combine your love of Sousa with a love of country, when you post up in glamorous South Beach for their annual extravaganza. Enjoy the lush scenery of Lummus Park as you sway in tune with the fantastic Miami Beach Music Festival Orchestra and Alumni Division singers.
A family-friendly affair, adults, teenagers, and toddlers alike will relish patriotic favorites like the Armed Forces Salute as well as Tchaikovsky's 1812 Overture, and Sousa's Stars and Stripes Forever.
Please feel free to bring lawn chairs, blankets, and a picnic supper. 
Miami Beach Fire on the Fourth Festival - the Fourth of July, 2023
Craving a little sun and sand to accompany your Miami Beach 4th of July 2023 celebration? Honor our Nation's 247th birthday in the most Miami way. The Miami Beach Fire on the Fourth Festival is a yearly all-day bonanza featuring live entertainment, DJs, magic tricks, circus performers, and fireworks.
Bring the whole family to this North Beach event for a little sliver of Saturday Night Fever. Practice your fancy footwork, as you'll want to glide through the Beach Bandshell which has been transformed into an outdoor roller disco.
This patriotic spectacular will commence at 12:00 pm on 73rd Street and Collins Avenue and last until 9:30 p.m.
Live musical performances will continue during the multi-colored fireworks bonanza which begins at 9 p.m.
Key Biscayne 4th of July Parade and Fireworks - the Fourth of July, 2023
Marching bands, flying jets, and floats, oh my! It's not Independence Day without a proper parade. Head to tropical Key Biscayne at 11 a.m. to kick your patriotism into high gear. Soak in the epic sight of red, white, and blue golf carts, cars, and more as you witness this traditional patriotic procession.
Follow along as the parade runs along Crandon Boulevard, from Harbor Drive to West Enid Drive. Please note that this year's parade will be performing rain or shine. Come nightfall, stay put as The Village Green will be hosting picnics and fireworks. 
City of Coral Gables Fireworks Celebration at the Biltmore Hotel
Luxurious, stately, and historic. The Biltmore Hotel is an iconic Miami resort that borrows equal influence from Italian, Moorish, and Spanish architecture. Celebrate the majesty of this almost century-old building as you congratulate Uncle Sam on another year well spent.
Fourth of July festivities at the Biltmore are especially grand and include a special concert by the Greater Miami Symphonic Band, concessions, and a spectacular fireworks display. Grounds open to the public at 5 p.m., and the concert will begin at 7 p.m. Free viewing of the evening's attractions can be found on the golf course.
Free viewing of the evening's attractions can be found on the golf course.
Please note that taking part in the full Stars and Stripes BBQ dinner will require a ticket. 
Ocean breezes, Cuban sandwiches, and world-class nightlife have put Miami on the map. However, the Magic City is more than capable of delivering a diverse array of celebrations for America.
Spend an afternoon making waves with a jet ski, strutting with majestic Flamingos, or getting up close to lions and elephants at Zoo Miami. Then, don your red, white, and blue to cheer on the marching bands in Key Biscayne, or jam out to The Greatest Showman on Ocean Drive.
Let your liberty loose in Milander Park, or experience professional-level fireworks with the whole family at Miami Beach.
Miami is a magnificent choice wherever you decide to commemorate our National Birthday.
Tell us, What's Your Favorite Way to Spend the 4th of July in Miami?
Leave us a comment below!