Funky, fresh, and filled with some of the best tacos this side of the border, there's a reason everyone's been clamoring to visit Austin. From days spent soaking in the Barton Springs Pool to listening to live music at the Far Out Lounge, you'll never have to stray too far to find free Austin activities.
Follow along to discover the 17 best free things to do in Austin TX.
Snag some posing tips from your favorite influencer and ham it up in front of the 'I Love You So Much' mural, or find out why the Texas State Capitol has been bestowed the moniker of 'Bat City.'
Savor stunning vistas from atop Mt Bonnell, or observe Mexican Folk Art and some inspired Latinx creativity at the Mexic-Arte Museum.
While visiting a bustling city like Austin can easily be overwhelming, we've taken the guesswork out of figuring out free places to go in Austin. Stop endlessly googling what 'Austin Texas things to do downtown' or 'free Austin activities' and leave the (gratis) itinerary to us.
Read on for your ultimate cheat sheet to the top things to do in Austin for free!
Austin Hotels
Can't wait to get weird in the capitol? Before you figure out what amazing free stuff to do in Austin this weekend, you'll need to secure some awesome Lonestar lodgings. Keep that vacation budget secure when you opt for any of our Austin Hotels.
Stay in the Austin University Area and soak up some sun in an outdoor pool. Snag a hotel that let's you bring Fido. Or, opt for downtown lodgings complete with complimentary breakfast and sweeping skyline views. No matter where you sleep, rest easy knowing you are always guaranteed our lowest rates online.
Free Things to Do Austin
Howdy there! Pack up that cowboy hat and boots because it's high time you uncovered the pleasures of this weirdly wonderful city. From languid strolls through Zilker Park to a journey through 16,000 years of Texas history, travelers from all walks of life will appreciate all of Austin things to do for free.
Watch the Congress Avenue Bridge Bats Emerge
Wondering what one of the best things to see in Austin Texas is? Hint: they are closely associated with Dracula but are actually kind of cute! Watch the night sky become flooded with approximately 1.5 Mexican free-tailed bats when you head to the Congress Avenue Bridge at nightfall.
This must-see seasonal activity lasts from late March through early fall and kicks off around 7:30 p.m. These speedy nocturnal foragers can reach velocities of 99 mph and can eat up to ⅔ of their body weight in insects each night.
Lucky Austin is actually known for having the largest urban bat colony in the world. Every evening swarms of locals and visitors gather around the Congress Avenue Bridge or the grassy hill of the Statesman Bat Observation Center to observe this natural phenomenon.
Their nightly flight starts out slow but will develop into a giant stream of winged mammals soaring over Lady Bird Lake. Don't forget to bring your camera, as this is a once-in-a-lifetime opportunity to witness the magic of mother nature.
Visit Zilker Park and Barton Springs Pool
Fresh air, spring-fed pools, and lots of active activities make Austin parks a haven for thrifty outdoor enthusiasts. Work on your fitness, tuck into a tasty picnic, or splash around when you visit Zilker Park. With over 300 acres of green space to enjoy, a disc golf course, and a hike and bike trail there are hours of free entertainment to be had.
Take part in a volleyball game, or sprawl out on a blanket to enjoy a sweet gratis concert or music festival. For a truly 'Austin' experience throw on some SPF and a swimsuit and float around the refreshing 68-degree waters of Barton Springs Pool. Admission to this historic pool where Robert Redford himself once learned to swim, is free from November through spring break.
Austin Nature & Science Center
Honey Bees, human sundials, and birds of prey. For over 60 years the Austin Nature and Science Center has entertained, educated, and informed visitors of all ages. Come face to face with the wonders of the natural world when you enjoy free admission to this immersive center.
Meander through a variety of hands-on nature-based exhibits designed to increase both awareness and appreciation for the local environment. Conveniently located in Zilker Park, the ANSC is an ideal stop for families. Kids will have a blast digging for fossils, identifying insects, or pondering the role of pollinators.
Witness basking turtles in the pond, fawn over rehabilitated Bobcats, or examine the delicately dazzling scales of a butterfly wing.
Barton Creek Greenbelt
Swing on by South Austin and prepare to break a sweat when you climb, swim, kayak, or bike your way through Barton Creek Greenbelt. Revel in 7.25 miles of nature studded with swimming holes, natural rock climbing walls, and waterfalls.
Pack those hiking boots and take on lush trails that lead to Twin Falls, or plan to dunk in the fresh H20 of Campbell's Hole or Gus Fruh. There's even plenty of avian life to admire, including Orchard Orioles, Warblers, and Summer Tanagers.
Hike Mt Bonnell
Hiking with a side of history? Yes, please! Give your quads a good stretch as you tackle the 102 steps of stairs at Mt Bonnell. Don't worry, your climb will be well worth it as this historic peak is one of the highest points in Austin. Appreciate the sweeping vistas of downtown Austin and the Colorado river from over 780 feet high.
A significant Austin landmark, Mt Bonnell's limestone has been the center of many MayPole celebrations and local legends. Indeed, one of the most popular Austin myths suggests that couples who visit Mount Bonnell will fall in love and subsequently get married. Perhaps this is the reason so many amorous partners choose to get engaged here!
Mayfield Park
23 acres of flowering plants, exotic peacocks, and picturesque landscaping come together to make Mayfield Park a must-visit for the nature obsessed. Stroll through the charming cottage and grounds as you soak in landscape styles from the early 20th century, terraces, lily ponds, and more.
Once a summer respite for the political Mayfield family, today all matter of Austinites come here for some sweet serenity. Keep your eyes peeled for peacock sightings as these resplendent birds wander the grounds freely since a pair was gifted to the Mayfields in 1935.
Visitors may also be rewarded with sights of blue and green herons, koi fish, and turtles.
Free Stuff to Do in Austin
Mexic-Arte Museum
Mexican and Latin culture is so intertwined with Texas life it would be a tragedy to not dive into their artistic contributions. For almost 40 years the Mexic-Arte Museum has sought to share the culture and creativity of Mexico with Austin. Today the museum boasts over 5,000 works and has even expanded to showcase pieces from emerging Latino artists.
From folk art that explores Mexico's cultural attitude post-revolution to stunning images illustrating the legacy of Dia de Los Muertos, the museum's collection is always rotating, so you'll never experience the same exhibit twice.
Schedule your visit for a Sunday to endure free admission, or all active duty military personnel (and up to five family members) can receive free admission any day of the week from Armed Services Day to Labor Day.
Blanton Museum of Art
Not just home to the Longhorns, the University of Texas at Austin contains one of the most prestigious university art museums in the country. The Blanton Museum of Art offers up a wealth of artistic resources and works, with a permanent collection of over 21,000 pieces.
Whether your tastes lean more classic or modern, you'll find lots to appreciate from ancient Greek pottery to multi-sensory video montages. Observe sculptures featuring fascinating figures from the Medieval Ages or awe-inspiring European paintings.
The museum offers free admission every Tuesday and is free every day for all UT ID holders, Children 5 & under, and K-12 Teachers with valid ID.
Harry Ransom Center
Seemingly endless archives that shed illumination on the mysteries of the creative process are what's in store when you stop by the Harry Ransom Center at the University of Texas Austin. Discover inspiration in the most unique locations when you spend hours pouring over the center's extensive collections of literature, photography, film, and art.
Bibliophiles will be in heaven as they devour collections of nearly 1 million books and more than 42 million manuscripts. Seek out scripts and costumes from Rover De Niro, Jack Kerouac's notebook, and Abert Einstein's unpublished notes.
Other notable museum highlights include Gabriel García Márquez's manuscripts, a complete copy of the Gutenberg Bible, and an iconic Frida Kahlo self-portrait.
Bullock Texas State History Museum
Miles and miles of Hill Country, fierce thunderstorms, and a fiery political past make Texas an enigma just begging to be explored. Take on the diverse experiences, stories, and culture of Texas when you swing by the Bullock Texas State History Museum.
View the Texas Declaration of Independence, or travel through the diverse ecological regions of Texas as interpreted by individual artists. Marvel at brightly colored Mexican textiles featuring weaving, embroidery, and lace.
Or, dig a bit deeper to understand how the discovery of oil forever altered the landscape of the Lonestar State. Don't leave before getting your groove on the Museum's third-floor gallery which contains the Austin City Limits (ACL) Theater installation.
This large-screen concert exhibit is a completely interactive experience that will outline the musical legends that made the renowned PBS series the longest-running music program in American TV history. Hum along to old favorites as you soak in performances from Lyle Lovett, Loretta Lynn, Flaco Jiménez, Sheryl Crow, and Radiohead.
Live Music
Make the most out of your time in the 'Live Music Capital of the World' and save your cash for some delicious craft beer when you catch some free tunes. Austin is a true haven for music lovers and as a result, it's all too easy to enjoy both indoor and outdoor performances for free.
Both Mohawk Austin and Far Out Lounge are known for heavy pours and a robust lineup of live concerts.
Free Tourist Attractions in Austin TX
Self-Guided Tour of the Capitol
Wondering what one of the best places to visit in Austin is? While that may be a matter of taste, there's no debate that the sprawling state capitol is a 'must see.' Become your own tour guide and take in every inch of this massive hunk of sunset-red granite.
A National Historic Landmark, the 135-year-old Capitol building is the largest of its kind in the US. Filled with historic portraiture, a breathtaking rotunda, and a fun whispering gallery it's well worth a spot on any Austin itinerary.
Mural and Street Art Tour
Is your Instagram feed looking a little drab? Spice up your social media, and ensure everyone knows you went to Austin when you score selfies in front of the city's most beloved murals.
While street art can be found on nearly every corner of the capitol, we recommend grabbing fun photos in front of both the I Love You So Much Mural on Jo's Coffee, the Greetings from Austin Mural in South Austin, and the We Rise Mural in East Austin.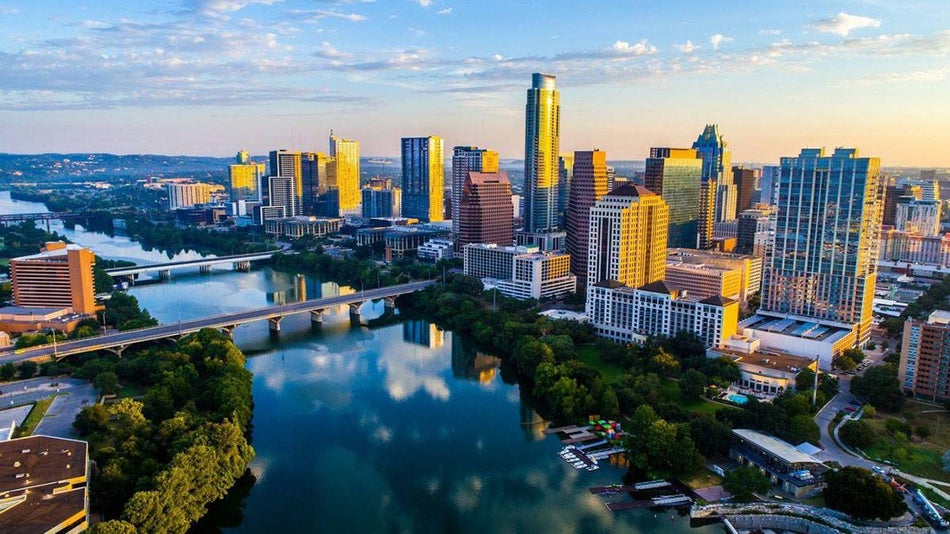 Wide open prairies, sizzling performances of everything from country to soul music, and a thriving art and academic scene will entice travelers from all over to give Austin a chance.
Thanks to a huge population influx and a variety of well-known music and tech festivals, the state capitol may no longer be so rough around the edges, but there's still endless amounts of free fun to be had in this 'Hippie Haven.'
Bask in the sunshine and perhaps even pick up a touch of tan when you spend a day hiking or kayaking through the Baron Creek Greenbelt. Or, exclaim over the dazzling plumage of the peacocks at Mayfield Park.
Get a taste of the musical greats and brush up on Austin City limits history at the Bullock Texas State History Museum, but save some energy for late-night dancing and merriment at Mohawk Austin.
Dynamic, creative, and unabashedly awesome, Austin's limitless activities, attractions, and local sights will keep you entertained without ever needing to break out that wallet.
Tell us, What Free Things in Austin Have You Done?
Did we miss any of the best things to do for free in Austin?
Leave us a comment below!