Williamsburg, VA is a historic town filled with excitement, entertainment, and stories of our nation's and founders' past. With so much to do, see, and learn, it's no wonder this town has become a top family travel destination.
Thinking about planning a Williamsburg vacation for your family? Take a trip to the 12 best places to visit in Williamsburg VA with kids.
1. Colonial Williamsburg
transports kids back to the 18th-century with authentic buildings and architecture, interpreters, and tons of kid-friendly activities. While you can also embark on the tours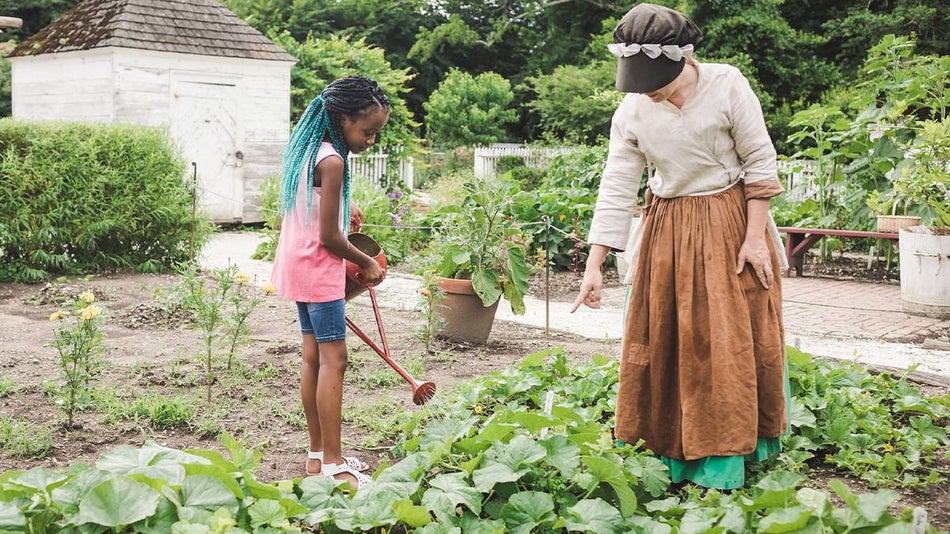 and experiences as a family, Colonial Williamsburg offers ample entertainment for the little ones. From games to arts and crafts, seek out the kid-specific activities and exhibits all throughout the historic grounds. Your kids will have so much fun, they won't realize they're learning about US history at the same time!
2. Busch Gardens
Have a few daredevils on your hands? Busch Gardens is hands down one of the best places to visit in Williamsburg VA with kids. This European-themed theme park boasts epic roller coasters, virtual reality rides, classic amusement park attractions, and world-class shows. Also, delicious cuisine is available throughout the park. If you're traveling with smaller children, the park has several "KIDsiderate" attractions, shows, and events all year long.
Family Travel Tip: Get your Busch Gardens tickets ahead of time and skip the admission line!
3. Water Country USA
If visiting Williamsburg, VA in the warmer months, a trip to Water Country USA is a must. This family-friendly water park located near Busch Gardens Williamsburg is home to adrenaline-pumping water slides, a huge wave pool, live entertainment, and tasty restaurants. With more than 30 water slides and attractions, there's something for everyone in your family to enjoy.
Remember to bring sunscreen, sunglasses, appropriate swim attire, and towels!
4. Historic Jamestowne
Historic Jamestowne is the site of the first permanent English settlement. While touring Historic Jamestowne, discover what life was like way back when through conversations with archaeologists and the interactive exhibits throughout.
Bring your kids to the Ed Shed at Historic Jamestowne for hands-on activities and learning. Here, kids have the opportunity to examine real artifacts, participate in engaging activities such as digging for artifacts, and more.

5. Jamestown Settlement
Another one of the best places to visit in Williamsburg VA with kids is Jamestown Settlement. Harkening back to the 17th-century, this Williamsburg destination educates guests about the first permanent English settlement, as well. This interactive museum features outdoor living history, gallery exhibits, and recreations of the three ships which traveled from England to Virginia.
Jamestown Settlement also houses an authentic Powhatan Indian Village. Historical interpreters are onsite to teach children about the Powhatan way of life, traditions, and even the games the tribes would play.
6. American Revolution Museum at Yorktown
After learning about our nation's earliest settlers, fast forward to the Revolutionary era at the American Revolution Museum at Yorktown. This kid-friendly museum features both inside and outside galleries and exhibits for guests to browse. Be sure to visit the outdoor living areas which recreate a Revolution-era farm and a Continental Army encampment complete with genuine artifacts and historical interpreters.

Family Travel Tip: Visit the American Revolution Museum at Yorktown, Jamestown Settlement, Historic Jamestowne, and the Yorkfield Battlefield for one low price with the America's Historic Triangle Pass.
7. Kings Dominion
Are your kids looking for more thrills? Kings Dominion, located an hour outside of Williamsburg, is by far among the best places to visit in Williamsburg VA with kids. This amusement park includes 60 rides, shows, and attractions, as well as a 20-acre water park. With so much to do in one park, you're bound to find something for each member of your family to enjoy. For the little ones, Camp Snoopy offers 20 family-friendly rides including swings, a kids-sized coaster, and a train ride.
8. Ripley's Believe It or Not! Museum & 4D Theater
Kids are always interested in the oddest things, right? Bring them to one of the strangest places on earth at Ripley's Believe It or Not! Museum & 4D Theater. Children love seeing the rarities and interesting artifacts on display throughout the museum's exhibits. From a statue of the world's tallest man to a two-headed cow, this museum is filled with intriguing exhibits. Plus, check out the 4D theater for added fun!
9. Virginia Beach
Take a day trip from Williamsburg over to Virginia Beach. Spend the day basking in the sun, enjoying the ocean, and playing in the sand with your family. While at Virginia Beach, be sure to explore the boardwalk, check out the endless array of restaurants, and capture lifelong memories with your family! Leave Williamsburg as early in the morning as possible to beat the traffic and beach crowds.
For extra fun, visit the Virginia Aquarium and Marine Science Center while in Virginia Beach. Your kids will love learning about the ocean and its inhabitants after swimming in it!
10. Virginia Living Museum
Located just outside of Williamsburg, the Virginia Living Museum is no doubt a top choice among families. As one of the best places to visit in Williamsburg VA with kids, this attraction educates visitors all about Virginia's natural wildlife and plants. From red wolves to jellyfish, your kids will learn about a great deal of the animal kingdom all in one place!
Kids also love the Dinosaur Discovery Trail, the Children's Garden & Playground, and the Abbitt Observatory. Plan to spend several hours exploring all the museum has to offer.
11. Williamsburg Botanical Garden
Looking for a kid-friendly attraction that's also free? Check out the Williamsburg Botanical Garden. Overflowing with vibrant flowers, butterflies, and plants, the garden is a magical place for kids to marvel at. In addition to perfectly pruned gardens, much of the establishment is dedicated to educating visitors about the Virginia wetlands. Remember to also bring your camera to capture lifelong memories of your children bounding through the garden with excitement.
12. Go Ape Treetop Adventures
For one final thrill before your Williamsburg family vacation comes to an end, you can't miss Go Ape Treetop Adventures. Climb high in the trees and navigate this interactive ropes course with the help and support of your family members cheering you on. The courses feature exhilarating zip lines, suspended obstacles, rope climbs, and more, all of which require critical thinking skills and teamwork to accomplish. Also, Go Ape Treetop Adventures has a junior course for the little ones to traverse!
The Best Places to Visit in Williamsburg VA with Kids
Where do you plan to bring your kids during a trip to Williamsburg, VA? Let us know!