Dreaming of an incredible Christmas? Nestled in the foothills of the Smoky Mountains, the rugged mountain charm of Pigeon Forge is on full display come November. Everywhere from downtown to Wears Valley is a glow with the holiday spirit. Festive twinkling lights abound on Christmas trees and synchronized light show spectaculars.
Follow along as we take you through the best Christmas lights in Pigeon Forge.
Stop googling 'when is Christmas lights in Pigeon Forge' and let us illuminate the way. From guided tours of Pigeon Forge to where to scout out the best Winterfest displays, we'll cover it all.
Gaze upon an icy blue Glacier Ridge at Dollywood's Smoky Mountain Christmas, or hop aboard the Gatlinburg Trolly for a triumphant display of Yuletide pride.
Take in a savory supper of BBQ pork and biscuits at the Stampede, or search for Santa in the Christmas Village. Lucky Christmas lovers will never have to stray far to soak in the lights, nativities, and animated adornments of Pigeon Forge.
When Does Pigeon Forge Decorate for Christmas
Psst..ready for some gossip straight from the North Pole? Word on the street is that St. Nick's favorite place to kick off the holiday season is Pigeon Forge. Considering this mountain oasis starts stringing up lights in early November, it's no wonder visitors and locals alike congregate here.
From November 13th through February 19th, join Frosty, Rudolph, and the Clauses for tons of lights, mouthwatering treats, and activities. Let the Pigeon Forge Welcome Center roll out the red carpet as you relish the dazzling delights of the annual Winterfest.
Psst..need more insider info on your snowy Smoky Mountain escape? Read our Ultimate Guide to Christmas in Pigeon Forge.
Pigeon Forge Christmas Packages
Heartwarming shows featuring classic carols, brawling cousins, and jaw-dropping lumberjack feats. Inject a little Tennessee adventure into your winter getaway when you bundle your premier Pigeon Forge attractions and accommodations. Christmas Packages in Pigeon Forge offer the perfect way to save.
Pigeon Forge Christmas Lights*
Ho, ho, ho! Who is ready to see over 5 million holiday lights? Charge that phone and camera as this year, both Pigeon Forge and Gatlinburg TN Christmas lights promise to wow.
Interested in even more Christmas attractions and lights in Gatlinburg 2022? Dive into our complete guide to a Gatlinburg Christmas here.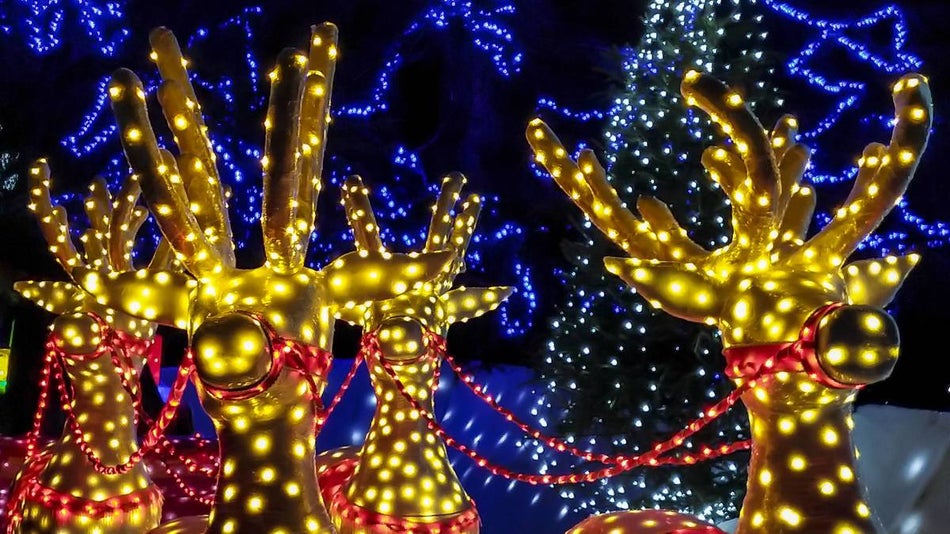 Pigeon Forge Winterfest
Pull on that chunky knit sweater and prime yourself for piping hot mugs of cocoa, giant animated snowflakes, and the 12 Days of Christmas. It's time for the annual return of Pigeon Forge Winterfest, and we couldn't be more excited.
This year's explosion of LED color and creativity promises even more sparkle with an added $1.5 million addition. Whether you soak in these Smoky Mountain critters, oversized flowers, and dancing snowflakes via foot, car, or trolly,* you're in for a real treat.
*Curious about Gatlinburg Trolly times? For a schedule of the trolley's route, click here.
Candy canes, mistletoe, and merry-making oh my! Settle into the holiday swing when you book a Pigeon Forge Christmas show.
Winterfest Driving Tour of Lights
Baby, it's cold outside! Take the chill out of your Christmas light peeping when you comfortably cruise around in your car. Thankfully, there's no shortage of toy soldiers, partridges in a pear tree, or pigeons on the Winterfest Driving Tour of Light. From the Pigeon Forge Parkway to Patriot Park, you can witness:
A patriotic 40 ft display of the American flag being raised at Iwo Jima along Old Mill Square.
A multicolored expression of the 12 Days of Christmas that stretches from Gatlinburg.
A local favorite, a flowing Old Mill Scene containing thousands of lights and active animations.
Breathtaking brilliant bridges on Wears Valley Road, Jake Thomas Road, and Dollywood Lane.
Effervescent displays of pigeons in flight located over the parkway's median.
For a detailed map of the Winterfest light displays, click here.
Winterfest Wonders of Light Walking Trail
Ready for some fresh mountain air? Immerse yourself in this most joyous time of year as you celebrate Old St. Nick in the Smokies. Sneak in some steps and a bit of sightseeing when you take on the brand-new Winterfest Wonders of Light Walking Trail.
Visitors of all ages will be enthralled by over 20 displays of more than one million LED lights. Document every inch of spectacle as you pass under gleaming arches and glowing bears, deers, squirrels, and frogs. Hum along to holiday tunes as these animations will be synchronized to music.
You can access the Riverwalk Trail from the Pigeon Forge Municipal Parking Lot at 2936 Teaster Lane. From the sky to the tough Smoky Mountain terrain, savor the natural beauty of Pigeon Forge with an incredible natural sightseeing tour.
Wonders of Light Christmas Village
Been sleeping on your Christmas shopping? Step up your game and indulge in some mouthwatering seasonal flavors and favors when you pop into the Wonders of Light Christmas Village. On select dates in November, stop by Patriot Park for food trucks, artisan goods, and handmade crafts. Browse through over 35 booths featuring fun seasonal gifts and goodies.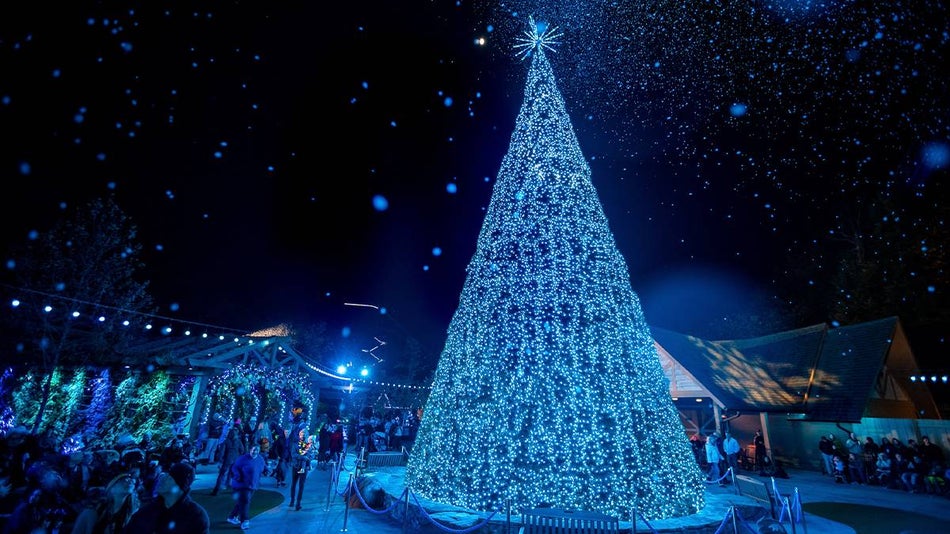 Lights Over Gatlinburg
Holiday light displays plus searing Smoky Mountain views? Yes, please! Inject your Christmas vacation with some aerial excitement when you take in those twinkles from thousands of feet in the air. Lights Over Gatlinburg is a premier Tennessee seasonal event that combines vibrant light tunnels, crackling fire pits, and dancing animated trees.
This year Skylift Park will be positively dripping in illumination and feature photo ops and a 300-foot tunnel of lights on the Skybridge. Lights Over will begin on November 14th and run through the end of January. Access will be included with your general admission SkyLift Park ticket.
Smoky Mountain Lights
Deck the halls with tons of lights when you carve out time for a superior Smoky Mountain Light Show. From November 25, 2022, through January 2, 2023, the Townsend Visitors Center will host a drive-through Christmas lights show every weekend.
This family-friendly winter event will include lights, a Christmas Village, hot chocolate, and kettle corn. Please note that this is a paid ticketed event.
Cozy cabin or modern condo? The choice is yours when you reserve any of our premier Pigeon Forge Hotels for your wintery getaway.
Christmas Tree Lighting Celebration
Christmas tree, oh Christmas tree! Admire bedazzled boughs laden with lights, ornaments, and tinsel at the queen of home cooking's tree lighting celebration. This festive ceremony will begin at 5:00 p.m. on November 26th. Enjoy the  Lumberjack Feud ahead of the frivolities before you scurry down to see Paula and the entire Deen clan.
Feast your eyes on a 30-foot tree topped with glittery decor and lumberjack-themed baubles. Little ones will be transfixed by the live entertainment from Misty River, including local marching bands, dance teams, and high school choirs.
Come with a hearty appetite, as you'll want to eat your fill of plenty of fresh tacos, cookies, and cozy drinks. Try your hand at decorating some Christmas cookies, or snap some selfies with Santa in front of the tree or around Lumberjack Square.
Shadrack's Christmas Wonderland
Looking for a stadium-sized Christmas experience? Prime your peepers for an overflow of Christmas passion when you participate in Shadrack's Christmas Wonderland. This epic drive-through performance at the Smokies Stadium features synchronized lights, music, and massive illustrated art.
Located in Sevierville, TN, guests can expect an immersive adventure complete with shrink rays, Santa, and giant presents. Tickets must be purchased ahead of time, so move quickly to secure your slot on this super-sized escape.
Dollywood's Smoky Mountain Christmas
What would Christmas in Pigeon Forge be without a visit to Dollywood? Bring a smile to your face as you welcome in the Happiest Season with a warm Appalachian embrace. Now through January 1st, 2023, make a plan to tackle the dazzling Dollywood Christmas lights of 2022.
From charming Dollywood Christmas ornaments to more than 5 million twinkling lights, there's no denying the appeal of Dollywood's Smoky Mountain Christmas. In between riveting rides on Blazing Fury, find time to explore a winter wonderland of furry friends, 12 ft tall Christmas trees, and live caroling excitement.
Savor sweet seasonal eats, sing along to 'Twas the Night Before Christmas, or find out if you've made Santa's nice list. Be sure to bring that camera, as you'll be dying to document the many glowing hues of Glacier Ridge, Santa's Village, and Craftsman's Valley.
Need to stay just a stone's throw away from Dollywood? Welcome Santa down your chimney when you reserve any of our hotels near Dollywood.
Dolly Parton's Stampede Dinner Attraction
No one loves Christmas as much as the Queen of Country! Let the Christmas spirit of Dolly whisk you away as you enjoy equestrian feats, nativity scenes, and nutcracker dances. Savor mouthfuls of hickory smoked BBQ pork loin and buttery corn on the cob as you watch the snow fall during Dolly Parton's Stampede Dinner Attraction.
Don't Miss Pigeon Forge Christmas Lights This Year!
Marvel at bespoke holiday costumes, songs, and decorations while you witness Elves compete in holiday games. Tiny ones' eyes will light up with glee as they observe camels make their way to Bethlehem and learn the true meaning of Christmas. Sing along with the angels, observe the dramatic nativity scene, and wave hello to Santa Claus during this dynamic Christmas show.
Angel white, multi-colored, or classic red and green. Whatever combination you prefer, the glamorous glimmer of millions of Christmas lights is impossible to resist. After centuries, we are still transfixed by the tradition, spirit, and joy of holiday lights.
From Smoky Mountain fauna to nimble, dancing 25 ft tall Snowflakes, Pigeon Forge is no stranger to the power of holiday lights. Whether you load up your car for an immersive escape to Shadrack or pay your respects to fallen soldiers at Patriot Park, this Tennessee metropolis is sure to enchant.
Sing along to church choirs as you watch Paula Deen light an evergreen or devour gingerbread funnel cake and late-night festive fireworks at Dollywood. Save on both when you take advantage of our great Smoky Mountain Christmas packages!
However you choose to shimmer this Christmas season, Pigeon Forge is a pitch-perfect destination.
Tell us, what lights will you see in Pigeon Forge?
Did we miss any of your favorite Pigeon Forge Christmas lights? Leave us a comment below!