Before you go, make sure you study up on the available tours and discover which tour which suits your travel preferences best.
Nothing compares to the wonder of seeing a Maui whale in the wild. After days of snorkeling, surfing, and sunbathing get a front-row seat to this intimate marine life experience when you book a Maui whale-watching cruise. Follow along to discover the best whale-watching tours in Maui.
Maui is situated along the Auau channel, which also includes Molokai and Lanai. Each winter, tourists and locals alike flock to this waterway for a chance to spot the majestic humpback whales returning to breed and raise their calves.
Whether you are a budding biologist or simply want to witness the serene sounds of humpback whale songs, we highly recommend partaking in a whale-watching experience.
From whale cruises that incorporate snorkeling to private yacht adventures, there are Maui whale watch tours for every type of traveler. However, not all whale-watching excursions in Maui are the same. Read on to discover the very best whale-watching tours in Maui!
Whale Watching Hawaii Maui
Need a low down on what to look for when narrowing down your selection of whale-watching trips? First off, make sure you are visiting Maui during whale watching season. In Valley Isle, whale watching season typically runs from early November through May.
However, the peak season lasts from mid-January through March. An excellent time to schedule your whale-watching adventure is December when these massive marine mammals make their way from the colder waters of Alaska to the warm shallow waters of the Maui Channel.
Winter visitors can expect to witness a bonanza of tail or pectoral slaps from the koholā (humpback whales). There's always something to discover from unexpected spout blows to possible orca sightings.
What to Look For in a Whale Tours of Maui
When browsing the available Maui whale-watching tours, there are a few things to look out for.
The Vessel
Whale-watching watercraft are required to stay a minimum of 100 yards from the whales at all times. This is for the safety of the whales and all those onboard. However, the type of boat or vessel used for your tour can also make or break your experience.
While most tours use large boats such as catamarans or even yachts, others use smaller boats to accommodate smaller group sizes. If you'd rather have a smoother ride and don't mind a crowd, choose tours that utilize a larger boat.
However, if you're up for an adventure, check out raft whale watching in Maui or a sailboat tour. Keep in mind smaller boats may not be able to access certain parts of the channel for the safety of those on board. Often the smaller vessels cannot handle the strength of the ocean at various areas along the channel or Maui coast.
Want even more best of Maui tour options? Check out our other top-tier Maui attractions here.
Tour Times
Maui whale-watching tours depart almost every time of day. Whether you want to watch the sunrise over the ocean or enjoy an afternoon sail, there's a tour for that!
Make sure you double-check the time of your scheduled tour. You don't want to accidentally book a sunrise tour thinking it's a sunset sail!
Since whale-watching tours can last anywhere from two to four hours, why not fill the rest of your time in paradise with a Maui Vacation Package? Maui Vacation Packages are the perfect combination of fun and frivolity, allowing you to bundle top-tier attractions and activities with luxurious accommodations.
The Tour Operator
Maui boasts several reputable whale-watching tour operators, from the Pacific Whale Foundation to the Pride of Maui. In addition, there are several smaller, independent tour operators on the island.
Before booking, do your research to make sure you're reserving a tour with an experienced captain and crew who prioritizes safety. Browsing customer reviews is a great way to judge the experience of previous tour participants.
The Price
In addition to reviewing the previously mentioned factors, your decision will ultimately come down to price. Look for whale watching cruises that meet your travel budget.
On the other hand, several cruises also offer additional activities such as snorkeling, Hawaii history lessons, and even scuba diving. If a cruise seems a little pricey, do a bit more research to determine if it includes extra activities along the way.
Which Maui Whale Watching Tours Should I Book?
Wondering which whale-watching cruises are running on Maui? Choose from the top whale-watching tour operators.
Pacific Whale Foundation
This esteemed foundation offers a multitude of Pacific Whale Watching Cruises on Maui. Each PAC Whale Maui tour includes narration and a Q&A session with the foundation's certified Marine Naturalists. Along the way, they'll tell you more about the humpback whales, their history, and the foundation's 33 years worth of whale research.
The company's high-tech catamarans provide a smooth adventure along the coastline and allow guests to listen to whale songs via underwater hydrophones!
Sail Maui Whale Watching Tours
Would you rather search for whales off the coast of Maui with a smaller group? Reserve a private yacht cruise from Sail Maui! Their Whale Watching Tour cruise accommodates a smaller group of passengers and is available from December through March each year.
Along the way, you'll see baby humpback whales learning to navigate the waters, humpback whale breaches, and Maui's breathtaking coastal wonders. Guests are encouraged to bring cameras, GoPros, and smartphones onboard to capture their experience.
Psst.. planning to do two of Maui's top attractions? SAVE up to 6% when you snag The Feast at Mokapu and Catamaran Whale Watching Maui Combo!
Pride of Maui
Combine your whale watching and snorkeling on Maui for one epic day! Pride of Maui provides visitors with a one-of-a-kind whale-watching experience. On top of a two-hour cruise, you'll spend time snorkeling in one of Maui's magnificent coral reefs. Just remember to wear reef-safe sunscreen while you snorkel!
The Maui Whale Watching Snorkel Tour steers a glass bottom boat along Maui's coastline in search of humpback whales. The vessel also includes two restrooms, a water slide, submerged boarding ladders, a bar, open deck space, and onboard showers.
Your tour also includes food and beverages along with complimentary hotel transportation (depending on where you're staying on the island.)

Sail Trilogy Tours
Interested in some of the best whale watching in Wailea? Savor unparalleled Maalaea whale watching and 4th generation recipe cinnamon rolls with Sail Trilogy Tours. Sail Trilogy whale watching tours depart from several locations on Maui, including Maalaea, Lahaina, and Ka'anapali Beach. These two-hour Maui whale-watching tours include onboard naturalists dedicated to educating guests about the marine animals and the island.
On specific cruises, the Whale Trust Maui non-profit group joins guests for further information and knowledge. On the Lahaina Whale Watch Tour cruise through the Lahaina harbor to the channel between Maui and the Big Island as you prepare for a front-row breach!
In addition, while onboard, guests can listen to mesmerizing whale songs through hydrophones. And if all that whale watching makes you hungry, these cruises serve light appetizers along with alcoholic and non-alcoholic beverages.
Sail Trilogy tours are limited to smaller groups and ever popular, so be sure to reserve your spot ASAP.
Maui Boat Tours
Interested in longer, more in-depth Maui whale-watching tours? If so, then sign up for a tour with Maui Boat Trips! In addition to whale watching, their cruises include visits to Molokini Crater, Turtle Town, and dolphin-watching opportunities.
Since the 4.5-hour tour begins a bit earlier in the day, Maui Boat Trips also include a continental breakfast and savory lunch! Come hungry and ready to search for humpback whales.
Remember to bring binoculars and dress in layers. The early mornings out on the ocean can be a bit chilly!

Hawaii Ocean Project
Hawaii Ocean Project offers up a number of Maui whale watch cruise tours that depart from Lahaina Harbor each day. Every 2-hour tour includes narration by expert naturalists, open-air and closed viewing areas, and a smooth ride thanks to the boat's large structure.
Along the way, you'll keep an eye out for humpback whales and listen to whale songs through hydrophones.
Hawaii Ocean Project advises passengers to bring reef-safe sunscreen, binoculars, a camera, and extra cash for drinks and snacks onboard (if desired.)
Whale Watching Raft Tours Maui
Blue Water Rafting
Want to feel the wind on your skin while you tour the sea caves and lava arches of Maui's remote and rugged Kanaio Coast? Take your whale watching up a notch when you opt for a Blue Water Rafting Tour. See the hidden jewels of 'off peak' Molokini when you book any of Blue Water's invigorating raft cruises.
Since 1985 this South Maui company has remained dedicated to delivering the best aquatic adventures via their speedy and hulled inflatable vessels. Opt for an Express Whale Watch / Molokini Snorkel or a Guaranteed Whale Watch tour* and prepare your peepers for tons of Humpback antics. Encounter pods of nursing mamas, calves, and more as you travel to and from Molokini. Choose to combine your ocean escapade with an hour of snorkeling, or stick strictly with whales on the 1.5-hour Guaranteed whale watch tour.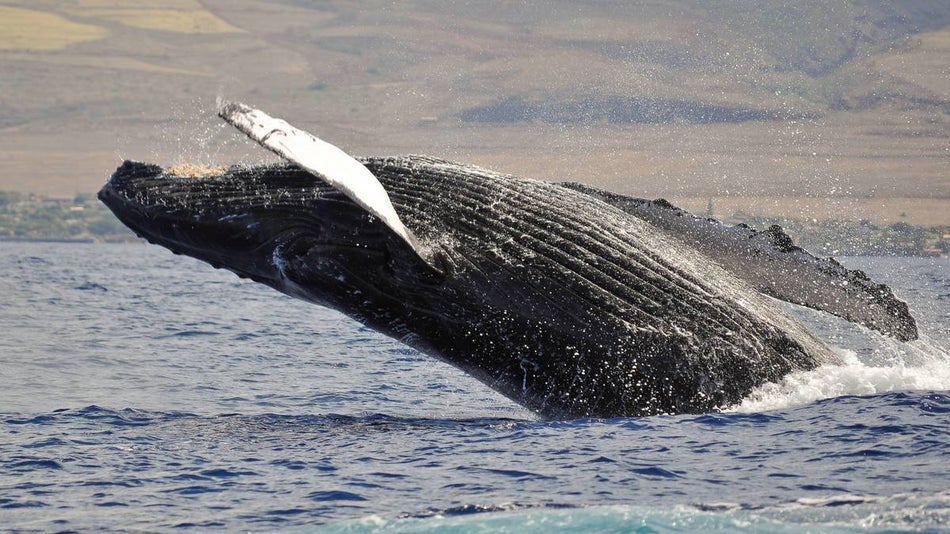 Vibrant coral reefs, tropical fish, and fresh baked goods. The best Maui whale-watching tours provide a little something for everyone.
Whether you're interested in learning about the migration patterns of Humpbacks or are simply looking to capture a fin slap on camera, a whale-watching tour is an ideal way to immerse yourself in the natural beauty of Maui.
Dive into one of the most beloved traditions of the Valley Isle when you reserve a Maui whale watch tour.
Maui whale-watching tours are only offered seasonally, and cruise reservations fill up fast. So what are you waiting for? Book the best of Maui whale watching today!
Tell us, Have You Been on a Maui Whale Watch Cruise?
What's your favorite Maui Whale Watching Tour?
Share with us below!