October 22, 2022 @ 8:00 am

-

October 29, 2022 @ 5:00 pm

PDT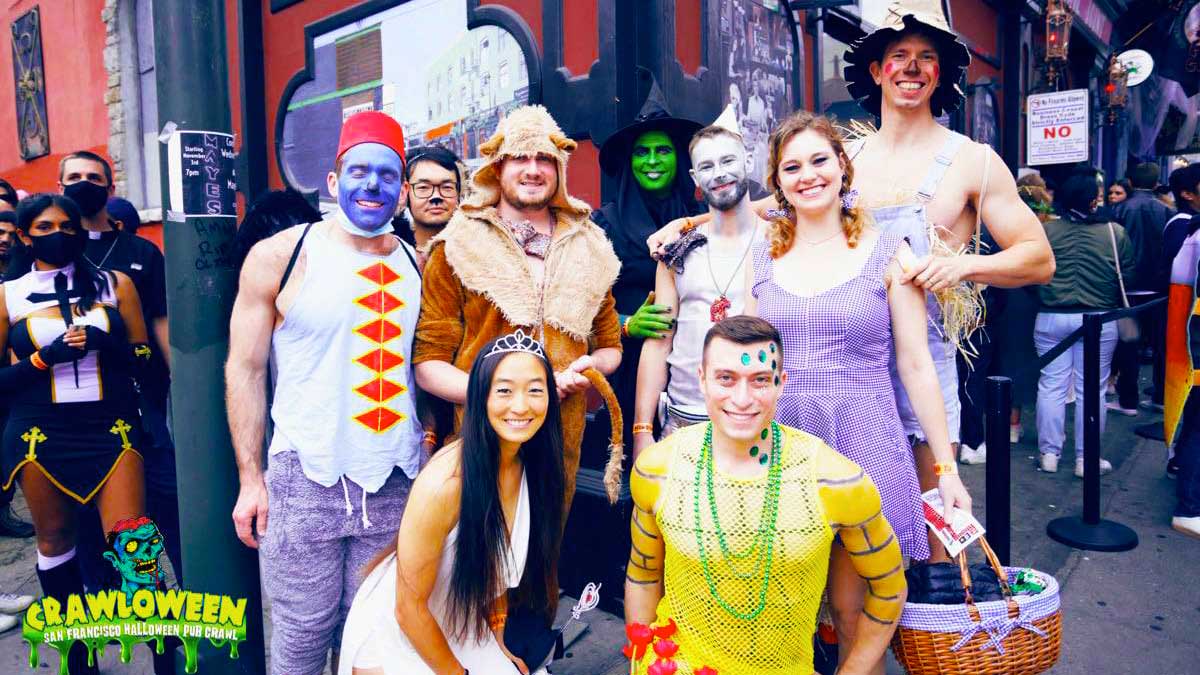 With San Francisco's tragic history, including the 1906 Great Earthquake and Zodiac's killings, you can bet restless spirits and vengeful ghosts are hanging around the city. Not a believer? Go on a quest to the Bay Area this Halloween to verify or refute all the terrifying tales. Enter the city at your own risk.
Roam through haunted houses, discover the city's dark past through a bar crawl, or have a wicked good time at the pumpkin festivals. Prepare to experience odd things or wholesome fun with Halloween events San Francisco.
Boo at the Zoo at the Oakland Zoo
When: October 22 to 31, 2022, from 10 AM to 4 PM
Families looking for a fun-filled Halloween San Francisco experience don't have to search for answers too far. Boo at the Zoo is throwing a thrilling party for all the little ghosts, witches, and goblins this spooky time of the year. 
Complete a ghostly animal-themed scavenger hunt to get a limited-released animal trading card and win delicious treats. Then, enter a themed Halloween costume contest with your little ones to snag four tickets to the zoo's nighttime lantern festival. Of course, there will also be live entertainment and fall treats for everyone. Tickets must be reserved through their website.
Halloween Hoopla at the Yerba Buena Gardens
When: October 29, 2022, from 12 PM to 3 PM
Best for kiddies under ten and their parents, The Hoopla is back at the Yerba Buena Gardens with more fun performances and activities. Watch funny acts, create your own seasonal-themed crafts, and get your fill of delicious snacks and goodies.
This year's grand finale is the Halloween Parade San Francisco, where all youngsters are welcome to join in their scariest or most enchanting looks. This Halloween San Francisco 2022 event is free and open to the public.
SuperNatural Halloween
When: October 28, 2022, from 6:30 PM to 9 PM
It's not witchcraft; it's science! Presented by the California Academy of Science, SuperNatural Halloween celebrates the season with boatloads of educational and exciting activities.
Creep on in for extraordinary science demonstrations, create spooky crafts, play ghoulish games, and sample frightfully delicious delights.
Plus, you'll get to meet mad scientists while ogling at the creepy specimens. Do you love animals? Of course, you do! Die of cuteness at the live animal demonstrations. There's also a silent disco in Steinhart Aquarium, where you can shake your bones.
Once you've experienced all the thrills, rest in peace at the teenage lounge, complete with games, snacks, and more.
Halloween in San Francisco can be educational as well! Get your tickets now, which range from $40 to $60.
Crawloween: San Francisco Halloween Pub Crawl
When: October 29, 2022, from 2 PM to 10 PM
There's no better way to get a taste of San Francisco's nightlife than on a pub tour like Crawloween. This Polk Street San Francisco Halloween event promises an epic night out, no matter if you're a local or a tourist.
Sip drinks while singing and dancing to lively music at over 20 bars. More than 7,000 attendees are expected to participate in the greatest pub crawl in the city. 
Then, listen to spine-tingling tales that surround the neighborhood. Your friendly guides will share stories and real-life experiences that will scare your very core.
One of the Halloween parties San Francisco, this event is a must-try! So don't forget to come in your Halloween best! Admission starts at $5.
Halloween International Ball Volume 2
When: October 29, 2022, from 9 PM to 2 AM
A Halloween party San Francisco featuring everything from numerous dance floors to tasty treats? Count us in! Halloween International Ball Volume 2 is back with 10 DJs, dancers, and a much more incredible lineup.
Party animals can experience four separate rooms with themes of:
Room#1: House/ EDM/ Top 40/ Club Anthems with DJ Cams, Akyut, and Tucker

Room #2:  Latin Room with Santero

Room #3: Persian Room with DR T and DJ Amp 

Room #4: 80's and 90's/ Hip Hop Room with Kevin Armstrong and D Double J
Tickets start at $30. Remember that this is a no-costume, no-entry event.
Other Attractions in San Francisco
With so many attractions and entertaining Halloween activities San Francisco to discover, it would be a shame not to extend your San Francisco trip. Make the most of your stay with these other attractions and hotels:
Experience San Francisco Halloween
Whisk your family of paranormal enthusiasts or thrill—seekers away to the Golden City this Halloween. From pub crawl to kid-friendly events, the city knows how to celebrate the scary season. Dance the night away, meet your favorite animals or play ghostly fun games with San Francisco Halloween events.
Related Post: What Should You Do with 3 Days in San Francisco?
While at it, hit up historic landmarks and soak up its diverse culinary cuisine with a San Francisco vacation.