When you embark on one of Chicago's most interesting tours, you'll see the Windy City from a new perspective. Learn about the legendary past and present residents, uncover hidden secrets, and dive into Chicago's history.
Did you know Chicago is the third largest city in the United States? Within its 237 miles of land, Chicago has approximately 200+ theaters, 7,300+ restaurants, dozens of museums, and 552 parks—and growing. With so much to see and explore, you can't be bothered with the cliche attractions or tourist spots, right? Instead, curious tourists should book their spot on these six unique Chicago tours.
You don't want to miss your chance to experience the intriguing tours of Chicago.
1. Chicago Helicopter Experience
To gain an entirely new perspective on Chicago, you need to start with the macro. This means hopping in a helicopter and viewing Chicago's skyline and bustling city from thousands of feet in the sky.
When booking your tour with Chicago Helicopter Experience, you can choose between a daytime and nighttime tour for awe-inspiring views. As you soar through the sky, your pilot will provide interesting information about the city including its history, architecture, and notable events.
Since helicopter tours must adhere to a strict safety code (as I'm sure you'd like them to), passengers must comply with specific rules such as:
Arrive no later than 30 minutes before your scheduled departure.
Guests may not weigh more than 250 lbs per seat.
Children under the age of 16 must be accompanied by a parent or legal guardian.
Passengers over the age of 17 must provide a valid ID.
Of the unique Chicago tours available, none offer the remarkable views of Chicago seen by Chicago Helicopter Experience passengers.
2. 1893 World's Fair Tour with Bar and Food
Also known as the World's Columbian Exposition, the 1893 World's Fair in Chicago was quite the spectacle. More than 125 years later, the event has had such an enormous and lasting impact on the city. Book your spot for the 1893 World's Fair Tour with Bar and Food for an immersive dive into the history of the fair.
During your tour, which is 95% indoors, you'll marvel at the architecture of buildings still standing from the fair. As you navigate Chicago and the fairgrounds, your tour guide will enlighten you with facts, archived materials from the fair, and the infamous legends surrounding the fair. Top tour highlights include:
Colorful mosaics in a hotel built for the 1893 World's Fair
The sweeping grand lobby of the Auditorium Building
Ride one of the downtown's last human-operated elevators
A secret building hidden in an alley
The Monadnock Building
The opulent Chicago Athletic Association Hotel
Plus, along the way, guests enjoy light snacks, drinks at the two bar stops, educational games, and a riveting scavenger hunt. This 3-hour tour is considered one of the most engaging tours available in Chicago for history buffs and tourists alike.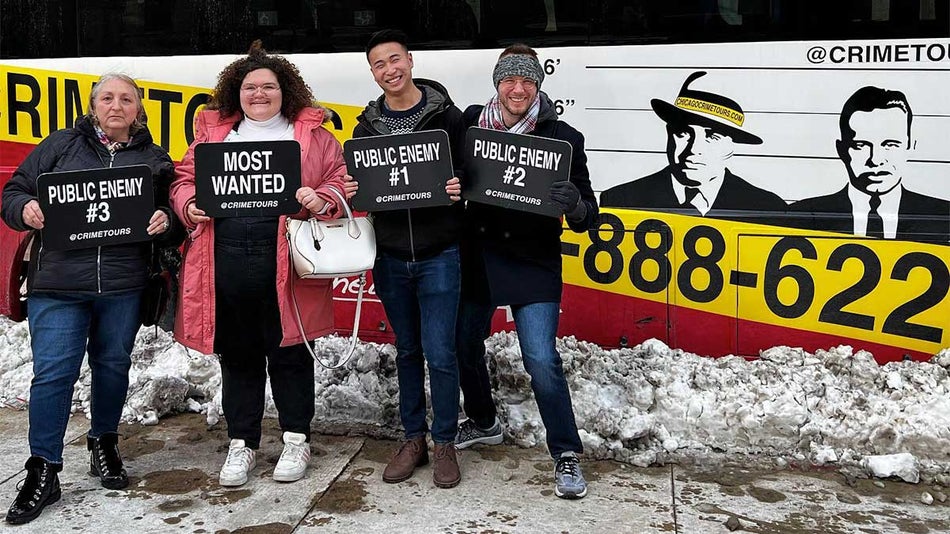 3. Chicago Crime Tours
Everyone knows about Chicago's storied past with crime and mobsters. But have you ever toured it? On the myriad of Chicago crime tours, you can walk in the footsteps of famed mobsters and criminals including Al Capone, Terrible Tommy, and John Dillinger. From the St. Valentine's Day Massacre to haunting tales of unsolved crimes, these unique Chicago tours bring tourists where no tour has dared to go before.
The most popular crime tours include:
Think you're brave enough to uncover the truth behind Chicago's most notorious criminals and crime scenes?
4. Historic Chicago Walking Bar Tour
It's no secret that the craft beer scene in Chicago is booming. With new breweries popping up regularly and entire weeks dedicated to the craft, beer enthusiasts flock to the Windy City for the abundance of brew-related unique Chicago tours. Take 2.5 hours to tour Chicago's historic architecture, learn about the city's prohibition days, and guzzle craft beer along the way.
The Historic Chicago Walking Bar Tour features highlights such as Tribune Tower, the famous Billy Goat Tavern, a former historic jazz club and speakeasy, and more. During the tour, guests make three drink stops in iconic bars located in historic parts of the city. Truth be told, this walking tour has more drinking and laughing than it does walking!
Do note that while this popular walking tour is a bar tour, drinks are not included in your tour price.
5. Loop Interior Architecture Walking Tour
Are you fascinated by Chicago's beaming architecture? If so, head to the Loop. The Loop Interior Architecture Walking Tour provides tourists with a wealth of knowledge about Chicago's buildings, landmarks, and architecture. From historic building lobbies to the underground Pedway system, Chicago is bursting at the seams with mind-blowing architectural advancements and styles.
During your tour, you'll discover highlights such as:
The "Chicago Picasso" Sculpture
Chicago Underground Pedway System
The Contemporary Block 37 Development
Marshall Field's Department Store
A Church in a Skyscraper with Stained Glass Windows
Sparkling Tiffany Mosaics
Chicago Cultural Center
While the majority of the tour is inside, you should still wear comfortable walking shoes. This experience requires guests to stand and walk for the entire duration of the tour.
6. Seadog Cruises
Rounding out our list of unique Chicago tours is Seadog Cruises. This highly popular boat ride along the Chicago River is one of the best sightseeing opportunities in all of Chicago. Departing from Navy Pier, the cruises allow guests to spot landmarks such as:
Buckingham Fountain
The Chicago Harbor
Grant Park
Willis Tower
Tribune Building
Lyric Opera
Merchandise Mart
While you snap pictures of the city's notable landmarks and architecture, your cruise guide will explain Chicago's in-depth history and answer any questions you may have. This 75-minute tour is one of Chicago's most popular choices among tourists, so get your tickets as soon as possible!
Unique Chicago Tours: 6 Windy City Experiences You Do Not Want to Miss
Have you found a tour that strikes your fancy? Curious about a specific Chicago tour? Book it! Although some of these tours may be off-the-beaten path, they are still wildly popular and fill up fast. Browse through the complete list of tours available from Tripster Chicago and reserve your spot today.