Located within the Bent Creek Experimental Forest of the Pisgah National Forest, the 434-acre North Carolina Arboretum features over 10 miles of hiking trails alongside exhibits rich in local art and culture.
With more than 65 acres of cultivated gardens to explore, including the Bonsai Exhibition Garden and the National Native Azalea Collection, the arboretum is a perfect day trip just 20 minutes south of Asheville.
The North Carolina Arboretum serves more than 18,000 children and 6,000 adults and showcases year-round educational programs and learning experiences on environmental sustainability and economic development. The gardens feature family-friendly fun pursuits such as geocaching and an EcoLab with live reptiles and amphibians. From November to January, the gardens host the Winter Lights with half a million lights on display.
Ten Family Activities to do at the North Carolina Arboretum
If you're searching for fun, outdoor events in the Asheville area-look no further. The North Carolina Arboretum may surprise you. In addition to exploring its numerous beautiful botanic gardens, the arboretum has several nearby hiking trails for adventure seekers to discover. There's also an outdoor miniature train display, café, greenhouse, and rotating art exhibits.
Pro Tip: Sometimes cell service is not so great in this neck of the woods – so you might want to research your trip to the arboretum in advance.
Baker Exhibit Center: Experts recommend you start your day here. This is near the arboretum parking lot, so pack up your necessary snacks and drinks so you don't have to make a trek back to the car. The Baker Center has maps, a gift shop, restrooms, and an information desk. The Center also showcases art exhibits and an amazing greenhouse with small plants for sale.
Quilt Garden at North Carolina Arboretum:  This incredible garden offers gorgeous views, pavilions, fountains, and paved pathways to discover.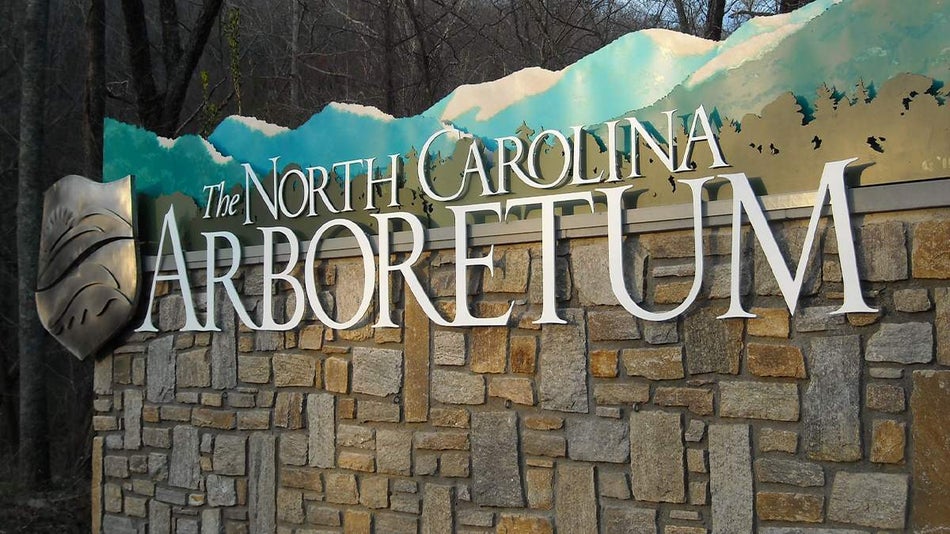 Photo Alert: Climb the stone stairs and snap a shot of the amazing Quilt Garden, where the flower pattern change on a rotating schedule.
Bonsai Garden: Each tree in this stunning garden takes a unique shape. Some areas of this garden are themed, so read the information plaques to complete your experience. These plants and trees are perfectly pruned and truly masterpieces in their own right. The Bonsai section of the conservatory is open from 9:00 a.m. to 5:00 p.m. daily.
Education Center: Another building at the arboretum is the Education Center. Here visitors can find scheduled programming and education exhibits. The arboretum café is in the Education Center if you need to stop for a lunch break. Several rocking chairs overlook the beautiful gardens and provide the perfect spot for some meditation and relaxation.
Pro Tip: It's best to arrive early in the day during the weekends. Staff members highly recommend visiting on a weekday for a less crowded experience.
Rocky Cove Railroad: This quaint G-Scale model train runs Tuesdays, Saturdays, and Sundays from 12:00 p.m. to 4:00 p.m. The railroad runs through the arboretum's outdoor garden and depicts Western North Carolina at the turn of the 20th century and highlights the inception of the railroad. Two different trails run through the display.
Trails to Hike: The arboretum's choices can be overwhelming, with over 10 miles of hiking and biking paths to choose from. Visitors can hike or bike through the woodland gardens that contain the National Native Azalea Collection, where guests can find every native azalea species in the United States. This nature trail is excellent any time of the year but doesn't allow bikes, so plan accordingly. Take your pick between easy, moderate, and difficult level trails. The trail lengths range from .3 to 1.2 miles. The most leisurely Bent Creek Trail is 1.3 miles, and a more rigorous one is the Carolina Mountain trail (1.2 miles). Some trails connect guests to other popular regional destinations like Lake Powhatan, Pisgah National Forest, and the Blue Ridge Parkway. Except for the Bent Creek Road Trail, all the biking trails are under one mile.
Winter Lights: This is a can't miss event called "Asheville's Brightest Holiday Celebration," with thousands of lights that extend for miles across the garden campus. Winter Lights is the arboretum's largest fundraiser.
Live Music Events: The summer months offer live music from local musicians. Check the website for details during these warmer months.
Guided Trail Walking Tour: Guests can join a guided trail walk from April to October and connect with other nature lovers. These hikes teach visitors about the North Carolina region's trails, plants, and forests.
Educational Programs
Check the website for information on the many educational programs available at the arboretum for children, students, and adults. These year-round programs focus on art, science, economic development, and environmental sustainability.
Check the website for special events, exhibits, and tours, as well as nearby hiking and biking trails. The gardens offer dining options and a gift shop on the property. For nearby lodging, the Bent Creek Lodge is only half a mile away.
The Arboretum's year-round classes (adults, families, school groups, and trade professionals) focus on art, science, and environmental sustainability. In addition to the classes, the center features self-guided programs, lectures, and symposiums. They also offer online continuing education sessions, and the youth programs feature on-site activities and camps. Through North Carolina's Arboretum's Educational Department, several certificates and professional development programs are also offered.
The arboretum is open daily from April to October from 8:00 a.m. – 9:00 p.m. Also from November to March from 8:00 a.m. – 7:00 p.m. Admission is free. However, there is a $16 parking fee. The arboretum is wheelchair accessible.