From Southern Gothic ghost stories to blood-curdling scream zones to more wholesome pumpkin delights, there is simply so much Halloween spirit to go around this year!
Follow along (if you dare) to discover our favorite Halloween haunts, events, and attractions throughout the Southern U.S.
Haunted Savannah Pub Crawl - Savannah, GA
When: select dates
Heaps of Southern lore and ghost stories abound on this scintillating walk down Savannah's undead history lane.
Listen up as your native guide leads you on an intimate guided pub crawl through the cobblestoned streets of Savannah with your preferred pub beverage in hand.
Keen to hear the spooky tales of Southern Belles yourself? Purchase your Haunted Savannah Pub Crawl tickets before they sell out!
Disclaimer: As this is a bar crawl, all participants must be ages 21 years and older.

Ghosts & Gravestones of Savannah Tour - Savannah, GA
When: select dates
Gnarled gravestones, restless spirits, and historic hauntings come together to make one hair-raising ghost tour! Prepare yourself for an evening of discovering Savannah's 'darker side,' when you embark on a 1.25-hour Ghosts & Gravestones of Savannah tour throughout the city's historic district.
Tall tales of ghoulish poltergeists and unfinished business abound at your two very haunted stops, the Andrew Low House and the Perkins and Son's Ship Chandlery on River Street. This is one of the only tours to offer premier nighttime access to these very eerie locations. 
Dripping in Southern Gothicism, the Low House is a 172-year-old Antebellum mansion that is believed to be visited by many spirits, including Andrew's butler! 
Try to keep your cool as your travel onwards to one of the most haunted areas of Savannah, on River St. where there have been countless sighting of apparitions and the undead.
Pro Tip: Due to the frightful nature of this ghost tour, Ghosts & Gravestones of Savannah Tour is not recommended for any ghostbusters younger than 13 years old!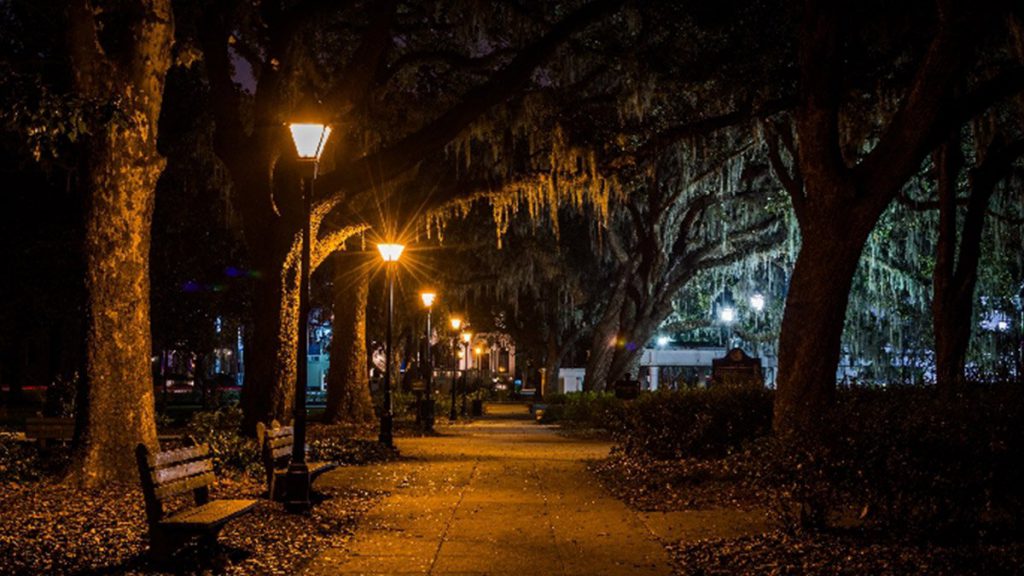 The Savannah Underground: An Immersive Ghost Hunt - Savannah, GA
When: select dates
Who you gonna call? When Savannah's undead start their spirited antics you will be the first line of defense.
Not your average ghost tour, The Savannah Underground: An Immersive Ghost Hunt is a fully interactive experience that combines a 'ghost hunting boot camp' and a thrilling haunted trolley tour.
Learn the ins and outs of how to spot and uncover supernatural activity anywhere in the world, before heading into your 40-minute action, horror, and history-packed 'Savannah Underground' adventure.
As the city retreats into darkness, muster up your courage as you absorb frighteningly fearful tales of Savannah's checkered past. Your hands-on trolley trip will feature stops at a variety of majestic monuments, historic fountains, and quaint cobblestone parks.

Nightmare Haunted House - Myrtle Beach, SC
When: select dates
Blood, guts, and gore are on the menu at one of the East Coasts' scariest year-round attractions Nightmare Haunted House in Myrtle Beach, SC.
Begin the fight for your life as you make your way through 4,000 sq feet of zombie-themed mayhem and madness. This twisted adventure places you in the middle of an undead-infested haunted house right on the beach. 
Pro Tip: Care to double your terror and decipher some codes? Don't forget to purchase a combo pass to add a Zombie Zone Escape Game to your ticket. 

Busch Gardens® Williamsburg Howl O' Scream - Williamsburg, VA
When: September 10th-October 31st, 2021
Haunting howls fill the air as Busch Gardens Williamsburg's Howl O' Scream returns in full force. 
This specially ticketed event serves up a ghastly array of horror and unsuspecting frights at every turn with:
5 Haunted Houses - including favorite Dystopia

4 Sinister Shows - counting the raucous Monster Stomp on Ripper Row

4 Booze Bars - try the Restless Spirits bar!

2 Party Zones - party with the deadly bourgeois like it's 1793
Related Post: 7 Reasons Why Fall is the Best Time to Visit Williamsburg
This year, the evil has been elevated with a staggering amount of new attractions to fear, such as the fabled Witch of the Woods haunted house and gory, carnivore-inspired nightmare Meat Market. 
Pro Tip: Don't miss out on the daytime fun to be at Busch Gardens! Make your way through exhilarating roller coasters and quaint European villages while the sun shines with your Bush Gardens Williamsburg ticket, and then return at night for the thrills of darkness.
Disclaimer: Due to this event's intense and violent nature, it is not suitable for small children.

Dollywood® Harvest Festival - Pigeon Forge
When: September 24th-October 30th, 2021
Is there anything more enchanting than Fall in the Smoky Mountains? 
Witness the majestic beauty of the fall foliage, the whimsical, warm glow of the Wildwood Tree, and the intoxicating smell of freshly baked pumpkin treats at Dollywood's Harvest Festival.
This renowned Autumnal celebration was voted America's #1 Family Fall event by USA Today and is a not-so-spooky way to embrace the Halloween season.
Related Post: Ultimate Guide to Dollywood®: Coupons, Discounts, and Deals
Included with your regular admission Dollywood tickets, guests of the Harvest Festival are permitted to stay later within the park and enjoy:
Great Pumpkin LumiNights - including a 40 ft tall pumpkin tree 

Colossal giant pumpkins which can weigh up to 1,500 lb

Fall themed eats like pumpkin spice churros or sweet potato poutine

All of your beloved thrilling rides, such as the Wild Eagle

Horror on the Hill - Washington D.C.
When: Fridays & Saturdays September 3rd-December 31st, 2021
What's more horrifying, a politician or a poltergeist? Delve into the macabre nature of our nation's capitol with Horror on the Hill - a supremely scary ghost tour.
Related Post: Washington DC on a Budget: How to Make the Most of Your Trip
This historic tour of horror has been featured in both the Washington Post and by NBC Universal and will take you by the Library of Congress, the Supreme Court, and one of the most haunted buildings in the world, the U.S. Capitol!
Brave spectators and presidential phantoms as you hear tales like the vengeful wraith and the scholarly spook. 
Pro Tip: Make sure to wear comfortable shoes as this is a walking tour and a spirited Halloween costume if you so desire.
Harvest Festival Silver Dollar City - Branson, MO
When: September 24th-October 30th, 2021
On the lookout for some non-frightful fun? For a wholesome day or two, of all Hallows Eve tricks and treats, you need only head on down to the Harvest Festival in Silver Dollar City.
Thank pumpkins this festival is part of your general admission ticket to Silver Dollar City. Besides the exhilarating rides you know and love, festival visitors can expect to experience:
Thousands of illuminated pumpkins

Craft Days - showcasing a new array of practicing artisans each week

The Cowboy Emporium

The art of authentic Chuck Wagon Cooking

Delicious fall-themed goodies like pumpkin sausage pizza & pumpkin whoopie pies

An all-new pumpkin expansion (over two acres) containing more carved icons and fun!
Pro Tip: Calling all foodies! To upgrade your Harvest Festival culinary journey, be sure to purchase a Harvest Tasting Passport. This handy document allows you to try five items from any exclusive Fall menu within the park.
Zoo Atlanta Boo at the Zoo - Atlanta, GA
When: Saturdays & Sundays October 23-October 31st, 2021
Mark your calendars, as this October, the ghouls, goblins, and monsters of the dark are descending upon the Zoo Atlanta. 
Related Post: 21 of the Top Things to Do in Atlanta with Kids: A Parent's Guide
The annual Boo at the Zoo promises to delight Zoo visitors young and old with magical games, trick or treating festive crafts, and over 1,000 animals.
 Revel in daily entertainment and attractions such as:
The famous Zoo Boo Town

Monster Mash Disco

Halloween Themed Carnival Games

Candy Thief Patrol (train ride - requires separate purchase)

Strolling costumed characters
Everything Boo at the Zoo is included in your Zoo Atlanta tickets. 

VooDoo Bluez at Wonderz Theater - Myrtle Beach, SC
When: October 20th-October 31st, 2021
Ready for a trip of magic, music, and mystery down in the Big Easy? The VooDoo Bluez show in Myrtle Beach, SC, vows to transport you to the land of Voodoo queens, black magic, and haunted bayous.
Related Post: The Top 10 Things to Do for Kids in Myrtle Beach
Open your ears to the dulcet tones and spooky sounds of the world's most famous Blues & Rock hits like 'Put A Spell On You' and 'Hoodoo Voodoo Doll." 
These classic numbers will immerse you in the bayou world as you find yourself captivated by:
Mind-blowing magic

Stupendous choreography

Awe-inspiring aerialists

Dazzling Videography 
Pro Tip: To get into the festive spirit of things, VooDoo Bluez guests are encouraged to arrive in style - dressed in their favorite steampunk-inspired costumes.
Whether you are a dedicated fan of the witchy season or a recent convert, there is no questioning the allure of Halloween time. 
When else can you battle a zombie mob, travel through a cursed village, or marvel at a mountain of glowing pumpkins? 
Assemble your closest friends and family, and muster up the courage to face your biggest fears at the best theme parks, shows, and attractions this year. Whatever city you find yourself in this Hallows Eve, be sure to celebrate in style.