Autumn is in the air, with swirling leaves, cooler temperatures, and darkened nights. If you're searching for a frightfully fun trip through Florida's historic coast—we have the perfect stop!
Graveyards, ghouls, and ghastly visions await you on a St. Augustine Ghost Tour!
When visiting the nation's oldest city around Hollow's Eve, be prepared for a shock or two. St. Augustine is home to countless haunting sites, graveyard visits, and ghostly pub crawls. What's more Tripster has the best walking tours to celebrate October and all its spookish grandeur.
Cozy up as we uncover this unique historic town and dive into the best ghost tours in St. Augustine!
Best Ghost Tours of St. Augustine
A Ghostly Experience-Walking Tour
Voted the #1 Guided Walking Tour in the State of Florida, A Ghostly Experience is the original Ghost Tour St. Augustine. The 75-minute historic-based nighttime tour sets off on a winding path through darkened alleys and passes well-known eerie landmarks north of the plaza, past haunted Bed & Breakfasts and other supernatural sites. Uncover the city's dark secrets and hear authentic, hair-raising stories and personal ghost encounters.
Licensed "ghost host" tour guides in period costumes take you on an unforgettable spirited stroll of Old Town, where you'll hear creepy legends and ghostly lore from historical events and first-hand experiences. This tour will make your skin crawl and turn high-brow skeptics into paranormal believers.
Photo Alert: Snap a striking pose in front of the ancient Old City Gates, but look carefully for lurking images in the background!
Follow along if you dare as we continue to rank the best Ghost Tours St. Augustine FL, has to offer!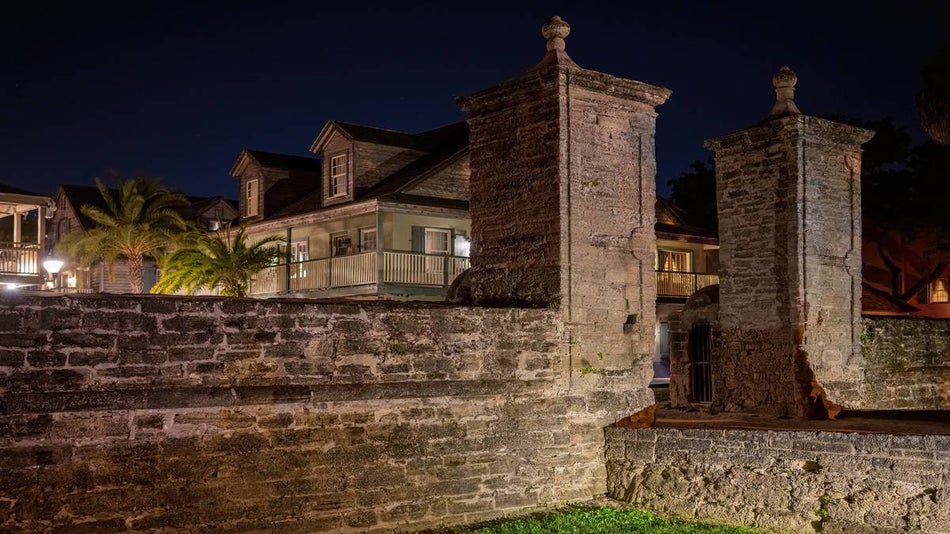 You never know what's skulking in the shadows on this lantern-lit walking tour that departs nightly at 8:00 p.m. The Walking Tour team has researched thousands of records from historical libraries, church documents, diaries, and in-person interviews. Nothing is made-up, and no special effects are used during the tour.
Any flickering lights, sudden fog, or sinister shadows you experience are the real deal! The award-winning tour has been featured on the Travel Channel and Discovery Channel. It's suitable for all ages and runs rain or shine! Visitors should meet at 4 Granada Street, St. Augustine, FL 32084.
Fun Fact: ​Poltergeist is a German word meaning noisy spirits.
St. Augustine Creepy Crawl
Another ghost tour St Augustine is known for is the St. Augustine Creepy Crawl. This haunted tavern tour is not just a St Augustine Ghost Tour but a unique pub crawl exploring the finer provincial public houses. What's more, if you like mixing spirits with phantom spirits, look no further! The Creepy Crawl has paranormal experts who aren't afraid to investigate real paranormal disturbances and take you along for the journey!
You'll visit three to four pubs or 'haunts' and hear paranormal experiences and ominous tales as many taverns had actual fiendish incidents. Haunted highlights include a FREE pint of beer at your first stop. The licensed ghost hunters and willing participants use EMF meters to investigate one haunted building after another. This excursion takes about two to three hours to complete and covers about three blocks. This tour departs from Al's Pizza, across from the City Gate north St. George Street.
Consequently, food is not included in the pub crawl, so the company suggests eating before your arrival. Moreover, this tour is only available for guests 21 years or older. While most of the tour takes place inside, be aware the walking part operates rain or shine. Walkers and wheelchairs are encouraging as the tour is handicap accessible.
Pro Tip: Guests can also purchase their own EMF meters at the Tour St. Augustine Inc. Shop on 4 Granada Street if they wish to undertake future demonic searches.
Still searching for the Best Tour St Augustine? Keep scrolling!
Paranormal Investigation of Old Fort Grounds Tour
Another thrilling tour of St Augustine takes place at the famously possessed City Gates, the bone-chilling Huguenot Cemetery, the cursed Old Fort Grounds, and the defense outpost, the Santo Domingo Redout. With numerous spooky sightings on Castillo de San Marcos Fort grounds, an adult must accompany all guests under age 21.
The Paranormal Investigation team has a long-standing reputation for quality research on the ancient city's disturbing military history, macabre medical procedures, and Native American legends. The tour guides share equipment like EMF meters and spirit boxes. In addition, guests are welcome to bring their own! Photos and recordings are welcome.
The Paranormal Investigation Tour, which checks in at the Old City Gates, lasts approximately two hours and is wheelchair accessible. Tours are only available on Fridays and Saturdays.
Note: There is no entry inside the Castillo de Marco. All activities occur on the fort grounds inside the moat and defense embankments.
Ghost and Gravestones of St Augustine Trolley of the Doomed
Another great way to see St. Augustine and uncover its rich haunted history is by taking a seat on the Trolley of the Doomed! Prepare to be scared out of your wits with horrifying tales of deadly deeds, gruesome executions, and menacing murders. With goblins, demons, and bogeymen lurking about, there are no shortages of spooky sightings, including the Old Jail, the Huguenot, and Tolomato Cemetery.
This fascinatingly bewitching tour lasts 60 minutes, and the tour check-in has free parking after 6:00 p.m. Tales of vexing cries, mayhem, and apparition sightings with translucent orbs have been reported. Most importantly, this tour may not be suitable for children under 13 years old and is not recommended for children under four.
Pro Tip: As you pass through the Old City Gates, watch for a glimpse of Elizabeth, a child victim of yellow fever who's been known to wave to trolley passengers. And in the cemetery, the Ghost Bride has been seen wandering the harrowing grounds.
Quick Ghost Tour Tips
No need to fret quite yet. Here's some information to help your ghostly experience run without a blood-curdling bump!
Photos are encouraged and welcome on most tours. Ask for the unearthly 'hot spots' known for extra scary movement.
Wear comfortable shoes and watch your step on the tours.
Most tours run rain or shine, so prepare for the elements and bring an umbrella.
Guests should arrive 15-20 minutes before the tour time.
In addition to your camera, bring a photo ID if you plan to drink during the pub crawl.
Fun Fact: The Old City Jail, known for countess paranormal activities, is listed on Florida and the National Registry of Haunted Places. Visitors have claimed to experience cold spots, strange odors, loud banging, and orbs of light floating in the air.
Other St. Augustine Attractions
We've given you some of the best ghost tours St. Augustine offers. Check other city highlights if you have idle time on your hands, itching for more St. Augustine fun.
The Villa Zorayda Museum
Just a few blocks from the Cathedral Basilica of St. Augustine, the Villa Zorayda Museum gives guests an up-close view of the architectural wonder of art created by 1883 designer Franklin Smith. In addition, the museum offers self-guided audio tours and behind-the-scenes tours on some Tuesdays.
Marineland Dolphin Adventure
Founded to educate the general public about preserving and protecting marine life, Marineland Dolphin Adventure offers educational and interactive aquatic experiences.
Connect with dolphins and other marine animals while learning about their anatomy, habitats, behaviors, and more through in-person encounters. Then, go for a swim with these friendly and playful dolphins!
St. Augustine Corks & Forks Tours
Voted "Best Food Crawl" in St. Augustine by Travel and Leisure Magazine, this three-hour stroll through the historic district includes a myriad of international flavors, highlighting the area's vast culinary history.
During the Corks & Forks Tour, you'll stop at four different tasting venues where the chefs will pair exquisite cuisine with delicious wines. Plus, you'll learn about St. Augustine's colorful history along the way!
St. Augustine History
The nation's oldest city is chockful of history, mystery, and otherworldly experiences just waiting to be explored. No city has a haunted history quite like this one! The spooky tales of St. Augustine date back to its founding in 1565. The Spanish established the first settlement in the town 55 years before the Pilgrims landed at Plymouth Rock.
It's not only the first municipality but one of the country's most haunted cities! Enticed with its peculiar allure, over two million visitors come annually to take in the magic.
The venerable Castillo de San Marcos National Monument remains the biggest draw, with the Old City Gates a close second. The gates were the only entrance to St. Augustine along the north end of St. George Street. So, in the style of medieval European walled cities, the town erected a wall surrounding the city's three landward sides to protect against sieges.
Today historical attractions along St. George Street are splattered with restaurants, galleries, bakeries, and maybe a haunt or two!
Book Your St. Augustine Ghost Tour and Prepare for a Fearsome Good Time!
Take a walk on the dark side with us as St. Augustine Ghost Tours abound! These dreadful, spine-chilling excursions are meant to creep you out. However, countless other adventures await you in St. Augustine!
With its pristine sandy beaches, treasured sites, and haunted monuments – there's more to this ancient city than meets the eye. Foodies can revel in the City Walks Food & Wine Tasting Tour. At the same time, there are plenty of family activities, like the St. Augustine Pirate & Treasure Museum and Marineland Dolphin Adventure.
And remember, when you book through Tripster, you receive convenient bookings with instant confirmation and the best online rate! In addition, we have attraction packages, museums, and lodgings for easy vacation planning.
Have You Been on a St. Augustine Ghost Tour?
Did you see anything spooky? Share with us below!