From November 23 – December 31, 2019, SeaWorld Orlando will feature spectacular festivities and unforgettable experiences that celebrate the holiday season. Festivities include a special Shamu Christmas show, holiday activities on The Waterfront, and a festive fountain show.
Highlights of a visit to SeaWorld Orlando Christmas Celebration include:
O Wondrous Night
Watch the story of Christmas come to life with 30+ carols, realistic life-size puppets, and live animals right on stage. To make the performance even more magical, special effects and outstanding singing talents are added to the production. Witness an unparalleled living nativity scene right at SeaWorld.
Miracles
Experience the holiday wonder of this fantastic nighttime show – Miracles.  Seasonal music, talented killer whales and a story of peace and friendship remind visitors of the everyday miracles all around us. Between the soaring soundtrack to the jaw-dropping skills of the Orcas, this is one holiday show you won't forget.
Sesame Street® Christmas Parade
New for 2019, guests can dance along to the Sesame Street® Christmas Parade! Over-the-top floats, as well as fun melodies and talented dance performances, will have guests moving to the beat with their favorite Sesame Street friends!
Pets Ahoy Holiday Spectacular
Also new for the 2019 season, SeaWorld presents Pets Ahoy Holiday Spectacular! Guests can venture to Santa's North Pole Village to join Santa's elves and a festive team of animals. Adopted dogs, cats, birds, rats, and pigs work and play together to create everlasting memories in this novel SeaWorld Orlando Christmas celebration.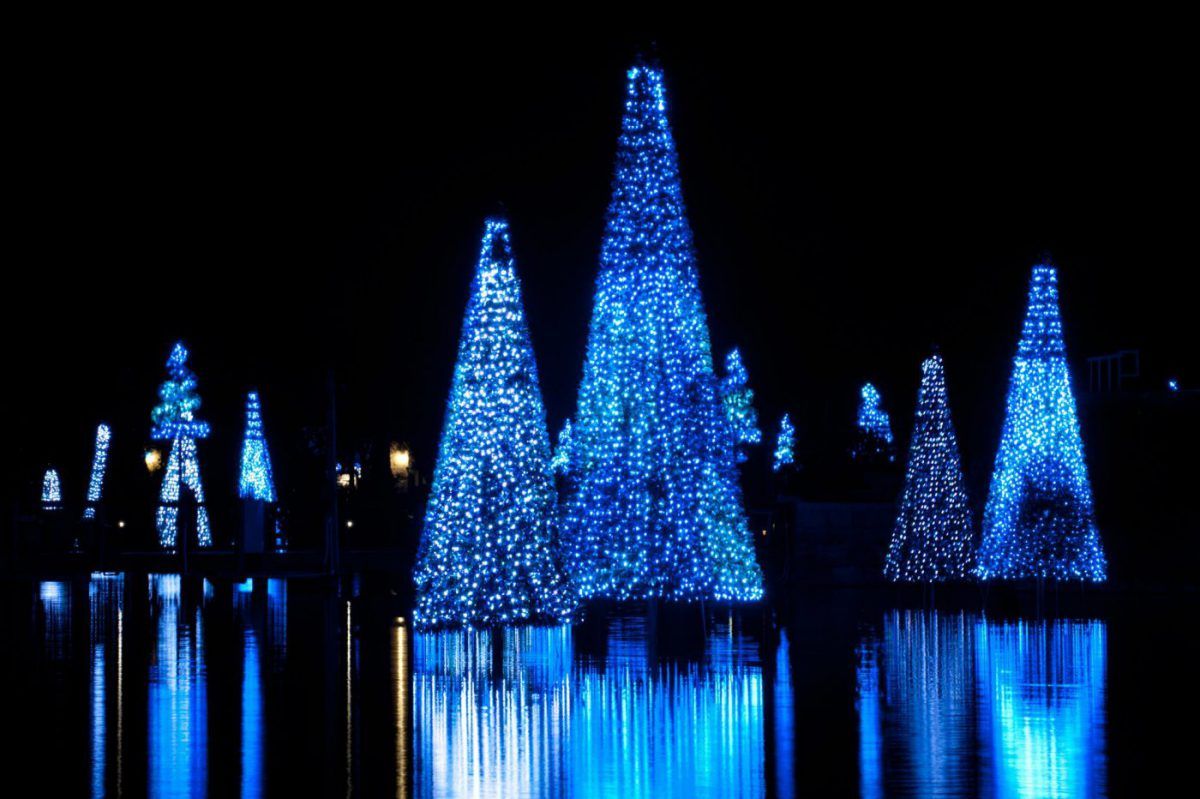 Sea of Trees
Stroll through a wintery wonderland of holiday trees that sparkles to music and lights up the waterfront. The lights literally dance to music, creating a Christmas treat for all. With over 100 dazzling trees to discover, everyone in your family will love watching the synchronized lights at Sea of Trees.
Winter Wonderland on Ice
Featuring professional ice skaters who impress audiences nightly with their moves and daring stunts, Winter Wonderland on Ice is a "do not miss" holiday show when at the SeaWorld Orlando Christmas Celebration. A backdrop of massive fountains dancing on the lake is complimented by the fireworks lighting the night sky for one of the best SeaWorld holiday experiences ever. Note that the performance takes place at Bayside Stadium.
Meet Rudolph
Returning for the 2019 season, visitors can meet Rudolph the Red-Nosed Reindeer and friends during the SeaWorld Orlando Christmas Celebration. Being the festive reindeer he is, Rudolph knows exactly how to make the season bright with joyous holiday fun and activities. The whole family can get in on the fun with photo opportunities, winter games, and more.
Sea Lion High: The Christmas Special
Also brand new for 2019, head to the Sea Lion and Otter Stadium to view the newest Christmas Comedy, Sea Lion High! When things go awry, it's up to Clyde And Seamore to save the holidays! Join Sea Lion High's students and faculty as they attempt to save Christmas. You'll laugh and be amazed at the antics!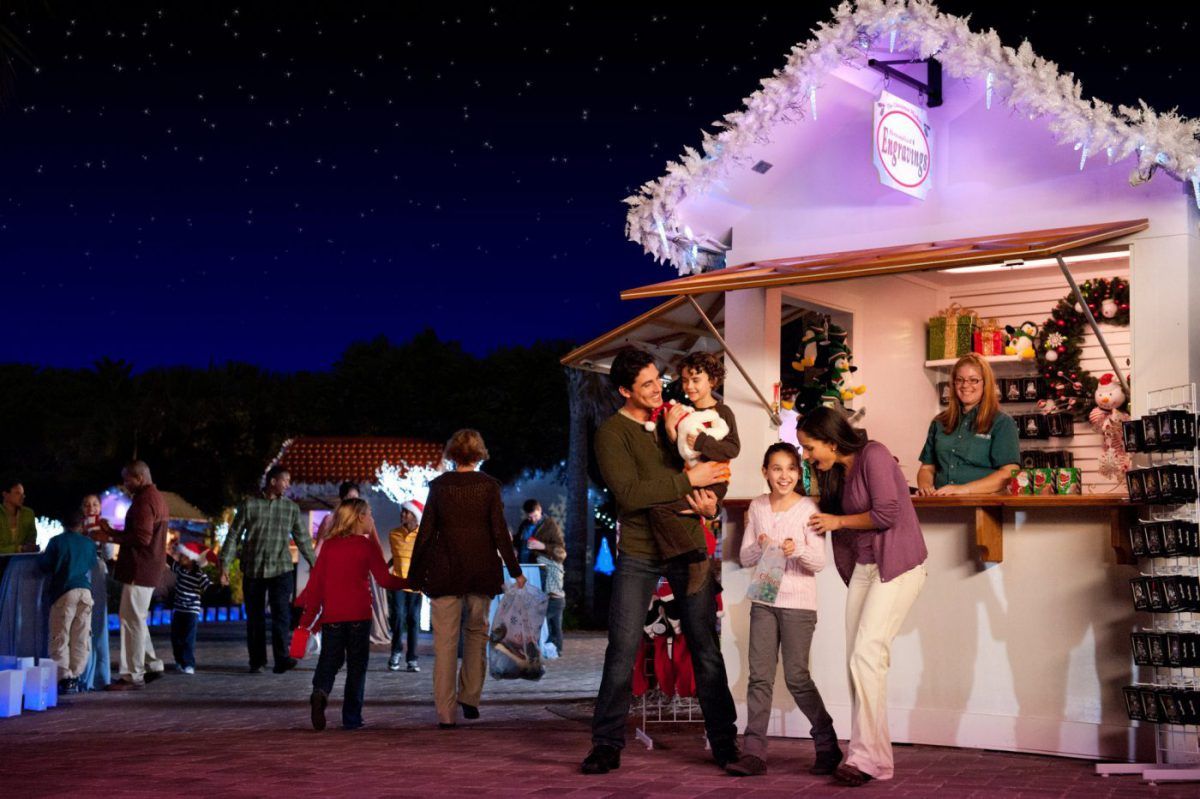 Santa at Wild Arctic
Guests of SeaWorld can take a ride all the way to the top of the world. Who will you meet at the tip top? Santa Claus, of course! The North Pole's most famous resident is waiting there for you and your family. Take advantage of this extraordinary and merry photo opportunity. As one of the top SeaWorld Orlando Christmas celebrations, everyone in the family will feel the holiday cheer.
SeaWorld Orlando's Christmas Market
Additional things to do at SeaWorld Orlando Christmas Celebration include the festive Christmas Market. Along SeaWorld's Bayside Pathway, you'll find outstanding artisans, holiday entertainment, and tasty culinary treats. Still need to finish your holiday shopping? This is the perfect place to find those last minute gifts for friends and family members.
Entertainment is also in abundance at the Christmas Market. Throughout the market you'll discover friendly Elves, a model train village, the comedic Christmas Council, fire pits, musicians, and more!
Buy Your SeaWorld Orlando Christmas Celebration Tickets Today
Best of all, SeaWorld's holiday celebrations are all included with the price of SeaWorld Orlando tickets. You and your family can save by purchasing tickets online. Plus, when you book through Tripster Orlando, you'll save $20 per ticket. As a result, a SeaWorld Orlando Christmas Celebration is more affordable than ever before!