Lush urban forests, the sparkling beauty of the Willamette River, and a multitude of mountain top trails make PDX a mecca for outdoor types across the country. Portland's insatiable appetite for hiking and rugged adventure is only matched by their pet-friendly appeal.
Follow along as we spill all the details on Portland's best pet-friendly hotels, restaurants, and breweries.
Explore miles of trails in Powell Butte Nature Park, or discover your new favorite Lager on a sun-soaked patio. From accommodating hotels that provide treats and water bowls to enchanting rose gardens, there are plenty of dog-friendly activities for Spot in Stumptown.
Read on as we dig up all the dirt on dog-friendly Portland.
Pet-Friendly Portland Hotels
The Duniway Portland
Posh downtown Portland digs with effortless style are what's on deck at the Duniway. This Hilton property sports a slew of amenities, including an indoor pool, fitness center, and a gourmet coffee and wine bar located right in the lobby. If you and Rover are lucky enough to visit during a spell of good weather, soak in some sunshine on Abigail's Hideaway, the hotel's outdoor patio space.
Appreciate the sweeping city views from your spacious suite or guest room. Upon check-in with the concierge, furry friends will feel like true VIPs as they receive a specialized welcome letter, bed, water bowl, and take-home treats. Pets up to 75 pounds are welcome at The Duniway Portland for a nightly fee of $50.
Kimpton Hotel Vintage Portland
A top-rated hotel by both Conde Nast Traveler and U.S. World and News Report, the Kimpton Hotel Vintage Portland is a homage to the quirky nature of the Pacific Northwest. Feast your eyes on the hotel's graffiti-inspired cork art, sip bold reds at the free daily wine hour, or jam out to the live music by local artists every Friday and Saturday evening.
Competitive types will be transported to the childhood days of yore when they enter the 'adults only' game room complete with Nintendo Wii, PlayStation, Xbox, Shuffleboard, Pool, and more. Best of all, the Kimpton loves pets (both dogs and cats) and accepts up to two per reservation with no weight, height, or breed restrictions.
Your fluffy companion can even accompany you to the evening wine tastings. 
McMenamins Crystal Hotel
Sleep in a piece of Rock and Roll history when you lay your head to rest at McMenamins Crystal Hotel. This classic flatiron building is on the National Register of Historic Places and contains 51 guestrooms, each inspired by a song or performance from the neighboring Crystal Ballroom's illustrious past.
Over a century old rock and roll veterans will be in heaven knowing they can sneak in a concert next door or utilize the property's saltwater soaking pools.
Pets of all sizes can get in on the action, as the Crystal Hotel welcomes all animals for an additional nightly fee of $15 with no size, weight, or quantity restrictions.
Hotel deLuxe
Are you longing to inject a little luxury and old-school glamour into your Rose City respite? Then, treat your trusted companion and yourself to plenty of five-star service at Hotel deLuxe.
Find yourself transported to the Golden Age of Hollywood as you and Fido feast your eyes on their exquisite art deco aesthetic and curated photography collection. Reserve the Marlene Dietrich suite for an extra-special dose of silver screen sparkle. This elegant pied-a-terre features high ceilings, lush draperies, and staggering views of both Goose Hollow and West Hills.
Feline and Canine friends are welcome here for no charge and will receive beds, bowls, and treats upon check-in.
Human-Friendly Attractions
Once your lovable mutt has made itself at home, it's time for the humans to explore the verdant abundance of Bridgetown.
Pack that backpack, as the Multnomah Falls & Columbia River Gorge Tour is a half-day excursion that will have you following in the footsteps of the Lewis and Clark expedition. Stretch those quads as you soak in awe-inspiring views of Rooster Rock, Cape Horn, Mist Falls, and more. 
Revel in the sights and landmarks of Stumptown by sea when you set sail for a Portland Spirit Cruise. Travel upriver from the city center to the historic Milwaukie Waterfront for a languid lunch cruise, or celebrate with a bountiful champagne brunch. 
Think pink! Tackle every last item on your Portland bucket list with a Pink Trolley City Tour. This 2-hour sightseeing tour will take you through every last neighborhood and historic sight from the iconic Rose Test Gardens to the Pearl District. 
Dog-Friendly Activities
International Rose Test Garden
Located within the sprawling oasis of Washington Park, the International Rose Garden is a floral haven that is also hound friendly. This sweet-smelling locale has enchanted visitors and locals alike for over a century. There are over  610 rose varieties on display in the Garden.
In fact, the property's primary purpose is to serve as a testing ground for new categories of roses. Make sure to have your camera handy, as, on a clear day, you can scope out stunning views of Mt. Hood as well as mountains of Tea and Climbing roses.
Lucky labs are allowed to soak in the tranquillity of this 4.5-acre garden as long as they are leashed. 
Powell Butte Nature Park
Breathe in that fresh mountain air when you and your feisty four-legged friend head to Powell Butte Nature Park. Jump headfirst into an afternoon of epic hikes as you explore the miles of trails available at this extinct cinder cone volcano. Ideal for hikers, mountain bikers, and horseback riders, dogs of all sizes are welcome here as long as they are leashed.
Traipse through ecosystems of grasslands, wetlands, and forests as you keep your eyes peeled for all manner of wildlife. Lucky hikers have been known to spot rabbits, gray foxes, bats, coyotes, and many birds of prey. 
Molalla River State Park
Grab some transportation for the day, and let your fluffy gremlin ride shotgun as your cruise just 20 miles south of the city to Molalla River State Park. Sitting pretty at the convergence of the Willamette, Molalla, and Pudding rivers, this natural oasis is overflowing with wildlife. Birders will be delighted by the diverse array of waterfowl, wading birds, and blue herons.
While Fido can feel free to run off-leash in the designated pet exercise area, perfect for hiking, picnicking, and especially fishing, the Park's boat ramp allows easy river access. 
Champoeg State Heritage Area
Swing by the south bank of the Willamette River for a slice of charming pioneer history at Champoeg State Heritage Area. Walk across the hallowed site of Oregon's first provisional government, visit a restored log cabin at the Newell Pioneer Village, or capture the ethereal beauty of endless wildflower meadows.
Playful pups will thoroughly enjoy the off-leash dog area, while active humans can round up their friends for a thrilling 18-hole disc golf game or a leisurely picnic. 
Pet-Friendly Portland Breweries
Lucky Labrador Brew Pub
Retrievers, Rottweilers, and all sorts of Labs are welcome at this Stumptown staple where both humans and canines come together to celebrate. Grab a seat on one of the Lucky Labrador Brew Pub's outdoor patios and sample superior ales, stouts, and IPAs. Many of which the Lucky Lab has been brewing for decades.
With four locations all over Portland and a respectable menu of pub-inspired food, the Labrador is an unpretentious hub for beagles and beer fans alike. Sip a Dog Day IPA and grab a water bowl and photo op with your pawed pal. 
Cellar Dog
Ready to ditch the brews for a bold Beaujolais or Pinot Noir? As dog friendly as its moniker suggests, Cellar Dog is a welcome reprieve for the wine obsessed. Settle in with your darling dog and dig into their wine list, which focuses on local wineries with activist inclinations.
Take a peek at the artisanal goods on display, all crafted by nearby artists, as your pup plays with the bar's readily available dog toys. Then, savor a glass of Sangiovese from Oregon's favorite, Remy Wines, whose vineyard works to advocate on behalf of LGBTQ rights. Don't leave without stocking up on some homemade treats made by Cellar's proprietor, Jenn Lyon.
Hammer & Stitch Brewing Co.
Known for the incredibly drinkable ales and lagers, Hammer & Stitch Brewing Co. has been serving up sublime suds in industrial Slabtown for over two years. Sample the soulful malt flavors of their amber. Or inject a hit of citrus into your brew with their lively Weizen.
The bright and modern taproom deck is a dynamite spot for dog owners looking to tie one on. Let your mutt hang out tableside while you snack on some spicy habanero dusted Buffalo Style JoJos.
Level Beer
An outdoor light-filled atrium accented by flowers and greenery, Level Beer's many locations cater to the kid in all of us. Get your fill of video games and crave-worthy craft beer when you check out their patio with your pooch.
With over 15 taps on hand, you can sample everything from a Magically Delicious cream ale to a tropical Hoppy Hoppy Joy Joy. Unfortunately, level Beer does not serve food. However, you can grab enviable eats from many food trucks that frequent their grounds. 
Pet-Friendly Portland Restaurants
Tin Shed
Your pup may not be as famous as Rin Tin Tin, but that's no reason not to spoil them with a bountiful brunch at Tin Shed. Friendly mutts of all shapes and sizes are welcome on this covered patio and can even order off the menu!
Reward Rex's good behavior with a serving of free-range chicken thigh and sweet potatoes. Or satisfy his sweet tooth with a Doggie Dessert.
Then, Fuel up for your hike or your next brewery stop with a hefty Everything Naughty. It features a house-made buttermilk biscuit covered with apple-wood smoked bacon gravy. Or, keep it veggie-friendly with a Southwest bowl. It's piled high with Latin-spiced tofu, black beans, sweet potato, onion, bell pepper, and chipotle aioli.
Victoria Bar
Quality cocktails, Princess Bride references, and a respectable, happy hour menu. Need we say more? Swing by Victoria Bar and camp out at one of the many picnic tables on their large dog-friendly patio.
Simple, refined, and highly delicious cocktails are their specialty. Imbibe an 'Inigo Montoya.' Or 'Inconceivable' made of Plantation Pineapple Rum, Sherry, Toasted Coconut Demerara, and Bitters.
Much of Victoria's fare is vegan and gluten-free, so human patrons with food sensitivities can chow down worry-free.
Order some cheesy roasted broccoli topped with nooch. Or a flavor-packed vegan fried chicken wrap smothered with herbaceous spinach arugula pesto, Roma tomato, red onion, and mixed greens.
Tamale Boy
You scream, I scream, we all scream for Tamales! That may not be how the rhyme goes, but neither you nor your furry friends will be able to deny the intoxicating aroma of freshly steamed tamales. Head on over to the Northeast Dekum outpost of Tamale Boy to delight in their substantial outdoor patio, complete with umbrellas and a fire pit.
Cozy up beside the flames, and sip on a homemade margarita before devouring an array of tamales. Every tamale here is made with non-GMO whole corn masa flour processed without preservatives or additives.
Choose from Traditional Oaxacan fillings like cochinita pibil and mole negro. Or more Northern-inspired varieties like the chile verde, featuring pork cooked in green tomatillo sauce. 
The Rambler
Break bread in the comfort of a charming 1920s bungalow when you round up Rover for an afternoon or evening of hijinks at the Rambler. The Rambler's front and back patios provide ample space for humans and hounds looking to let loose.
Bocce ball courts and fire pits spruce up the ambiance. After an energetic game, you'll be more than ready to feast. First, lean into the Cajun-influenced cuisine with smoked brisket chili and Frito Pie dishes. Or keep things on the lighter side with an order of pan-seared cod fish tacos.
On a budget? Make it a point to stop by on Mondays when the Rambler runs their happy hour pricing all day long.
Intrepid travelers have long flocked to Stumptown for stupendous natural scenery. But did you know Portland regularly ranks among the most dog-friendly cities in the United States?
Pooches of all ages and abilities are welcome in this Pacific Northwest haven of misty mountains and craft brews.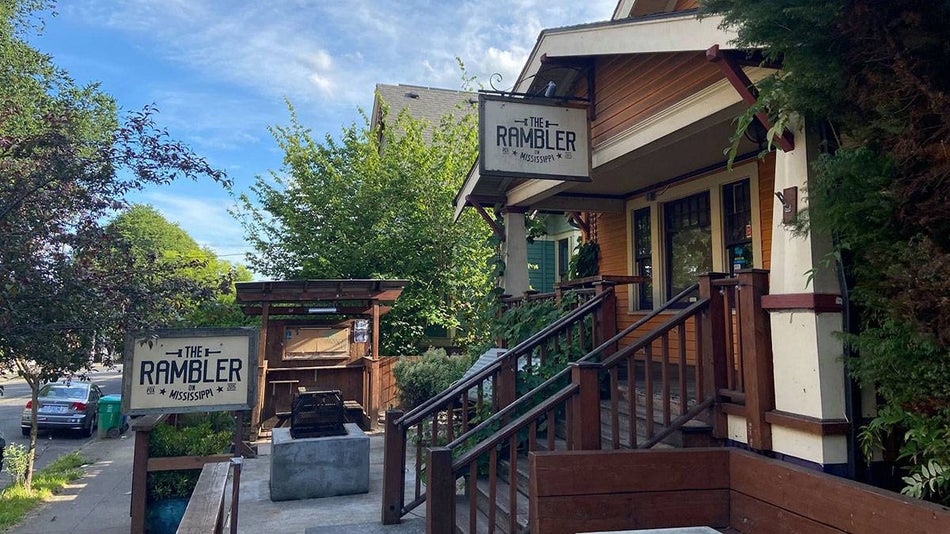 Bring along your Beagle or Collie for a rousing hike on the Columbia River Gorge. Then sample exquisite Oregon vintages with Rover resting at your feet.
From biscuit-filled brunches that let your canine order off the menu to boutique lodgings that roll out the doggie red carpet. There's never been a better time to visit Bridgetown.
Don't wait; reserve your next Portland pet-friendly getaway today!
Tell Us, Where's Your Favorite Portland Pet-Friendly Locale?
Leave us a comment below!