Geared towards children 12 and under, LEGOLAND Florida is an Orlando attraction where families can visit to build memories and enjoy a day of LEGO-filled fun. From the moment you arrive at the park you are immersed in a world of giant and colorful LEGO creations. From interactive shows to engaging attractions, the park is a wonderland of imagination kids absolutely love.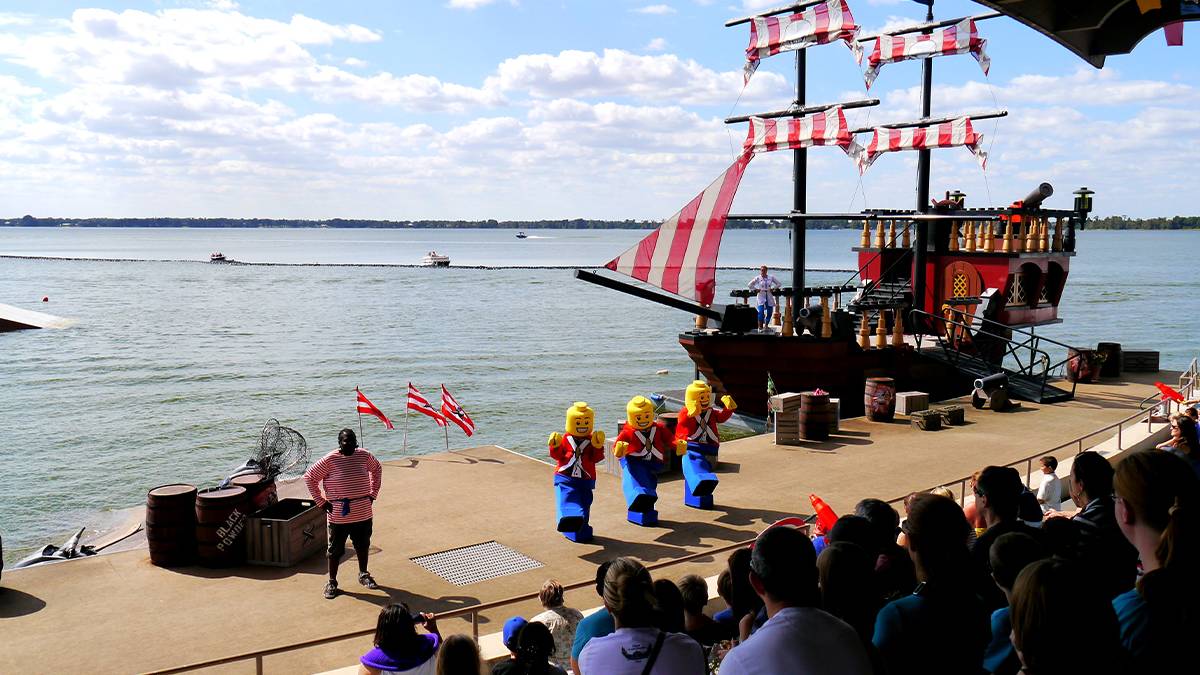 One of the highlights of LEGOLAND Theme Park is the fantastic show "Battle for Brickbeard's Bounty" at Pirate's Cove Ski Stadium. Hosted at 12:30pm, 2:00pm, 3:30pm and 5:00pm, the show is a water-ski live-action performance during which guests are asked to help defeat Captain Brickbeard and his pirate gang. Around 20 minutes in length, the Pirate's Cove Ski Show keeps the attention of little ones. If you sit in the first row you can also use water cannons to shoot at the pirate gang, so try and grab a seat early if you can. Stay after the show to get your photo taken with one of the LEGO imperial guards, too!
After the Pirate Show, I suggest quickly touring through the botanical gardens LEGOLAND preserved from its predecessor – Cypress Gardens . A sprawling banyan tree over 70 years old, a tranquil gazebo and lush, vibrant plants and flowers create a horticultural masterpiece worth your time. It's also a nice place to take a rest with kids if they start to tire or get fussy.
There's a lot to see at LEGOLAND Orlando, what with the numerous displays built entirely of LEGO bricks and the exciting attractions built just for kids.  Plus, there are even LEGO factories where you can design your own LEGO creation. Attractions at LEGOLAND put kids in the driver's seat – literally. One of the most popular attractions is the Ford Driving School at LEGO City, where kids earn an official LEGO license after they maneuver through the test track. Kids can also get their flying and boating license at LEGO City.
With ten different lands to explore, LEGOLAND brings to life not only scenes from across these United States but also faraway lands. Two of the most popular lands include LEGO Kingdoms and Land of Adventure.  At LEGO Kingdoms, kids grin ear to ear while they ride the Dragon Coaster and Royal Joust. The smiles get even bigger at Land of Adventure where kids can go on a Safari Trek or brave the Egyptian desert during a Lost Kingdom Adventure. Of course, no trip to LEGOLAND Orlando is complete without a trip to Imagination Station. Build, test, explore and create while you let your imagination run wild! Don't miss the Factory Tour at Fun Town, either, as you can see how LEGO bricks are made – a must for any LEGO enthusiast!
After reading this LEGOLAND Florida review, I hope you have a better understanding of all LEGOLAND has to offer. A day at LEGOLAND truly is pure entertainment for those young and young at heart. Visit the Orlando theme park today to build memories with your family.