Learn about the Knudsen brothers and their show, SIX, in Branson, MO. The SIX show features amazing vocal harmonies, comedy, and slick dance moves. Fun for the whole family, it's one of the most popular shows in Branson. Watch the video below to see why.
Purchase SIX tickets to see why this show is one of the best in Branson.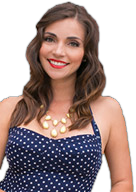 Bianca is a travel professional, and prides herself on her knowledge of vacation destinations big and small. With 8 years in the tourism industry, she brings you updates on how to make the most out of your time, money and energy in her favorite cities throughout America.