September 30, 2022 @ 8:00 am

-

October 31, 2022 @ 5:00 pm

CDT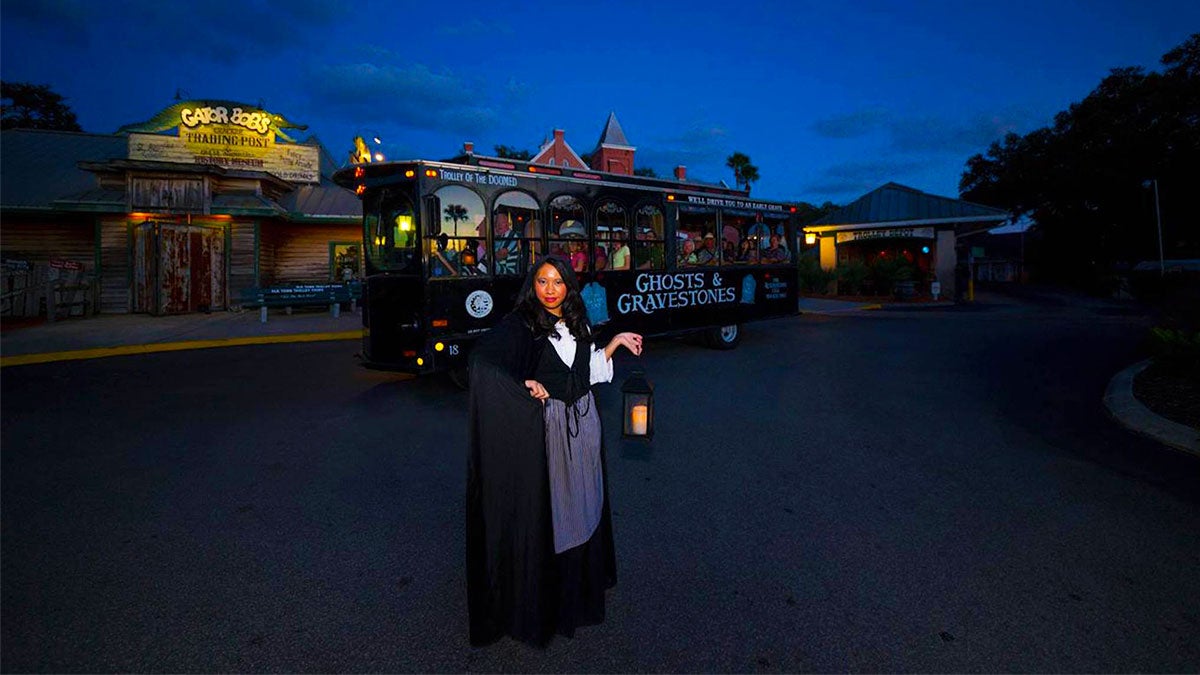 With over 450 years of history, hallowed streets, and hundred-year-old cemeteries, the Nation's Oldest City is teeming with supernatural encounters and other-worldly happenings. Brave enough to discover the ancient city's chilling past and experience St. Augustine Halloween? Then, embark on a paranormal adventure here… don't say that you have not been warned.  
Walk the ancient city's neighborhood only to hear spine-tingling screams and see restless spirits playing on the sacred grounds. Try to keep your cool as you enter the haunted houses where restless souls have been lurking in the darkness. Plus, tours will turn you into a believer with all the real-life eerie scares. So who's ready to unveil the darkness that's begging to be discovered in this quaint Florida town?
Date and Details
St. Augustine Halloween 2022 includes events that scare from September 30, 2022, through October 31, 2022.
The Ximenez-Fatio House Presents: Mourning And Mortality - A Century Of Death
When: September 30, 2022, to October 31, 2022, from 5:30 to 7:30 PM
Admission: Adults $10. Click here to purchase.
This Halloween, the Ximenez-Fatio House Museum invites all fright-seeking souls for the return of the annual The Ximenez-Fatio House Presents: Mourning and Mortality - A Century of Death tour. This guided strange candlelight excursion through the 223-year-old museum will leave guests trembling and fearing for their safety.
Aside from featuring the 1800's eerie mourning rituals and practices, visitors will also learn how St. Augustine townsfolk treat their illnesses with at-home remedies. Plus, there will be paranormal investigations guided by professionals.
Ghost With the Most' Cocktail Tour
When: Select dates from October 01, 2022, to October 31, 2022
from 7:00 PM to 9:30 PM
Admission: $85. Click here to purchase.
Double your courage before facing ghouls with refreshing cocktails. This fully guided city tour includes cocktail tastings, along with ghostly encounters. The exploration also visits four local venues, where guests can soak in the area's disturbing atmosphere and even experience an apparition or two. This Halloween in St Augustine tour will last 2.5 hours, led by a 'dead guy.'
Fourth Annual Halloween Bash at World Golf Village!
When: October 8, 2022, from 11 AM to 2 PM.
Admission: Free
Take a break from all the scares at the 4th Annual Halloween Bash Community Event! This is one of the free Halloween events St Augustine that will showcase music, kid-friendly activities, vendors, and more! Collect all the goodies with your kids and listen to live performances by local bands. This entertaining activity will surely give the smiles rather than the creeps.
Pirate Halloween Party
When: October 26, 2022
Admission: $27 for adults, $15.95 for children aged 5-12, and free for children 4 and under. Click here to purchase.
A bunch of swashbuckling pirates attack St. Augustine this Halloween for an adventure-filled piratical celebration. Expect a dinner buffet, a fun parade, performances of Pirates Bounty and Sea Shanties, and other surprises. The party is set to take place at St. Johns Golf & County Club.
Halloween Safe Trick-Or-Treat At The Ximenez-Fatio House Museum
When: October 29, 2022, from 1 PM to 4 PM.
Admission: Free
The Ximenez-Fatio House Museum will also host a Trick-or-Treat & Family Harvest Fest this season. This free event will highlight games, a candy-apple bowl bar, a craft table, and lots of goodies! Get your kids and buckets ready for this family-friendly halloween st augustine event. The fun will be held on 20 Aviles St., St. Augustine.
Ancient City Brewing Boos And Brews 5k Race And Halloween Party
When: October 29, 2022, from 5 PM to 7:30 PM.
Admission: $25 to $40. Click here to sign up.
The Ancient City Brewing Boos and Brews 5K Race and Halloween Part is a chip-timed event that offers a race shirt and post-party music! Run as if all the ghouls and evils are chasing after you to win a medal or beat a personal record. The 5K begins at the Ancient City Brewery.
Covid-19 Information
The city of St. Augustine complies with the state's guidelines and safety measures. Face masks are encouraged while in crowded spaces.
Other Attractions in St. Augustine
Beyond its historic hauntings and disturbing past, St. Augustine is also filled with beautiful landmarks. Enjoy the city with these other attractions:
Experience St. Augustine Halloween
From its unsettling history and quaint downtown streets, St. Augustine is no doubt the perfect destination for a hair-raising and fang-tastic celebration. Experience the endless stories of roaming spirits and supernatural occurrences at Halloween events in St Augustine FL firsthand. All the scares will keep you screaming for your life. Plus, the ancient city also hosts an array of family-friendly Halloween activities.
Ready to face your deepest fears and meet creatures that you thought only existed in your twisted imaginations or nightmares? Then, step into America's Oldest City with the entire gang.
Also, you can make a full vacation out of this trip with a St. Augustine package.