March 3, 2023 @ 8:00 am

-

April 30, 2023 @ 5:00 pm

PST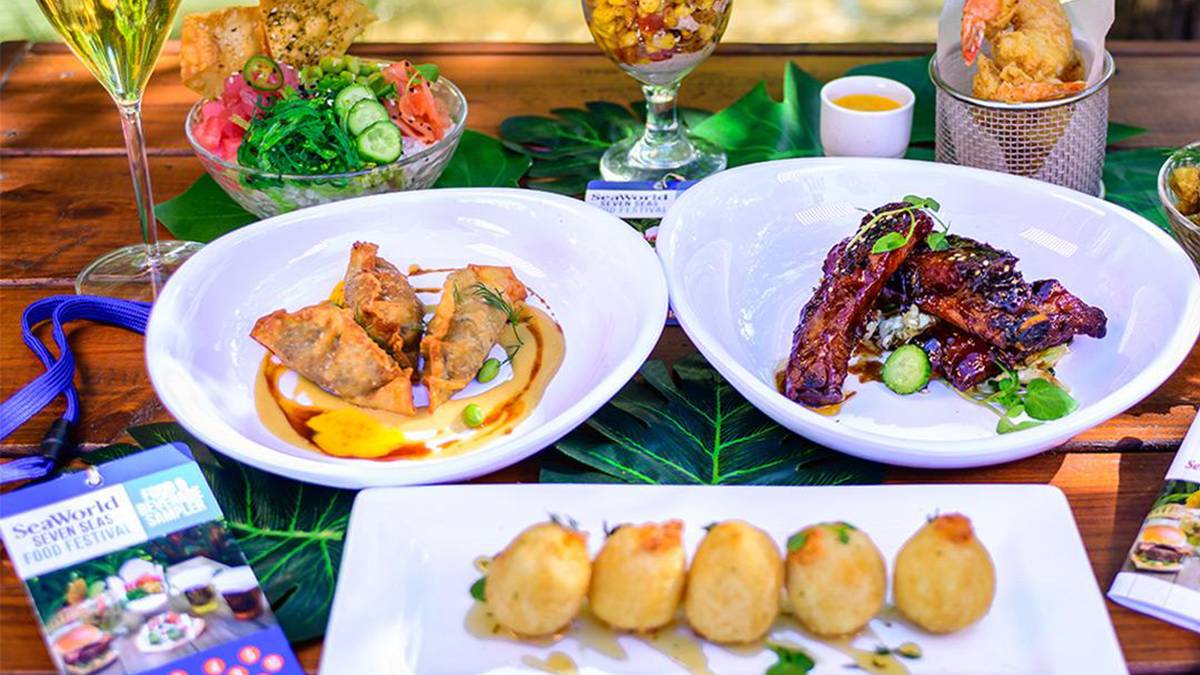 Immersing yourself in several cultures through popular dishes has never been easier when you attend the SeaWorld San Diego Seven Seas Food Festival! From gourmet treats to local craft beers, this month-long gastronomic experience brings a variety of foodie favorites.
On the hunt for delicious cuisines and sips across the globe but can't travel just yet? No worries, as you can take your tastebuds on a tasty adventure at SeaWorld San Diego Seven Seas Food Festival.
Feel as if you're in Italy with every bite of Beef Arancini, travel to Mexico through the flavorful Taco al Pastor, or be transported to Asia as you try the ever-famous dumplings. No matter your taste, this festival is a foodie's dream.
Related Post: Insider's Guide to SeaWorld San Diego
Follow along as we share all the yummy and entertaining offerings at the SeaWorld San Diego Seven Seas Food Festival.
Seven Seas Food Festival Tickets
Most Seven Seas Food Festival events are included with your SeaWorld San Diego admission and pass membership.
Nearby Hotels and Lodging
Tired fellows will be glad to rest and unwind in these nearby luxurious hotels at the end of the day:
SeaWorld San Diego Discount Tickets
Smart travelers won't miss a chance to save some moolah! Book these discount tickets with Tripster to get the biggest bang for your buck.
SeaWorld San Diego Vacation Packages
Searching for more sensational landmarks to occupy your time in San Diego?
Book these vacation packages with Tripster:
Seven Seas Food Festival Events Highlights
Over 200 Food Booths
With hundreds of food vendors, the Seven Seas Food Festival San Diego is one of the best gastronomic events you'll ever come across. Whether you're feeling a little adventurous and want to try something new or craving your all-time favorites, the food options here are endless.
Get ready to indulge in endless combinations from these booths:
Caribbean Market
All-American Market
Polynesian Market
North Atlantic Market
Italian Market
España
Mediterranean Market
Asian Market
Irish Market
German Market
Gulf Coast Market
Mexican Market
Live Concerts
While SeaWorld San Diego Food Festival highlights the most scrumptious and diverse local and international cuisines, its live concerts and entertainment offerings are just as deserving of praise.
After munching bites and sipping drinks, it's time to belt out your favorite songs played by talented musicians from San Diego and beyond.
Related Post: 10 Free Things to Do in San Diego at Night
Listen to rock music, Latin tunes, 90s classics, country songs, and more at this foodie festival. The concerts usually start at 7:00 PM on a Saturday and Sunday, plus feature standing and premium floor seating options.
Check back later for more information regarding the full performance lineup.
Animal Exhibits
Just like SeaWorld Orlando Seven Seas, the Seven Seas SeaWorld San Diego will feature up-close-and-personal animal encounters. You can't come to SeaWorld without visiting its adorable residents from penguins and turtles to whales and sea lions, after all.
Deepen your awareness of wildlife conservation, chat with the zoo's team, and interact with marine creatures like never before.
Some of the must-see animal shows include the following:
Orca Encounter
Connect on a deeper level with the largest members of the dolphin family during your SeaWorld visit! The presentation lets you see natural Orca behaviors and learn more about their remarkable hunting skills and complex communication codes.
Dolphin Adventures
Make your day more special by meeting these playful bottlenose dolphins. This funny and educational presentation allows you to meet the amazing team that protects and takes care of these incredible creatures.
Penguin Up-Close Tour
Get introduced to penguins and an aviculturist during this encounter. As you get to spend time with them, you'll learn more about penguin behavior, history, and the conservation work being done for these amazing birds.
SeaWorld Seven Seas Menu
Unfortunately, the official food and drink menu for this year's Seven Seas Food Festival SeaWorld has not been released. We will update this page with more details.
Seven Seas Food and Beverages Samples
10 Tastings: $70 each Food Beverage Samplers
15 Tastings: $85 each Food Beverage Samplers
Note: To receive your sampling lanyard and punch card, just show your voucher to a theme park official during the event dates. This process stays the same for all Seven Seas Food events like the SeaWorld Orlando Seven Seas Food Festival.
Seven Seas Food Festival Dates
The Seven Seas Food Festival runs from March 3, 2023, through April 30, 2023.
Experience the SeaWorld San Diego Seven Seas Food Festival
Get that appetite ready, as SeaWorld's long-awaited culinary fair is back! Seven Seas Food Festival returns with its hundreds of food choices, cocktails, and wines, treating guests to edible wonders from around the world.
Related Post: Ultimate Guide to SeaWorld San Diego: Coupons, Discounts, and Deals
Start your taste adventure and foodie crawl at the Caribbean Market, where you'll get a Smoked Jerk Chicken slider or Pineapple Dream Cake.
Then, head to the North Atlantic Market to try Shrimp Fritters and Limeade. There's a myriad of cuisines waiting for you, so have fun with an open mind.
Between the delicious food and refreshing drinks, expect SeaWorld Seven Seas Food Festival concert series shows that feature the most talented bands on the planet. You can't leave the event grounds without checking out the animal exhibits, either.
Hungry for delicious treats and a festive atmosphere? Then, get your Seven Seas Festival tickets now!
Related Events