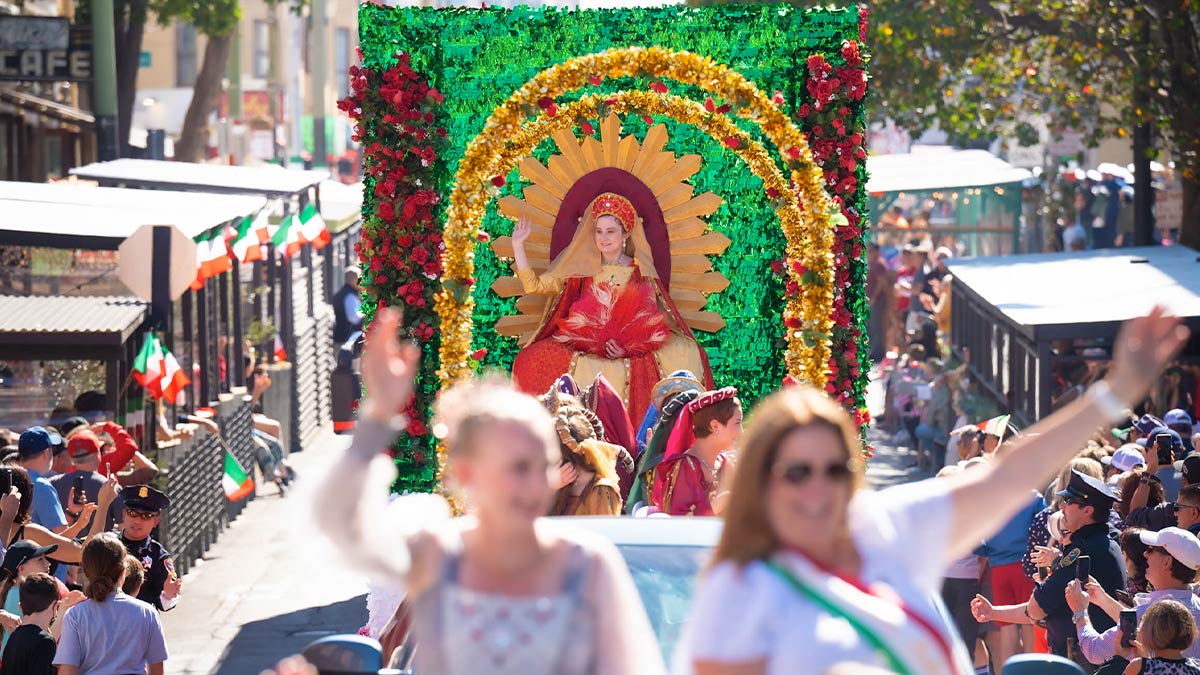 Recognized as the City's oldest civic event, San Francisco Italian Heritage Parade is returning to the streets with more colorful and remarkable floats for its 154th-year celebration.
The longest continuously running Italian Heritage parade in the United States begins at the foot of Jefferson and ends in Washington Square. Tailed by Italian and Italian American dignitaries, organizations, bands, equestrians, drill teams, and dance teams, this procession will surely keep spectators entertained.
The parade's highlight is Queen Isabella and her Court, consisting of outstanding Italian American young women who embody the keystones of Italian Heritage and value its traditions.
Date and Time
San Francisco Italian Heritage Parade happens on October 9, 2022. The parade begins at 12:30 PM.
Location
The parade route starts at Jefferson and Powell Streets in Fisherman's Wharf and continues south through the North Beach district on Columbus Avenue. It ends at Washington Square in front of Saint Peter and Saint Paul Church.
San Francisco Italian Heritage Parade Tickets
Admission is free.
Covid-19 Information
Guests are not required to wear face masks but are recommended due to the large crowd.
Other Attractions in San Francisco
Experience San Francisco Italian Heritage Parade
Every year, San Francisco celebrates the achievements and culture of the Italian-American community with a massive parade featuring colorful floats and performances. The procession is joined by the Bay Area's small businesses, Italian representatives, and the Court of Queen Isabella.
Witness this San Francisco cultural tradition and learn a thing or two about the multi-faceted Italian culture. Along the route, you'll find traditional musicians and artists. Plus, there will be a variety of programs for children and delicious food that go way beyond pasta in Washington Square Park.
Also, you can make a vacation out of your visit with a San Francisco package.
Related Events