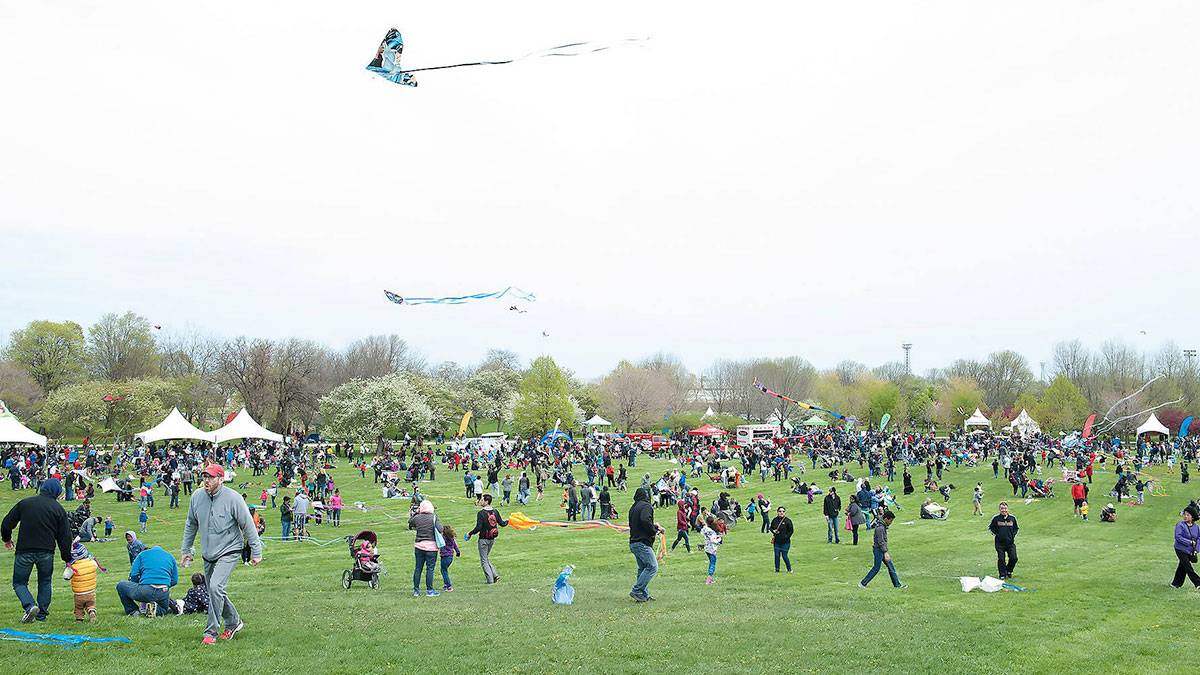 Make the most of Chicago in the springtime by joining the long-awaited Kite Festival Chicago. Kids and kids at heart get to fly hand-crafted kites and witness professional flyers show off impressive skills on-site at this kite flying festival!
Grab your kite and hope for a strong breeze when you make your way to the Kids and Kite Festival Chicago. Cricket Hill in Lincoln Park will be filled with vibrant flying creations and exciting activities including face painting, balloon art, arts and crafts, and food trucks.
Can't bring your own kite? There will be free kite kits at the venue. Just arrive early to create and decorate one!
Related Post: 11 Entertaining Things to Do in Chicago with Toddlers
So, stop wasting your time looking for a "kite festival near me" and head to the Windy City instead. Follow along as we blow you away with all the exciting happenings at the annual Kite Festival Chicago.
Chicago Kids and Kites Festival Tickets
The Kids and Kites Chicago Festival 2023 is free of charge. 
Nearby Hotels and Lodging
A busy day buzzing with activity calls for the coziest accommodations once all the fun is done. Rest in style with the entire family after a fun-filled day at the Kite Festival 2023 Chicago.
Book any of these hotels at a bargain with Tripster:
Other Attractions in Chicago
Travelers worldwide can't help but be mesmerized by the beauty and charm of the Windy City. Book these nearby attractions that complement your Chicago Festival of Kites adventure and see why the city is a prime destination for all ages.
Here are some of our favorite Chicago attractions:
About Chicago Kids and Kites Festival
The Chicago Kids and Kites Festival is an annual interactive kite-flying festival for everyone. Whether you're planning to bring your kids to enjoy a fun-filled outdoor activity or are into kite-flying yourself, this favorite family event is truly a spring spectacle to remember.
The event is arranged by the Department of Cultural Affairs and Special Events, and the kite-making and kite-flying activities will be provided free of charge by the City of Chicago.
Speaking of kite-building, children can get creative as they hand-craft kites using the free kits on site. Just be sure to come early, as the activity is only available while supplies last.
Prefer not to let the kids have all the fun? Build, decorate, and fly your kite alongside family as well. When done, put your skills to the test and see if your creation takes off.
Those who don't want to build their own kites can also join in the fun. The business Chicago Kite, a distributor of single, dual, and quad-line kites will also be on-site. So, you can skip the DIY activity and purchase a pre-made kite instead.
Related Post: Ultimate Guide to Legoland Discovery Center Chicago: Coupons, Discounts, and Deals
More activities await kids and families in this year's Chicago Kite Festival 2023, so don't miss it. It's time to stop searching "kite flying festival near me" because this is the best one around!
Witness professional flyers showcase their skills as they wow the crowd with synchronized flying maneuvers and show off extraordinary oversized kite designs. 
Chicago Kids and Kite Festival Dates and Location
"When is Kite Festival?" you may ask. The dates for this annual tradition have not yet been released. Check back later for more updates. The event is located at Cricket Hill in Lincoln Park Montrose and Wilson.
Experience the Kite Festival Chicago
Expect a fun-filled springtime in Chicago as one of the best kites festivals returns to Cricket Hill! Enjoy the fun of kite-flying this season at the Kids and Kite Festival in Chicago. This activity is at once whimsical, nostalgic, and fun. So, gather the entire family for the magical spectacle.
Related Post: 26 of the Most Unique Things to Do in Chicago
The outdoor event is complete with upbeat music, food trucks, face painting, balloon artists, and much more. Kids can unleash their creativity and play in nature while parents enjoy a laid-back time throughout the day.
So, save yourself from the stress of scouring the internet and searching "kite festivals near me", as this attraction has it all!
Related Events