February 15, 2022 @ 8:00 am

-

5:00 pm

EST

Free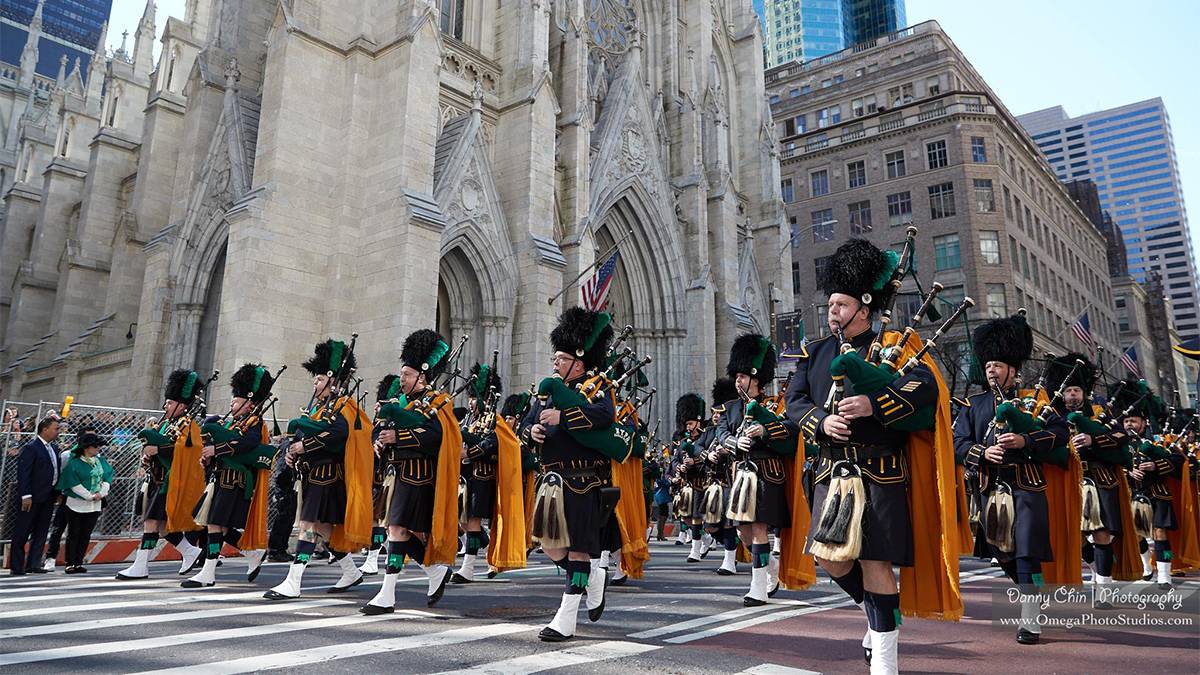 Loads of leprechauns, bagpipes, and green beer must mean it's St. Patrick's day in New York City. There is nowhere in the United States that shows off their Eire pride quite like the Big Apple. Follow along as we spill all the juicy details on what to do for St. Patrick's Day in NYC
St. Patrick Day Events in New York City
While the past two years may have featured curtailed celebrations due to the pandemic, the world's oldest and largest St. Patrick's Day parade is back with a vengeance. 
St. Patrick Day Parade
History, Irish immigrant heritage, and an endless sea of green come together to make the NYC St. Patrick's Day Parade one of the most iconic events in the world.
For 260 years, proud members of the Hibernian homestead have come together to commemorate the death of Ireland's most beloved saint. After two years of smaller celebrations, the Parade is thrilled to be returning full force to 5th avenue.
Thursday, March 17th, 2022 at 11:00 a.m. the pipe drums, dancers, and regalia-clad marching bands will make their storied journey.
Parade Route
Beginning at 44th Street heading up 5th avenue, past St. Patrick's Cathedral, and ending at 79th street.
Pro Tip: Parade-goers should expect extra craic and crowds, as this massive event draws approximately two million spectators each year.
St. Patrick's Cathedral
Stunning stained glass, wooden mahogany pews, and integral ties to the Irish community make the breathtaking St. Patrick's Cathedral a worthy stop on any Emerald Isle-inspired itinerary. For over 200 years this towering edifice has stood as a monument to the Catholic faith in what was once an impoverished Irish community.
Those with a passion for the parade in New York should note that His Eminence, Timothy Cardinal Dolan, Archbishop of New York reviews the procession from the steps of the Cathedral.
Fans of the macabre may want to carve out some extra time, as you can even tour the crypts which lie underneath the Cathedral's hallowed grounds. 
Irish Pubs in New York City
Molly's Pub and Shebeen
Sawdust on the floor, cold pints at the ready, and a crackling wood-burning fireplace make Molly's Pub and Shebeen a welcome respite from the parade's madness.
Bestowed with the blessed title of the 'most authentic Irish Pub in NYC,' Molly's has been delighting homesick Hibernians for over 60 years. Order your favorite Irish whiskey, and slide into a mahogany bench as you soak in the Celtic crosses and Dublin-inspired artwork.
Feast on a chunky Irish lamb stew, or go for the popular corned beef and cabbage served with boiled potatoes and carrots alongside a creamy parsley-filled saucière. 
The Four Faced Liar
Headed downtown post-parade festivities, but want to keep the day's celebrations flowing? Head on over to the Four Faced Liar for a slice of West Village charm married with Irish ease.
This casual and unpretentious pub is a haven for busy students and homesick Eire folk to imbibe, chat, and chill. Revel in the undone charm of the landmark historic building, including its tin ceiling and cozy wooden nooks.
Savor sips of your Guinness or opt for a splash of single malt whisky to warm your frozen soul. 
The Dead Rabbit
Not many craggily old Irish Pubs are often awarded such accolades and overwhelming praise as the Dead Rabbit.
Fun Fact: The Dead Rabbit is named as one of the 'World's 50 Best Bars.'
This swanky lounge disguised as a quaint pub has combined the hospitality of the Irish with the sophistication and skill of expert cocktail making. Their Irish Coffee is considered the best in the city, and their vast beverage menu contains many whisky heavy delights harmonized with exotic cordials and ingredients.
Spoil your taste buds with mouthfuls of their elevated pub food, including herbaceous bangers served over scallion mash, or a delightful corned beef sandwich accompanied by gruyere chips. 
Neary's 
Looking for a little more than four-leaf clovers to hold you over after a day of New York City St. Patrick's events? Hungry hooligans know the best place to dine like Emerald Isle royalty is at Neary's.
For over half a century, Neary's has been charming visitors with their top-notch customer service and Celtic-inspired cuisine. This venerable old-school eatery delivers waves of Irish ambiance and sophisticated renditions of classic dishes.
Pro Tip: Don a green jacket, as proper attire is a must, and sink into a plush red leather booth.
Sample succulent wild Irish smoked salmon, sliced corned beef, and broiled lamb chops with mint jelly. 
The Perfect Pint
Need a perfect pint before you head out with your parade posse? Spread out in style when you toss back shots of Jameson and Guinness at this multi-level Irish-style pub and outdoor rooftop bar.
The Perfect Pint may pride themselves on their pouring skills, but their two locations, both with close proximity to the parade, make them an ideal stopover for some adult libations.
Drown your sorrows, or your emerald-filled joy with a delicious glass of Kilkenny Irish Cream Ale, or Guinness Nitro before soaking up all that booze with a delightfully greasy mess of Harp beer-battered fish and chips. 
The sounds of bellowing bagpipes fill the air, green sequins abound, and there are more beer and Jameson specials than you can count. We don't have to glance at our calendar to know it's St. Patrick's Day in New York City.
From people watching the crazy costumes and kilts at the parade to touring the grand St. Patrick's Cathedral, or grabbing the world's best Irish Coffee at the Dead Rabbit, there are endless ways to get your Gaelic on this March 17th.
Whether you seek to sit down with a pile of corned beef and cabbage, or are one of the brave veterans of the NYC St. Patrick's Day Parade, we hope your holiday is filled with endless amounts of Eire magic!
Tell us, what's your favorite thing about St. Patrick's Day in New York City?
Leave us a comment below!
Related Events