March 11, 2022 @ 8:00 am

-

March 20, 2022 @ 5:00 pm

CST

Free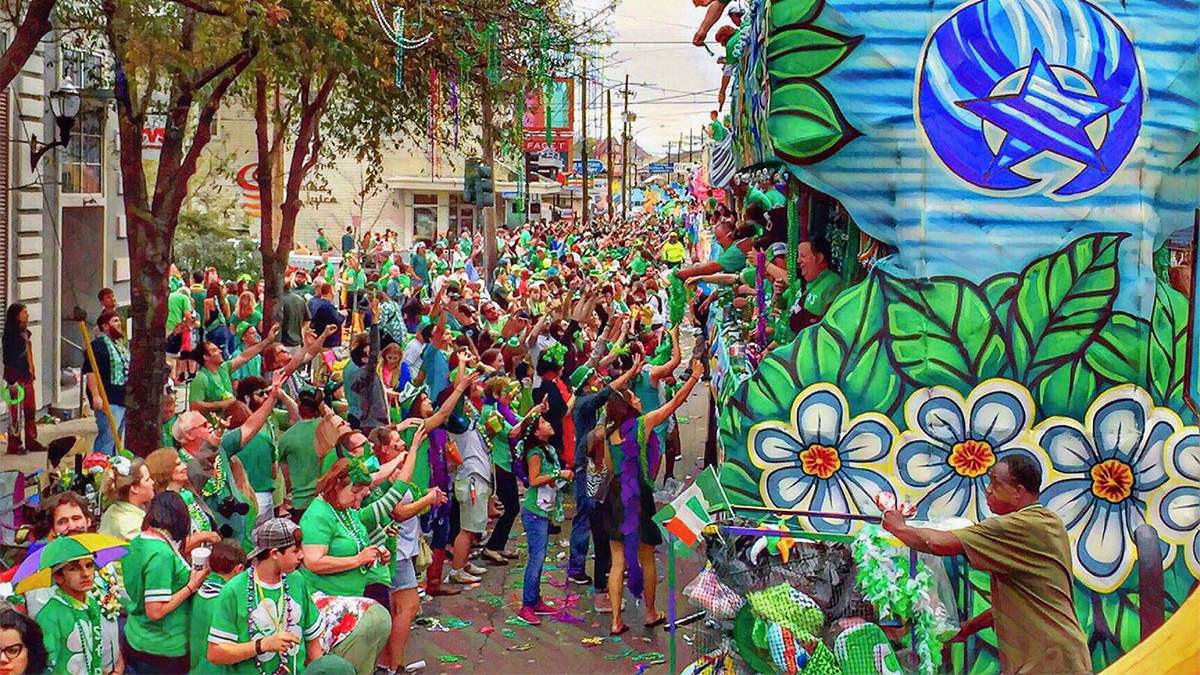 Parades, beads, and plenty of booze may be synonymous with Mardi Gras, but the Big Easy musters up just as much Eire spirit for St. Paddy's Day. So follow along as we reveal all the juicy details on what to do for St. Patrick's Day in New Orleans.
St. Patrick's Day Events in New Orleans
Come March 17th, this city of voodoo, jazz, and bayou charm is transformed into a rollicking sea of emerald green. Feisty revelers will find plenty of green beer, block parties, and raucous St. Patrick's Day Parades to fulfill their craic quota.
Downtown Irish Club Parade*
Pull out those leprechaun hats and don your most vibrant verdant hues for the Downtown Irish Club Parade.
This annual merriment and Celtic carousing event will kick off at 6:30 p.m. on Friday, March 11th, 2022.
Parade Route
The parade begins on the corner of Burgundy and Piety in the Bywater and follows the route up Royal, across Esplanade to Decatur, up Canal to Bourbon Street. 
Irish Channel St. Patrick's Day Parade*
The Irish Channel St. Patrick's Day Committee was formed over 70 years ago and has been wearing their Herminian pride ever since. Marching bands, plenty of costumes, floats, and flying scraps of Irish stew always make the Irish Channel St. Patrick's Day Parade a jolly good Gaelic affair.
Hosted by the St. Patrick's Day Club, this highly anticipated event will roll through the lower section of Magazine Street and St. Charles Avenue.
The parade begins at 2 p.m. on Saturday, March 12th, 2022.
Parade Route
Revelers can follow from Magazine street river bound through Jackson Ave.
Pro Tip: Be sure to wear your Kelly green as prudent parade-goers know going against this dress code is grounds for a St. Patrick's Day pinch!
**additional parade details TBD
Molly's at the Market
With its warm mahogany wood interior, legendary frozen Irish coffees, and overflow of Celtic charm, Molly's at the Market is the go-to for an Eire-inspired atmosphere.
However, this NOLA pub crawl standby also hosts one heck of a St. Patrick's Day Parade.
Set your alarm for some evening antics in honor of the Emerald Isle when you attend the Molly's at the Market Irish Parade on Friday, March 11th, 2022, commencing at 6 p.m.
Parade Route
This rowdy celebration of bagpipes, carriages, and drums meanders through the French Quarter, beginning and ending at Decatur Street.
Irish Pubs & Block Parties
Irish Channel Block Party
Party in honor of Saint Patrick and the children when you attend this annual fette benefiting St. Michael's Special School. The Irish Channel Block Party promises plenty of craic tunes, corned beef, and of course, green beer.
Strap on your dancing shoes and prepare to step and jig from 1:00 p.m. onwards, March 17th, 2022.
Located at Annunciation Square in the 1500 block of Chippewa, this family-friendly affair welcomes kids of all ages!
Tracey's St. Paddy's Day Party
Craving some more Emerald Isle entertainment in the Bayou? Hightail it to Magazine Street to pound pints and sample the finest Hibernian fare at Tracey's St. Paddy's Day Party.
Every year rowdy lads and lasses congregate in the Irish channel for mountains of merriment and music.
This year the frivolities begin bright and early at 11 a.m., Saturday, March 12th, so pencil in your day drinking accordingly.
Parasol's Block Party
Slainte to a weekend of Guinness and surprises when you stop by the banger of a block party hosted by Parasol.
The official kick-off to the St. Patrick's Day festivities, the Parasol Block Party, begins on Saturday, March 12th at 10:00 a.m. and runs both days.
Hungry hooligans will be delighted to feast on a diverse array of Irish cuisine, themed beverages, and of course, kegs of green beer. 
St. Patrick's Day Balcony Party
Looking for a very N'awlins take on everyone's favorite Gaelic day?
Sit pretty on one of the biggest, brightest, and best balconies in New Orleans when you pony up for exclusive access to Cornet Restaurants' St. Patrick's Day Balcony Party.
Cheers to the luck of the Irish as you witness the parade's revelry from high above and toss beads** into the cheering crowds below. Your ticket to the city's best St. Patrick's day party includes unlimited premium brand mixed drinks, imported & domestic beer, wine, specialty drinks, and first-class balcony access.
Doors open at 9:00 p.m. on Thursday, March 17th, 2022, and the Celtic-infused craziness is expected to last all night!
**beads not included in the ticket price
Kerry Irish Pub
An authentic Irish pub in the French Quarter? Yes, please! Enjoy homey neighborhood vibes, a top-notch Guinness pour, and nightly live musical entertainment when you stop by the Kerry Irish Pub.
Soak in the kitchy pub decor, including the ceiling laden with dollar bills and the neon shamrocks, as you chat up the obliging bartender.
Erin Rose
Unpretentious and casual, Erin Rose is a Bourbon St. beacon for both tourists and locals alike.
Reasonable prices, old country-inspired hospitality, and a pinch of Celtic flair ensure this water hole's bar stools are never empty. A regular stop on the parade route, the boisterous pub always brings out the bagpipes and the green beer, come St. Patrick's Day.
Sidle up to the bar for a famous frozen Irish Iced Coffee or take a break from all that corned beef and cabbage with a decadent whiskey grilled cheese featuring aged English cheddar and Irish Whiskey on wild flour whole grain bread.
While not much can hold a candle to the madness and majesty of Mardi Gras, on March 17th, New Orleans does the Emerald Isle proud.
Both visitors and locals flock to the streets to behold the pageantry and pleasure of a city turned green. 
Whether you choose to post up on a balcony on Bourbon Street or attend a bustling block party downtown, there are countless ways to let loose like a leprechaun this St. Patrick's Day. 
Tell us, where's your favorite place to party on St. Patrick's Day in New Orleans?
Leave us a comment below!