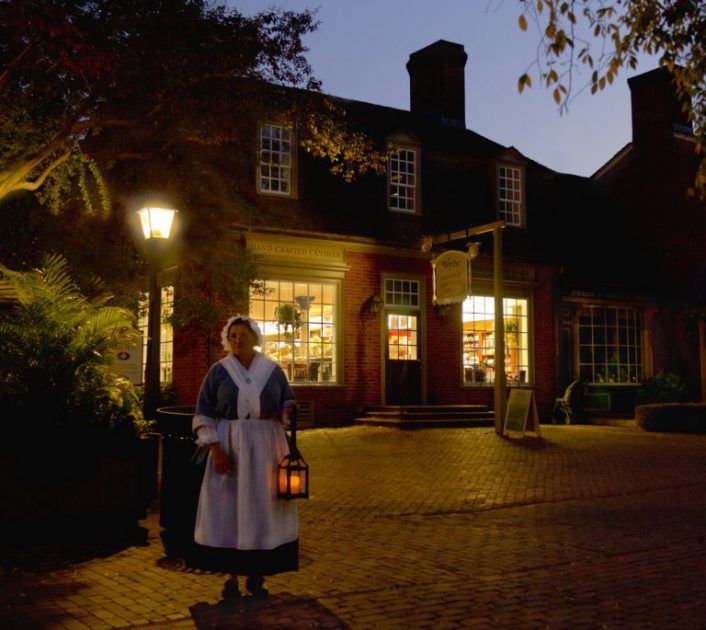 Imagine walking the cobblestone streets where our nation's founders once roamed. Picture yourself at the forefront of the American Revolution. Listen as you hear the call of freedom at your door. On your visit to Colonial Williamsburg, you'll experience life as it was in our nation's yesterdays.
Experience History Firsthand at Colonial Williamsburg
Colonial Williamsburg brings history to life with re-enactments, authentically restored buildings, restaurants serving 18th century style food and a unique atmosphere that is pure colonial. This Williamsburg attraction excels at uniting tourist-themed fun with education. The history presented at Colonial Williamsburg is very authentic and they strive to not only present life as it was, but teach visitors real versions of history.
Colonial Williamsburg depicts the lives of Williamsburg citizens from 1774 to 1781. Large scale re-enactments occur daily and these engaging, street theater pieces are an integral part of the attraction's appeal. The stories of Native Americans and African Americans are also thoroughly researched so that their story is integrated into the history detailed.
Explore the homes and buildings where men like Thomas Jefferson, George Washington, and Patrick Henry inspired the fight for independence. With over 300 acres of history to discover, including the DeWitt Wallace Decorative Arts Museum and the Abby Aldrich Rockefeller Folk Art Museum, this historic destination provides a variety of things to do. Linger over singular examples of American and British antiques from the 17th, 18th, and 19th centuries, then explore bold and imaginative pieces of colonial and contemporary folk art.
Scores of original buildings, hundreds of homes, shops, and public buildings are reconstructed – most on their original foundations. In all, there are 88 original 18th-century structures which are truly remarkable to see. Rare animal breeds, trades, and gardens add layers of authenticity to the recreated town. On any given day or evening, you'll find a variety of walking tours, arts performances, political speeches, trades demonstrations, military exercises, fife and drum parades, and more. This living history museum also features costumed interpreters that bring the past to life!
Key landmarks include the Capitol, the Governor's Palace, the Magazine (used to store weapons and gunpowder for the militia), Courthouse, Bruton Parish Church, and the Raleigh Tavern. The College of William and Mary, the second-oldest institution of higher education in the United States, is also located here.
Unique Colonial Williamsburg restaurants add to the immersive atmosphere. It is highly recommended you dine at a colonial restaurant. Diverse options like Shield's Tavern (my personal favorite), Christiana Campbell's Tavern, King's Arms Tavern, and Chowning's Tavern serve hearty fare and ales inspired by colonial receipts. Costumed staff, traditional tavern offerings, and 18th-century musical performers create a one-of-a-kind dining experience that is a highlight of a Colonial Williamsburg visit.Colonial Williamsburg tickets give you the chance to immerse yourself in the 18th century. Learn about the American Revolution, take part in a witch trial or march with the Fifes and Drums. Reserve your Colonial Williamsburg tickets now to see America's history…today.