With over 750 miles of shoreline, including over 400 beaches, Hawaii is one of the top tropical vacation destinations.
Each island is home to every type of beach imaginable. Discover beaches with sand colored in white, yellow, black, red and even shades of green. Hawaii beaches range from kid-friendly to romantic hideaways to ocean sport havens and spectacular snorkel spots. There are beaches ideal for people-watching and others off-the-beaten path.
Take a closer look at Hawaii's beaches with our island-by-island guide: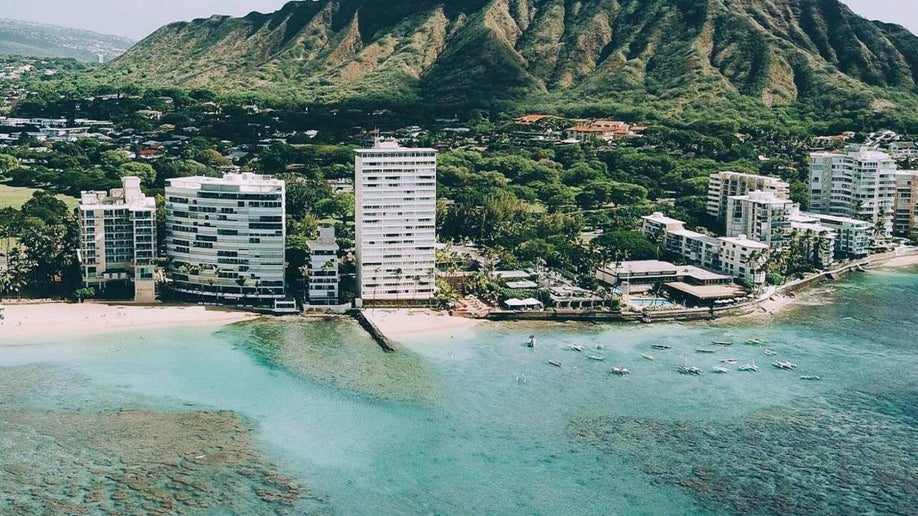 Oahu
There are 112 miles of coastline along Oahu's shores. The beaches in Oahu offer something for every vacationer, from high adventure surf waves to family friendly swimming spots.
Lanikai Beach: Noted as one of Oahu's most picturesque beaches, Lanikai Beach is ideal for small children and those who seek calm waters. An off-shore reef keeps the waters tranquil, while the white sand beaches and secluded setting add to its charm
Waikiki Beach: One of the most popular beaches in the world, a visit to Oahu isn't complete without a couple of hours spent here. The historic beach, which is about 1.5 miles long, is divided into several sections – all of which are connected by boardwalk. Swimming, paddle boarding and surfing are available year-round, as are other water sport activities. Although you will find a lot of people at Waikiki Beach, the less crowded section is generally Kapiolani Beach.
Kailua Beach: Repeatedly named one of Hawaii's best beaches, Kailua Beach is nearly three miles long and offers not only a scenic escape but more activities than any other beach. Swimming, windsurfing, kite-boarding, surfing, boogie boarding and kayaking can all be done here. It's also a great place to sunbathe. The golden sands and Kooloau Mountain range add to the beauty of Kailua.
Waimea Bay: This North Shore hot spot is widely known as the birthplace of surfing. Although surfing reigns supreme during the winter swell season, conditions are excellent for swimming and snorkeling in the summer.
Kauai
Known as the "Island of Discovery," Kauai is a stunning vacation location not only for its beaches for the impressive cliffs, rainforests and lush vegetation. There are 50 miles of white sand coastline in Kauai, with many of the beaches providing a more intimate and serene atmosphere than those found on other Hawaiian Islands.
Hanalei Bay: This iconic Kauai beach is perfect, curved bay overflowing with incredible beauty. With majestic mountains in the background and famous Hanalei Pier reaching into its waters, Hanalei Bay is an absolute must for any Kauai visitor. Spend the day relaxing on the shores, swimming, boogie boarding or surfing. During the summer, the waters here are exceptionally calm which makes it a great spot for vacationing families.
Tunnels Beach: Tunnels beach is ideal for snorkeling, and is known as one of the best snorkel spots on Kauai. The scenery at Tunnels Beach is post-card perfect, with a wide crescent shaped golden beach, shady trees and views of Bali Hai and lush jungle mountains.   Best of all, even though this is a popular beach it is rarely ever crowded. Stay for the sunsets, too, as they are spectacular.
Poipu Beach: Once named America's best beach, Poipu is one of Kauai's most beloved beaches. Poipu is divided into two bays, which are separate by a sand bar usually claimed by a sunning monk seal. One section is a haven for small children as it has a natural wading pool. The other is good for swimming and snorkeling, and occasionally surfing.
Mahaulepu Beach: This remote beach on Kauai's south shore serves as the idyllic place to truly get away from it all. Divided into three sections – Gillin's Beach, Kawailoa Bay, and Haula Beach – Mahaulepu offers protection from the surf in certain areas and conditions are typically great for swimming. Go exploring here for fossils, take a coastal hike or simply gaze at the monk seals that call this beach home.
Maui
The world-famous shores of Maui boast white, black and red sand beaches, all of which spread out over 120 miles of coastline. Maui beaches are the epitome of a tropical oasis, with surfing spots as well as swimming, snorkeling and sunbathing beaches available. Most are easily accessible too, and may have facilities like restrooms to make your day at the beach a breeze.
Kaanapali Beach: The signature beach of West Maui, Kaanapali offers three miles of white sand, sun and surf to enjoy. Named America's Best Beach in 2003, it is one of Hawaii's most active beaches. Take part in activities such as parasailing, surfing, and swimming. Play a game of volleyball or go for a snorkel near the north end of the beach at Black Rock.
Makena Beach State Park: One of the largest beaches in Maui, Makena is also home to two of Maui's nicest beaches – Big Beach and Little Beach. Big Beach is by far the most popular, with Little Beach well known as a clothing optional beach (even though technically it's illegal). Big Beach is lined with palm trees and bordered by sand dunes, and provides excellent views of Molokini. Visitors will find this beach is fantastic for swimming, surfing and body boarding. There are even some nice hiking trails in the area.
Wailea Beach: Located on Maui's sunny south shore, Wailea Beach was once named America' Best Beach and for good reason. It has a large, crescent shaped beach lined with golden sands. Plus, it's protected at both ends by black lava points crating idyllic waters for swimming. The crystal blue waters are oh-so inviting and its waves are perfect for surfing. Stay here for the gorgeous sunsets any time of year, and be sure to visit December through April to spot whales from the shore.
Keawakapu: One of South Maui's best beaches, Keawakapu is a sparkling stretch of sand and surf that is a true stunner. It's tucked away from the main road, so it's a bit of a secret spot. Come here to for the prime swimming conditions, lack of crowds, sunny skies and snorkeling.
Big Island
The varied landscapes of the Big Island make its beaches some of the most unique to visit on the Hawaiian Islands. Visitors will find white sand beaches as well as black sand beaches. Plus, there is an excellent mix of resort beaches and off-the-beaten path escapes providing a rewarding way to relax on the Hawaii's largest island.
Punaluu Black Sand Beach: Cruise 30 miles south of Hawaii Volcanoes National Park to discover Hawaii's famous black sand beach. This is an outstanding beach to spot honu (Hawaiian green sea turtles) as many are basking on the shores. Swimming conditions aren't ideal here, but the scenery more than makes up for it.
Hapuna Beach: Travel the Kohala Coasts to find one of the Big Island's exceedingly wonderful tropical expanses. Hapuna is the largest white sand beach on the Big Island, and is repeatedly ranked as one of the Top 10 beaches sin the world.   Snorkeling and swimming here is superb, and when the wind picks up you can easily boogie board.
Kahaluu Beach: This Kona beach is famous for its honu, which frequently bask in the sun on its shores. It is also widely known for its exceptional snorkeling, which has earned it the nickname "Snorkel Beach." The cove of Kahaluu is ideal for rookie swimmers and snorkels, because the beach is protected by a partially submerged rock wall which keeps the waters calm. You can view over 100 species of fish here, as well as a mix of lava rock and corals.
Maniniowali Beach: The fine white sands and sparkling blue waters of Maniniowali Beach make it a tropical oasis for visitors and locals alike. This brilliant Big Island beach offers first-rate swimming conditions, and you can snorkel along the rock outcroppings located at the edges of the beach. Another major draw is the marine life. On calm days, you can spot sea turtles and even dolphins.
Make the most of your Hawaii vacation and spend time in the sun, sand and surf of stunning Hawaii beaches.